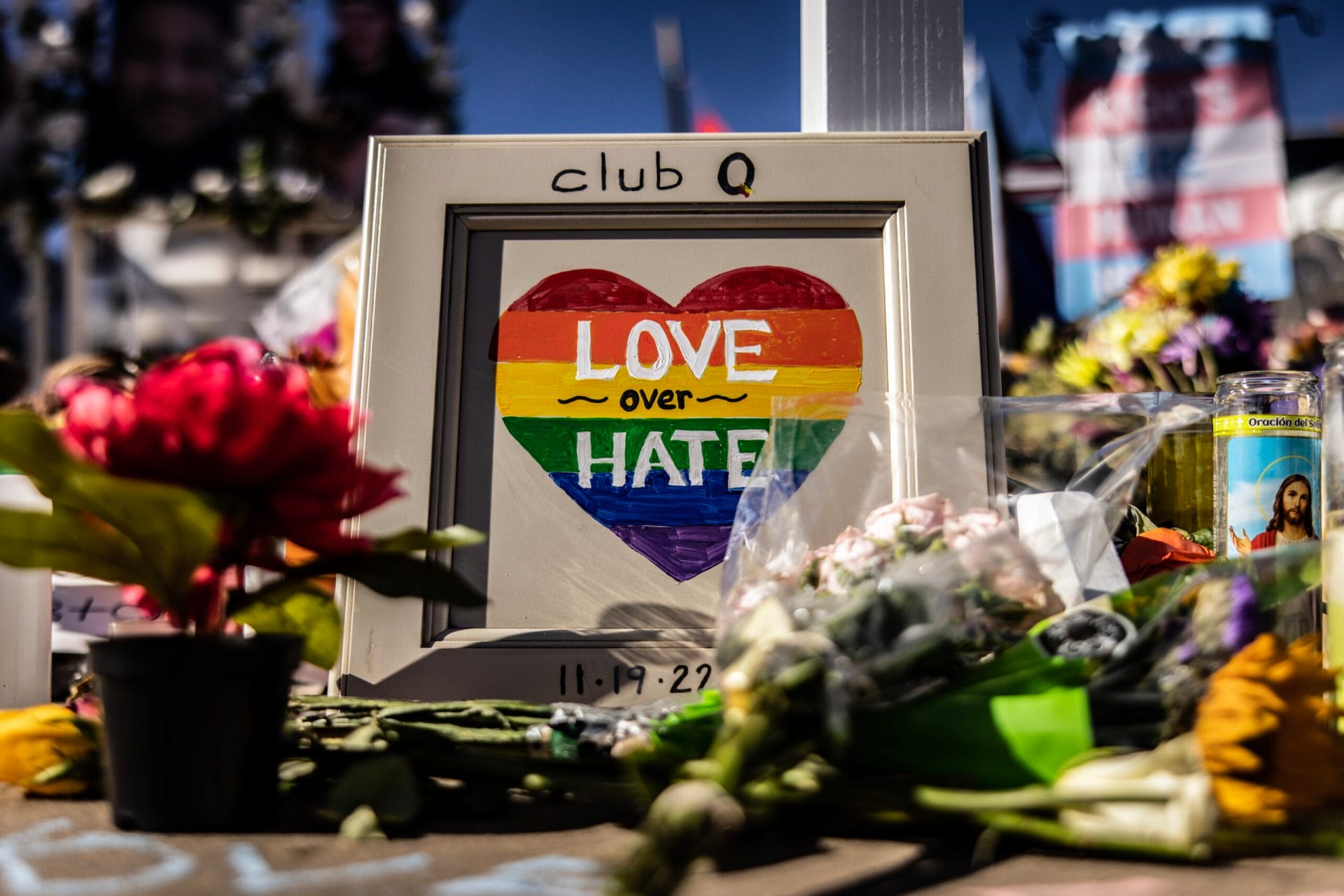 The Colorado Springs Shooting Proves We Must Do More to Protect Our Communities
Our country's weak gun laws make it far too easy for hate-filled individuals to access deadly weapons.
America's weak gun laws and easy access to guns allow people who are motivated by hate to kill others.
Mass shootings are ubiquitous in America—according to the Gun Violence Archive, there have been more than 600 mass shootings so far this year. Just days after last week's shooting at Club Q, an LGBTQ nightclub in Colorado Springs, another mass shooting, this time at a Walmart in Virginia, made national headlines.
It's also not news that violent rhetoric and armed hate have both been increasing steadily in the US over the past several years. But there hasn't been nearly enough action taken to address it.
The shooting at Club Q—during which a 22-year-old shooter covered in body armor and armed with an AR-15 style rifle killed five people and injured at least 25 others—is just one of the latest tragic consequences of inaction. The suspect, who identifies as nonbinary according to court filings, is being held on suspicion of first-degree murder and hate crimes, and is expected to be formally charged at a hearing on December 6. 
We can't let shootings like this keep happening. No one should fear for their lives because of who they are or who they love.
Colorado has seen far too many acts of violence—from Boulder, to Aurora, to Columbine, and now to Colorado Springs. The LGBTQ community has experienced far too many acts of violence, including one of the deadliest mass shootings in our nation's history at Pulse nightclub in Orlando in 2016.
The nexus of guns and hate is extremely deadly. We're calling on our legislators to do more to address this uniquely American epidemic.
Guns as Tools of Violent Hate
Hate crimes are defined by the FBI as "a criminal offense against a person or property motivated in whole or in part by an offender's bias against a race, religion, disability, sexual orientation, ethnicity, gender, or gender identity."
According to the FBI, which began tracking hate crime incidents in 1991, hate crimes were generally on the decline between 1996 and 2014, other than brief spikes in 2001 and between 2006 and 2008.
Beginning in 2015, however, this trend has reversed. Hate crimes rose from 5,599 incidents reported in 2014 to 8,263 in 2020—and there was an alarming 48% increase in incidents reported over that time period. In 2020, police departments reported more than 22 hate crimes per day, on average. Since 2010, there have been over 13,000 hate crimes targeting people on the basis of their sexual orientation.
Guns are often employed as tools of violent hate: Over 10,000 people each year are victims of hate crimes involving firearms. Yet people convicted of violent hate crime misdemeanors are still eligible to purchase firearms in 28 states.
Our country's weak gun laws make it far too easy for hate-filled individuals to access deadly weapons—but strategies exist to prevent this violence.
We Can't Let These Shootings Continue
We've seen incremental progress at the federal and state levels to address armed hate. In 2021, President Biden signed the COVID-19 Hate Crimes Act to address the increasing hate crimes throughout the COVID-19 pandemic, with an emphasis on curbing the increase in violence against Asian Americans.
But we must do more to protect all Americans against armed hate. And fortunately, data shows that there are a number of policies that will help.
"Disarm Hate" laws prohibit access to firearms for people who have been convicted of misdemeanor hate crimes which involve the use, or threatened use, of violence or deadly weapons, and they're a clear step to decreasing the likelihood of tragedies like the shooting in Colorado Springs. In June 2021, Rep. David Cicilline introduced the Disarm Hate Act, which would ensure individuals convicted of a misdemeanor hate crime are prohibited from receiving or possessing a firearm.
Extreme risk protection order laws, which allow for the temporary removal of firearms from people found by a court to pose an imminent risk of serious violence, are also an incredibly useful tool for preventing situations just like this. Colorado recently passed an extreme risk protection order law, and it's unclear at this stage why the law wasn't used in this case—though more than half of Colorado's counties have declared opposition to the law and many sheriffs refuse to enforce the law, leaving it underused and consequently less effective at reducing gun violence. 
Universal background checks can ensure that those purchasing firearms are eligible to possess them, and military-style weapon and large-capacity magazine regulations can save lives in the event of a mass shooting.
It appears the suspect in the Colorado Springs Club Q shooting was known by law enforcement for making serious threats in the past, and they should have never been allowed to get their hands on a gun. Our nation must strengthen its gun laws to prevent tragedies like this from ever happening again.
TAKE ACTION
The gun safety movement is on the march: Americans from different background are united in standing up for safer schools and communities. Join us to make your voice heard and power our next wave of victories. 
GET INVOLVED