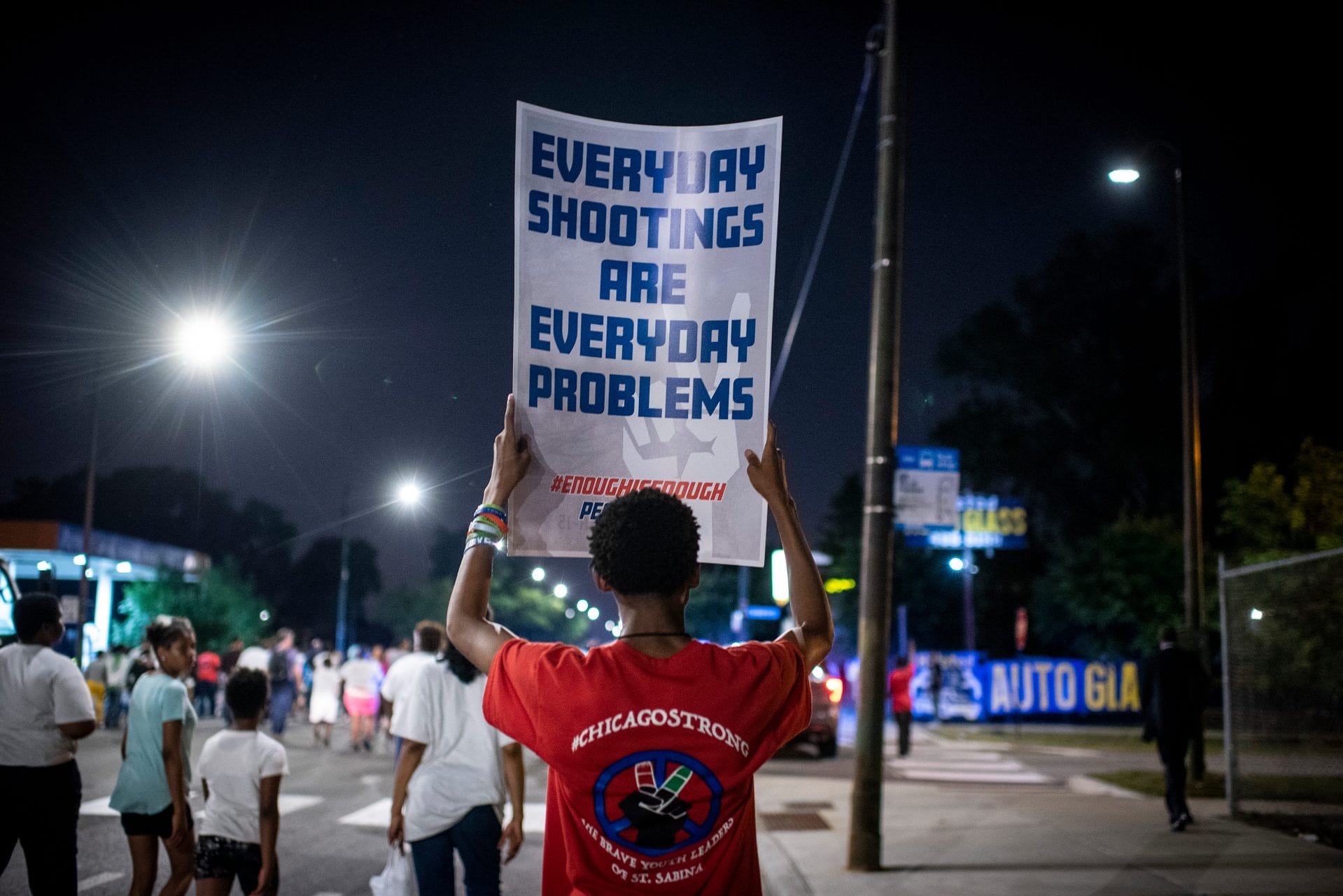 Why Deadly Cycles of Violence Spike in the Summer
Summer can be a particularly dangerous time in our nation's cities.
This past weekend, 56 people were shot in Chicago, four fatally. One of the victims, 17-year-old Jarise Baker, was shot six times while walking home with his girlfriend.
Tragically, this violent weekend was not an anomaly—this was Chicago's second weekend in one month that saw at least 50 people shot.
Rising Heat, Rising Shootings
Many cities see gun violence spike in the summer. These cities are already plagued by gun violence disproportionately affecting communities of color—tragedies which happen every day and rarely make the news. In some underserved communities, homicide rates are 10 times the national average.
The summer months bring hotter temperatures and longer days. According to an analysis conducted by the New York Times in September, approximately twice as many people are shot in Chicago when it's hot than when it's cold. More people spending more time outside means more social interaction, and a greater likelihood of conflict breaking out.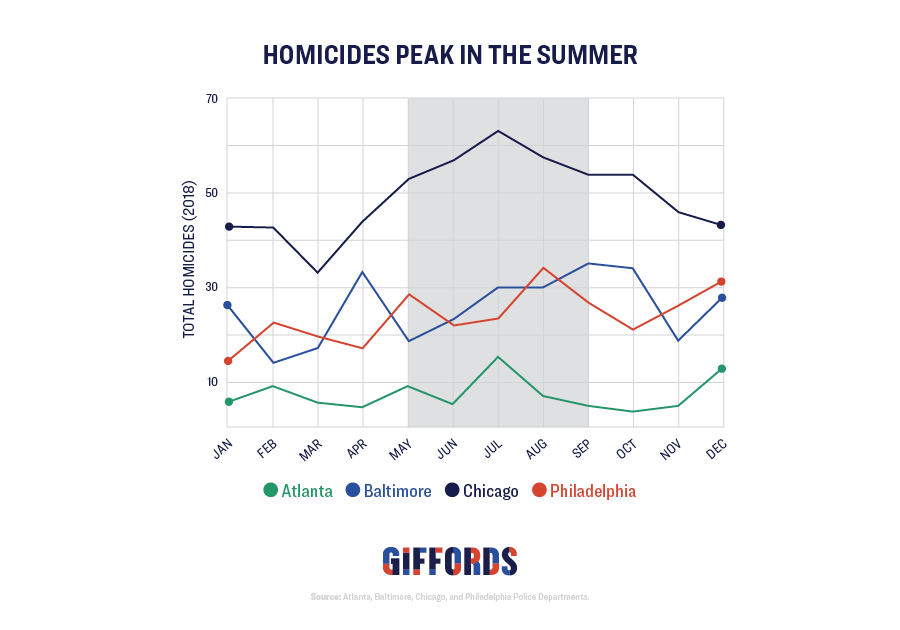 Because of our nation's inconsistent patchwork of state gun laws and routine gun trafficking into cities, it is far too easy to obtain a gun in cities across the United States—which can turn everyday altercations deadly.
Two years ago, Chicago had one of its most violent Fourth of July weekends in years. At the time, police chief spokesman Anthony Guglielmi attributed many of these shootings to "petty disputes that escalated into somebody pulling out a gun."
The Relationship between Crime and Heat
Shootings in cities like Chicago disproportionately impact communities of color. While black men make up less than 7% of the US population, they make up over half of all gun homicide victims.
During the summer, this burden only gets worse. Economically disadvantaged residents are less likely to have access to air conditioned homes and buildings, leaving them with no choice but to brave the scorching temperatures and violence of the streets.
For many children and teens in our nation's cities, school offers refuge from routine shootings on city streets. But in the summer months, that refuge is gone. In under-resourced communities, employment opportunities or summer programs often are not readily available.
This results in more chances for violence to erupt—with devastating consequences for our nation's youth. During every summer month, 20 additional children and teens are killed by gun violence in communities across the country.
Some cities are proactively seeking to reverse this trend by offering summer programming for youth at high risk of violence. Los Angeles, for instance, offers a Summer Night Lights program through the mayor's Gang Reduction and Youth Development (GRYD) office.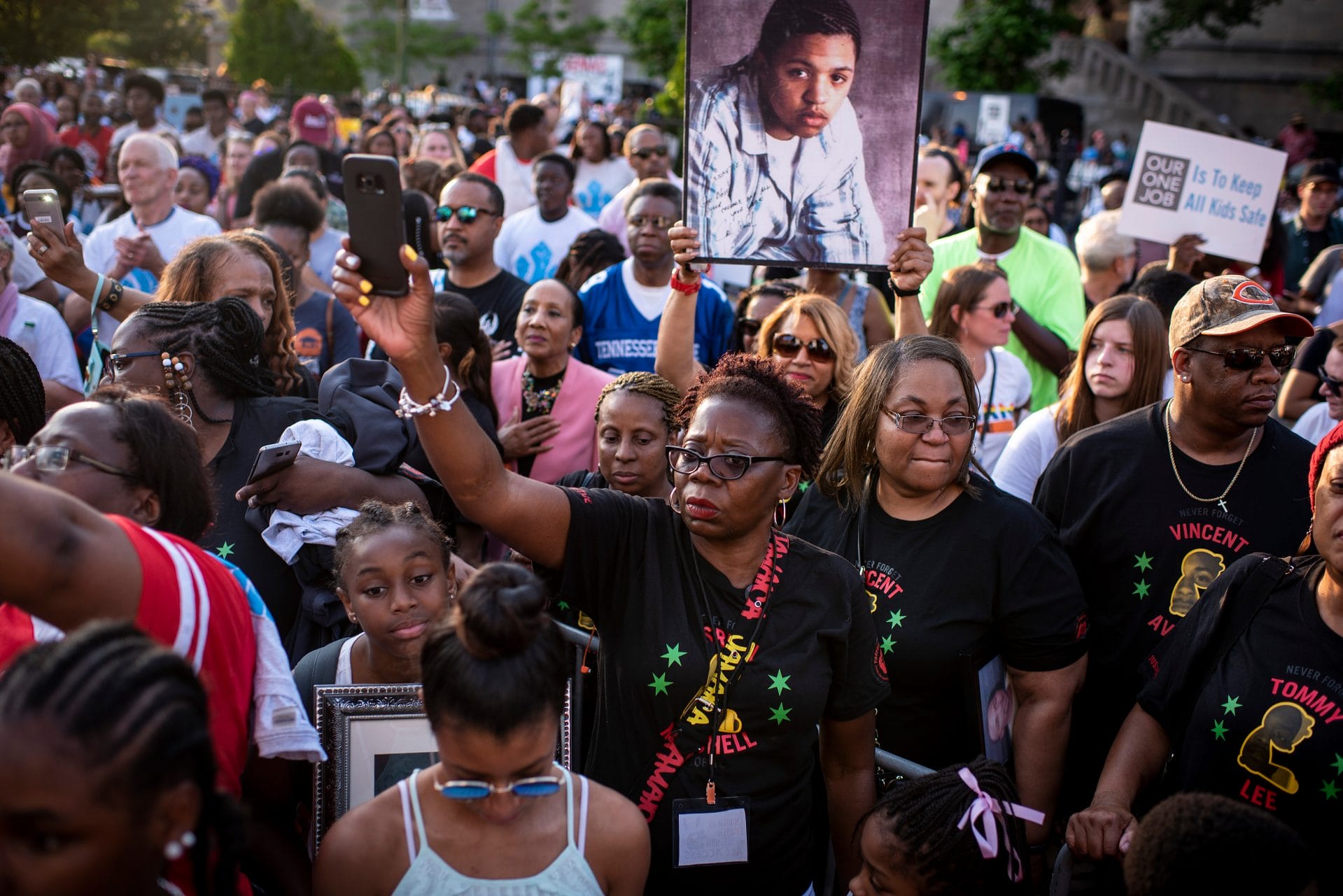 In addition to the devastating human cost of gun violence, the epidemic of everyday violence in our cities has enormous economic consequences. Gun violence leads to lowered property values, shuttered businesses, and increased healthcare and law enforcement costs. Lack of economic opportunity in turn drives gun violence, fueling a deadly cycle.
While the statistics paint a bleak picture, there is hope—solutions to everyday gun violence exist. Oakland, California, for example, cut gun violence by nearly 50% by investing in a concerted violence prevention strategy. These results provide us with a model other communities can use to minimize violence.
Funding Community Violence Reduction Programs
Our report, A Case Study in Hope: Lessons from Oakland's Remarkable Reduction in Gun Violence , outlines the steps Oakland has taken since 2012 to cut its homicides and nonfatal shootings in half. The strategy stakeholders implemented over a long period of trial and error consists of a number of key components, including:
A thorough analysis of violent incidents and trends
In-person communications with high-risk residents
Relationship-based social services
Narrowly focused law enforcement actions
An intentional management structure
In recent weeks, California Governor Gavin Newsom announced a $21 million increase in grant funding for California's Violence Intervention and Prevention program (CalVIP) in 2020, bringing the total budget from $9 million to $30 million. This dramatic increase in funding will help fund lifesaving programs like those in Oakland, and in cities across the state suffering from the scourge of everyday violence.
Other states should follow California's lead and fund these evidence-based programs. States that have had the most success in reducing violence in recent years, like New York and Massachusetts, have spent four to twelve times as much as California per capita on similar violence prevention programs. Those states' rates of gun violence rates have fallen substantially in recent years, especially among younger and minority residents.
Fortunately, 2020 presidential candidates are taking note. New Jersey Senator Cory Booker's gun violence prevention platform includes a call to fund these programs. As the campaign cycle progresses, we're hopeful that more and more candidates will join Senator Booker in prioritizing saving lives from gun violence in under-resourced communities.
Everyday shootings are everyday problems, and the attention we pay to gun violence victims shouldn't be dictated by their zip code. Join us in urging our politicians to invest in the programs that we know save lives.
Learn more: