My Son Meant the World to Me
Editor's Note: This Gun Violence Prevention Month, we're sharing the stories of people personally impacted by gun violence. You can read more here.
My son Terrell was my life. He meant the world to me. Since they were born, I've lived for my three sons, and to have one taken from me hurts so badly.
My husband and I did everything we could to protect our children. Terrell was our firstborn—he taught me how to be a mother. We kept Terrell busy in sports, church, and so much more.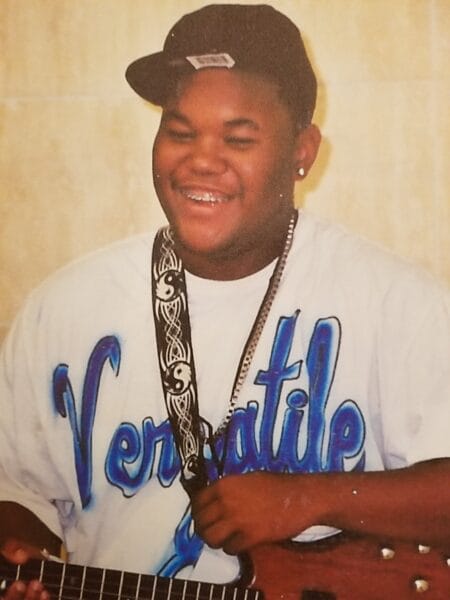 Terrell was born and raised in the church where his grandfather was the pastor. He loved his brothers, family, and God. He was an outgoing and inspiring young man who always kept me laughing.
My son had incredible musical talent. He played the bass and drums and sang. In his short life, Terrell had the opportunity to play for many famous gospel artists. One of his dreams was to graduate from college and become a famous musician who traveled around the world.
Terrell was doing all of the right things. We never thought that Terrell's dreams would be ended by senseless gun violence.
On April 4, 2006, Terrell was helping his friend bring drums inside a church in Chicago when he was shot with a .45 caliber in the shoulder senselessly. He was an 18-year-old college freshman. He was my baby.
Life will never be the same for my family.
The first year after Terrell's murder, I tried to take my life twice because the pain was unbearable. Today, I respond to my grief by helping other mothers and fathers who end up in this hurtful situation by showing support. I started working as a St. Sabina's Violence Prevention Manager, empowering young people to be leaders.
I also co-founded Purpose Over Pain, an organization dedicated to supporting parents whose children's lives were taken by violence, and founded the Terrell Bosley Anti-Violence Association, a nonprofit organization dedicated to helping youth and families in need. I stay very busy, using my voice to tell Terrell's story while demanding commonsense gun legislation.
I want other people to know that no one is exempt from gun violence. It can happen to anyone at any time. No place is truly safe. Even if you do all the right things—if your son does all the right things—it still might not be enough.
Gun violence is a health crisis that takes nearly 100 lives every day. These lives aren't just numbers. They're not just statistics. They're people, people with passions for drumming and whole futures ahead of them and two brothers who miss them every day. People with mothers like me.
I will always be Terrell's voice.
As a public health crisis, gun violence should be treated as a top priority and with the utmost urgency, just like COVID-19. We need a comprehensive public health approach that recognizes that violence is a contagious epidemic.
No matter how many years come and go, the pain of burying my son will never go away. I know that together, we can change the narrative of our youth and our communities by ending senseless gun violence.
If you want to get involved in the fight to save lives from gun violence, join the Giffords Action Network.