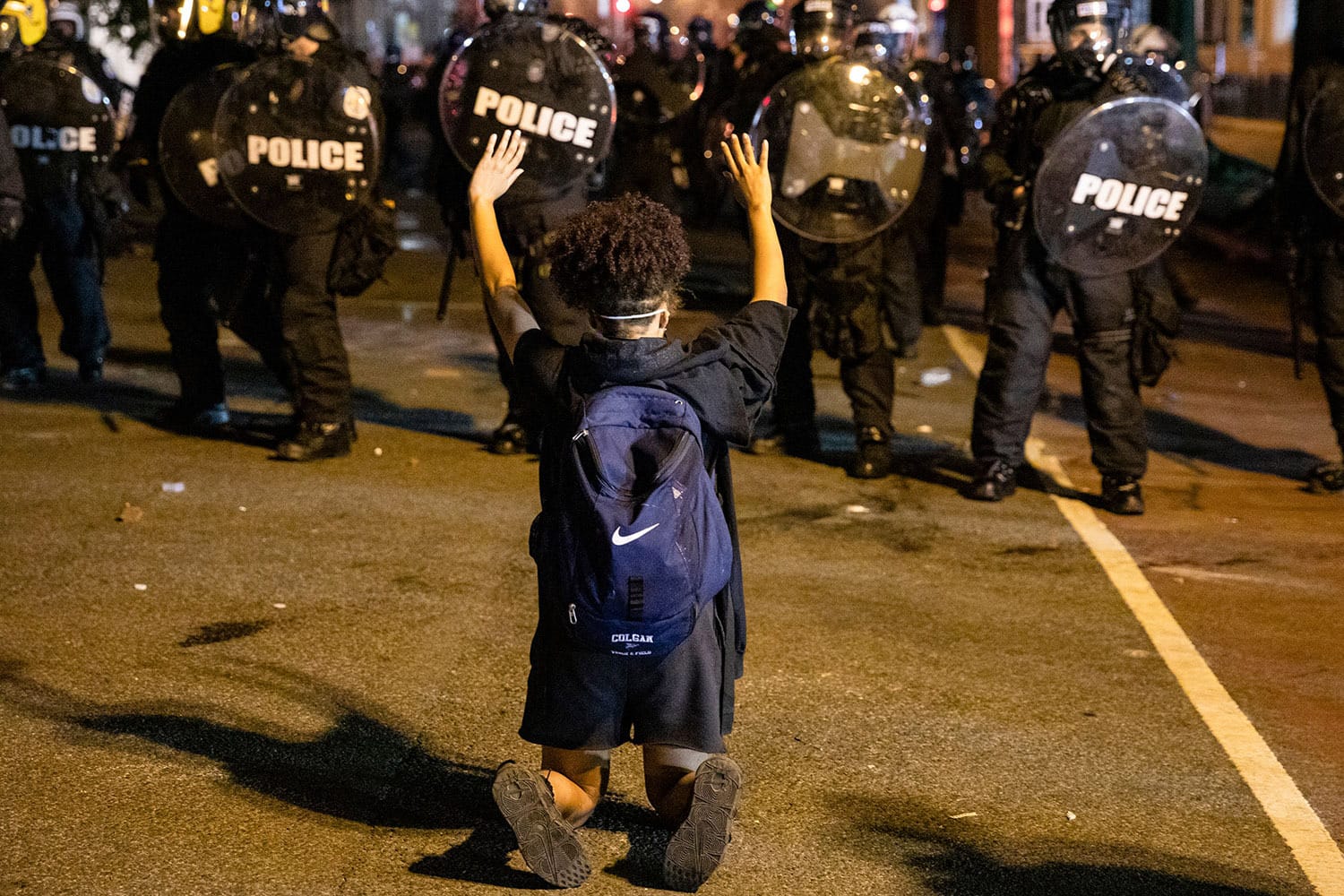 We Can Save Lives and Improve Community Safety by Demilitarizing the Police
From Minneapolis to Ferguson to Milwaukee, countless Americans have witnessed police officers in paramilitary garb patrolling their neighborhoods—despite the fact that research has demonstrated militarized police departments are significantly more likely to kill people or engage in violent behavior. 
The countless gun tragedies involving militarized police departments have a disproportionate impact on communities of color. Seven-year-old Aiyana Stanley-Jones was shot and killed by a Detroit SWAT team while asleep on the couch in her home. LaToya Ratlieff nearly lost her eye after being shot in the face with a rubber bullet. Derrick Sanderlin was hit with a projectile that ruptured his testicle while trying to protect a young woman from police. These last two incidents both occurred at peaceful protests, where police have a record of using military weapons and tactics, as was especially evident during racial justice protests last summer in cities across the US.
No one should have to live in fear of police officers firing rubber bullets during a peaceful protest or an overzealous SWAT team shooting into their home. We should restrict the use of militarized police tactics and limit transfer of military-grade equipment to state and local law enforcement while establishing and funding community-based violence intervention strategies in our communities.
Riot Gear and Rubber Bullets Won't Keep Us Safe
Local law enforcement agencies can obtain surplus military weapons from the Pentagon as a part of the 1033 program, which began in 1990 in order to facilitate the investigation of drugs and terrorism-related activities. After 9/11, the 1033 program expanded far and wide across the US, making it possible for even small police departments, like the Ferguson Police Department in Missouri, to acquire military-grade equipment.
A year after protests against police violence in Ferguson, Barack Obama signed an executive order that prohibited the transfer of certain military property like grenade launchers and weaponized aircrafts to local law enforcement agencies under the 1033 program. Former President Trump lifted these restrictions in 2017. 
Some proponents of militarized police forces have argued that in a country with more guns than people, law enforcement agencies need military weapons to match the threat of a heavily armed population. This has led to an invisible arms race of sorts between law enforcement and civilians, particularly with assault weapons widely available across the US. Because of this, demilitarizing the police must go hand in hand with regulating firearms used by civilians, especially military-grade assault weapons. 
It will also require us to reform policing practices throughout the country. In places like Newark, New Jersey, strategic police reform and investment in community violence intervention strategies have reduced both police and civilian shootings. Mandating implicit bias and de-escalation training could also help reduce police violence, though more research and evaluation is needed of both tactics.
A Promising Initiative in Los Angeles
Assault weapons, tanks, tear gas, and riot gear make people feel like subjects of military occupation rather than individuals with rights and civil liberties. The existence of militarized police departments sends the message in heavily policed communities that they, the residents, are a problem to be reckoned with. 
In Los Angeles, a civil rights attorney and a former LAPD police chief are trying to send a different message to residents of a heavily policed LA neighborhood. The two teamed up to coordinate a community policing initiative that aims to improve safety, build community trust, and cut police use of force. 
The Community Safety Partnership policing project operates in underfunded neighborhoods in Los Angeles with high rates of gun violence and violent crime. This initiative exists as an "alternative to paramilitary enforcement" and is a great example of what more cities should do to improve community safety and well-being. The UCLA Luskin School of Public Policy found that with the CSP in place, "the community feels protected and strengthened."
Rebuilding Trust between Communities and Police
Some state and local governments, including those in Montana, Cincinnati, and San Jose, have taken courageous steps to stop the flow of military weapons to police officers, but more state and local governments should follow suit. Legislators should also end the federal government's 1033 program reinstated by Trump. 
There is no justification for treating communities where Americans live, learn, and work as a military occupation zone. Instead, we should invest in implicit bias training, de-escalation practices, and community policing, and even more importantly, invest in our communities.
TAKE ACTION
The gun safety movement is on the march: Americans from different background are united in standing up for safer schools and communities. Join us to make your voice heard and power our next wave of victories. 
GET INVOLVED