Every person should be able to live, work, and play in their community free from the threat of gun violence.  
However, gun violence inflicts trauma and disrupts lives on an all-too-regular basis, particularly in Black and Latino communities. These populations make up less than a third of the US population but account for more than three-quarters of gun homicide victims. This disparity is a product of structural racism and divestment that has left communities of color with compounding challenges and a lack of resources to address them. Public policy as it relates to violence prevention has reliably failed these communities.
To address violence in the most impacted communities, it is critically important to invest in community violence intervention programs.
Paul had been a community violence intervention worker in Compton, CA, for two weeks. Most nights, he and his team would drive around in the company van, looking for people at risk of causing violence—engaging with high-risk individuals regularly to prevent the next shooting.
One day his boss noticed a familiar face. "There's Trayvon," he said, as the van slowed and pulled up to a tall Black man in his early 20s walking alone. Trayvon recognized the van and made his way to meet with the street outreach team. Paul became aware that the team knew Trayvon well and they began to catch up. This went on for quite some time.
New to the field, Paul sat there thinking, "We're wasting time—we could be stopping a potential gang war somewhere else, but instead we are babysitting this guy." He soon realized that as community violence intervention workers, their job was to do anything morally, ethically, and legally possible to interrupt violence and broker peace between rival individuals and groups.
Trayvon went on a long rant about his problems and how he regretted dropping out of the organization's career development program and wanted to come back. Paul's boss assured him, "You know you're always welcome, but you got to meet us halfway. Come to the office tomorrow morning."
As they prepared to drive to the next site, Trayvon pulled a .9 millimeter out of his pants and said, "Damn, I'm glad you came by because I was on my way to go shoot this fool that disrespected me. God must have sent you guys. I'm just gonna go home and go to sleep."
That day symbolized a valuable lesson: community violence intervention can be done in different ways and the smallest effort can have a profound impact. Today, Paul runs the community violence intervention program at Giffords, where he uses his lived experience to advocate for these vitally important programs.
The Problem
Factsheet: What Is Community Violence Intervention?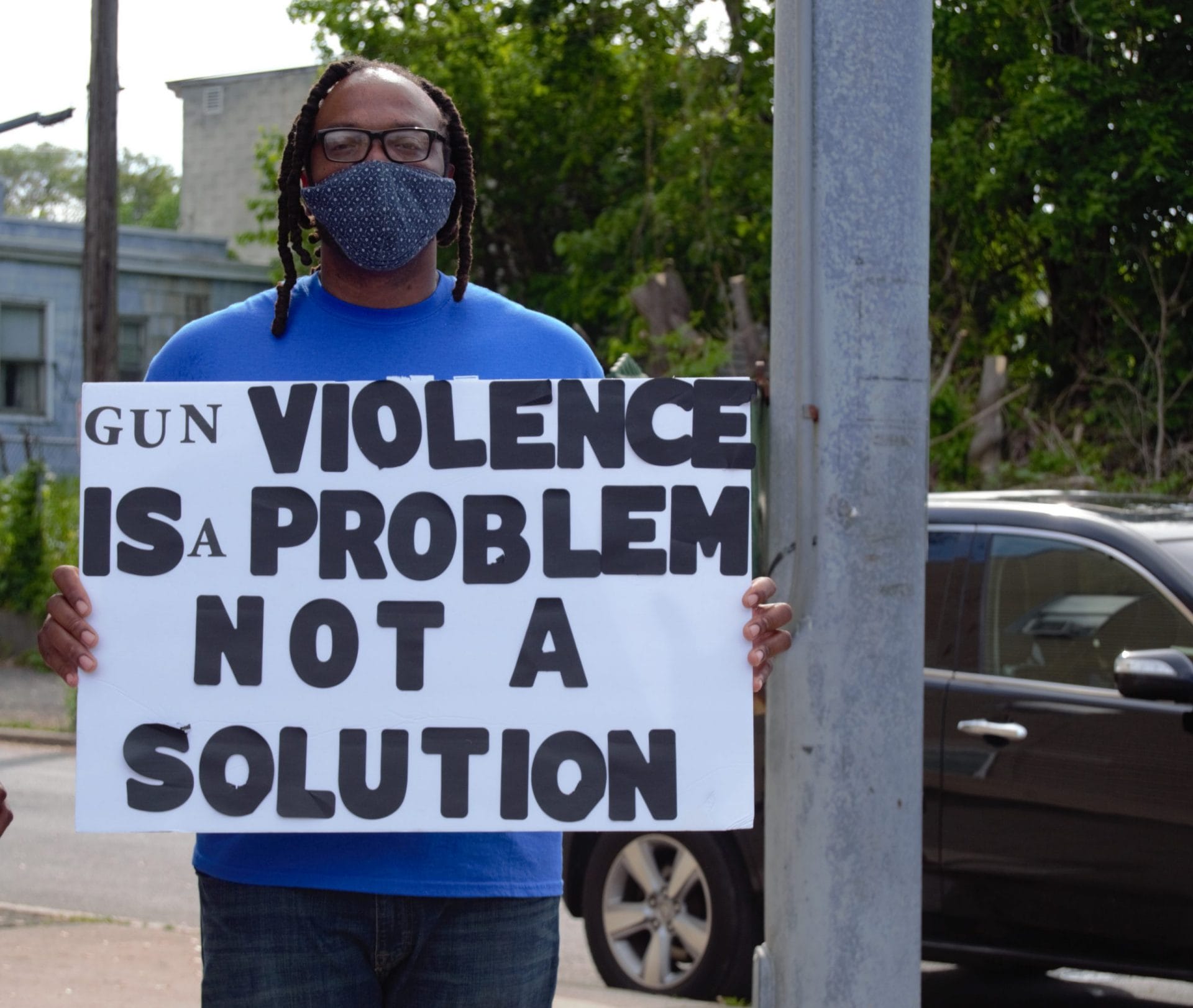 Download PDF
Our nation is experiencing a deadly surge in gun violence. In 2020, there was an unprecedented rise in shootings, with more than 45,000 gun-related deaths. At least twice as many people were shot and survived. Today in the United States, gun violence is the leading cause of death for children and adolescents. 
Most shootings in the US take place in cities, where violence is further concentrated spatially, racially, and within groups. While the impact of violence is felt broadly, the vast majority of shootings take place in small geographic areas. According to a 2018 analysis by the National Network for Safe Communities, in many cities, less than 1% of the population is associated with the vast majority of shooting incidents in a given year.
These neighborhoods are often economically disadvantaged and highly segregated, forged by past and present racial discrimination and fraught police-community relations. Victims of community violence are overwhelmingly young people of color, especially young Black men, for whom violence is by far the leading cause of death.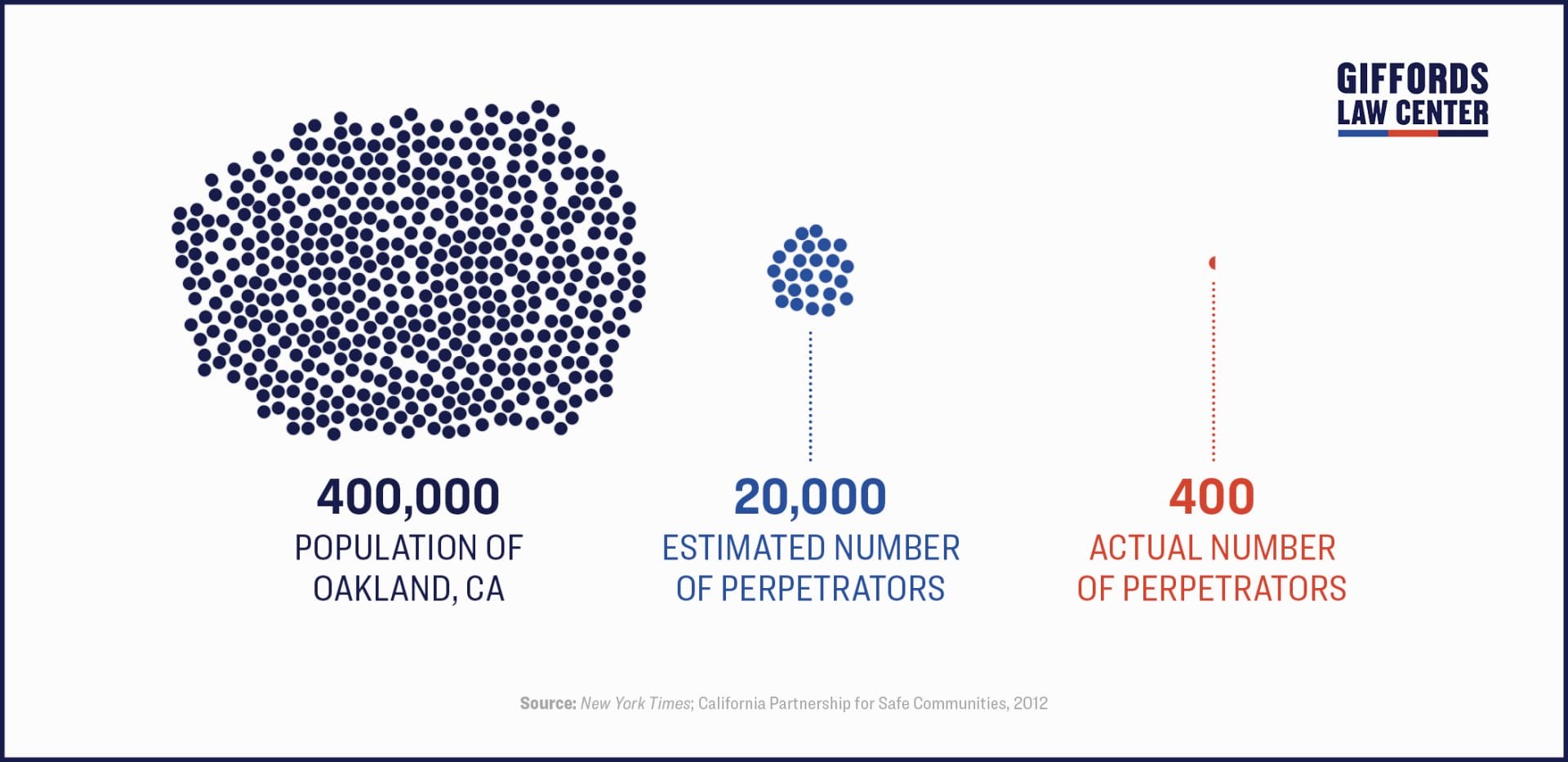 In Oakland, for example, violence is perpetrated by a small high-risk group that constitutes far less than 1% of the population..
Cycles of community violence are also inexorably linked to levels of police-community trust. While our justice system arrests, convicts, and incarcerates people of color for minor offenses at an alarming rate, the murder of far too many Black and Brown people go unsolved. Across 52 of the nation's largest cities, nearly three-quarters of all unsolved murders involved a victim who was Black.
This absence of justice leads a small percentage of people to seek protection in groups and gangs that engage in street or vigilante justice, fueling cycles of retaliatory gun violence.
THE FACTS
#1
cause of death for children
In 2020, guns were the leading cause of death for American children, outpacing deaths from car crashes, cancer, and COVID-19.
Source
Centers for Disease Control and Prevention, Web-based Injury Statistics Query and Reporting System (WISQARS), "Leading Cause of Death Reports," last accessed March 21, 2022, https://www.cdc.gov/injury/wisqars. Calculations include children ages 0–17 and were based on the most recently available data: 2020.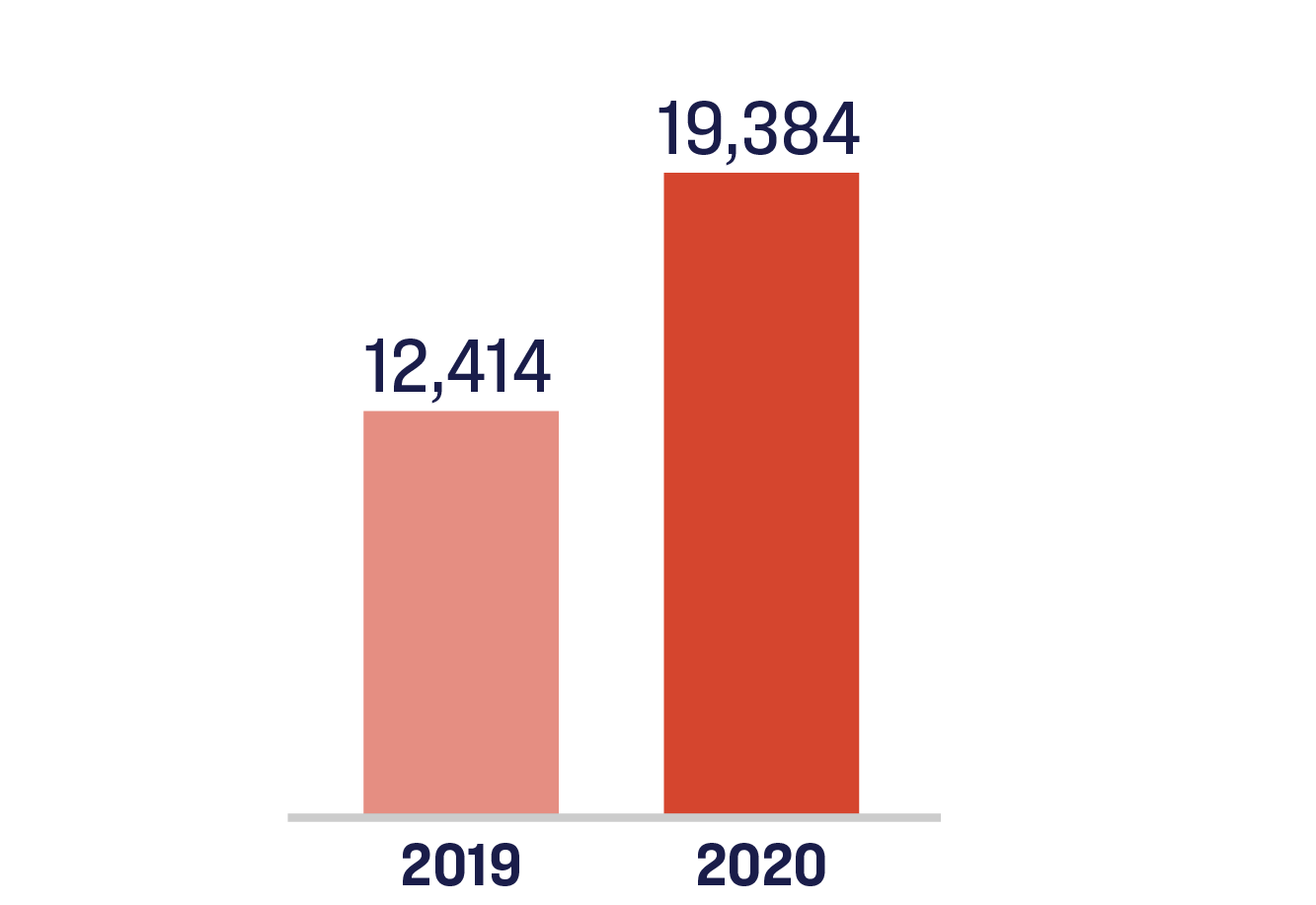 Gun homicides rose 34% from 2019 to 2020
2020 saw the single largest one-year increase in gun homicides on record. This came on the heels of years of steadily rising homicides, which increased 31% from 2014 to 2019.
Source
Centers for Disease Control and Prevention, National Center for Health Statistics. Underlying Cause of Death 1999-2020 on CDC WONDER Online Database, released in 2021. Data are from the Multiple Cause of Death Files, 1999-2020, as compiled from data provided by the 57 vital statistics jurisdictions through the Vital Statistics Cooperative Program. Accessed at http://wonder.cdc.gov/ucd-icd10.html on Mar 17, 2022. Calculations were based on five years of the most recently available data: 2016 to 2020
77%
of homicides involve a gun
More than one-third of all gun deaths are homicides, and guns are used in more than 77% of all homicides in the United States.
Source
Centers for Disease Control and Prevention, National Center for Health Statistics. Underlying Cause of Death on CDC WONDER Online Database, released in 2023. Data are from the Multiple Cause of Death Files, 1999-2021, as compiled from data provided by the 57 vital statistics jurisdictions through the Vital Statistics Cooperative Program. Accessed at http://wonder.cdc.gov/ucd-icd10.html on February 10, 2023. Calculations were based on five years of most recently available data: 2017 to 2021.
The Solution
Cities and states across the country are proving that sustained reductions in shootings can be achieved by investing in evidence-informed, community-driven strategies. Examples of successful community violence intervention approaches include hospital-based violence intervention programs, street outreach and violence interruption, and case management and transformational mentoring. Each of these strategies operates under two main principles: 1) engaging those at the highest risk of perpetrating or falling victim to violence, with the goal of interrupting its transmission, and 2) providing social services to those at highest risk to heal unresolved trauma and change the trajectory of their lives.
Hospital-Based Violence Intervention 
Hospital-based Violence Intervention Programs (HVIPs) are built on the premise that the strongest risk factor for violent injury is a history of previous violent injury. The HVIP strategy focuses on reaching high-risk individuals who have recently been admitted to a hospital for treatment of a violent injury. This traumatic experience presents a unique "teachable moment" when an individual may be open to positive intervention. Research shows that patients who receive HVIP services are four times less likely to be convicted of a violent crime and four times less likely to be subsequently reinjured.
Street Outreach & Violence Interruption
Street outreach and violence interruption strategies use a public health model, treating gun violence as a communicable disease and working to interrupt its transmission among community members. One of the earliest models of relationship-based street outreach is Cure Violence, pioneered in 2000 in Chicago. The approach deploys "violence interrupters" and outreach staff who help identify and mediate potentially violent conflicts, respond to shootings, support victims and their families, and provide much-needed access to social services. An independent evaluation of a Cure Violence initiative in the South Bronx associated the program with a 37% decline in gun injuries and a 63% decline in shooting victimizations, such as armed robbery or murder.
Case Management & Transformational Mentoring Programs
Case management and transformational mentoring programs function to provide individuals impacted by community violence with the appropriate social service supports that are tailored to their needs. In some cases, this may include developing an individualized service plan that incorporates cognitive behavioral therapy, mentoring or life-coaching by a trained professional, or helping an individual apply for jobs or legal documents, among other services that curb the perpetuation of community violence.
It must be stated that no singular approach to CVI will eliminate community violence; rather, the success of a CVI strategy is only as strong as its coordinated community networks. Effective CVI efforts are those that draw from a menu of approaches, utilize different touchpoints to recruit participants in need, and provide wraparound services through a comprehensive strategy that engages local governments and community organizations.
While we know what works to interrupt cycles of community violence in this country, too few states are investing in these proven solutions. Federal, state, and local governments must step up to fund and invest in community-led programs that prevent violence.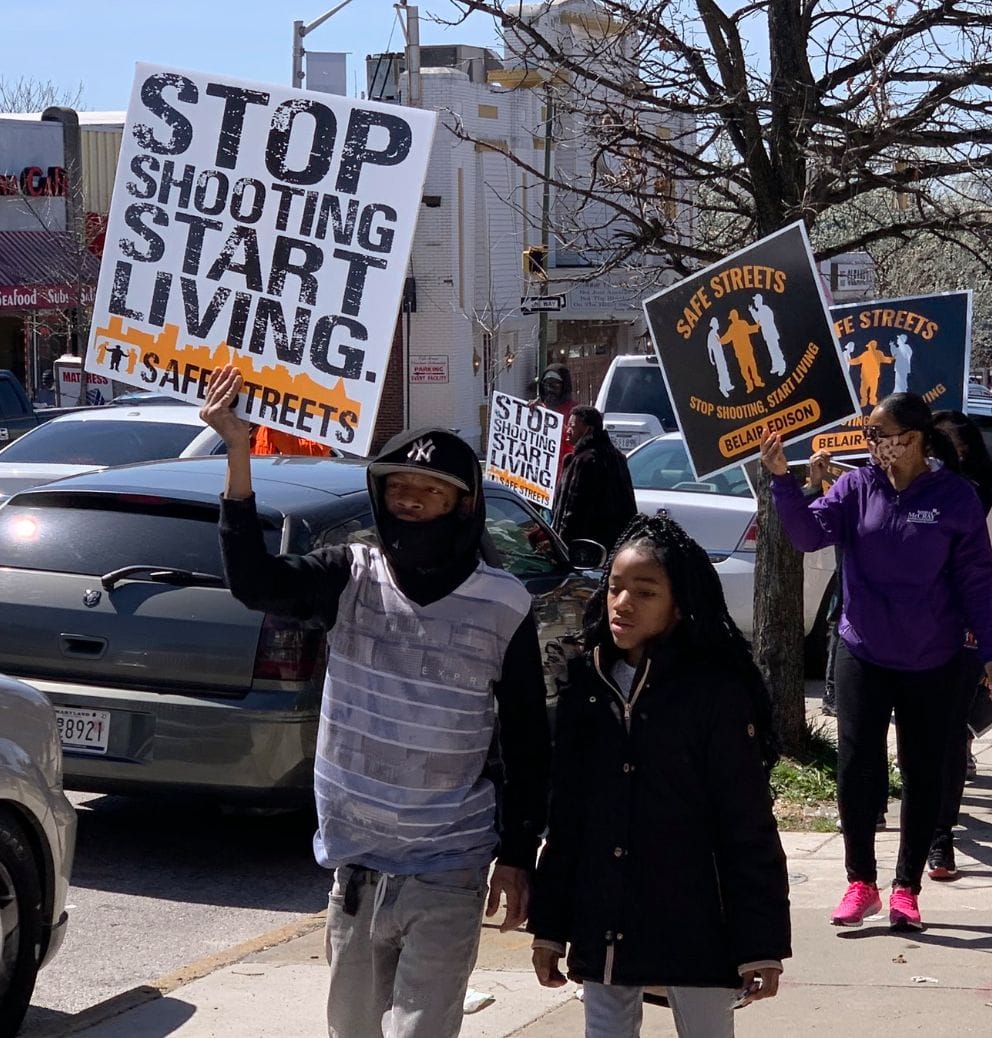 SPOTLIGHT
On the Front Lines
Community violence intervention workers put their lives on the line every day to save other people. This critically important work is also extremely dangerous. Together with our partners, we're asking for long-term, sustainable funding for community violence intervention to ensure that these individuals can do their jobs safely and effectively. 
Read More
Community violence intervention strategies are incredibly effective, but to make a sustained dent in American gun violence, these programs need consistent, long-term funding. Giffords works with federal, state, and local governments to support and direct resources to community-driven violence reduction efforts nationwide. 
In recent years, CVI has become a core component of the Giffords strategy to reduce gun violence. Our experts have and continue to research the most effective approaches to community violence, releasing a series of comprehensive reports. We partner with community-based organizations to uplift and direct resources to CVI programs across the country, regularly host trainings and events on the latest topics in the field, and draft legislation to support CVI efforts across the country. 
At the federal level, Giffords has collaborated closely with a national coalition of CVI experts, led by the Community Justice Action Fund (CJAF), to secure $50 million for the Department of Justice's newly developed Community-based Violence Intervention and Prevention Initiative (CVIPI) and over $250 million through the Bipartisan Safer Communities Act passed in the summer of 2022.
At the state level, Giffords leads or supports nearly a dozen state-wide coalitions focused on advocating for policies to fund, coordinate, and institutionalize violence intervention strategies. Since highlighting the need for state investment in CVI programming with our report, Investing in Intervention, the number of states investing in CVI has jumped from 5 in 2017 to 15 states in 2021, with the total amount invested increasing from $60 million to over $690 million.
SUPPORT GIFFORDS
We're in this together. To build a safer America—one where children and parents in every neighborhood can learn, play, work, and worship without fear of gun violence—we need you standing beside us in this fight.