Smart guns provide another layer of security by preventing unauthorized users from firing guns. 
Personalized firearms use technology like radio frequency identification (RFID) chips, fingerprint readers, or other biometric sensors to prevent use by unauthorized people and verify a user's identity before a gun can be fired. Despite the potential of smart guns to save lives by preventing the unauthorized use of firearms, particularly by children and individuals convicted of serious crimes, the gun lobby has staunchly opposed the development of gun safety technology.
Background
"Smart guns," also known as "personalized" firearms, are intended to prevent unauthorized persons from accessing and using firearms.
There are two kinds of existing technologies capable of reliably identifying authorized users.
Radio frequency identification (RFID) tokens activate a firearm when they are in close proximity to it. These tokens can be integrated into bracelets, watches, rings, or other wearable devices.
Biometric recognition technology activates a firearm after identifying biological features like a fingerprint, palm print, or grip.
These technologies are designed to prevent shootings that occur when unauthorized users—like curious children—gain access to unsecured guns. Personalized guns also render firearms useless to criminals who steal them. If utilized by police, personalized guns cannot be used against law enforcement if they are wrestled away from police during the course of an arrest or other encounter. For more information about the risks of guns in the hands of unauthorized users, see our page on Safe Storage.
Unsecured guns in the home pose a substantial risk to children who may find and use them against themselves or others.
Household guns are a major source of weapons used by youth in violence against themselves or others. Between 70 and 90% of guns used in youth suicides, unintentional shootings among children, and school shooting perpetrated by shooters under the age of 18 are acquired from the home or the homes of relatives or friends.1
Accordingly, the risk of suicide and unintentional shootings among youth increases in homes where guns are kept loaded and/or unlocked.2
For more information about the risks of unsecured guns around children, see our page on Child Access Prevention Laws.
Unsecured weapons in homes and vehicles are also fueling an epidemic of gun thefts across the country. These guns may be diverted to the underground market, where they are used in crime.
Nationally–representative survey data suggests that approximately 380,000 guns are stolen from individual gun owners each year.3
From 2006 to 2016, the number of guns reported stolen from individuals increased by approximately 60%.4 Similarly, many cities have reported alarming spikes in the number of firearms stolen from cars.5
An analysis of more than 23,000 stolen firearms recovered by police between 2010 and 2016 found that the majority of these weapons were recovered in connection with crimes, including more than 1,500 violent acts such as murder, kidnapping, and armed robbery.6
Research suggests that personalized gun technology could help to mitigate the risks associated with unsecured guns.
An analysis of a sample of unintentional and undetermined firearm deaths suggests that 37% of these deaths could have been prevented using smart gun technology.7
Smart gun technology has clear potential to prevent gun deaths and thefts. However, the gun lobby has staunchly opposed development of gun safety technology, preventing it from becoming commercially available, despite public support for its development. Recent polling indicates that 79% of gun owners think licensed dealers should sell both traditional and personalized guns8 and 60% of non-gun owners who were planning to purchase a gun in the next year are willing to consider buying a personalized gun.9
Summary of Federal Law
The Lack of Federal Standards
Federal law does not set any safety or design standards for domestically manufactured firearms. Most consumer products are regulated by the Consumer Product Safety Commission (CPSC), which the Consumer Product Safety Act established in 1972. The statutory definition of the term "consumer product," however, specifically excludes firearms and ammunition.10 Accordingly, the CPSC currently has no authority to require gun manufacturers to produce personalized guns or otherwise improve the safety of their products.
Actions Under President Obama
37%
fewer unintentional deaths with smart guns
An analysis of unintentional gun deaths suggests that 37% of these fatal shootings could have been prevented by smart gun technology.
Source
Researchers considered a death preventable if there was clear evidence that the shooter was not the owner or authorized user of the gun. Jon S. Vernick, et al., "Unintentional and Undetermined Firearm Related Deaths: a Preventable Death Analysis for Three Safety Devices," Injury Prevention 9, no. 4 (2003): 307–311.
In April 2016, following the president's directive that executive agencies lead the way in monitoring, developing, and encouraging the deployment of smart gun technology, the Departments of Defense, Justice, and Homeland Security issued a report acknowledging that gun manufacturers need to be incentivized to develop personalization technologies and integrate them into their products.11
The April 2016 Report proposed that the government encourage investment in gun safety by partnering with state and local law enforcement agencies to draft specifications "establish[ing] the specific conditions under which they would consider purchasing firearms with advanced gun safety technology." Consequently, on November 16, 2016, the Obama Administration released new baseline specifications for law enforcement service pistols, which includes personalization technology.12
Summary of State Law
Maryland, Massachusetts and New Jersey are the only states that have laws addressing personalized gun technology.
Maryland
A "personalized handgun" is defined under Maryland law as any handgun manufactured with technology incorporated into the design allowing the handgun to be fired only by a person who is the authorized user of the handgun, and preventing any of the handgun's safety characteristics from being easily deactivated. Maryland's Handgun Roster Board is required to review the status of personalized handgun technology and report its findings to the Governor and the General Assembly annually.13
New Jersey
New Jersey was the first state to significantly regulate personalized handguns with a 2002 law intended to eventually require smart gun technology to be incorporated into all handguns sold in the state. In 2019, New Jersey amended that law to require that licensed firearm retail dealers make available for purchase at least one personalized handgun within 60 days of the first personalized handgun being included on a state roster of approved personalized handguns.14 The 2019 legislation, which will take effect February 1, 2020, established a Personalized Handgun Authorization Commission responsible for establishing performance standards, overseeing performance testing by an independent laboratory, and maintaining the roster of personalized handguns authorized for sale to the public.15
New Jersey defines a "personalized handgun" as a handgun that is approved by the Personalized Handgun Authorization Commission and "incorporates within its design a permanent programmable feature as part of its manufacture that cannot be deactivated and renders the personalized handgun reasonably resistant to being fired except when activated by the lawful owner or other authorized user."16 The Personalized Handgun Authorization Commission is required to publish its roster of handguns meeting the commission's performance standards and qualifying criteria on a website maintained by the New Jersey State Police, update the roster as needed, and make the roster available every six months to registered and licensed firearms dealers.17
Within 60 days of the first personalized handgun being included on the roster, New Jersey licensed firearm retail dealers must "make available for purchase at least one personalized handgun approved by the commission and listed on the roster as eligible for sale."18 They must also post copies of the personalized handgun roster and a sign disclosing unique features of personalized handguns.19 Licensed firearm retailers' personalized handgun inventory and records are subject to inspection by the state police at least once every two years,20 and dealers who violate the personalized handgun requirement are subject to penalties.21
Massachusetts
Massachusetts mentions personalized gun technology as an alternative to locking devices in its requirement that any handgun or large capacity weapon be sold with a safety device designed to prevent the discharge of such weapon by unauthorized users and approved by the state police.22 The state police has not yet approved any form of personalized technology as sufficient to comply with this requirement.23
SUPPORT GUN SAFETY
We're in this together. To build a safer America—one where children and parents in every neighborhood can learn, play, work, and worship without fear of gun violence—we need you standing beside us in this fight.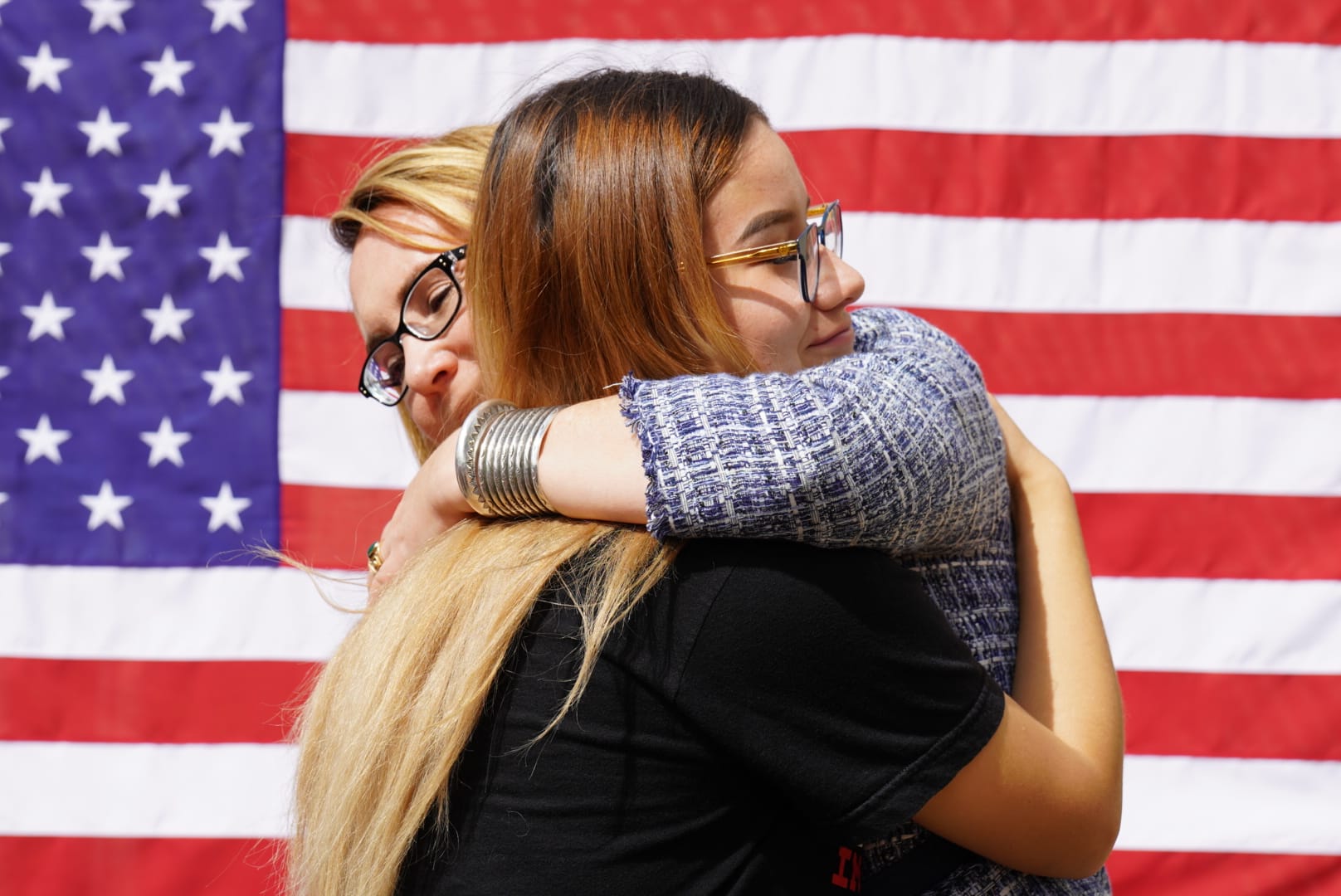 Key Legislative Elements
The features listed below are intended to provide a framework from which policy options may be considered. A jurisdiction considering new legislation should consult with counsel.
An authorized governmental or law enforcement body is charged with monitoring progress in developing personalized firearm technology and reporting regularly to the appropriate authorities (Maryland—annually).
An expert commission establishes performance standards, oversees performance testing by an independent laboratory, and maintains and regularly updates a roster of personalized handguns authorized for sale to the public (New Jersey).
Incentives are provided to encourage research, development, and commercial sale of personalized firearms and gun safety technology.
Standards are set for personalized firearms, and personalized firearms are tested and approved by a certified independent lab before they may be sold in the jurisdiction.