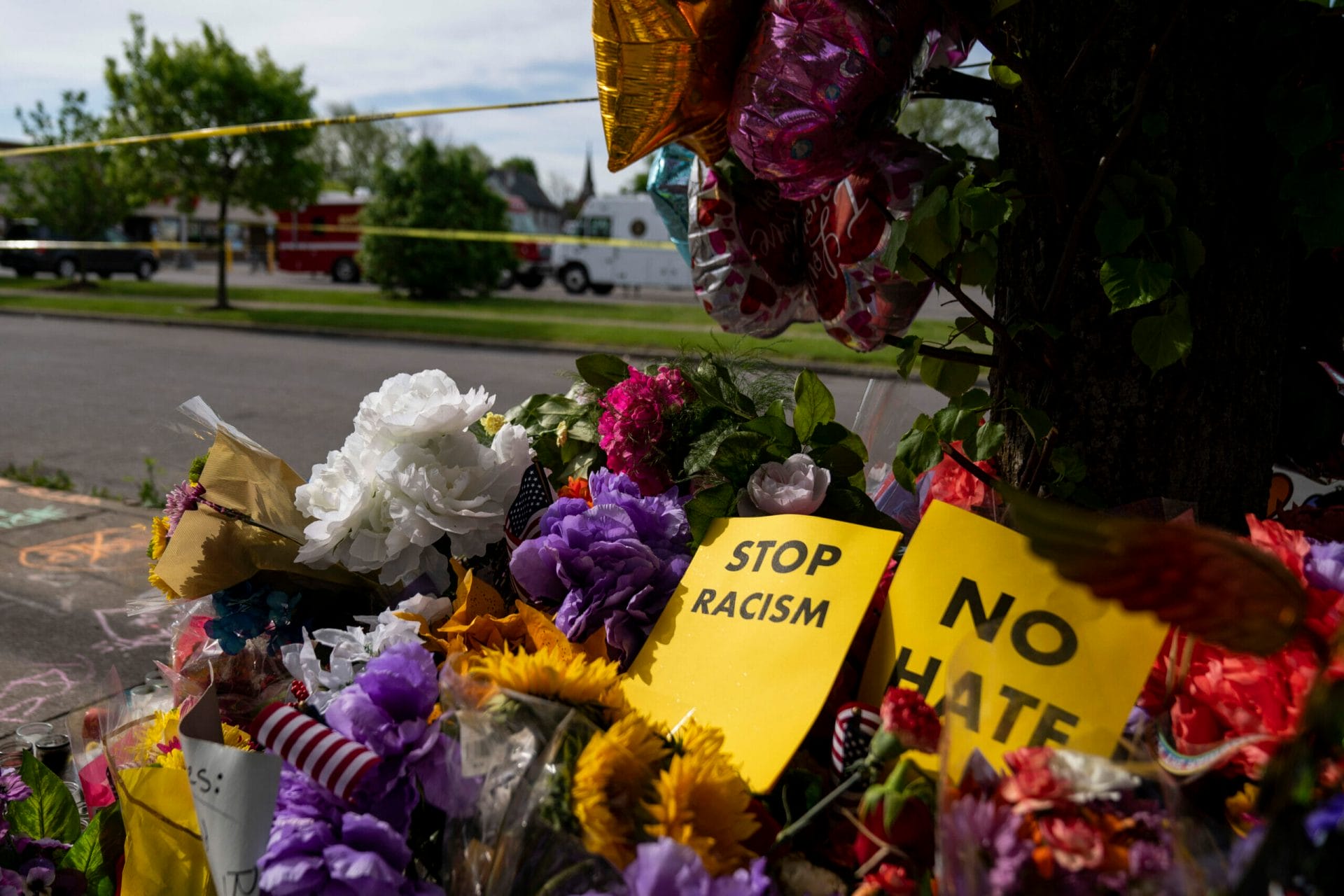 Guns are often the tools of violent hate and extremism, facilitating attacks that sow terror throughout entire communities. 
A Sikh temple in Wisconsin. The University of California campus in Santa Barbara. The Emanuel African Methodist Episcopal church in Charleston. Pulse nightclub in Orlando. The Tree of Life synagogue in Pittsburgh. A Walmart in El Paso. Three spas in Atlanta. A grocery store in Buffalo. Club Q in Colorado Springs. And so, so many more.
Some of the deadliest mass shootings in our nation's history have been motivated by bias—and disturbingly, they've become more frequent in recent years. In addition to large-scale shootings that make headlines, hate crimes also take the form of individual attacks, and they don't necessarily involve a firearm being fired.
Armed hate is an escalating issue, and without action at the state and federal level it will continue to harm communities. It's more urgent than ever to enact laws to limit access to guns for perpetrators of hate crimes.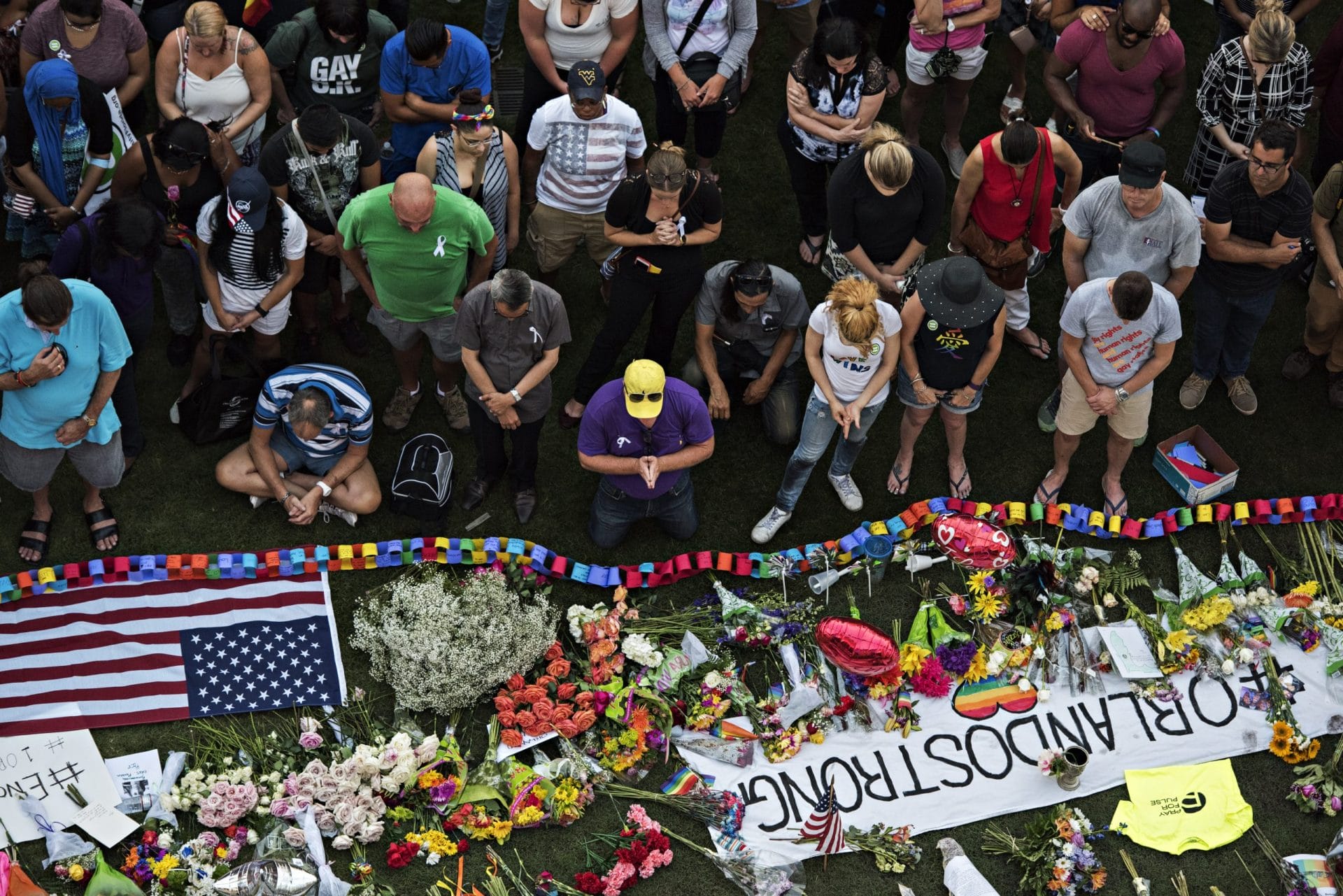 REPORT
POLICIES TO DISARM HATE
Hate crimes are on the rise, and guns make it far too easy for a bias-motivated attack to turn deadly. Yet our gun laws suffer from major limitations that allow too many people convicted of hate crimes to obtain firearms. Our report, How America's Gun Laws Fuel Armed Hate, examines how we can better protect communities from armed extremists.
Read More
It was May 14, 2021, his three-year-old son's birthday, and Andre Mackniel was at Tops Friendly Markets in Buffalo picking up a cake. On a day meant for celebration, Andre never made it home—and his family's life was altered forever. He was killed by a mass shooter who selected the grocery store because it was in a predominantly Black neighborhood. 
In total, 10 people—all of whom were Black—were killed, and three more were injured. It was a targeted attack, devastating the community and exposing the ease with which lives can be cut short in violent acts of hate.
The widespread impact of hate crimes makes them particularly egregious. These attacks are meant to send a message: that victims are vulnerable because of who they inherently are, wherever they are. As a result, hate crimes often cause psychological distress not only to victims, but also to members of the same group that was targeted, whether because of race, religion, gender, sexual orientation, or other characteristics.
In the wake of a hate crime, entire communities are left grieving and justifiably wary. People start looking over their shoulder as they walk, wondering if they're being followed. Parents worry whether their kids will come home safe from school. While running errands or going out with friends, many feel afraid they may be targeted by someone with a hateful ideology and a gun.
Hateful bias and easy access to firearms are a deadly combination, and the problem is only growing. Hate crimes, particularly on the basis of gender identity, national origin, sexual orientation, and ancestry have become more common. In recent years, the FBI has elevated "racially motivated violent extremism" to a top-level priority threat.
Lawmakers at the state and federal levels have the power to better protect all Americans from violent hate and must take immediate action to address this threat, starting with stronger gun laws.
Each year, more than 10,300 violent hate crime attacks involving guns—either their use or their threatened use—take place in the United States. The majority of hate crime attacks are motivated by bigotry on the basis of race or ethnicity—and in recent years, the number of hate crimes has increased significantly.
When someone is prepared to express their hatred through violence, it is essential to restrict their access to firearms. Too many people with significant histories of violent hate and extremism are allowed to buy guns, including the assault weapons often used to perpetrate mass shootings. Unfortunately, both state and federal laws fail to consistently limit access.
The FBI defines a hate crime as "a criminal offense against a person or property motivated in whole or in part by an offender's bias against a race, religion, disability, sexual orientation, ethnicity, gender, or gender identity." Under federal law, prosecutors may charge people with hate crimes for offenses including assault, murder, arson, and vandalism, as well as threats or conspiracy to commit these offenses, when the offense is motivated by bias.
Research shows that people who have been convicted of violent hate crimes tend to continue or escalate their behavior. Yet, the United States doesn't have any firearm restrictions specific to hate crimes in place at the national level. Federal law only prohibits firearm access by people convicted of felonies punishable by more than a year or state-level misdemeanors punishable by more than two years, which ill-advisedly excludes many people with a high likelihood of violence. Hate-fueled individuals are able to legally buy guns, simply because their sentence wasn't long enough to trigger a firearm restriction.
Using sentence length as a determining factor for firearm restrictions is flawed—guns are often used to intimidate victims during hate crimes but are not always fired, resulting in a shorter sentence. Hate crimes are unique cases, and the threshold for restricting access to a gun should be lower than other crimes.
While some states, like Hawaii, forbid people convicted of violent hate crime misdemeanors from accessing guns, others, like North Carolina, generally allow people convicted of violently injuring a victim in a hate crime to access and keep firearms—including assault weapons. Furthermore, some state laws are too limited and fail to protect all marginalized communities—in Alaska, for example, attacks against people based on their sexual orientation or gender identity are not considered hate crimes and not subject to enhanced sentences that could limit an attacker's ability to possess a gun.
To effectively address the rising number of hate crimes perpetrated with firearms, hate crime gun laws must protect all Americans and must be implemented properly.
THE FACTS
94%
HATE CRIMES HAVE NEARLY DOUBLED
From 2014 to 2021, the annual number hate crimes in America increased a startling 94%.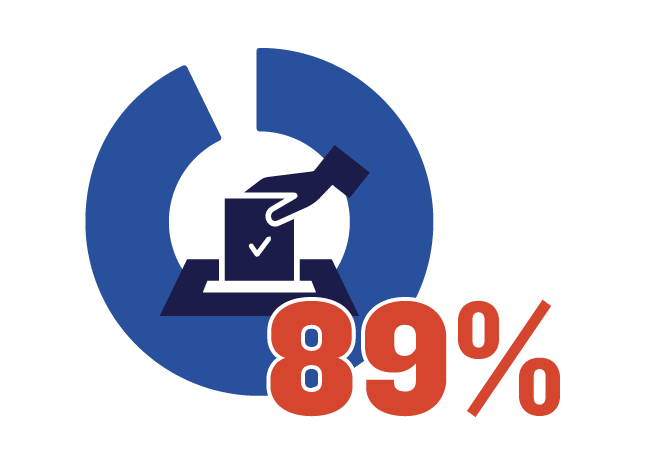 of voters support background checks
+10k
HATE CRIMES WITH GUNS PER YEAR
At least 10,300 bias-motivated attacks involving guns take place each year. This includes both shootings and threats with guns.
Guns make it too easy for hate and bias to turn violent, and we must take steps to keep these dangerous weapons away from the people with a proven risk of attacking innocent people.
Firearms are uniquely deadly compared to other common weapons or implements. We see this with suicide, where over 90% of attempts with a gun are fatal, compared to less than 5% with medication or cutting; with concealed carry, where the presence of a gun turns everday arguments into shootouts; and more and more we see it with hate crimes, where a gun gives an extremist the opportunity to kill innocent people quickly and with little effort.
Since people convicted of hate crime misdemeanors are usually able to buy guns legally—and since those with a history of hate crimes tend to escalate their behavior, indicating future violence—it's no wonder that bias-driven attacks increasingly end in shootings. In order to protect all American communities, regardless of identity or demographic, we have to address the lethality of these crimes at the source: guns.
Passing stronger firearm-specific hate crime laws will ensure that people seeking to harm others based on their identities won't be able to get guns so easily. Hate crime laws were designed to protect the groups most likely to be targeted in bias attacks, but they generally apply after the fact, increasing penalties when a serious violent crime is carried out with hateful intent. By ignoring the proven risk factors of hate crime misdemeanors, we're missing an opportunity to prevent those more serious violent crimes before they happen. There is a longstanding precedent of increased restrictions on firearm access when there's an elevated risk in other areas, such as domestic violence, the involvement of minors, or mental illness is a factor. Restricting access to guns for those most likely to commit violent hate crimes is a logical and reasonable step in addressing our country's gun violence crisis.
In addition to restricting the purchase of new weapons, states must enact laws that specifically require firearm relinquishment for people convicted of hate crime misdemeanors, and expand these protections to all protected groups on the basis of race, ethnicity, religion, nationality, disability, gender identity, and sexual orientation. Many people restricted from possessing firearms already own a gun, and when law enforcement fails to follow up and ensure these guns are legally and safely removed, our laws designed to save lives are rendered ineffective. States need to both require and incentivize the relinquishment of guns in order to keep our communities safe, particularly from hate-fueled attacks.
Policies to Prevent Hate Crimes
Giffords recognizes the surge of hateful ideology across America in recent years that has been accompanied by an escalation of public intimidation with firearms, and we're fighting back. Giffords recently released How America's Gun Laws Fuel Armed Hate, a report examining state gun laws on hate crimes that includes the most comprehensive 50-state analysis to date detailing access to guns by violent hate crime offenders.
We, along with other gun violence prevention groups, domestic violence groups, and additional advocacy groups for marginalized communities, are actively fighting to draft, pass, and implement a variety of laws across the country to combat the rise in hate crimes. These include extreme risk protection orders, universal background checks, assault weapon bans, and more.
Since 2014, we've helped successfully draft and enact extreme risk protection laws in nearly 20 states and helped develop the Extreme Risk Protection Order Act, which passed the US House of Representatives in 2019 but stalled in the Senate, to support implementation of these new laws. Giffords was also instrumental in developing and passing the Bipartisan Background Checks Act in the US House, and has worked to successfully enact new state-level background check laws in 10 new states since 2013.
We understand the relationship between gun safety laws and the lethality of hate crimes, and we're making sure our lawmakers do too. In order to save lives and make our communities safer, we need stronger gun laws—and we are going to fight for them.
SUPPORT GIFFORDS
We're in this together. To build a safer America—one where children and parents in every neighborhood can learn, play, work, and worship without fear of gun violence—we need you standing beside us in this fight.