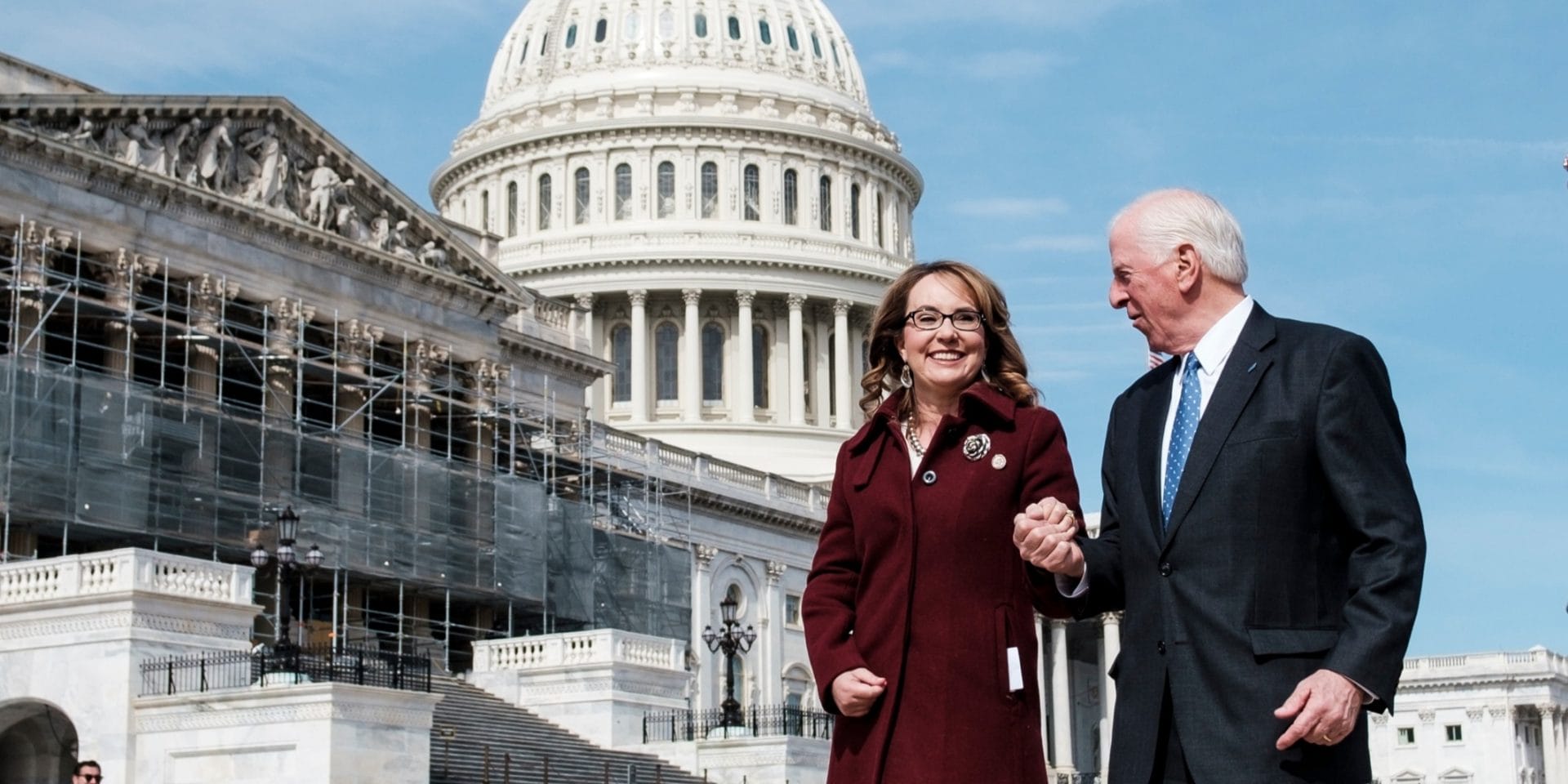 STATEMENT: Gabrielle Giffords on House Vote to Pass H.R. 8, Bipartisan Background Checks Act of 2019
Washington DC—Today, former Representative Gabrielle Giffords released the following statement reacting to the historic action taken by the US House of Representatives today to pass H.R. 8, the Bipartisan Background Checks Act of 2019 , legislation that will require a background check on every gun sale:
"Today's historic gun safety victory in Congress is a testament to courage. When the days were darkest, when it looked like the gun lobby's money and influence would forever silence any debate in Washington about stronger gun laws, courage shone through. Courage embodied by relentless advocates and resilient survivors who never lost sight of the fact that a safer future is possible. Courage exemplified by leaders who victoriously ran for office promising to fight for solutions to make our country safer from gun violence. Just eight weeks into the new Congress, courage is what inspired the U.S. House of Representatives to pass H.R. 8, the Bipartisan Background Checks Act.
"Americans finally have a majority in the House of Representatives that is listening to them. The leaders we elected to protect us are finally fighting to make our country a safer place to live, work, study, worship, and play.
"Tragically, the cost to our communities while we waited over a decade for this progress has been far too high. Hundreds of thousands of American lives have been lost. Far too many families and communities, including my own, have been forever changed by the horror of gun violence. Places that should always feel safe—our schools, our houses of worship—feel like they're under attack. We will not let this devastating and tragic reality become the new normal.
"Today's victory in the House is a critical first step toward stronger gun laws that will save lives. The responsibility to take the next step now shifts to the Senate. Over 90 percent of the American electorate is demanding that they move this legislation forward. Make no mistake: those voters are watching carefully. When tragedy strikes, voters will remember who took action to protect them, and who looked the other way. Never doubt the will of the American people. Their courage to fight for a safer America will not be ignored."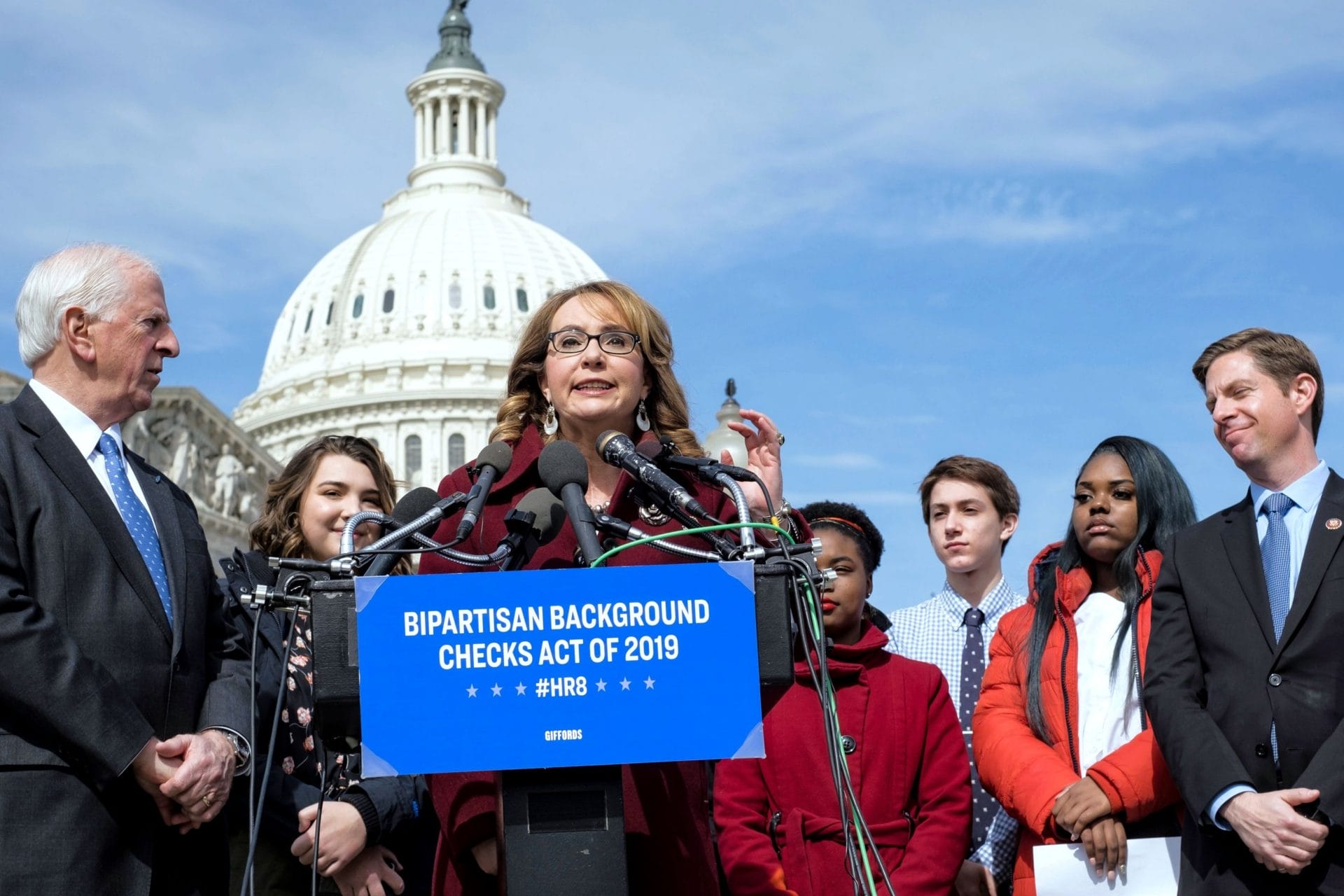 Experts Available for Comment
To arrange an interview with a gun law or law enforcement expert, please email media@giffords.org.
Background on Giffords Efforts to Pass H.R. 8
H.R. 8 was introduced on January 8th, which also marked the eighth anniversary of the Tucson shooting. Former Congresswoman Gabrielle Giffords joined Speaker Pelosi and Congressman Thompson for a press conference on Capitol Hill to unveil the legislation. In the weeks since, Giffords has been publicly advocating for swift passage of the bill. Giffords elevated the voices of Americans demanding action by teaming up with March for Our Lives, Town Hall Project, TOMS, and Levi's to host a nationwide series of Gun Safety Town Halls rallying support for H.R. 8.
Giffords Law Center Executive Director Robyn Thomas testified before the House Judiciary Committee urging swift passage of H.R. 8. She also spoke at the last gun violence prevention hearing held in the House, over a decade ago.
The Giffords Law Enforcement Coalition sent a letter to congressional leadership urging them to pass the lifesaving legislation. Signed by 15 law enforcement leaders from across the country, the letter illustrated the urgent need to close loopholes in America's background checks system that endanger communities, including the thousands of law enforcement officials who put their lives on the line every day for our public safety.
Members of the Giffords Veterans Coalition sent a letter to congressional leadership highlighting the fact that horrific mass shootings and the daily toll of gun violence have left Americans feeling less safe and called on Congress to close loopholes in the country's background check system that leave communities in danger. These 13 top veteran military leaders point out why immediate action is needed as the gun death rate in America has reached its highest level in nearly 40 years.
Background on Giffords Efforts to Build a New Gun Safety Majority
In 2018, we saw gun safety move from third rail to top issue in some of the nation's most contentious campaigns. Millions of voters—young and old, Democrat and Republican, urban and suburban—rallied for stronger gun laws and the candidates who support them. 101 Giffords-endorsed gun safety champions were elected to the US House of Representatives, helping flip the House to a new " Gun Safety Majority." 40 of the NRA's top champions in the House were defeated, the majority of whom accepted gun lobby contributions and A-ratings and blocked progress on all action to strengthen gun laws.
Giffords PAC ran an aggressive independent expenditure campaign of nearly $7 million to take on four Republican Members of Congress in battleground, suburban congressional districts because they sided with the NRA at the expense of reducing gun violence in their communities. Giffords was victorious in all four districts. NRA-favorites Barbara Comstock, Mike Coffman, Jason Lewis, and John Culberson were all defeated and replaced with Giffords-endorsed candidates committed to strengthening America's gun laws. Campaign ads touting gun safety far outnumbered ones focused on gun rights. And gun safety groups like Giffords outspent the NRA by tens of millions of dollars, even in the deepest of red states, like Texas.
When the new Congress began to consider legislation, Giffords pushed for immediate progress on two key gun safety priorities: passing universal background checks and funding Centers for Disease Control and Prevention (CDC) research into the country's epidemic of gun violence.