Giffords Endorses Slate of Senators Running to Bring a Gun Safety Majority to the US Senate
Five incumbent Senators have strong gun safety records
Washington, DC — Giffords , the gun violence prevention organization founded by former Congresswoman Gabrielle Giffords, endorsed five incumbent senators in their reelection bids to remain in the Senate. The slate has pushed for stronger gun safety laws during their time in the Senate, including a continued call for a debate and vote on the House-passed bill H.R. 8, the Bipartisan Background Checks Act of 2019. Their reelections are critically important to bringing a majority to the US Senate who will make gun safety a priority.
Statement from former Congresswoman Gabrielle Giffords, co-founder of Giffords:
"These senators are the fearless champions we need to end gun violence in America. Each one has proven to be a leader with the courage to act. They've stood with the families and communities rocked by gun violence, and they've pushed for legislation that will make our communities safer. Giffords is proud to help send this group of senators back to Washington, DC so they can stand up to the gun lobby and deliver the clear victories on gun safety legislation."
While the House of Representatives has approached gun safety legislation with the seriousness and urgency needed to solve our country's gun violence epidemic, the current majority in the Senate has stalled and obstructed any and all gun safety bills sent to them by the House. That's why Giffords invested nearly $750,000 in ads calling out Majority Leader Mitch McConnell (R-KY) and Senator Cory Gardner (R-CO) for failing to support H.R. 8 last year.
The current coronavirus pandemic has highlighted a number of gaps in our federal gun laws that will require federal action in the near future. Issues such as safe storage, loopholes that leave domestic violence survivors vulnerable to abuse, and a strain on our federal background checks system have all been magnified during the coronavirus outbreak. Electing a gun safety majority in the Senate will ensure that Congress actually addresses these dangerous gaps.
Giffords is also leading the effort to make this the year the country elects a #GunSafetyPresident. The organization launched a video campaign this past fall that allowed the American people to hear directly from leading Democratic candidates for president about gun violence—the issue keeping people up at night and dominating discussion at kitchen tables across the country. They also joined with March For Our Lives to host a 2020 gun safety forum in Las Vegas in October.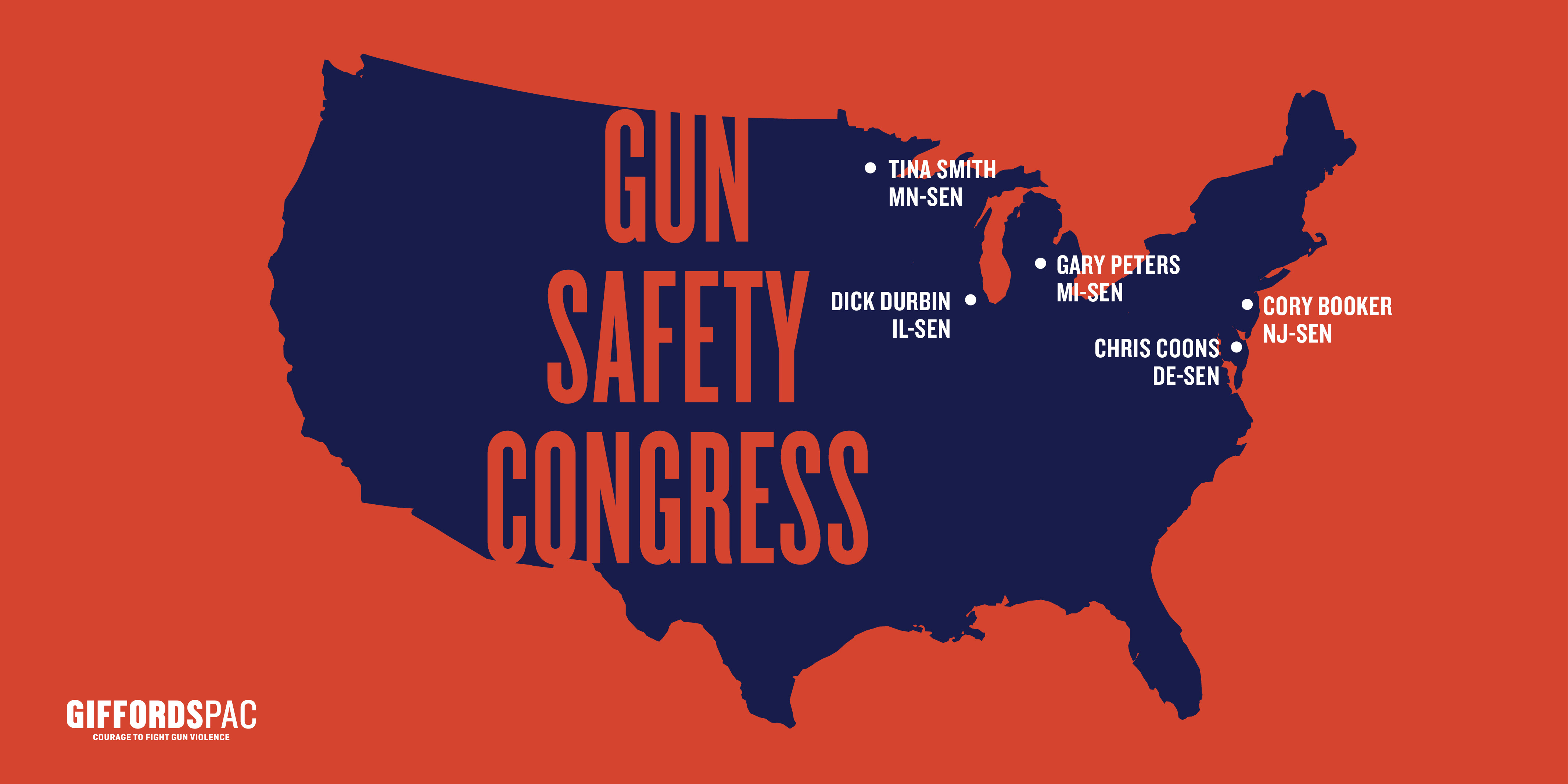 Today's Giffords Endorsements include:
Cory Booker (D-NJ): Senator Cory Booker is one of the leading voices in the national gun violence prevention movement. Cory Booker has made saving lives from gun violence a cornerstone of his political career since he was first elected to the Municipal Council of Newark in the late 1990s. Throughout Booker's time in office in Newark, first as a councilman and later as the mayor, he lived in a neighborhood where gun violence is a far too frequent occurrence. He understands that being able to live free from the fear of shootings is a prerequisite for economic opportunity and justice. In the Senate and on the campaign trail, Senator Booker has worked tirelessly to advance innovative and lifesaving gun violence prevention policies. Last year, he introduced groundbreaking legislation to fund evidence-based programs designed to break the cycle of violence in cities like Newark. Booker has also been a leading proponent of a federal gun licensing system which would build on the success of states that have used licensing laws to reduce shootings and save lives. Senator Booker's passionate leadership will be key to continuing to build on the gun safety victories of the 116th Congress.
Chris Coons (D-DE): Senator Chris Coons is a pragmatic and principled leader who is seeking his second full term representing Delaware in the Senate. Raised in Delaware, Coons earned degrees from Yale Law School and Yale Divinity School and worked as counsel to a Delaware-based manufacturer before serving a decade in New Castle County government. Coons was first elected in 2010 to complete Vice President Joe Biden's term in the Senate. Senator Coons brings a commonsense approach to gun violence prevention, as well as an understanding that measures to keep our communities safe must be balanced with respect for the rights of gun owners. To that end, Senator Coons has worked across the aisle to introduce legislation that would notify state and local law enforcement when a dangerous person fails a background check. He has also signed on to require background checks on all gun sales—legislation that Mitch McConnell blocked after it passed the House with bipartisan support.
Dick Durbin (D-IL): Senator Dick Durbin's distinguished career in public service dates back to 1982, when he was elected to represent what was then Illinois's 20th District in the US House of Representatives before being elected to the US Senate in 1996. As the senior senator from Illinois and the Senate Democratic Whip, Senator Durbin has led on gun safety, fighting for commonsense reforms even before they were at the forefront of public conversation. In the 1990s and early 2000s, he voted to require background checks at gun shows and against prohibiting lawsuits against gun manufacturers, early versions of bills that are still being debated in the halls of Congress today. Recently, Senator Durbin has been outspoken about funding gun violence research and expanding background checks, all while calling out his Republican colleagues for their corruption and inaction. Senator Durbin is an invaluable partner in the fight for gun safety, and his experience will only be more essential when a new gun safety majority is elected to join him in the Senate this year.
Gary Peters (D-MI): Before running for public office, Gary Peters graduated from law school and worked for various institutions as a financial and policy advisor. He also served in the US Navy Reserve for 15 years, during which time he achieved the rank of lieutenant commander. His sense of civic duty compelled him to pursue a career in the public sector, where he could continue fighting for the best interests of everyday Americans in a different way. He served on the Rochester Hills City Council, the Michigan State Senate, and the US House of Representatives before winning his US Senate election in 2014. As a senator, he has made gun safety a top priority. Like many Michiganders, Senator Peters is a gun owner, which is why he stresses the need for commonsense legislation to keep gun owners and non-gun owners safe. In 2016, following the tragic shooting at Pulse Nightclub in Orlando and total inaction from Repubican leadership, he joined his Democratic colleagues in a 15-hour filibuster on the Senate floor to enable a vote on gun safety legislation. In the face of fierce opposition, Senator Peters continues to protect his constituents by being a vocal proponent of gun safety legislation.
Tina Smith (D-MN): Senator Tina Smith has dedicated her career to working on behalf of Minnesotans. She previously served as chief of staff to Governor Mark Dayton, and was elected lieutenant governor in 2014. Senator Smith has represented Minnesota in the US Senate since her appointment in January 2018, and stayed in office after winning a special election by almost ten points in November of that year. She has spent her time in the Senate working across party lines to get things done on the issues that matter most to her constituents. Senator Smith believes that it's long past time to take action on gun violence and address the toll it has taken on communities across Minnesota and the country at large. She has made it a priority to meet with survivors of the Parkland school shooting as well as student activists in Minnesota, and continues to advocate for policies that will help keep guns out of our classrooms. Senator Smith wants to make sure that guns stay out of the hands of dangerous people, which is why she has signed onto legislation to require a background check on all gun sales. Minnesotans can count on Senator Smith to continue to advocate for policies that will keep their communities safe.