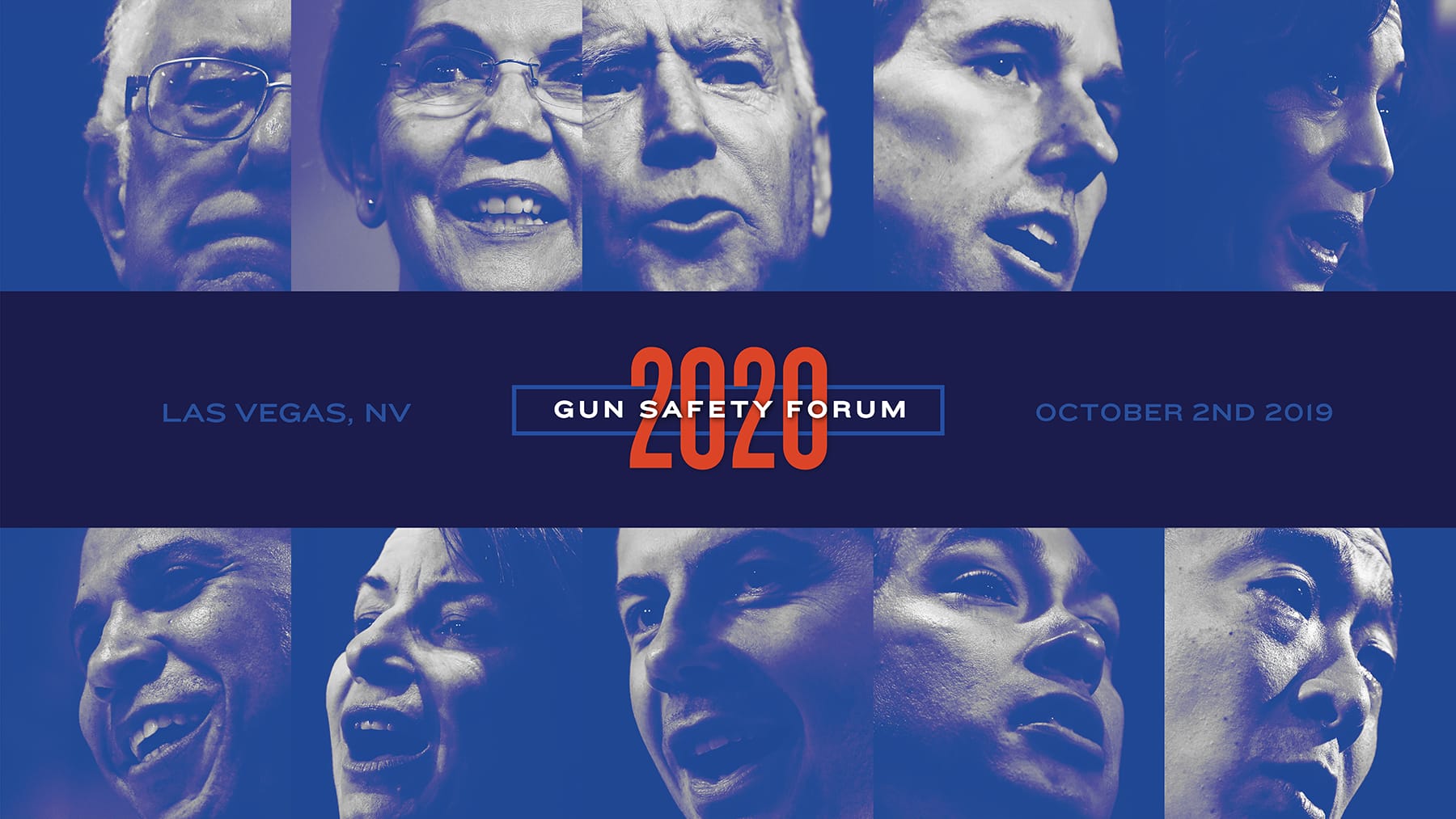 MSNBC to Exclusively Moderate 2020 Gun Safety Forum with Top 10 Presidential Candidates
Today, March For Our Lives and Giffords announced that MSNBC will exclusively moderate and livestream the upcoming 2020 Gun Safety Forum in Las Vegas, Nevada. Craig Melvin, "MSNBC Live" anchor, will serve as the Forum's moderator. The Forum will take place on October 2, 2019, in Las Vegas, one day after the second anniversary of the Route 91 Harvest music festival shooting, the deadliest mass shooting in recent American history. The forum will be streamed live on NBC News Now and featured across MSNBC programming.
The upcoming 2020 Gun Safety Forum will be attended by the 10 presidential candidates who qualified for the third Democratic debate on September 12. Candidates include: Former Vice President Joe Biden; New Jersey Sen. Cory Booker; South Bend, Indiana Mayor Pete Buttigieg; Former HUD Secretary Julian Castro; California Sen. Kamala Harris; Minnesota Sen. Amy Klobuchar; Former Texas Rep. Beto O'Rourke; Vermont Sen. Bernie Sanders; Massachusetts Sen. Elizabeth Warren; and businessman Andrew Yang.
The 2020 Gun Safety Forum will provide the candidates with the opportunity to directly engage voters and present their plans to address America's gun violence epidemic. Forum attendees will include survivors of gun violence, students, family members of those impacted, elected officials and gun violence prevention advocates.
"Giffords and March for Our Lives are proud to collaborate with MSNBC on a landmark forum so that voters and viewers can hear directly from candidates about how they would address America's gun violence crisis. Gun safety and the fight to save lives will be one of the defining issues of the race for president in 2020," said Peter Ambler, Executive Director, Giffords.
"We are excited to announce that MSNBC will join both March For Our Lives and Giffords to broadcast live the 2020 Gun Safety Forum, so that presidential candidates can share what we hope are bold, ambitious, and comprehensive plans to address America's gun violence crisis," said Bria Smith, Board Member, March For Our Lives.
Since last month, the nation has experienced a string of mass shootings that have captured national attention and once more reminded all Americans of the need to comprehensively address gun violence in America. Shootings in Gilroy, CA, El Paso, TX, Dayton, OH and Odessa, TX — not to mention other gun tragedies that did not make news headlines — have made it clear that state and federal policymakers must act immediately and with a sense of urgency to prevent future gun deaths.
Gun deaths in the United States have reached their highest level in almost 40 years, with nearly 40,000 Americans killed by a gun in 2017. Communities across America continue to be tragically impacted by gun violence that has increased in intensity over the last several years, particularly in schools and other civic spaces. Too often, communities of color disproportionately bear the continued impact and trauma of our nation's gun violence epidemic.
Americans overwhelmingly support gun reforms that will make communities and our nation safer. In a September 10, 2019, PBS NewsHour, NPR and Marist poll:
83% of respondents support background checks for private and gun show gun sales
72% of respondents support creating a national "red flag" law
72% of respondents support mandatory gun licenses before purchasing a gun
61% of respondents support a ban on the sale of high capacity magazines
57% of respondents do not support allowing school teachers to carry guns
Additional logistical and format details of the 2020 Gun Safety Forum will be announced in the weeks leading up to the event. Press interested in attending/covering the Forum should contact Jason Phelps, media@giffords.com and/or Eric Hollister Williams press@marchforourlives.com.