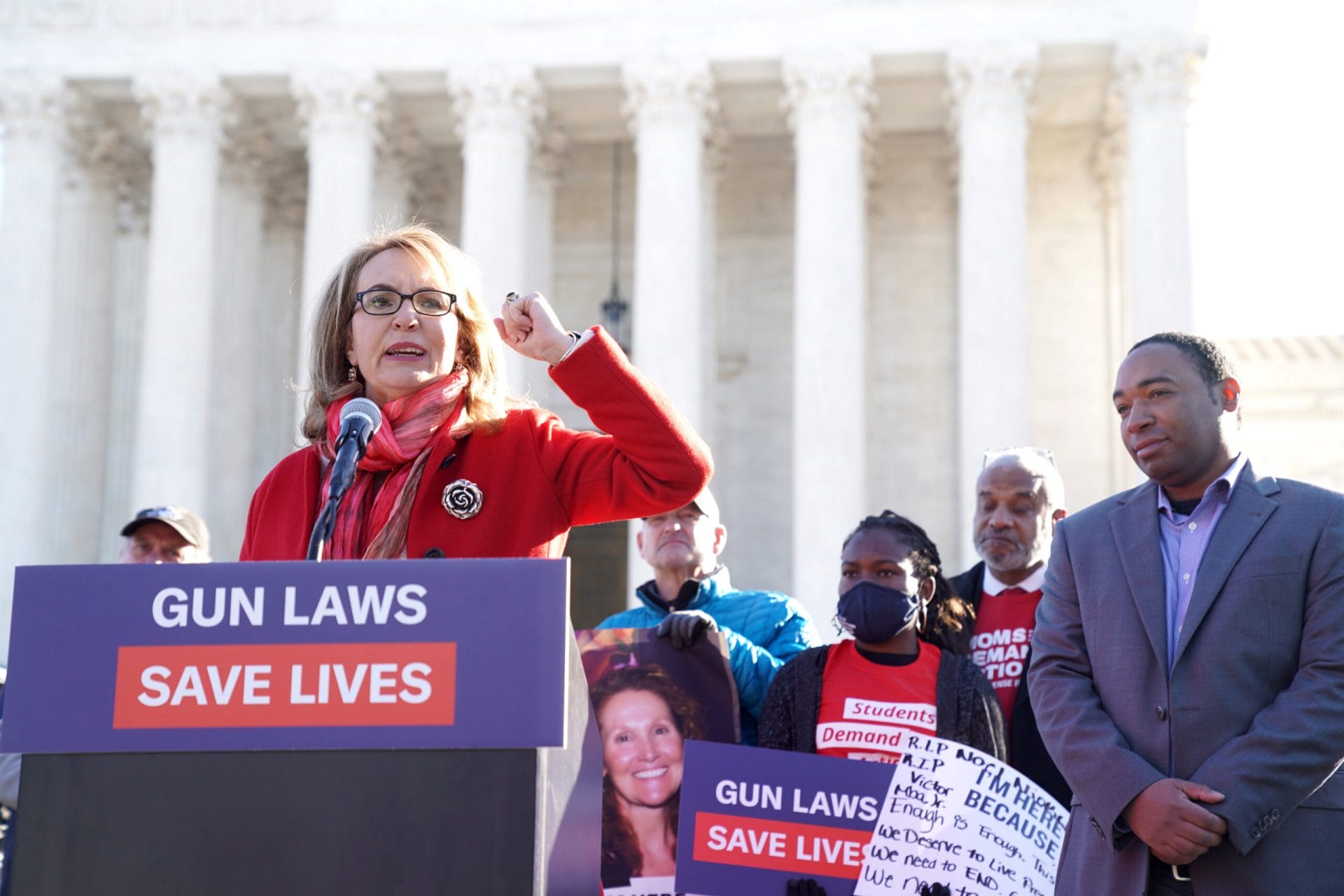 On Day of Oral Arguments, Giffords Law Center Calls on Supreme Court to Uphold New York State Gun Safety Law

New York State Rifle & Pistol Association Inc. v. Bruen represents the most consequential Second Amendment rights case heard by the Court in more than a decade


WASHINGTON, DC — Today, Giffords Law Center stood with other gun violence prevention organizations, including Brady, Everytown for Gun Safety, and March for our Lives in calling on the US Supreme Court to uphold New York State's concealed carry law being challenged by the NRA and the gun lobby. New York State Rifle & Pistol Association Inc. v. Bruen represents the most significant Second Amendment case heard in our country's highest court in more than a decade. The Supreme Court held oral arguments this morning. Giffords Law Center, represented by the law firm Kaplan Hecker & Fink LLP, filed an amicus brief in support of New York State's gun safety law.  
Earlier today, former Congresswoman Gabrielle Giffords joined nearly 50 gun violence survivors on the steps of the Supreme Court in a rallying call for gun violence prevention and lifesaving gun laws. In using their voices to share how gun violence changed their lives forever, survivors urged Supreme Court justices to choose gun safety over an extreme interpretation of the Second Amendment that would result in more lives needlessly lost to gun violence. 
Former Congresswoman Gabby Giffords:

"It was an honor to stand beside other survivors on this cold November morning to send a message to the justices of the Supreme Court and to the rest of the country: gun laws save lives. I hope the Court takes seriously the weight of this tremendous responsibility, and makes a decision that is both informed by historical precedent and in the best interest of public safety.
"Either way, the many, many Americans whose lives have been forever changed by gun violence will not be silenced. We will not stop fighting for a future free from violence. Our courts and our elected officials must put the will of the people and the wellbeing of our communities above the interests of the gun lobby." 
Hannah Shearer, Litigation Director, Giffords Law Center:
"Today's oral argument confirmed that the NRA has fully embraced extremist views about the Second Amendment that threaten public safety and the right of all Americans to live peacefully. We heard counsel for the NRA-affiliated plaintiffs issue a dangerous call to the Supreme Court's conservatives to mandate a 'guns everywhere' policy at a time when more people than ever are dying from gun violence.
"We are on high alert about the dangerous consequences of a potential ruling in favor of gun extremists. But the Court still has an opportunity to reject the unprecedented and historically inaccurate view that the Second Amendment precludes meaningful gun safety regulations in public. This morning we stood outside the Supreme Court with gun violence survivors who know that more people stand to lose loved ones and suffer devastating injuries if a radical reinterpretation of the Second Amendment wins the day. The justices will be on the right side of history if they reject Second Amendment extremism and choose instead to protect recent progress toward gun safety reform."
The New York law currently regulates the standards for carrying concealed guns in public, with good reason. More people carrying more guns in public spaces means more gun violence, throwing countless people into needless danger. Gun extremists, including the NRA and the gun lobby, are threatening to topple this commonsense gun safety law in a bid to force more guns into public spaces, endangering children, law enforcement, and Black and Brown communities. 
The Supreme Court is expected to issue a decision on the case next year.