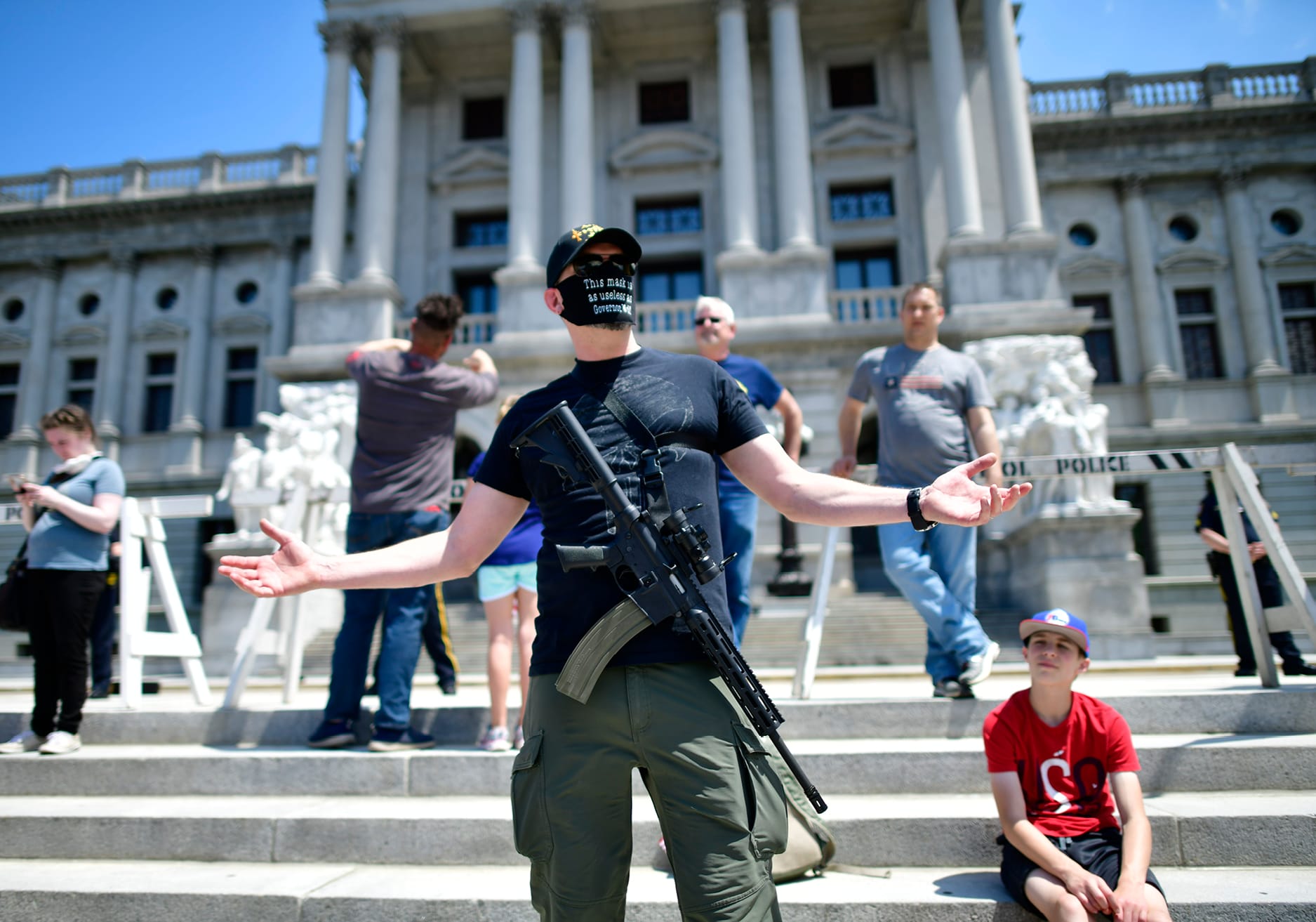 Armed Protesters Inspire Fear, Chill Free Speech
On January 6, 2021, our nation witnessed an armed insurrection at the United States Capitol by a pro-Trump mob that included members of far-right extremist groups and militia networks.
These insurrectionists shattered the image of a peaceful US democracy while waging a deadly attack at a sacred site of governance. The Capitol insurrection may have been a one-time incident, but the fury that fueled it has long existed among groups of Americans.
Since 2020, there has been an alarming uptick in incidents of armed protesters asserting that their right to bear arms trumps every other right—not to mention public health and safety.
In the first two months of 2020, most armed protesters showing up to state capitols and bringing their weapons to the houses of legislators were doing so to protest gun laws, arguing that even commonsense regulations of firearms were somehow an intrusion on their Second Amendment right. And in the months since, we've seen armed protesters rallying against lockdown orders, counter-protesting peaceful racial justice protests, and claiming the 2020 presidential election was stolen.
Protesters who strap rifles to their chests and show up to rallies wearing tactical gear but not masks are not defending themselves against any actual, credible threats. What they are doing is chilling free speech, and in the time of the COVID-19 pandemic, endangering the lives of everyone in their communities, especially the elderly and the immunocompromised.
The gun lobby has a long history of ginning up fear to sell guns. In many of the incidents described below, their actions were meant to inspire fear—often, they succeeded. A black state legislator in Michigan came to work accompanied by an escort of armed black citizens, an expression of her frustration at the inability of the Michigan capitol police to provide adequate security against the armed protesters in the state capitol.
While the Supreme Court of the United States has yet to rule on the right to keep and bear arms in public, William & Mary Law School Professor Timothy Zick writes:
"Constitutional scholars have argued that exercising First Amendment rights of speech and assembly is both physically and theoretically incompatible with open carry at protest events."
Researchers have suggested that the presence of visible firearms may increase aggressive and violent behaviors. It can also escalate into tragic violence. Look no further than the despicable murder of Ahmaud Arbery, gunned down in the streets by armed white civilians while out for a jog.

Below, we have compiled a representative sampling of dozens of these events: incidents in which armed protesters used the open carry of firearms to stoke fear and intimidation. We'll continue to update this blog regularly.
Incidents of Armed Protesters Openly Carrying Firearms
December 3, 2022—Columbus, Ohio: A drag queen storytime event in Ohio was canceled due to dozens of members of the Proud Boys and the Patriot Front showing up with guns, tactical gear, and face masks to hide their identities. Prior to the event, the groups had posted their plans to protest via Telegram. [Source]
October 23, 2022—Eugene, Oregon: A drag story time show at an Oregon pub was disrupted, but went on as planned after a face-off between protesters, some of whom were armed and threw rocks and smoke grenades at one another. [Source]
September 23, 2022—Memphis, Tennessee: A drag show at the Museum of Science and History was canceled due to the presence of armed protesters, which led to concerns for the safety of the staff and guests of the show. [Source]
August 13, 2022—Phoenix, Arizona: Armed Trump supporters protested outside of the Phoenix, Arizona, FBI office after the news that the FBI had searched Trump's Florida home had spread. [Source]
June and July 2022—USA: After the Supreme Court overturned Roe v. Wade in June, many abortion-related rallies across the country have featured armed protesters. This year, almost one in five abortion-related events has involved members of a far-right group. In one instance, a fight occurred when protesters of the Court's decision interrupted an anti-abortion prayer rally at the Idaho state capitol, which included a number of armed individuals. [Source]
March 2022—Colorado: A lawsuit filed in Colorado alleges that a right-wing extremist group sent armed members door-to-door in El Paso, Mesa, and Weld counties, using public voter lists to target areas where they argue ballots were fraudulently cast. These armed members have been reported to don badges to mimic the appearance of a government official. [Source]
September 23, 2021—Lansing, Michigan: Armed gun rights activists gathered outside the Capitol building for an annual Second Amendment rally. Individuals were not allowed inside the Capitol while openly carrying their weapons, a new policy that the activists plan to challenge. [Source]
March 29, 2021—Tulsa, Oklahoma: Hundreds of people who came from all over the country hit the Tulsa streets for a Second Amendment march. Days before the 100th anniversary of the Tulsa Race Massacre, more than 14 groups across the country took to the streets of Tulsa armed with rifles and guns. The event was called the Tulsa Massacre Second Amendment March. [Source]
March 14, 2021—Louisville, Kentucky: Protesters rallied in Jefferson Square Park to commemorate Breonna Taylor one year after she was shot and killed by Louisville police. On Twitter, LMPD said protesters were blocking the roadway around 9:30 pm and "forcing vehicles, while armed, to turn around." LMPD said the protest was declared an unlawful assembly and those who refused to disperse would be arrested. [Source]
January 19, 2021—Alameda, California: The Alameda Police Department has opened an investigation after receiving reports that armed suspects confronted peaceful protestors celebrating Martin Luther King Jr. Day. A car caravan of around 100 vehicles was in the midst of its demonstration and celebration of MLK when a man holding a rifle reportedly approached the demonstration. [Source]
January 18, 2021—Richmond, Virginia: Armed protesters and counterprotesters gathered in Richmond on Monday for an "annual protest" that took on a more tense air following the US Capitol riot. Some two dozen armed protesters, variously identifying as either the Last Sons of Liberty, Boogaloo Bois, or Proud Boys, gathered in Virginia's capital to "express their rights." [Source]
January 17, 2021—Lansing, Michigan: A protest at the Michigan Capitol drew about a dozen armed demonstrators and a heavy police presence but remained peaceful three days before President-elect Joe Biden's inauguration. With dozens of Michigan State Police troopers and National Guard members looking on, protesters carrying AR-15 rifles joined a small group of other demonstrators at the Capitol at about noon. [Source]
January 17, 2021—Austin, Texas: Armed gun rights activists gathered at the Texas Capitol, claiming the protest was "not about the election." About 100 people, many of them armed and advocating for expanded gun rights, gathered outside the Capitol gates for a few hours. [Source]
January 17, 2021—Salem, Oregon: A handful of armed demonstrators gathered outside the Oregon Capitol on Sunday morning, part of a nationally publicized day of statehouse protests that mostly failed to materialize. Some of the roughly 15 demonstrators carried long guns and wore body armor and helmets. But even as some counter-protesters appeared, there was no confrontation, with some in both camps conversing with each other. [Source]
January 17, 2021—Columbus, Ohio: Trump supporters protested his election loss at the Ohio statehouse. People in tactical gear walked around with an assortment of large firearms, baseball bats, and sticks. [Source]
January 6, 2021—Washington, District of Columbia: Thousands of Trump loyalists stormed the Capitol. Members of Congress hid under desks, stripped their identification pins from their lapels to avoid being attacked, and escaped into secret passageways. Rioters ransacked the office of House Speaker Nancy Pelosi. Flag-waving protesters smashed windows and assaulted police inside the nation's iconic symbol of democracy. Seven people died as a result of this insurrection. [Source]
December 30, 2020—Concord, New Hampshire: For weeks, armed protesters assembled outside of New Hampshire Governor Chris Sununu's home, protesting that he violated the Constitution by declaring a "perpetual emergency" for the pandemic. "…an armed individual trespassing in my backyard was arrested carrying two dozen rounds of ammunition," Sununu said. [Source]
December 12, 2020—Olympia, Washington: One person was shot following clashes between two opposing, heavily armed groups. The protest was declared a riot by police and protestors were given orders to disperse. Five people were arrested for charges including assaulting police officers and displaying a firearm at a protest. [Source]
December 5, 2020—Olympia, Washington: A 27-year-old man was arrested for firing a gun at counterprotesters at a pro-Trump rally. Over 200 Trump supporters and counterprotesters clashed repeatedly while armed with bats, bottles, rocks, chemical sprays and guns. [Source]
December 5, 2020—Detroit, Michigan: Armed protesters surrounded the home of Michigan Secretary of State Jocelyn Benson, who had just finished decorating her house for Christmas. The protesters chanted and shouted conspiracy theories about the election. [Source]
November 21, 2020—Austin, Texas: More than 100 people, including a contributor to InfoWars, rallied around baseless election conspiracy theories at the Texas State Capitol in support of Trump. Several attendees patrolled the edges of the crowd with long guns. [Source]
November 14, 2020—Phoenix, Arizona: Trump supporters, some of whom carried guns, chanted "four more years" and recounted election conspiracies at a "Stop the Steal" rally. [Source]
September 26, 2020—Portland, Oregon: Hundreds of armed members of the white supremacist group Proud Boys gathered in a Portland park, a smaller crowd than organizers expected. Two attendees were arrested on weapons charges during a traffic stop: both were carrying loaded weapons in public and one was also in illegal possession of a firearm. [Source]
September 25, 2020—Louisville, Kentucky: Armed vigilantes from the extremist Oath Keepers militia dressed in military fatigues clashed with protesters responding to the grand jury's decision not to directly charge officers for the killing of Breonna Taylor. [Source]
September 17, 2020—Lansing, Michigan: Heavily armed gun rights extremists surrounded the Michigan State Capitol in support of open carry within the government building. The Proud Boys and the Michigan Liberty Militia were both present. Protesters carried Confederate flags, Trump campaign banners, and AR-15s while wearing body armor. [Source]
September 12, 2020—St. Paul, Minnesota: Over 100 protesters rallied in support of Trump and against COVID-19 policies they claimed limited their freedoms. While singing, marching, and carrying flags, some crowd members carried long guns and wore body armor. [Source]
September 7, 2020—Salem, Oregon: Far-right protesters and Trump supporters, including members of white supremacist groups, faced off against counter-protesters in front of the state capitol in Salem. Many of the far-right demonstrators were armed with rifles, pistols, knives, and clubs. Right-wing demonstrators chased counter-protesters through a plaza and an activist was knocked to the ground, at which point the police intervened.[Source]
September 5, 2020—Louisville, Kentucky: Dozens of individuals protesting the police killing of Breonna Taylor were confronted by hundreds of counterprotesters, many of whom were armed and wearing tactical gear. Officers declined to intervene despite shoving and confrontation between the groups. [Source]
August 29, 2020—Tallahassee, Florida: A man pointed his gun at Black Lives Matter protesters in front of the Florida Capitol building following an altercation. After the man with the gun began arguing with protesters and taking photos of their license plates, a fight broke out and a woman screamed "he has a gun." The man is not facing charges due to Florida's Stand Your Ground law. [Source]
August 29, 2020—Portland, Oregon: A member of a far-right group was shot and killed in Portland as a caravan of Trump supporters drove through the city. It's unclear who fired the shot that killed the demonstrator. Earlier in the night, attendees of the pro-Trump rally clashed with counterprotesters, as punches were thrown and paintball guns were fired from the beds of pickup trucks.[Source]
August 25, 2020—Kenosha, Wisconsin: A 17-year-old shot and killed two protesters and wounded one more with an AR-15-style rifle. The protesters were demonstrating against the killing of Jacob Blake by police three days earlier, while the shooter's Facebook account demonstrated support for the pro-police "Back the Blue" countermovement to Black Lives Matter. The shooter fled, but was apprehended the following day and has since been charged with homicide. [Source and Source]
August 15, 2020—Portland, Oregon: Shots were fired at a demonstration in which members of the alt-right group the Proud Boys clashed with Black Lives Matter protesters. Nobody was hit, and the source of the shots is unclear. Members of the far-right groups were seen using pepper spray and paintball guns against counterprotesters. [Source]
August 15, 2020—Stone Mountain, Georgia: Armed white supremacists and militias organized a demonstration to speak out against the removal of Confederate statues and to voice their support for Trump. Counter-protesters, also armed with guns, showed up to speak up against police violence and racism. Police showed up with riot gear after multiple fights broke out. [Source]
August 2, 2020—Austin, Texas: A week after the death of Garrett Foster, more armed protesters gathered in Austin. As of the August 2nd protests, no charges had been filed against the man who shot and killed Foster. Men with assault rifles, including members of the far-right Proud Boys militia, gathered near Foster's memorial. [Source]
June 27, 2020—Louisville, Kentucky: A Louisville man fatally shot one Black Lives Matter protester and endangered others after forcibly taking a gun from a protester who asked him to leave the park. The shooter, who had been involved with an altercation at the protest, was being escorted out of the park when he grabbed the gun and started shooting. Source]
July 26, 2020—Tyler, Texas: Progressives and conservatives clashed at a campaign event for Democratic congressional candidate Hank Gilbert in downtown Tyler, Texas. Members of Take America Back Texas were joined by dozens of armed counterprotesters, some of whom self-identified as members of Texas militia groups. The Tyler chief of police suspects that some of the armed counterprotesters were members of the white supremacist group Aryan Brotherhood. Police broke up the rally once fighting began. [Source]
July 25, 2020—Louisville, Kentucky: Two opposing groups held demonstrations: a far-right group called the Three Percenters and a Black militia demanding justice for Breanna Taylor. Both groups were heavily armed and wearing bullet-proof vests. [Source]
July 25, 2020—Austin, Texas: Garrett Foster, a 28-year old man, was shot and killed at a protest after approaching a car. Foster was armed with an assault rifle and the man in the car claimed that Foster pointed his assault rifle at him, though other witnesses said Foster had his rifle pointed down. [Source]
July 10, 2020—Milwaukee, Wisconsin: A small Black Lives Matter protest was disrupted by a group of counter-protesters carrying guns. The counter-protesters claimed that they showed up armed because of a rumor that American flags would be burned at the event. They disrupted the event speakers by yelling and singing the Star-Spangled Banner. [Source]
July 4, 2020—Phoenix, Arizona: Armed counter-protesters aimed their loaded rifles and yelled at lawful protesters demonstrating against police brutality. A video from the demonstration shows a woman flipping off the unarmed protesters before clutching the pistol at her waist. [Source]
June 17, 2020—Albuquerque, New Mexico: A protest calling for the removal of a sculpture of a Spanish conquistador ended with gunshots after members of an armed militia, the New Mexico Civil Guard, joined. [Source]
June 15, 2020—Bethel, Ohio: Counter-protesters, including an armed motorcycle gang, joined a Black Lives Matter demonstration. Some of the demonstrators with the BLM movement reported that they were afraid of the counter-protesters, who were holding guns and pushing them around aggressively. [Source]
June 6, 2020—Crown Point, Indiana: While lawful protesters took the streets to stand up against police violence and racism, a few dozen counter-protesters, some with assault rifles, shouted and attempted to intimidate them. [Source]
May 24, 2020—Louisville, Kentucky: A Second Amendment rally attracted about 100 people, some armed with guns. The protest quickly turned into an anti-lockdown rally protesting the actions of Governor Andy Beshear. Protesters carried signs reading "Abort Beshear from office" and "My rights don't end where your fear begins" to Gov. Beshear's home before hanging an effigy of the governor on a tree outside the state capitol. [Source]
May 22, 2020—Morganton, North Carolina: The group ReOpenNC has organized a number of armed protests against the state's lockdown policies, during which attendees have shown up with rifles, rocket launchers, and other guns. The husband of the ReOpenNC leader posted a 17-minute-long video saying he "would be willing to kill people" for his freedom and that armed protesters would "bring force" if police tried to stop them from protesting. [Source and Source]
May 18, 2020—Grand Rapids, Michigan: Barry County Sheriff Dar Leaf headlined a rally attended by members of the Michigan Liberty Militia, urging the reopening of the state. Militia leader Phil Robinson said the reason for members to openly carry at the protest was "just to make sure that everybody had a right to peacefully assemble and safely." [Source]
May 16, 2020—Raleigh, North Carolina: A group of armed demonstrators walked the streets of Raleigh for the second time this month. On Facebook, the group described the demonstration as "an opportunity for first and second amendment supporters to get together, meet people with commonalities, and get some exercise while we're all wasting away at home." After a police officer asked the protesters to put down their guns if they were going to walk through downtown (while North Carolina is an open carry state, individuals are not allowed to possess guns at protests), the demonstrators refused, denying that they were protesting. No arrests were made. [Source]
May 15, 2020—Harrisburg, Pennsylvania: Hundreds of protesters, some carrying signs comparing Dr. Anthony Fauci to a Nazi and many armed with guns, gathered in Harrisburg to call for an end to the state's lockdown. President Trump, who had recently visited the state, tweeted that Pennsylvanians "want their freedom now." [Source]
May 14, 2020—Lansing, Michigan: The militia group Michigan United for Liberty organized their third armed protest against Governor Whitmer's stay-at-home order, on what they termed "judgement day." Comments threatening violence against the governor and other legislators were circulating on private Facebook groups in advance of the rally. During the protest, a man with an ax got into a fight that was broken up by police, allegedly over a sign that depicted an American flag with a naked doll with a noose around its neck. [Source and Source]
May 9, 2020—Raleigh, North Carolina: A group of armed protesters marched in the streets of Raleigh, demanding an end to the state's stay-at-home order. They claimed to be peaceful and not protesting but just "gathering to support [their] god given freedom as Americans." After the demonstration, many of them entered a sandwich shop with guns, masks, and an AT4 rocket launcher. [Source]
May 9, 2020—Las Vegas, Nevada: A group of about 60 people, many of them armed, protested Governor Sisolak's shelter-in-place order. The protesters, who called themselves the Reopen Nevada Group, received a police escort to City Hall. Speakers expressed their interest in prioritizing the economy over public health and safety. One woman in the crowd shouted "Sisolak is a virus in Nevada!" [Source]
May 4, 2020—Odessa, Texas: A bar owner in Texas re-opened her bar, in defiance of state orders, alongside a group of men clad in body armor and carrying weapons. The bar owner was arrested for defying state owners and the armed men were arrested for carrying weapons on a licensed property. "This was not a protest of their Second Amendment rights," the Ector County sheriff told reporters. "It was a show of force to ensure this [bar owner] could violate the governor's order." [Source]
May 2, 2020—Columbus, Ohio: A number of protesters with guns assembled outside the home of Ohio's health department director, Dr. Amy Acton, to express their anger about the closure of Ohio businesses. Protesters also carried American flags and signs that read "let freedom work." [Source]
May 1, 2020—Denver, Colorado: Hundreds of protesters gathered to demand that the state fully reopen, claiming that the government was violating their constitutional rights. One man who helped organize the protest and encouraged protesters to show up with guns was arrested after a series of "angry and aggressive" social media posts led to federal agents discovering pipe bomb materials in his home. [Source and Source]
April 30, 2020—Lansing, Michigan: Members of Michigan United for Liberty hosted an "American Patriot Rally" during which several hundred armed protesters entered the state capitol building and demanded entry to the house floor. Some carried signs depicting nooses, Confederate flags, and the slogan "tyrants get the rope." A number of frightened senators wore bulletproof vests. The Republican leader of the state senate said some of the protesters "used intimidation and the threat of physical harm to stir up fear and feed rancor," while the president called the protesters "very good people." [Source]
April 24, 2020—Madison, Wisconsin: Thousands of people showed up to Wisconsin's state capitol to protest stay-at-home orders. Several men held assault rifles and other guns. The police remained six feet away from protesters but didn't enforce social distancing rules. Seventy-two Wisconsites who tested positive for coronavirus in early May reported attending a "large gathering" before their diagnosis. [Source and Source]
April 20, 2020—Phoenix, Arizona: Individuals protesting the state's lockdown orders marched on the state capitol building, many of them wielding assault rifles. According to healthcare professionals who showed up to counter-protest, many of those protesting lockdowns were not peaceful, accusing the healthcare professionals of being actors "dressed up in costume" and purposefully coughing on them. [Source]
March 22, 2020—Erie County, Pennsylvania: Two men stood together outside a courthouse, one armed with an AR-15-style rifle and several other guns, to protest the Eerie County sheriff's decision to pause the processing of concealed carry permits during the pandemic. One of the protesters claimed this decision was unconstitutional, despite ample case law upholding 1) temporary rights restrictions during emergencies, and 2) various non-emergency restrictions on concealed carry permits. [Source]
March 14, 2020—Concord, New Hampshire: Hundreds of armed activists gathered to "defend their Second Amendment right" at a rally organized by the Women's Defense League of New Hampshire. Attendees chanted "come and take it," and a number of speakers raised the alarm about the government attempting to take away their rights, including a young girl who ended her speech with "live free or die!" [Source]
February 24, 2020—Lincoln, Nebraska: Around 400 people showed up to the state capitol to protest gun laws, many of them armed with loaded rifles—despite the fact that the Nebraska state capitol does not allow political signs or props in the building, and bans concealed firearms. "I was intimidated. I was scared," said a state senator who sponsored a bill that would prohibit people with domestic violence convictions from purchasing firearms. [Source]
February 24, 2020—Boise, Idaho: An eleven-year-old girl brought a loaded AR-15 to a legislative hearing in Boise. She and her grandfather were at the hearing to support a bill that would allow visitors from out of state to carry concealed handguns within city limits. According to the Associated Press, "There was no notable reaction among lawmakers to the girl carrying the AR-15." [Source]
February 15, 2020—Alexandria, Virginia: A gun rights activist showed up at Delegate Mark Levine's home with a shotgun to protest an assault weapons bill sponsored by the delegate. The activist, the founder of a local gun rights group, claimed that Levine was a "domestic enemy" to the Constitution. [Source]
February 15, 2020—Phoenix, Arizona: Thousands of armed protesters gathered outside the state capitol for an annual rally. Activists spoke out against gun bills that would require individuals convicted of domestic violence to relinquish their firearms within 24 hours of sentencing. "As stewards of this inheritance of liberty, we must prevent the deflation of our rights from happening," said a conservative radio host. "We must push back on the rights deniers and Bloomberg-financed 'moms who demand some unnamed action.'" [Source]
February 8, 2020—Salt Lake City, Utah: Hundreds of people showed up to protest a bill that would enact a number of new gun safety laws, including an extreme risk protection order and universal background checks. Many of the activists were armed and some held flags with phrases such as "come and take it." [Source]
January 31, 2020—Frankfort, Kentucky: Dozens of armed protesters gathered in the capitol rotunda to protest proposed changes to Kentucky's gun laws, including bills to close the private sale loophole and repeal the state's permitless carry law. Armed attendees were told to walk around the building's metal detector rather than going through it. This was at least the second rally in January during which protesters brought guns into the rotunda, despite the building previously banning visitors from bringing in umbrellas. [Source]
January 31, 2020—Santa Fe, New Mexico: Hundreds of armed protesters demonstrated against the state's proposed extreme risk law at an NRA-sponsored rally. "They've already taken the cannons," one protester armed with an AR-15 told a local news outlet about what she viewed as the government's infringement on her Second Amendment right. "They've already taken automatic weapons. They're trying to take everything." [Source]
January 31, 2020—Palmer, Alaska: A few hundred protesters, some of whom were armed, gathered in Palmer to protest a new ordinance related to local shooting ranges. "To have the borough try to tell us that we can't use our lands and we can't use things in use of our Second Amendment rights completely goes against the state constitution," claimed one protester. [Source]
January 20, 2020—Richmond, Virgina: Thousands of armed protesters marched through the streets of the state capitol, prompting the governor to declare a state of emergency. Activists, some of whom were dressed in full tactical gear, chanted "we will not comply." Two protesters wore shirts that depicted guns and read "Make Politicians Afraid Again." [Source]
January 5, 2020—Seattle, Washington: Activists hosting a rally called United Against Hate, some of whom were armed with rifles, were outnumbered by counter-demonstrators. Four people were arrested and two police cruisers were damaged after a protracted standoff. [Source]
MEDIA REQUESTS
Our experts can speak to the full spectrum of gun violence prevention issues. Have a question? Email us at media@giffords.org.
Contact