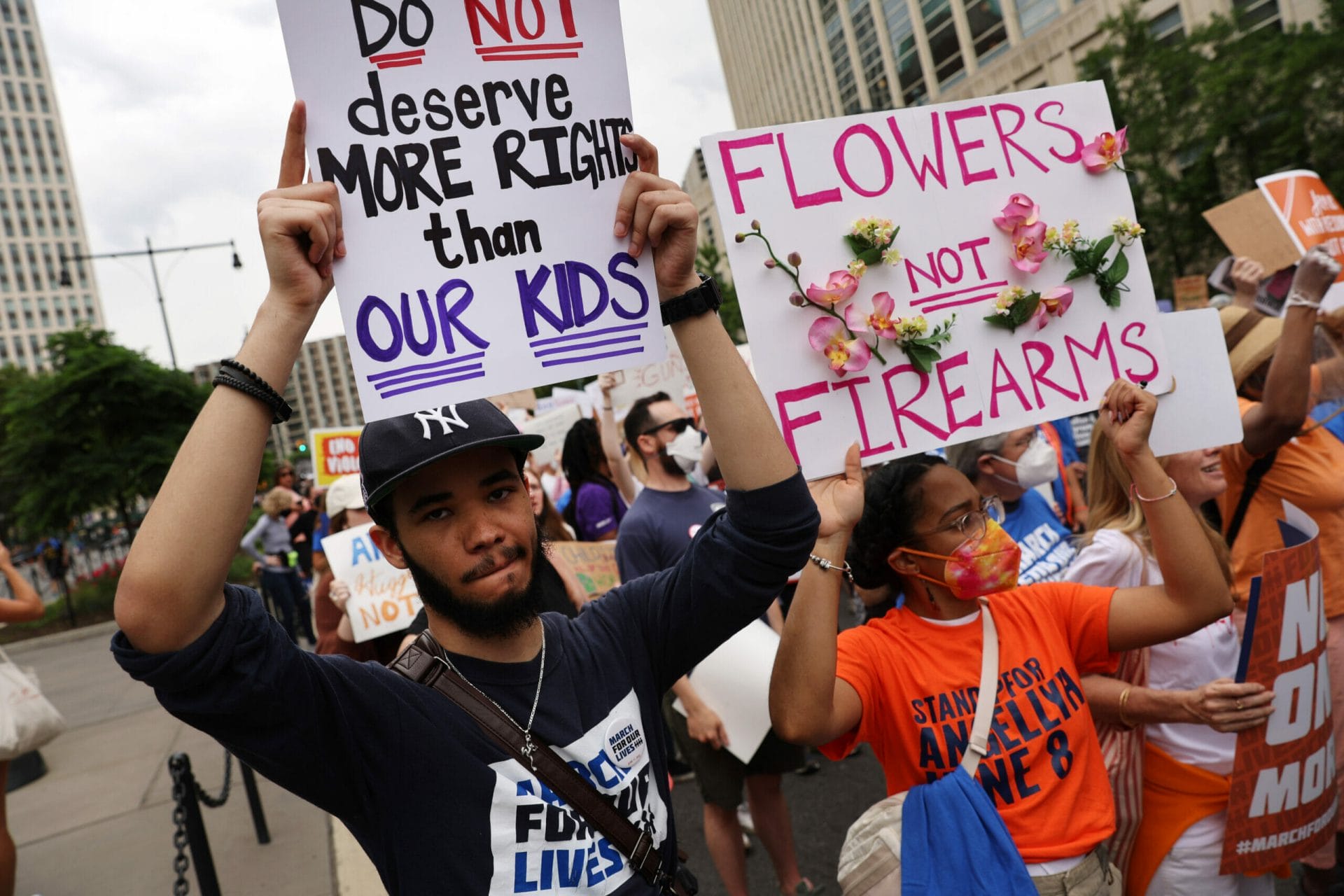 Gun Violence in Black Communities
For decades, gun violence has taken a disproportionate and grueling toll on Black communities—leading to tens of thousands of gun deaths and hundreds of thousands of gun injuries. The impact of gun violence on this community is particularly devastating for young Black men. In 2022, one in every 67 Black men ages 18 to 24 in Philadelphia were killed or injured in gun homicides or shootings.1 In Rochester, New York, it was one in 50 young Black men.2 In Cincinnati, it was one in 44 young Black men.3
The vast majority of shootings in these cities—and in similar communities across the country—are perpetrated by a very small number of people.4 But the impacts of this violence are felt across entire communities, contributing to generations of trauma and collective grief that have disproportionately affected Black people.
Importantly, gun violence in Black communities is a direct cause and consequence of the systematic, structural disadvantaging of these populations. Research shows that high rates of gun violence seen today have been forged by past and present racial discrimination, including historic racial segregation and disinvestment.5 As gun violence plagues these communities, it leads to diminished economic opportunities and a lack of investment, creating a vicious cycle.6 This reality provides not only a strong impetus for action, but also a reminder that solutions to this problem must address the underlying inequalities driving gun violence in Black communities.
MEDIA REQUESTS
Our experts can speak to the full spectrum of gun violence prevention issues. Have a question? Email us at media@giffords.org.
Contact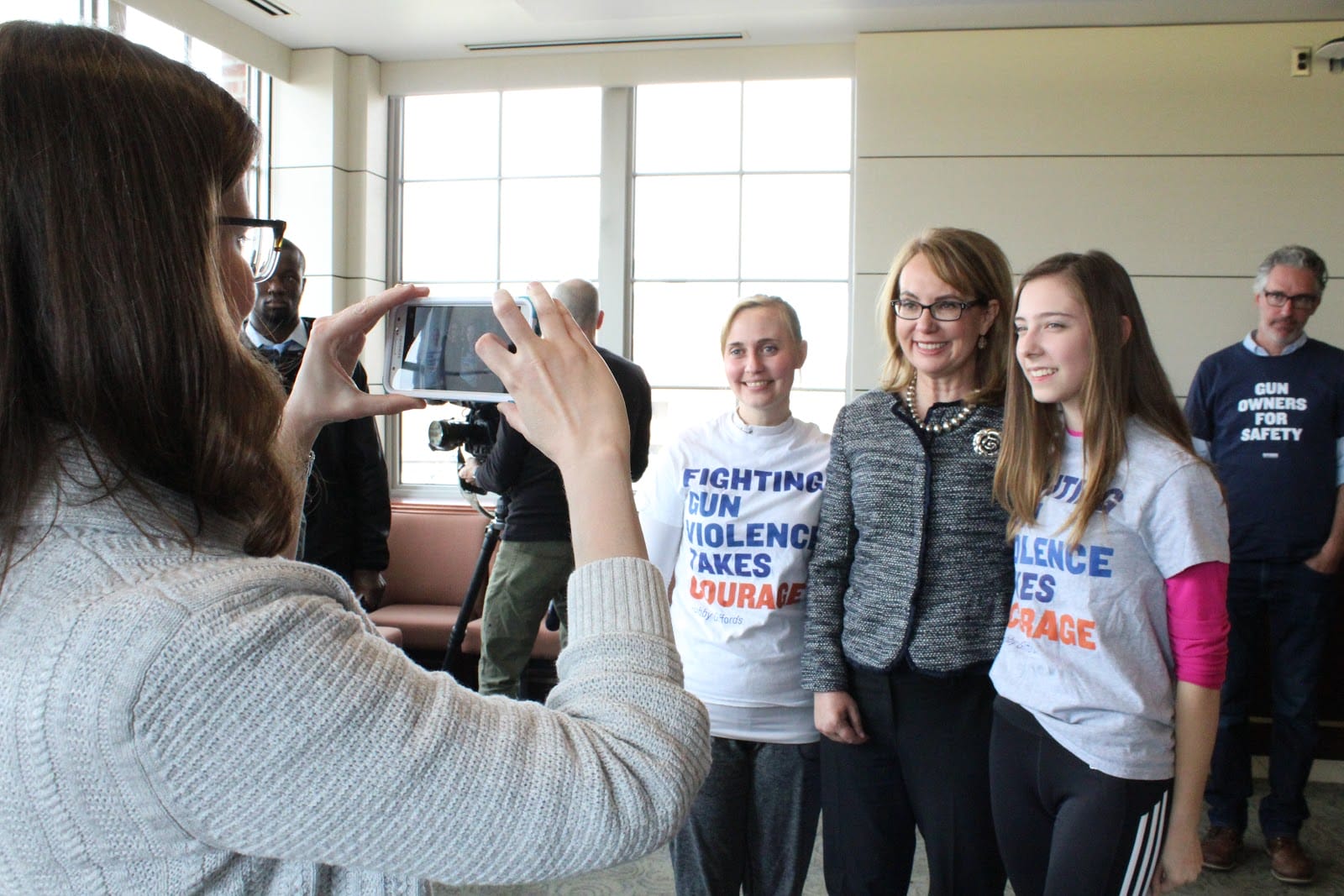 Gun violence touches every community and every racial group in the United States, but none more so than Black communities. In fact, Black Americans die from gun violence at nearly 2.4 times the rate of white Americans.7 On average, more than 12,400 Black people die from gun violence each year, with 15,548 such deaths in 2021 alone—the highest number on record.8
Alarmingly, nearly all forms of gun violence have been rising among Black Americans. Firearm homicides rose 61% from 2018 to 2021.9 Firearm suicide, unintentional shooting, and police shooting deaths have also shown troubling increases over this same time period (44%, 10%, and 13%, respectively).10
The vast majority of gun deaths among Black Americans are gun homicides, and Black Americans make up the majority of gun homicide victims in the US. In fact, 83% of all gun deaths among Black Americans are gun homicides.11 Despite the fact that Black boys and men account for just six percent of the total population, they comprise more than half of all gun homicide victims.12
The disparities in Black and white homicide rates are particularly stark in large cities and counties. Research suggests that roughly half of all gun homicides take place in just 127 cities,13 driving the elevated rates of homicides in these geographies. In the nation's 20 largest counties, Black men ages 18 to 25 die from gun homicides at a rate nearly 19 times that of white residents.14 This disparity means that while five out of every 100,000 young white people in these counties die from gun homicides, more than one in every 10,000 young Black people are killed in such incidents.15
Homicide has been the leading cause of death for Black men ages 15 to 44 for more than half a century.16 More than 86% of homicides in Black communities involve firearms.17 These disparities are even more striking for young Black men: gun homicides are the leading cause of death and more than outstrip the next 15 leading causes of death combined.18 In other words, in 2021, more Black men ages 15 to 24 died in gun homicides than from unintentional injuries, suicide, heart disease, COVID-19, cancer, nonfirearm homicides, diabetes, congenital abnormalities, and chronic respiratory diseases, police shootings, cerebrovascular diseases, anemias, sepsis, influenza and pneumonia, and HIV combined.19  
Gun violence is also the leading cause of death for Black children, in large part because of the severe burden of gun homicides on this population. In fact, while gun violence only recently became the leading cause of death for all children in 2020, gun violence has been the leading cause of death for Black children since 2006.20 Seventy-three percent of gun deaths among Black children are gun homicides, and, in 2021, Black children were nearly 13 times more likely to be killed in a gun homicide than white children.21    
The recent spikes in gun homicide have devastated Black communities in particular. While the gun homicide rate rose 45% nationally from 2019 to 2021, Black Americans experienced a 49% increase.22 The gun homicide rate for young Black boys and men ages 10 to 44 rose 43% over this time period.23 Importantly, while gun homicides predominately impact Black men, Black women have seen troubling increases in gun homicides in recent years. Gun homicide rates for Black women and girls rose 78% from 2019 to 2021, the largest increase among women for any racial or ethnic group.24
The toll of our nation's gun violence epidemic, however, extends beyond gun deaths and injuries. The high rates of gun violence in Black communities lead to more exposure to gun violence. In fact, Black boys and men not only are the most likely victims of gun violence but also are exposed to gun violence most often.25 For example, more than half of all Black youth in one study lived less than a mile away from a gun homicide.26 These exposures traumatize communities, leading to and exacerbating mental health problems like elevated levels of psychological distress, depression, and suicidal ideation.27 In one study, researchers found that children who lived within a few blocks of a shooting were nearly 50% more likely to seek mental health care at an emergency department.28
While Black male youth are the most likely to experience gun violence and particularly gun homicides, entire communities grieve and mourn losses inflicted by firearm homicide. Black girls and women are often tasked with providing care in the aftermath of loss.29 One scholar describes this as a "living death" or a "…'second killing' of Black women and girls who are forced to relive the trauma of vicarious, violent loss at the hands of others."30
In the US, the vast majority of gun suicide deaths have involved white people: over the last 20 years, in fact, white people have comprised 86% of all suicide deaths.31 However, more recent data suggests a worrying trend. Suicide and gun suicide rates have risen for every racial and ethnic group in recent years, with Black people seeing a more rapid increase in such rates compared to white people. From 2018 to 2021, gun suicide rates increased just four percent for white people, but 44% for Black people.32
Gun suicide increases—and the racial disparities in these increases—are particularly pronounced for Black youth. From 2018 to 2021, the firearm suicide rate for Black people ages 10 to 24 rose 58%.33 During the same period, the firearm suicide rate rose only 18% for 10-to-24-year-olds overall, and 11% for white youth in this age range.34
On average, nearly 3,400 Black Americans die by suicide each year, more than half (53%) of which involve firearms.35 However, scholarship suggests that these numbers likely undercount the burden of suicide in this community. Black Americans face numerous barriers to accessing mental health care,36 meaning that medical examiners are less likely to have sufficient data to accurately determine and classify deaths in these communities as suicides.37
The sharp disparities in gun violence impacting Black Americans also extend to police shootings. More than one in four fatal police shootings involves a Black victim, though Black Americans make up just 14% of the US population.38 When compared to all other racial and ethnic groups, Black Americans experience the highest rate of fatal police shootings.39 Police fatally shoot Black Americans at three times the rate they fatally shoot white Americans.40 One study showed that Black Americans are just as likely to be shot and killed by law enforcement if they are unarmed as white Americans who are armed.41
Recent research also suggests that Black–white disparities in police shootings were even more pronounced for nonfatal police shooting injuries.42 For example, researchers found that in Florida, Black people were approximately three times as likely as white people to be fatally shot by police, yet more than five times as likely as white people to be nonfatally shot by police.43
5x
Risk of fatal police shooting if Black
Unarmed Black civilians are nearly five times more likely to be shot and killed by police than unarmed white civilians.
Source
Aldina Mesic, et al., "The Relationship between Structural Racism and Black-white Disparities in Fatal Police Shootings at the State Level," Journal of the National Medical Association 110, no. 2 (2018): 106–116.
Importantly, research is clear that these disparities in police shootings are not simply a product of more police contact between Black Americans and police or a product of increased crime in communities of color.44 Rather, police shooting disparities are amplified by residential segregation and the resulting racial biases.45 
Police shootings have broad impacts on entire communities, leading to trauma and worsening mental health. One study, in fact, found that a police killing of an unarmed Black person led to a significant increase in the number of poor mental health days for Black people living in proximity to the shooting in the following three months.46 The mental health burden of police shootings in Black communities is estimated to be nearly as large as the mental health burden associated with diabetes in these communities.47 
The consequences of police violence, however, extend beyond the shooting itself and its traumatic impact. Research is clear that shootings by police can erode community trust in law enforcement.48 Fractures in police-community trust, in turn, can fuel cycles of community gun homicides and shootings that disproportionately impact Black people.49
GET THE FACTS
Gun violence is a complex problem, and while there's no one-size-fits-all solution, we must act. Our reports bring you the latest cutting-edge research and analysis about strategies to end our country's gun violence crisis at every level.
Learn More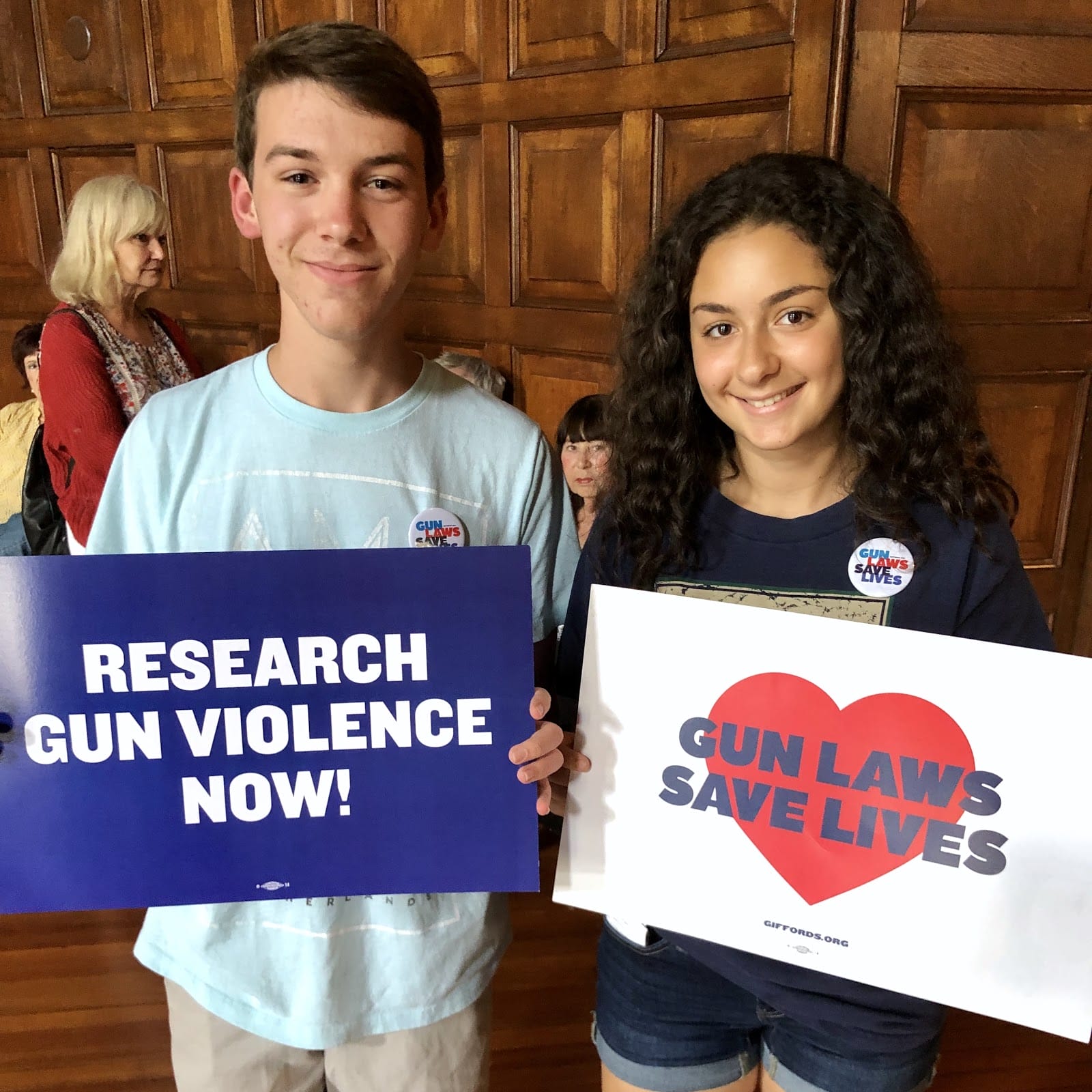 The statistics on gun deaths among Black Americans paint a grim picture, but we should not be resigned that this toll and these disparities are inevitable.
Evidence-based gun safety laws can help address the epidemic of gun violence in Black communities. Recent research has found that specific policies, like waiting periods,50 firearm licensing laws,51 and strong public carry laws52 all reduce homicides in Black communities. Importantly, many of these policies enjoy strong support from Black Americans. A poll of Black Americans and Black gun owners found that these groups support a number of gun safety laws, in many cases at higher rates than white Americans and white gun owners.53
These policy reforms must also be coupled with direct investments in community-led violence intervention programs. Community violence intervention programs engage individuals at highest risk of being victims or perpetrators—or both—of violence through a variety of strategies including building relationships and providing supportive social services, addressing conflict through nonviolent means like de-escalation and mediation, and working to support community healing from violence. At their core, these programs ​​directly invest in communities and the people in them, with many programs helping to address systemic inequalities by meeting the economic, educational, health, and social needs of the participants and their families. Many communities have been employing these strategies for years, but dedicated, stable investments are needed to scale and sustain these programs.
Black communities have disproportionately shouldered our nation's gun violence epidemic for decades, and will continue to do so unless we take concerted, community-driven steps to address this public health crisis. It is imperative—from an equity perspective, a moral perspective, and a human perspective—that we support these communities in reducing gun violence.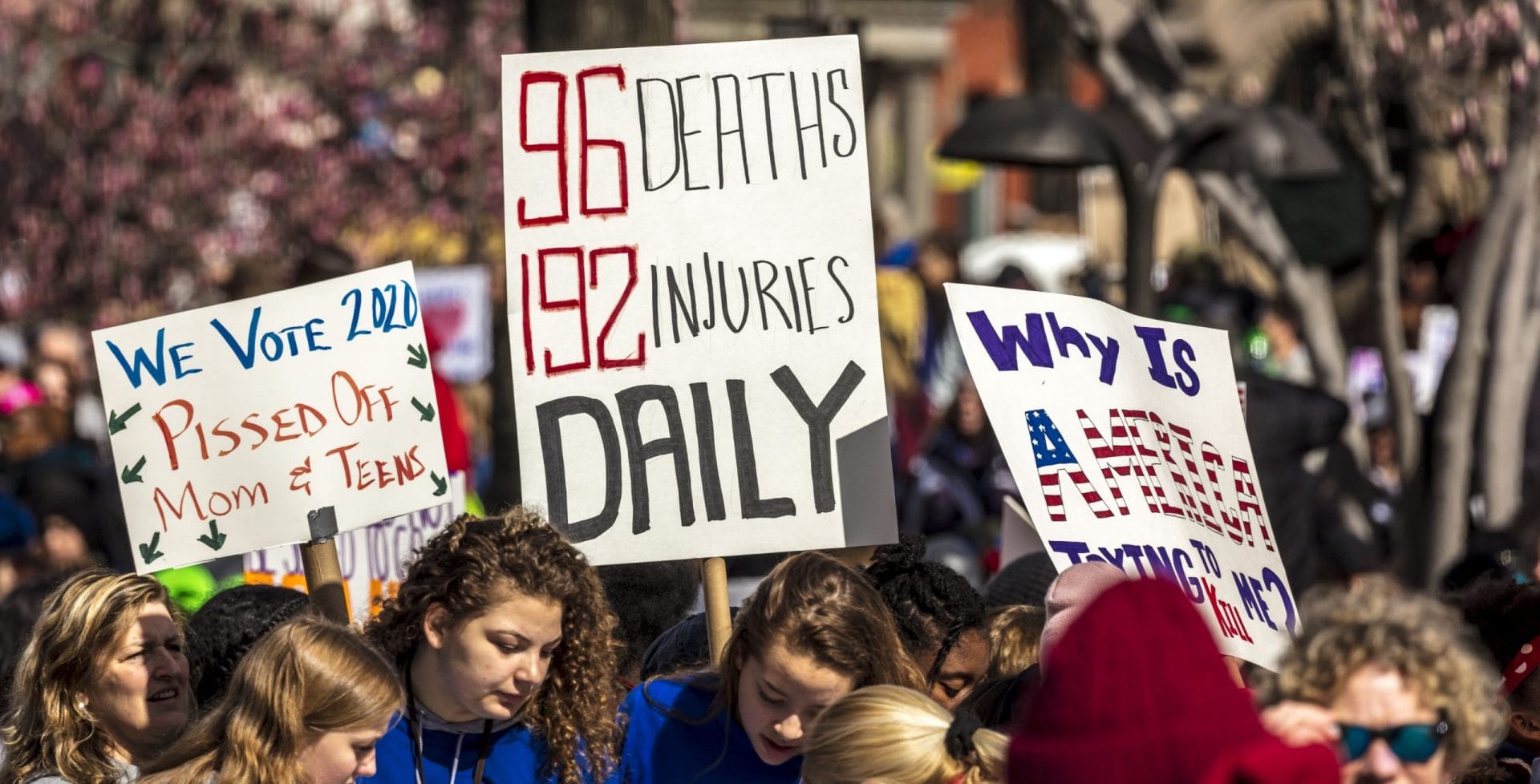 SPOTLIGHT
GUN VIOLENCE STATISTICS
Explore facts, figures, and original analysis compiled by our experts. To end our gun violence crisis, we need to better understand where, how, and why violence occurs.
Learn More