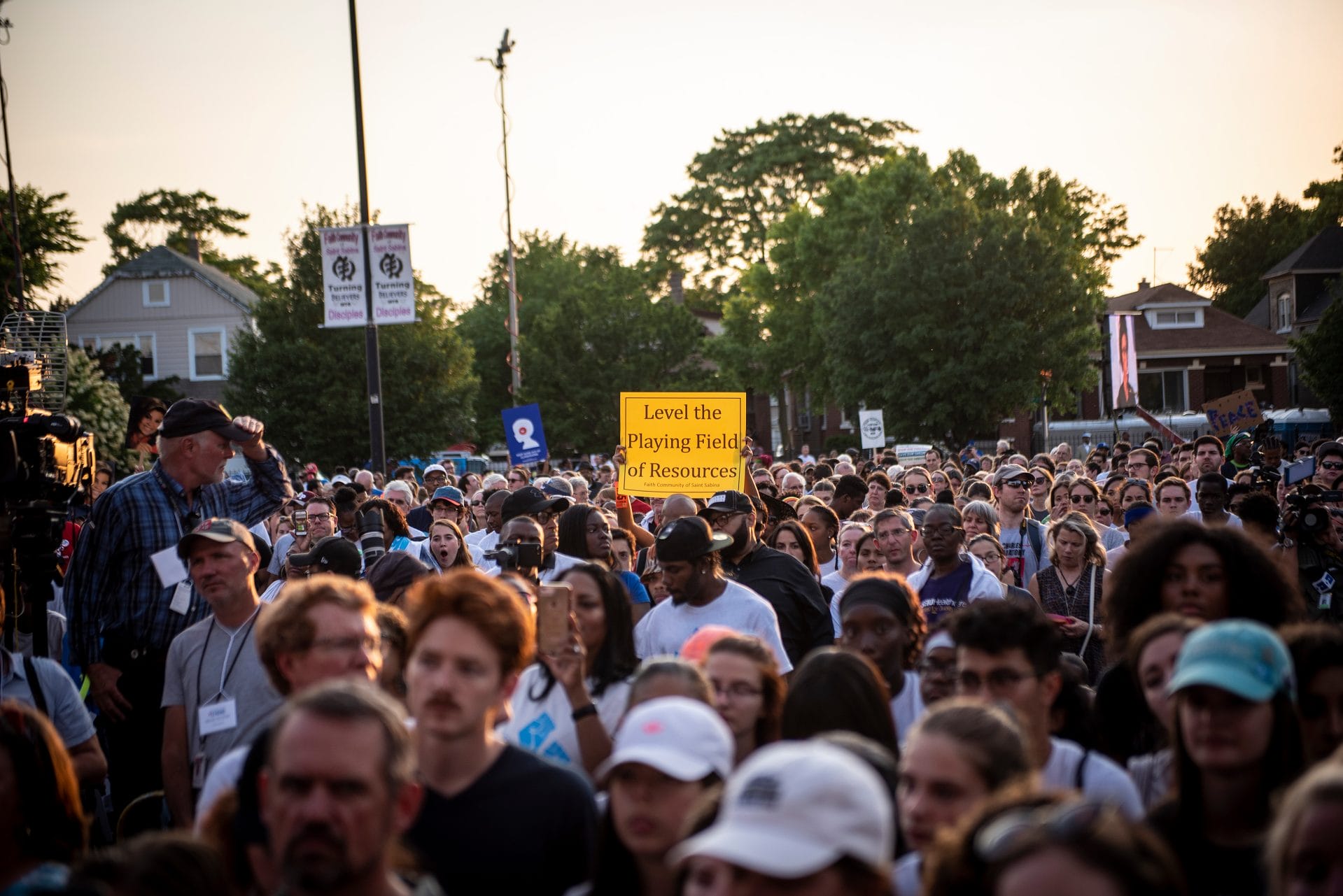 Investing in Intervention
The Critical Role of State-Level Support in Breaking the Cycle of Urban Gun Violence
Gun violence is one of the most urgent public health crises of our time, with nearly 115,000 Americans killed or injured by bullets each year. Nowhere is this more evident than in historically underserved urban communities, many of which suffer from gun death rates that dwarf the national average. The inequalities faced by these communities are real—black men make up a mere 6% of the population in the United States, but account for more than half of all gun homicide victims each year. That staggering toll is unconscionable.
Our new report, Investing in Intervention: The Critical Role of State-Level Support in Breaking the Cycle of Urban Gun Violence, takes a deep dive into the concrete ways state leaders can support and scale up the community-driven solutions that have a real and lasting impact on gun violence in urban neighborhoods. Released in partnership with PICO National Network and the Community Justice Reform Coalition, this report serves as a roadmap for lawmakers and advocates who want to put into action a strategy that saves lives from gun violence while also generating millions in cost savings for taxpayers and lifting up communities.
Currently, only five states fund and support evidence-based urban violence prevention and intervention programs. Investing in Intervention takes a close look at three of those states—Massachusetts, Connecticut, and New York—all of which have had remarkable success cutting gun violence rates. For example, in Massachusetts, one of the nation's leaders when it comes to investing in urban gun violence reduction, gun homicide rates fell by 35% from 2010 to 2015, while nationally gun homicide rates actually increased 14% in that same period.
The report also identifies six key elements that should be present in any state plan to invest in urban gun violence prevention and intervention programs:
Focus on High-Risk People and Places
Implement Evidence-Based Strategies
Provide Robust State-Level Coordination
Conduct Regular Program Evaluations
Commit to Long-Term, Stable Funding
Facilitate Community Input and Engagement
Many more states should follow the lead of Massachusetts, Connecticut, and New York in investing in these solutions. The cost to taxpayers to support and scale up these proven programs is minuscule compared to what gun violence currently costs—an estimated $229 billion annually nationwide, and these solutions have nothing to do with the regulation of firearms, making them more likely to receive bipartisan support. There truly is no excuse for inaction.
Read Investing in Intervention: The Critical Role of State-Level Support in Breaking the Cycle of Urban Gun Violence
To learn more about the proven solutions to urban gun violence, read our 2016 report Healing Communities in Crisis: Lifesaving Solutions to the Urban Gun Violence Epidemic
If you're a lawmaker or activist looking to support an evidence-based gun violence reduction program in your state, contact one of our legal experts at lawcenter@giffords.org
MEDIA REQUESTS
Our experts can speak to the full spectrum of gun violence prevention issues. Have a question? Email us at media@giffords.org.
Contact