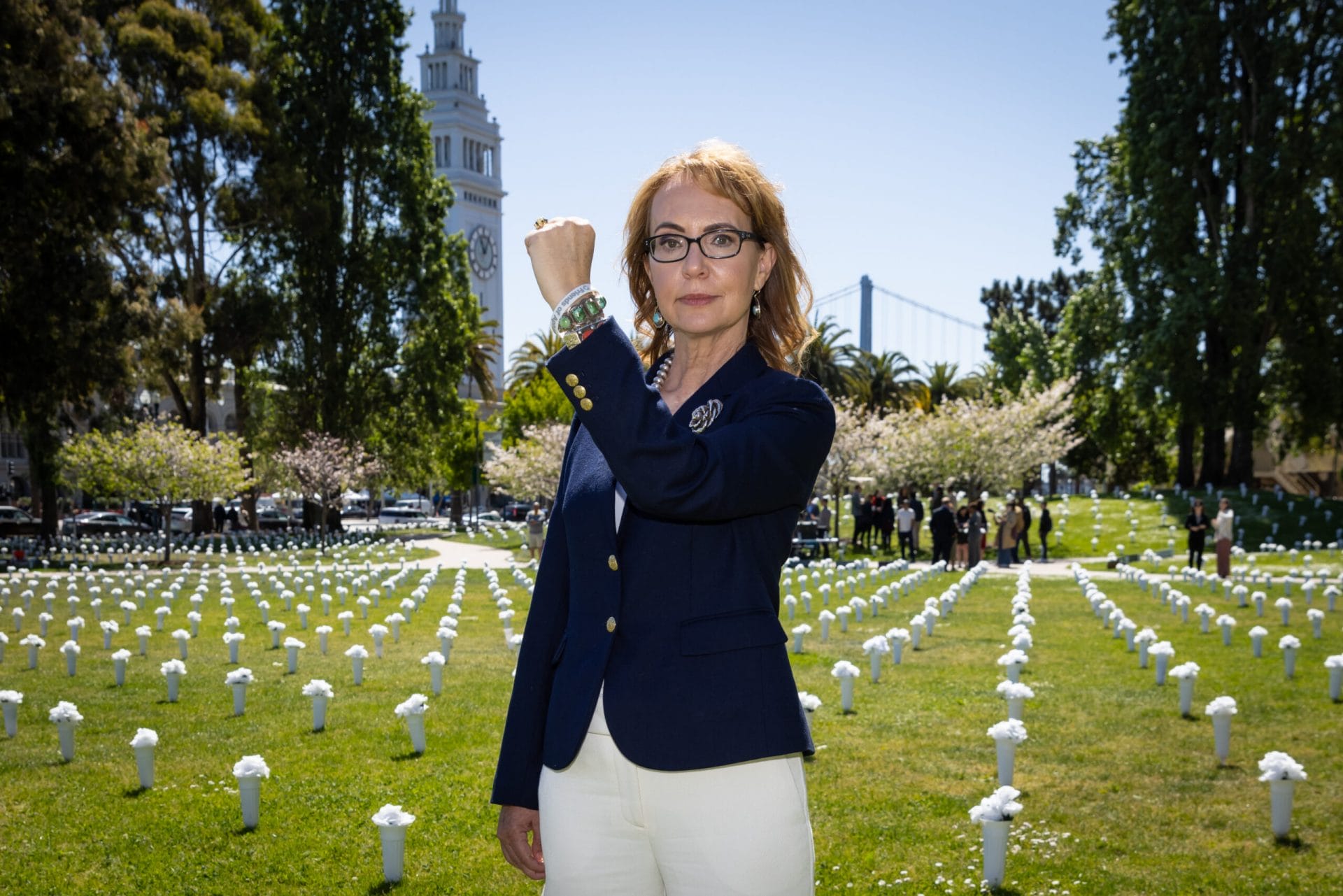 Ten Years of Courage
State-Level Gun Safety Progress since Sandy Hook
On December 14, 2012, a gunman murdered 20 children and six adults at Sandy Hook Elementary School.
In the aftermath of the shooting, the federal government failed to take action. Sixty senators wouldn't support a compromise bill closing dangerous loopholes in the background checks system.
In response, states across the country stepped up. States have passed more than 525 significant gun safety laws in the decade since Sandy Hook. These laws undoubtedly protected the residents of the states that passed them. As our report demonstrates, while gun violence has increased since 2012, residents of states with strong laws are safer than those in states with weak laws.
But an inconsistent patchwork of state gun laws leaves all Americans vulnerable, as guns are often trafficked from states with weak laws to those with strong ones. This summer, following tragedies in Buffalo and Uvalde, the federal government passed the first major gun safety legislation in nearly 30 years. This is a tremendous step forward, but we can't stop here. Below, we explore what state-level progress looked like over the past decade, and how this might serve as a blueprint for future state and federal legislation.
Nearly every single state in the nation has passed at least one significant gun safety law since Sandy Hook. But many of the states that passed the most laws in this decade have gun death rates below the national average. Many states that had weak laws in 2012 further weakened them in the past 10 years, passing dangerous laws like permitless carry and Stand Your Ground.
From 2012 to 2020, gun deaths rose 46% in the five states with the weakest gun laws—from a rate of 14.7 deaths per 100,000 people to a rate of 21.5. In comparison, gun deaths rose only seven percent in the five states with the strongest gun laws—from a rate of 6.7 deaths per 100,000 people to a rate of 7.2.
Year after year, Giffords Law Center's Gun Law Scorecard highlights the correlation between gun safety laws and gun death rates: states with stronger gun laws have less gun violence. While factors including the disruption of the COVID-19 pandemic and declines in police-community trust led to drastic increases in gun violence at the national level in 2020 and 2021, residents of states with strong gun laws experienced a considerable protective effect from these laws.
Why These Policies Matter
Some of the most important gun safety measures states have passed to save lives include investing in community violence intervention (CVI) strategies, preventing individuals who commit domestic violence from accessing firearms, implementing extreme risk protection orders (ERPOs), ensuring background checks on every gun sale, and keeping guns out of the hands of children. These policies are crucial to reducing gun violence and improving public safety—making them a key measure of gun safety progress.
Community Violence Intervention
In many communities, particularly in Black and Latino communities, gun violence inflicts trauma and disrupts lives on an all-too-regular basis. These populations make up less than a third of the US population but account for more than three-quarters of gun homicide victims. This disparity is a product of structural racism and divestment that has left communities of color with compounding challenges and a lack of resources to address them. Public policy as it relates to violence prevention has reliably failed these communities. To reverse this deadly cycle, states can and should invest in proven community violence intervention strategies.
Domestic Violence Prohibitions
Domestic violence is a preventable public health crisis that impacts people of all backgrounds. It can include physical and emotional abuse, coercion, sexual assault, stalking, and threats. The nexus of guns and domestic violence puts women at tremendous risk. Women in the United States are 21 times more likely to be killed with a gun than women in other high-income countries. States can and should take action to close the dangerous loopholes in our laws that endanger our families and communities.
Extreme Risk Protection Orders
Extreme risk protection orders provide a proactive way to stop mass shootings and other tragedies. They empower families, household members, and law enforcement agencies to petition courts for a civil order to temporarily suspend a person's access to firearms if they show clear warning signs of violence. Up to 80% of people considering suicide give some sign of their intentions—and ERPO laws can help protect themselves and others from harm. States must enact lifesaving tools like ERPOs in order to help prevent gun tragedies before they occur.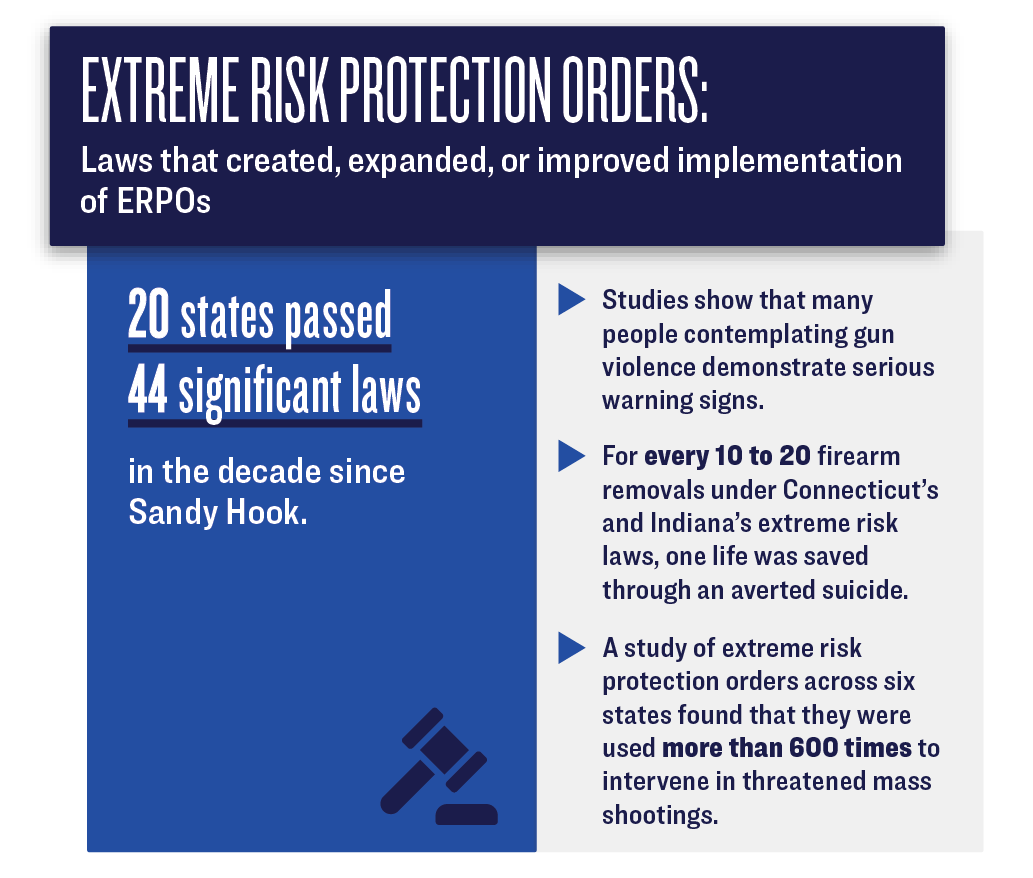 Americans overwhelmingly support background checks for all gun sales. These laws prevent individuals who are ineligible to purchase firearms from obtaining them, making them a key element in preventing tragic and unnecessary gun deaths in the United States. When background checks are properly enforced, they can block illegal gun sales and keep deadly weapons out of the hands of people with the most significant histories of violence or irresponsible behavior. In their absence, however, people who are legally ineligible to possess firearms routinely exploit the loopholes in our laws. Background checks are easy, convenient, and impose almost no burden on law-abiding gun purchasers—and states can and should require all gun purchasers to undergo a background check in order to reduce the risk of violence in our communities.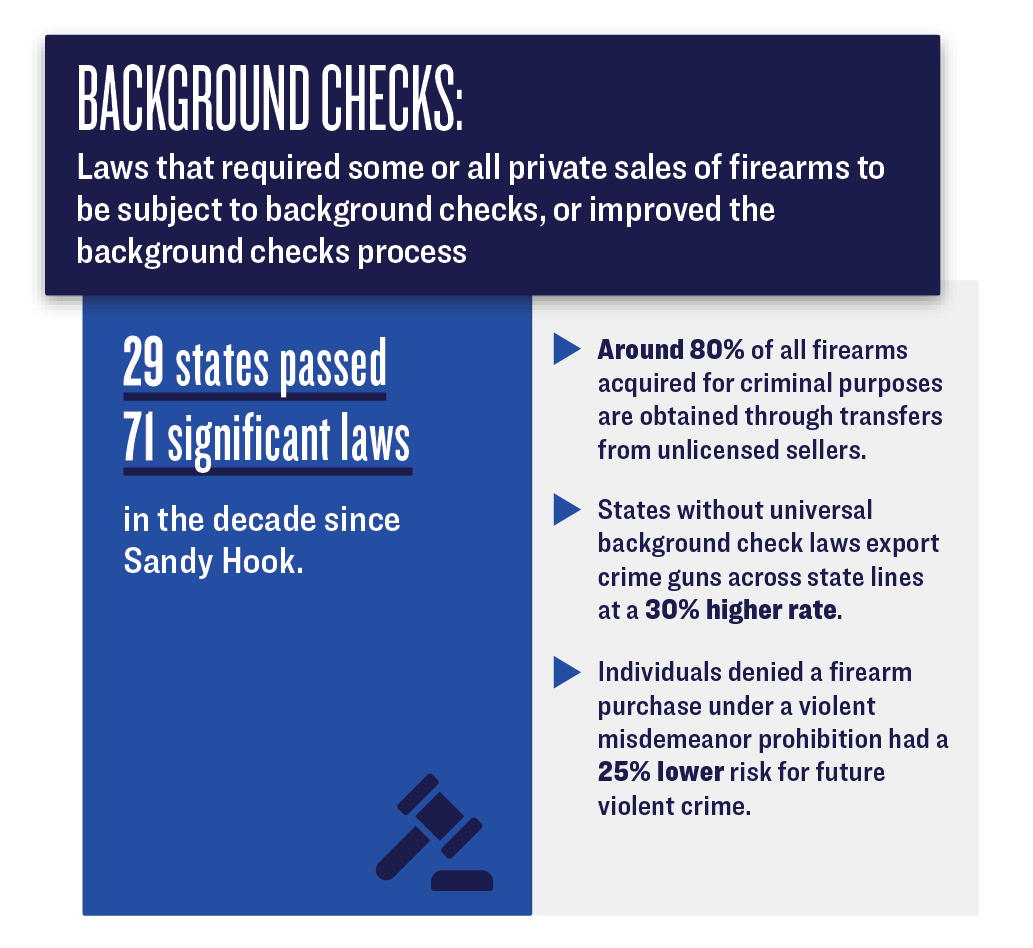 Gun violence is currently the leading cause of death for American children. The combination of widespread gun ownership and weak gun safety laws creates a uniquely dangerous environment for American children. Ninety-one percent of children killed with guns in high-income countries are killed in the US. The effects of this gun violence epidemic are devastating. More than 1,800 children are killed by guns each year in the US, and thousands more are seriously injured. Meanwhile, survivors and their loved ones grapple with grief, trauma, and fear. States must take action to protect the next generation from gun death and injury.
After nearly 30 years, Congress passed its first major piece of gun safety legislation, the Bipartisan Safer Communities Act. Now that it's law, the Biden administration should focus on making it as effective as possible—including ensuring it's properly implemented and that the resources provided for CVI and crisis intervention programs are properly allocated.
But this isn't the end of the fight. Congress must continue its progress and pass more legislation, including to enact universal background checks, increase funding for community violence intervention, address the deadly nexus of guns and domestic violence, and invest in research into gun violence.
While federal progress has moved slowly, state progress has not. In statehouses across the country, legislative champions have taken the lead and enacted legislation that has made their communities safer. What comes next, however, depends on who the state leaders are.
States with commonsense gun safety majorities will take up measures that will save lives, like holding gun manufacturers and dealers accountable for standing in the way of safer technology and looking on while communities are flooded with illegal weapons. States that are governed by reckless Second Amendment hardliners will look to defend the dangerous rules they currently have on the books while working to block legislation that protects victims of domestic violence, requires parents to lock up their firearms around children, and allows families to ensure their loved ones don't have access to a firearm in a time of crisis.
In the wake of federal inaction, courageous legislators in states across the country took steps to save lives from gun violence. This state-level progress, hard-won and often incremental, saved lives. As we look ahead to the next 10 years of the gun safety movement, we must continue to push for the passage and effective implementation of these commonsense solutions.
SUPPORT GUN SAFETY
We're in this together. To build a safer America—one where children and parents in every neighborhood can learn, play, work, and worship without fear of gun violence—we need you standing beside us in this fight.