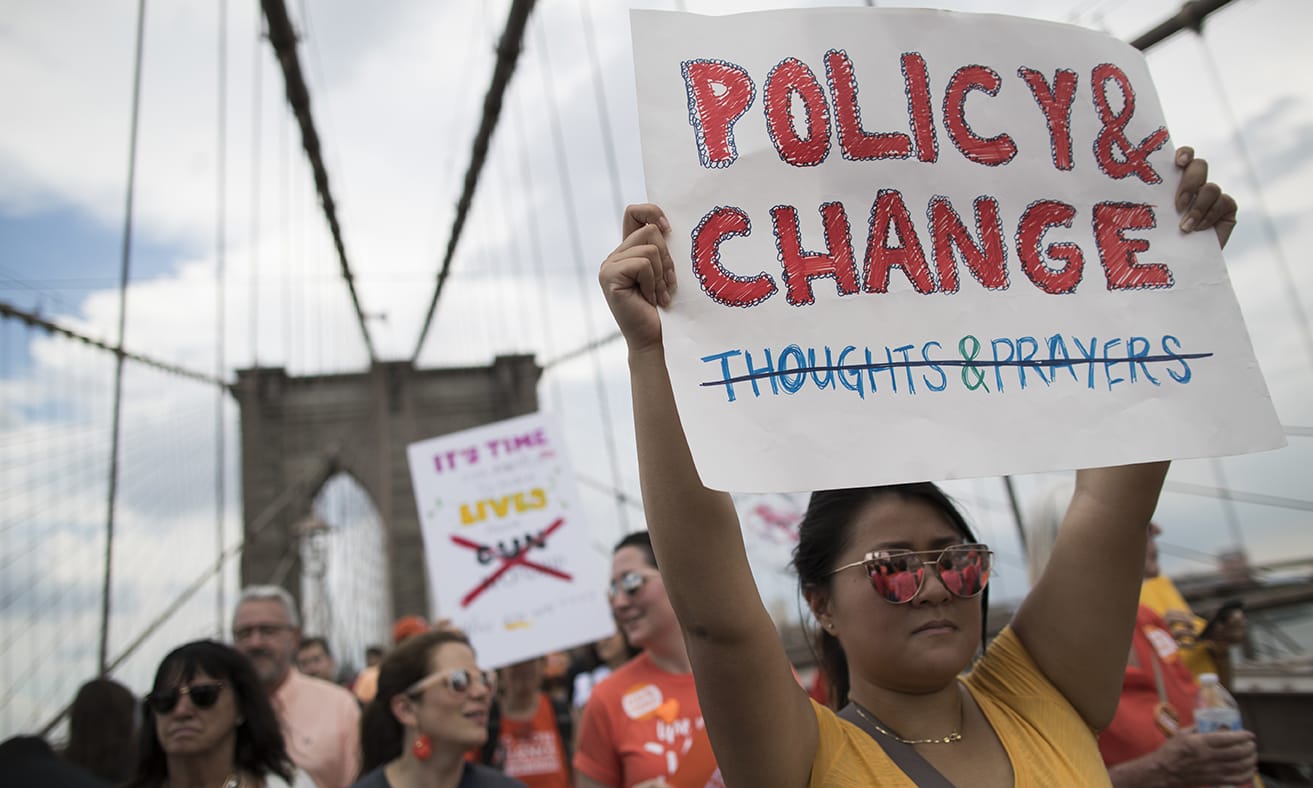 Giffords Law Center Gun Law Trendwatch: 2022 Year-End Review
A Roundup and Analysis of the Year's State Firearm Legislation
2022 was a watershed year for action on gun violence.
In June, the Supreme Court issued its first major Second Amendment opinion in over a decade. In an ideologically driven and deeply flawed decision, the Court further expanded the scope of the Second Amendment further than it ever had before. Just two days after this decision was issued, President Biden signed the first major federal gun safety bill in nearly 30 years.
This year was full of crushing lows, including mass shootings in Buffalo, Uvalde, and Highland Park, but it also featured some of the most hopeful and important advances on gun safety in decades. In 2022, 21 states and Washington DC passed 91 strong bills.
In the face of devastation, Americans demanded more—and they got it.
States and the Federal Government Passed Laws to Prevent Mass Shootings
In just one of many mass shootings in 2022, a 21-year-old man killed five people at an Independence Day parade, including both parents of a toddler.
Many mass shooters give some indication of their intentions beforehand. Extreme risk laws that allow law enforcement—and in several states, family members—to petition a court for an order temporarily disarming a person in crisis can prevent mass shootings. The Bipartisan Safer Communities Act (BSCA) allocated funding to states to help them implement extreme risk laws so they can be maximally effective and incentivized states without ERPOs to adopt them. Recognizing the role ERPOs can play in preventing mass shootings, five states also strengthened or expanded existing ERPO laws.
A number of the shooters in the most high profile mass killings were under the age of 21. And the research is clear that people between the ages of 18 and 21 are at increased risk of gun homicides and suicides. To prevent such individuals from accessing guns, the BSCA improved background checks for people in this age group. Three states also raised the minimum legal age to purchase or possess some or all firearms to 21. 
Nearly all of the highest profile and deadliest mass shootings have involved an assault weapon fitted with a large-capacity magazine. Consequently, during the 10-year federal ban on assault weapons and large capacity magazines, people were 70% less likely to die in a mass shooting. This year, Delaware became the first state in over a decade to ban assault weapons, paving the way for more states to follow its lead. It also prohibited large-capacity magazines, as did two other states.
States Took Action to Protect Democracy from Armed Intimidation
In 2020 and 2021, the nation witnessed the increasing use of guns in political violence. Gun-carrying protestors threatened legislators debating COVID-19 mitigation measures and certifying the 2020 election. On January 6, 2021, far-right extremists invaded the US Capitol. 
This disturbing trend continued into 2022. An armed hate group traveled to disrupt a Pride event in Idaho, and people with guns threatened abortion rights protestors and intimidated people attempting to vote early. 
States have responded by prohibiting some or all guns in areas sensitive to the exercise of democracy. In 2022, Colorado, Washington, New Jersey, and New York prohibited guns at polling sites, places where votes are being tabulated, government buildings, school board meetings, and/or other places where the presence of guns can chill the exercise of constitutional rights.
States and the Federal Government Passed Laws to Reduce Gun Homicides
This year, the Centers for Disease Control and Prevention (CDC) released data showing that 2020 saw the highest number of gun deaths on record, a 15% increase over the previous year. This increase was driven primarily by an unprecedented 35% rise in gun homicides. Preliminary CDC data for 2021 shatters 2020's record by more than 3,500 deaths.
Most gun homicides in the United States are the result of interpersonal community violence. The BSCA allocated $250 million for evidence-informed, community-based intervention and prevention programs. While the BSCA represents the largest federal investment in community violence intervention (CVI) work in US history, states continued their individual efforts to reduce gun homicides by investing in community-led approaches. Fourteen states and the District of Columbia made significant financial investments in CVI strategies.
The BSCA also closed a significant loophole in federal law that allowed dating partners convicted of domestic violence misdemeanors to possess firearms. In addition, six states enacted laws making it harder for people who commit domestic abuse to access firearms.
Another major and growing contributor to gun homicides are ghost guns—untraceable and sometimes even undetectable firearms manufactured by unlicensed individuals. At the direction of President Biden, the Bureau of Alcohol, Tobacco and Firearms (ATF) issued a rule putting stringent requirements on retailers who sell the parts to make ghost guns—but companies are continuing to exploit a loophole in this new rule. Four states and the District of Columbia also strengthened their ghost gun laws to improve their effectiveness.
The Supreme Court Issued a Radical, Dangerous Decision on Guns, and States Responded
While a number of states and the federal government reacted swiftly to increasing threats of gun violence to Americans, an ultraconservative supermajority on the Supreme Court issued an extreme decision that has already forced lower courts to invalidate longstanding gun safety laws.
The opinion in New York State Rifle & Pistol Association, Inc. v. Bruen directly affected states that comprise 25% of the US population. Studies show that weakening concealed carry laws, as the Bruen decision requires, leads to significant increases in violent crime. Within three weeks of the ruling, Maryland saw a 110% increase of applications for concealed carry permits. 
In reaction to the Bruen decision, however, some states have begun tightening other requirements to obtain a concealed carry permit. For example, New York passed a law that expands the categories of people ineligible for a concealed carry permit due to certain misdemeanor convictions, requires an applicant to have an in-person interview with a licensing official, and mandates firearm safety training. In 2023, other states are sure to follow.
Despite Alarming Challenges, States Continue to Fight for the Safety of All Americans
The United States is facing unprecedented challenges with regards to mass shootings, gun homicides, and armed extremism. While the Supreme Court has become politicized and willing to do the bidding of the gun industry, a number of states and the federal government pushed hard in 2022 to counteract these forces and make their communities safer for their residents.
And the results of the 2022 midterms further prove that gun violence prevention is a winning issue. Voters in two key states—Minnesota and Michigan—elected gun safety champions to state office, giving Democrats trifecta control of the governments for the first time in four decades in Michigan, and nearly a decade in Minnesota. Oregon voters passed a historic gun safety ballot initiative that bans large capacity magazines and requires gun purchasers to get a permit issued by law enforcement.
Despite the Supreme Court's radicalization of Second Amendment jurisprudence and the actions of some states in the grips of gun zealotry, Americans resoundingly rejected extremism in favor of gun safety in 2022. Consequently, 2023 is poised to be another momentous year.
MEDIA REQUESTS
Our experts can speak to the full spectrum of gun violence prevention issues. Have a question? Email us at media@giffords.org.
Contact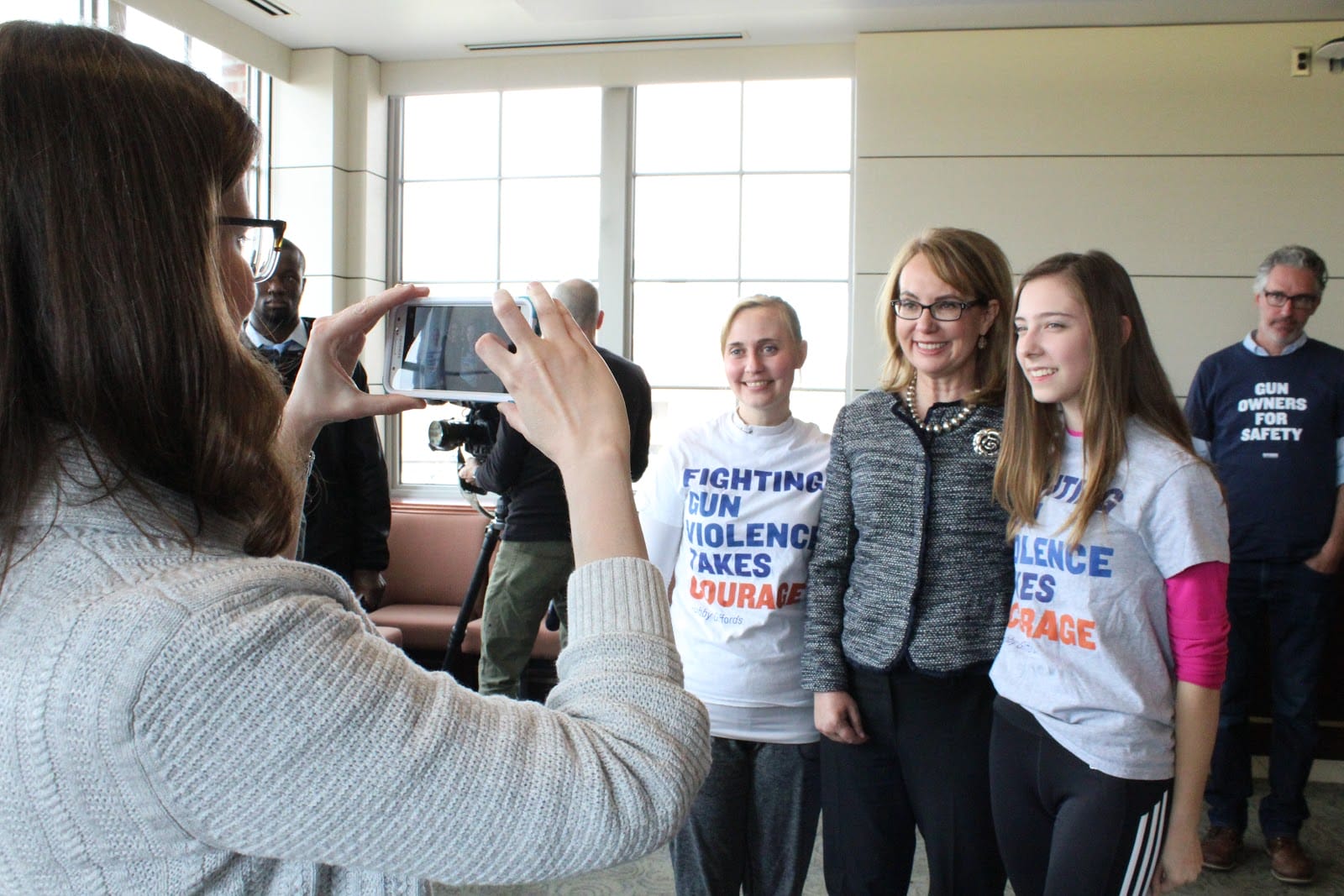 In 2022, 21 states and Washington DC passed 91 strong bills, bringing the total number of significant laws passed since the massacre in Parkland in 2018 to 279. States have passed more than 525 laws since the Sandy Hook shooting in 2012.
Two states improved regulation of ammunition sales: New York SB 1 required background checks on ammunition sales and New Jersey AB 1302 required ammunition sellers to keep digital records of handgun sales.
Assault Weapons, Large Capacity Magazines, and Other Dangerous Weapons
Delaware banned assault weapons (HB 450). Delaware (SB 6), Oregon (Ballot Measure 114), Rhode Island (HB 6614), and Washington (SB 5078) banned large capacity magazines (LCMs). New York (SB 9229) expanded an existing ban on LCMs. New Jersey (SB 2905) prohibited fifty caliber rifles.
Five states improved background checks by: requiring law enforcement to be notified when a person fails a background check (Connecticut HB 5417 and California AB 2551), having a state agency conduct a background check instead of just the FBI (Delaware HB 423 and New York SB 1), requiring purchaser to get a permit to purchase from local law enforcement (Oregon Ballot Measure 114), and prohibiting a gun from being transferred before a background check clears (Oregon Ballot Measure 14 and Vermont SB 4).
Community Violence Intervention
Fourteen states and the District of Columbia made meaningful investments in community violence intervention or improved existing efforts: California (AB 2697, AB 200, AB 1929, and SB 154), Colorado (HB 1329 and SB 145), Connecticut (HB 5506), Illinois (HB 900), Massachusetts (HB 5050, HB 5374, and SB 3097), Maryland (HB 1005, SB 290, and SB 350), Michigan (HB 5783), Nebraska (LB 1011), New Mexico (HB 2 and HB 68), New York (SB 8000, SB 8003, and SB 8004), Oregon (HB 4045 and HB 5202), Pennsylvania (SB 1100 and HB 1421), Rhode Island (HB 7123), Virginia (HB 29 and HB 30), Washington (SB 5693), and the District of Columbia (B 716).
Concealed Carry Licensing
The following three states strengthened the process to ensure that only properly vetted, law-abiding people may carry concealed in public: New Jersey (AB 4769), New York (SB 1), and Tennessee (HB 1018).
Six states improved efforts to keep guns out of the hands of people who commit domestic abuse: California (AB 2239), Illinois (SB 257), Iowa (HB 825), New Jersey (AB 3687), New York (SB 6443), and Oklahoma (HB 3286).
Extreme Risk Protection Orders
Six states strengthened or expanded existing ERPO laws or enacted policies to improve their implementation: California (AB 2870), Massachusetts (HB 5374 and SB 3097), New Jersey (AB 3687), New York (SB 9113), Vermont (SB 4), and Washington (HB 1901).
Five states and the District of Columbia enacted laws regulating ghost guns or improved the effectiveness of their ghost gun policies: California (AB 2552, AB 1621, AB 2156, and SB 1327), Delaware (SB 8), Illinois (HB 4383), Maryland (HB 425/SB 387), Washington (HB 1705), and District of Columbia (B 506).
Four states passed regulations of gun dealers: California (SB 1384, AB 228, and AB 1842), Connecticut (HB 5305), Maryland (HB 1021), and New York (SB 4970).
Four states improved efforts to keep children and teens safe from gun violence: California (AB 452/SB 906) required school districts to notify parents of safe storage laws. Delaware (HB 451) prohibited people under 21 from purchasing rifles and handguns and, in 2025, will prohibit people under 21 from possessing rifles and handguns. New York (SB 9458) and Rhode Island (SB 2637/HB 7457) raised the age to purchase and/or possess firearms to 21. New York (SB 1) redefined "minor" to be anyone under 18 instead of 16 for the purposes of its law requiring guns to be inaccessible to a minor.
Two states enacted laws requiring gun dealers to sell firearms with microstamping technology: New Jersey (AB 4368) and New York (AB 7926).
Victim's Access to Justice
Three states, California (AB 2571 and AB 1594), Delaware (SB 302), and New Jersey (AB 1765), enabled people to sue gun dealers and manufacturers who engage in misconduct or fail to act responsibly.
Sensitive Locations and Democracy Protection
Five states enacted policies to keep guns out of sensitive locations. Vermont (SB 4) prohibited guns in hospitals and New York (SB 1) prohibited guns in areas where children are likely to be present, among other places. New Jersey (AB 4769) prohibited guns in bars and hospitals, at athletic events, and on government property.
Colorado (HB 1086), New Jersey (AB 4769), New York (SB 1), and Washington (HB 1630) prohibited guns in certain areas sensitive to the exercise of democracy such as polling places, school board meetings, demonstrations, and places where votes are being tabulated.
Allowed any person to sue a defendant for $10,000 who engaged in specified illegal conduct related to assault weapons, fifty caliber weapons, ghost guns, or the sale of a firearm to a person under 21 (SB 1327).
Appropriated $40 million for a program to remove firearms from people who become prohibited from firearms possession and $4 million to the University of California Firearm Violence Research Center (AB 178 and AB 180).
Prohibited gun and ammunition sales on state-owned property thereby prohibiting gun shows from being held on state fairgrounds and other county property (SB 915).
Required a person purchasing a handgun to take firearm safety training (AB 4370).
Required new residents who bring firearms into the state to obtain a license (SB 1204).
Prohibited the open carry of handguns and required gun owners who carry guns in public to have liability insurance (AB 4769).
Required courts to order the immediate seizure of firearms when a person's firearm license has been revoked and the individual refuses to surrender firearms (SB 6363).
Prohibited loaded rifles and shotguns on public trails, except while engaged in hunting (HB 7358/SB 2825), and prohibited carrying an unloaded rifle or shotgun while in possession of a loaded magazine (HB 7358).
In 2022, gun extremists passed far fewer bills than typical thanks to the efforts of advocates and courageous lawmakers. However, reckless and dangerous bills in the following categories were enacted into law.
Banning Law Enforcement from Enforcing Federal Gun Laws
Wyoming (SB 102) made law enforcement officers liable for civil and criminal penalties for enforcing federal gun laws.
Alabama (SB 2) prohibited localities from using public funding to enforce, and prohibited police from enforcing, federal executive orders related to gun safety. New Hampshire (HB 1178) prohibited public employees from using any personnel or financial resources to enforce gun laws.
Permitless and Expanded Concealed Carry
Four states repealed laws requiring a background check and permit to carry hidden, loaded guns in public: Alabama (HB 272), Georgia (SB 319), Indiana (HB 1296), and Ohio (SB 215).
Georgia (HB 218) allows anyone with a permit from another state to carry in Georgia.
Three states, Alabama (HB 272), Georgia (SB 319), and West Virginia (HB 4048), expanded where guns can be carried in public.
Alabama (HB 272) required colleges and universities to allow guns in vehicles on their campuses. Ohio (HB 99) allowed teachers to carry guns in K–12 schools.
Tennessee (SB 2628) repealed a ban on manufacturing, possession, and selling short barrel rifles and shotguns.
Utah (SB 115) expanded the state's firearms preemption law and created a private right of action to enforce it. It also prohibited local governments and state entities from banning guns on the ground outside a homeless shelter and inside unless the shelter complies with onerous security and storage requirements.
Oklahoma (SB 186) repealed a law prohibiting a person convicted of a felony from being in a car with someone who possesses a firearm.
On November 8, a majority of Iowans voted to amend the state constitution to require courts to apply "strict scrutiny"—the highest civil legal standard—in gun law cases, undoubtedly ensuring an onslaught of challenges to Iowa's gun laws which have already been abysmally weakened over the past several years.
IN THE COURTS
Time and again, gun safety laws have been proven constitutional. Our attorneys defend lifesaving gun laws and take on the gun lobby in courts around the country, all the way up to the Supreme Court.
Learn More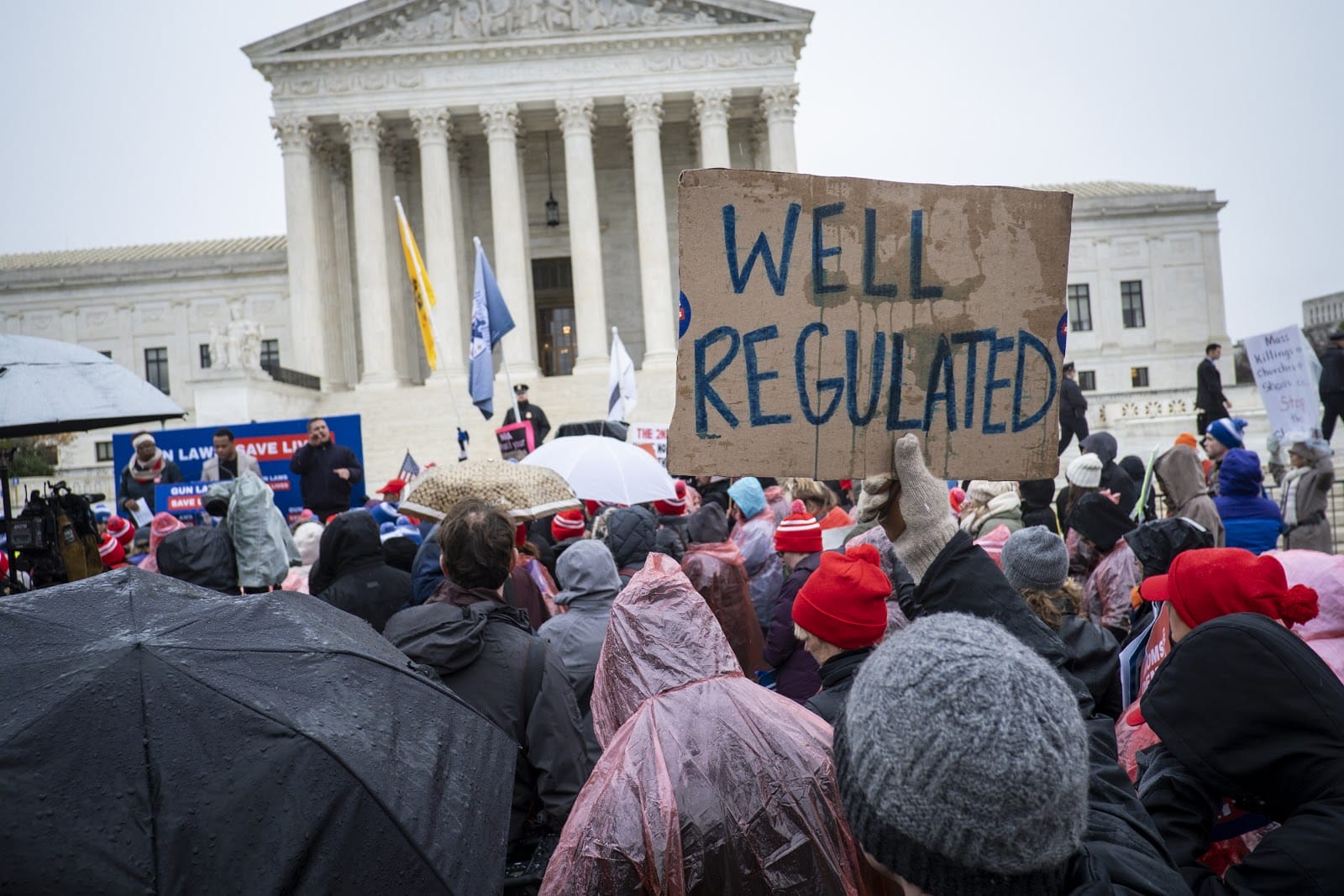 The gun lobby's answer to rising mass shootings and gun deaths is more guns, not more gun safety. Courageous legislators, advocates, and others in 22 states fought this dangerous approach and defeated the following extreme gun bills in 2022, among others.
This year, bills to repeal concealed carry permit requirements—a gun lobby priority—failed in Colorado, Florida, Maryland, Minnesota, Nebraska, Virginia, and Wisconsin.
Bills to allow or expand guns on the campuses of higher education failed in Arizona, Colorado, Florida, Kentucky, Maryland, Mississippi, Missouri, Tennessee, and West Virginia.
Despite the evidence that the presence of guns makes students and teachers less safe, after each school shooting, legislators friendly to the gun industry predictably call for laws arming teachers and other civilians. This year, bills to allow guns in K–12 schools failed in Alaska, Arizona, Colorado, Georgia, Kentucky, Mississippi, Missouri, Oklahoma, Tennessee, Washington, Wisconsin, and West Virginia.
Making Police Liable for Enforcing Federal Gun Laws
Bills that would have made law enforcement officers or other government officials personally liable for criminal or civil penalties for helping to enforce federal gun laws were defeated in Alabama, Georgia, Idaho (expansion), Iowa, Kentucky, Louisiana, Mississippi, Oklahoma, South Dakota, and West Virginia.
2022 was a dichotomous and turbulent year for gun violence and gun safety but, in the end, a substantial number of gun violence prevention policies became law at the state and federal level.
This was a year of important, lifesaving progress, but our fight to end this country's gun violence epidemic isn't over yet. As we prepare for the challenges we'll face in the new year, we must stand together for the commonsense gun safety policies that the vast majority of Americans support. Now is the time to act.
SUPPORT GUN SAFETY
We're in this together. To build a safer America—one where children and parents in every neighborhood can learn, play, work, and worship without fear of gun violence—we need you standing beside us in this fight.