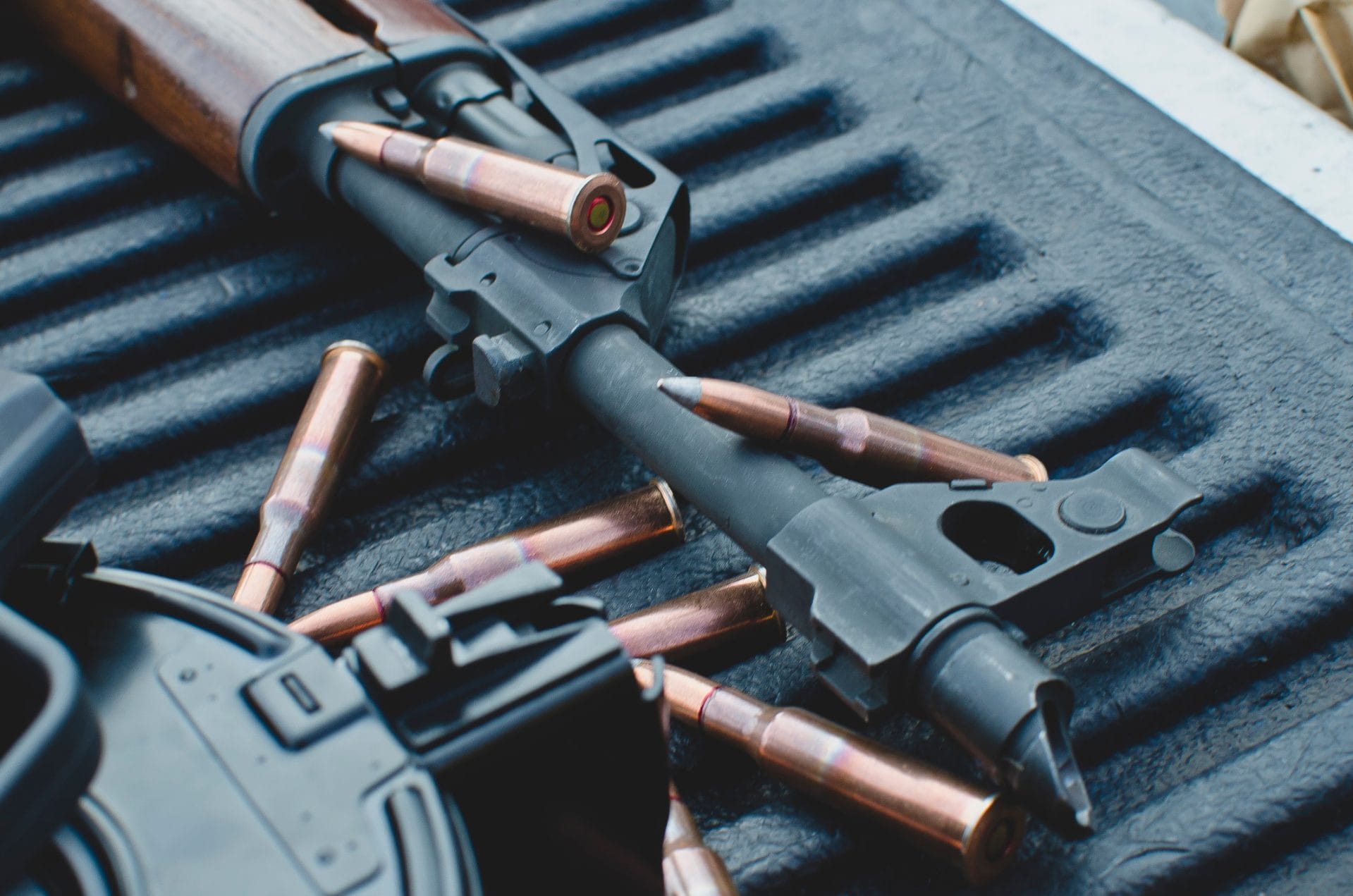 Giffords Law Center Gun Law Trendwatch: January 31, 2023
A Roundup and Analysis of the Latest State Firearm Legislation
Easy Access to Guns Fuels Mass and Other Shootings, but States Press on to Stop the Violence
Every other week during the state legislative cycle, Gun Law Trendwatch breaks down trends in the gun violence prevention universe. We take an in-depth look at a topic of particular interest to legislators and advocates—this week it's state efforts to ban assault weapons and large-capacity magazines—and provide updates on significant gun safety and gun lobby bills as they move through state legislatures.
State of the States
State Legislators Are Committed to Removing the Weapons of Choice of Mass Shooters from American Communities
On January 10, 2023, Illinois Governor JB Pritzker signed into law a bill that prohibits the purchase and possession of assault weapons, large-capacity magazines, trigger activators, and 50 caliber rifles. With this legislation, Illinois became the second state in two years—and the ninth state in the nation, along with the District of Columbia—to ban assault weapons.
2x
More injuries and deaths with an assault rifle
In mass shootings, individuals equipped with an assault rifle, as opposed to a handgun or non-assault rifle, are able to kill and injure twice as many people.
Source
Elzerie de Jager, et al., "Lethality of Civilian Active Shooter Incidents With and Without Semiautomatic Rifles in the United States," JAMA 320, no. 10 (2018): 1034–1035.
As the US experiences an increasing number of mass shootings, bans on large-capacity magazines are also gaining in popularity. Large-capacity magazines (LCMs), which allow shooters to file dozens of rounds in seconds and are frequently used in mass shootings, were banned in four states last year. With Illinois's new law, 14 states, including DC, now ban these magazines.  
Less than two weeks later, a man used a semiautomatic assault handgun with a large-capacity magazine to slaughter 11 individuals, wounding 10 more, in Monterey Park, California. Just a few days later, a second mass shooting in California committed with a semiautomatic gun took another 7 lives. 
Decades ago, California banned assault weapons because of their unique lethality—someone with an assault rifle is able to hurt and kill twice the number of people as with a non-assault rifle or handgun. Yet states that have banned these weapons of mass death face numerous challenges in getting them out of circulation. California's law prohibiting the possession of assault weapons has even been declared unconstitutional by a Trump-appointed judge who is notably extreme on guns (the law is still in effect, pending review by the Ninth Circuit Court of Appeals). 
Because most states do not ban these weapons at all, gun traffickers can easily bring them across state lines. Most states also do not ban people from manufacturing weapons at home, making it easy for people who have felony convictions or are subject to restraining orders to access them. And in some states where assault weapons and LCMs are banned, extremist sheriffs are declaring their refusal to enforce these laws.
Nevertheless, many state legislators are committed to ridding American communities of the weapons of choice of mass shooters. Serious efforts are underway in Rhode Island and Colorado to ban assault weapons. Legislators in Massachusetts, Michigan, Minnesota, Rhode Island, and Vermont are also considering LCM regulations. 
Voters have made themselves undeniably clear—most recently during the 2022 midterms—that they want the violence to end. The legislators who are listening to their constituents will continue to address this epidemic one issue and one bill at a time. 
JOIN THE FIGHT
Gun violence costs our nation 40,000 lives each year. We can't sit back as politicians fail to act tragedy after tragedy. Giffords Law Center brings the fight to save lives to communities, statehouses, and courts across the country—will you stand with us?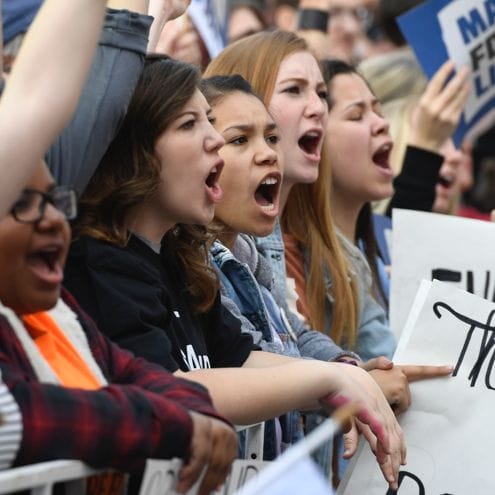 Gun Safety Spotlight
Ridding American Streets of Ghost Guns Remains a Top Priority for Legislators
Ghost guns are untraceable, and sometimes even undetectable, firearms manufactured by unlicensed individuals—often from kits sold online without a background check. By building their own firearms, individuals are more easily able to circumvent state and federal gun safety laws. As the technology to build guns at home has improved, ghost guns have flooded American communities that already disproportionately suffer from gun violence.
The exploding number of ghost guns in our cities have prompted several states and the federal government to take action. In 2022, Illinois, Maryland, and Washington State passed ghost gun laws, bringing the total number of states that regulate the sale and possession of ghost guns and the parts needed to make them to 12, including DC. Also in 2022, ATF issued a rule putting stringent requirements on retailers who sell the parts to make ghost guns, subjecting purchasers to background checks and other regulations.
Given the significant threat ghost guns pose to public safety, in 2023, several states are focused on eliminating their risk. This year, Colorado, Nevada, and Massachusetts are likely to enact similar legislation and help ensure the safety of their communities.
Gun Lobby Extremism
The Supreme Court Opened the Floodgates to Gun Law Challenges, but States Won't Back Down
On June 23, 2022, the Supreme Court issued an opinion that radically reshaped Second Amendment jurisprudence. The opinion in New York State Rifle & Pistol Association, Inc.v.Bruen, which was clearly intended to favor the gun industry and weaken state gun laws, has contributed to a historic decline in the public's confidence in the Court.
As predicted, this summer's decision led to a tidal wave of challenges by gun zealots to dozens of state gun laws, including some of our nation's most longstanding gun safety policies. Extremists have challenged laws that keep guns out of the hands of people convicted of felonies and domestic abuse, prohibit guns in summer camps, and set minimum ages to possess firearms, among many others. 
Fortunately, most of the efforts to invalidate these evidence-based, effective gun policies have been unsuccessful so far in lower courts. In 2023, courageous legislators in many states are working hard to protect Americans from gun violence. In stark contrast to the Supreme Court's actions, these lawmakers are demonstrating that they value the fundamental rights of all human beings to life, liberty, and the pursuit of happiness at least as much as they value the right to own a gun. 
MEDIA REQUESTS
Our experts can speak to the full spectrum of gun violence prevention issues. Have a question? Email us at media@giffords.org.
Contact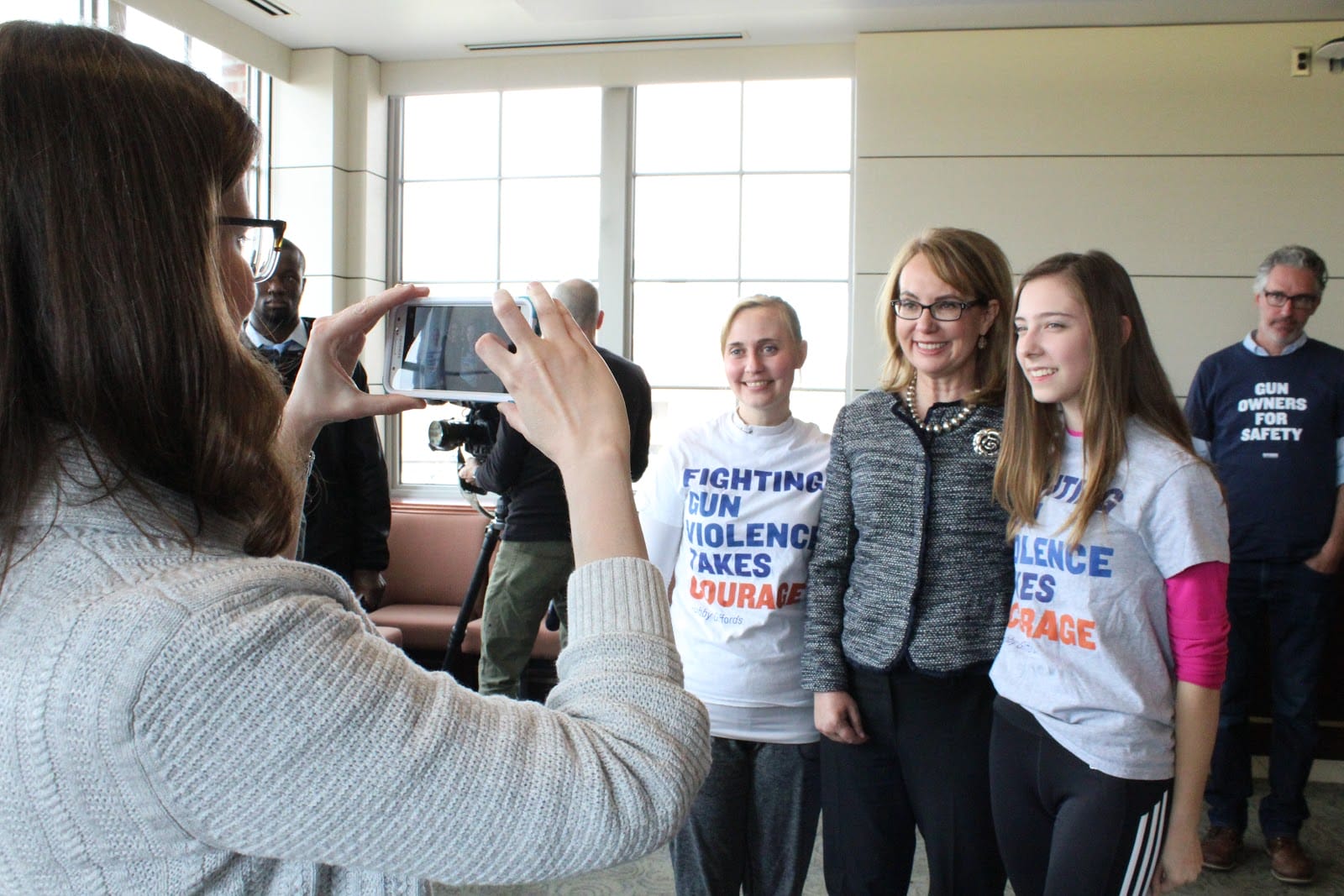 Bills in Motion
Lawmakers intent on protecting their constituents from gun violence began 2023 with the introduction of hundreds of gun violence prevention bills. Notably, bills to strengthen background check requirements, fund proven community violence intervention programs, improve domestic violence prohibitions, and regulate or prohibit ghost guns have been introduced in at least 18 states and the District of Columbia. Gun extremists nevertheless continue to push their dangerous agenda of more guns to address gun violence and have introduced several bills to bring guns in schools, allow permitless carry, allow people to shoot first and ask questions later, and make law enforcement officers liable for enforcing federal gun laws in over a dozen states. For nearly 30 years, we have helped states make our communities safer with evidence-based policies and by fighting the gun lobby. In 2023, we are stronger than ever.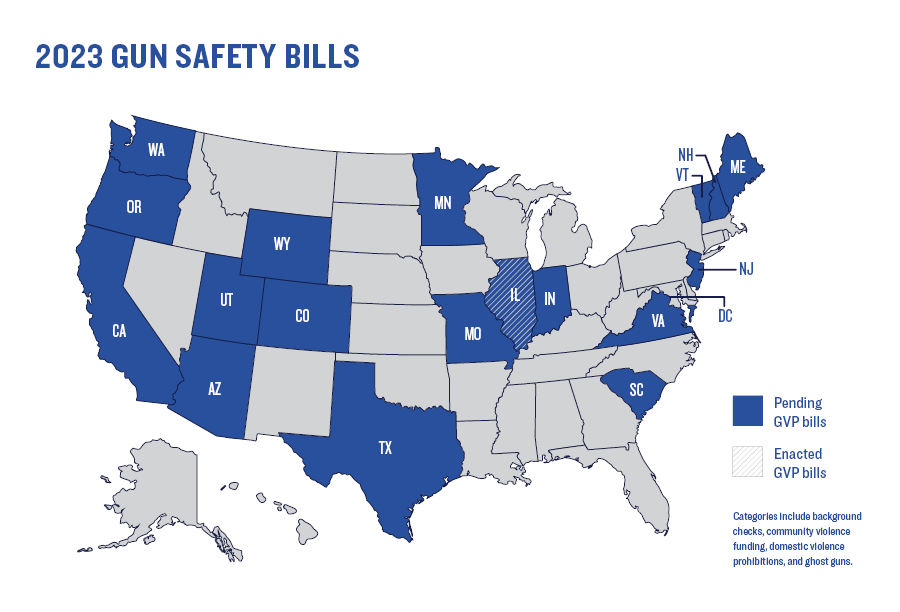 Gun Safety Bills
BACKGROUND CHECKS: Washington HB 1143 and HB 1144 were scheduled for hearings on 1/27. At least nine states have bills pending that would enact universal background checks or strengthen existing laws.
COMMUNITY VIOLENCE: Colorado SB 2 had a hearing scheduled for 1/26. At least eight states have bills pending that allocate, protect, or administer funding for evidence-based violence prevention programs.
DOMESTIC VIOLENCE: District of Columbia B24-0760 has been sent to the mayor. Vermont SB 4 had hearings scheduled for 1/25 and 1/27. Washington SB 5231 had hearings on 1/24 and 1/26. At least eight states have bills pending that would improve efforts to keep guns out of the hands of people who commit domestic abuse.
GHOST GUNS: District of Columbia B24-0760 has been sent to the mayor. At least four states have bills pending that regulate ghost guns or improve the effectiveness of their ghost gun policies.
Gun Lobby Bills
GUNS IN SCHOOLS: North Dakota HB 1194 had a hearing on 1/26. West Virginia SB 10 passed a senate committee and is on its third reading on the senate floor. Dangerous bills to allow or expand the ability to carry guns in school or on campus are pending in at least 14 states.
PERMITLESS CARRY: There are reckless permitless carry bills pending in at least three states.
STAND YOUR GROUND: North Dakota HB 1213 has passed the house. Bills that make it easy to use deadly force in public and evade justice are pending in at least six states.
LIABILITY FOR ENFORCING GUN LAWS: Bills that would make law enforcement officers or other state and local government officials personally liable for enforcing federal gun laws are pending in at least seven states.
HERE TO HELP
Interested in partnering with us to draft, enact, or implement lifesaving gun safety legislation in your community? Our attorneys provide free assistance to lawmakers, public officials, and advocates working toward solutions to the gun violence crisis.
CONTACT US