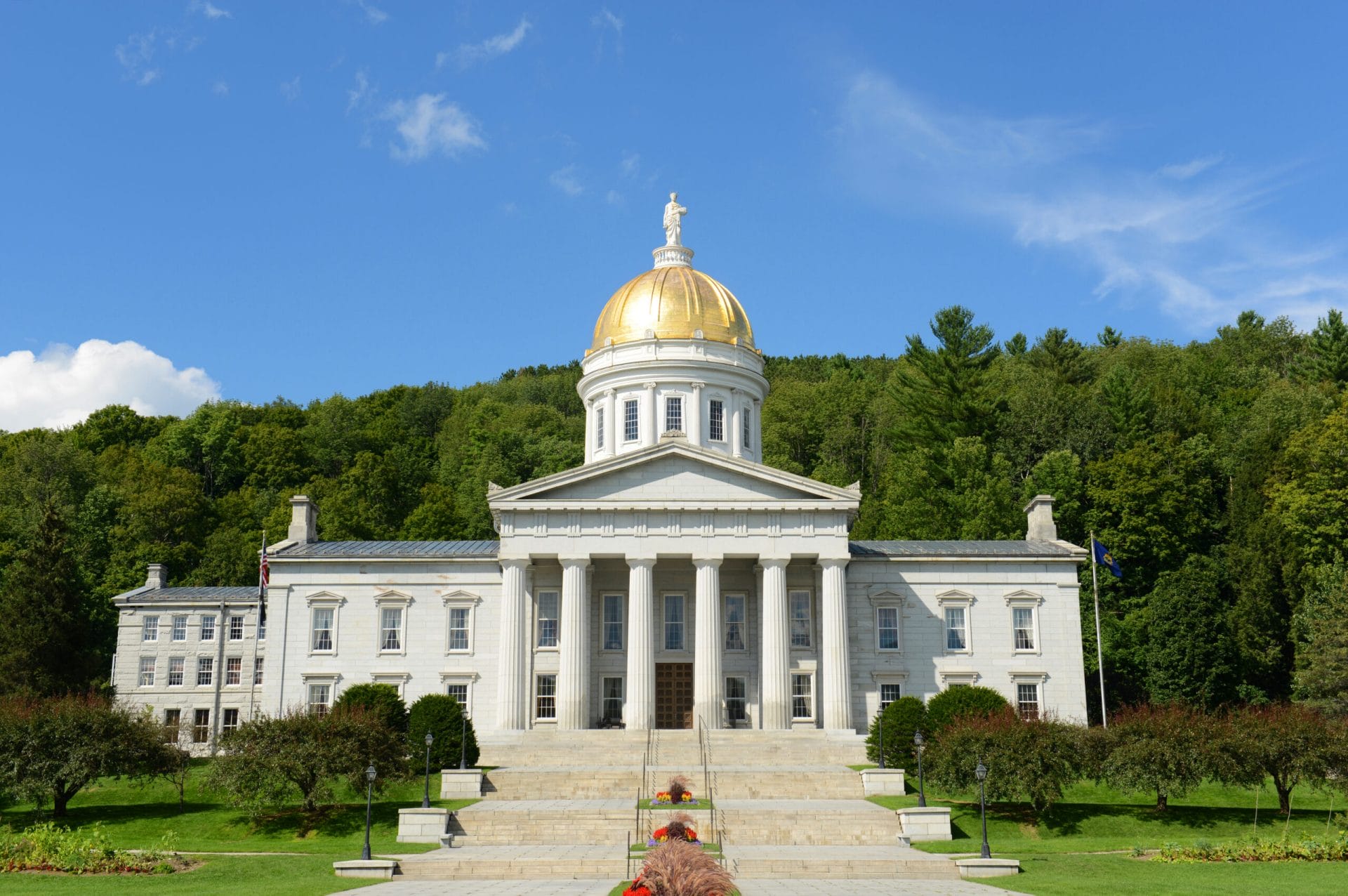 Giffords Law Center Gun Law Trendwatch: March 1, 2022
A Roundup and Analysis of the Latest State Firearm Legislation
Gun Deaths in Vermont Rose 24% in 2020. Governor Phil Scott Has a Chance to Act.
Every other week during the state legislative cycle, Gun Law Trendwatch breaks down trends in the gun violence prevention universe. We take an in-depth look at a topic of particular interest to legislators and advocates—this week it's the gun violence prevention package sitting in front of Vermont's governor—and provide updates on significant gun safety and gun lobby bills as they move through state legislatures.
State of the States
Vermont Has a Lifesaving Opportunity
On the same day in 2018 that a 19-year-old killed 17 people and injured 17 others in Parkland, Florida, a Vermont teen who penned "Journal of an Active Shooter" was arrested for planning a similar shooting.
The threat was enough to convince Republican governor Phil Scott to sign a package of gun safety legislation that created an extreme risk protection order (ERPO) law, required background checks on all gun purchases, raised the age to purchase firearms to 21, and more. Such significant action raised Vermont's grade from a D+ to a C- on Giffords Law Center's Annual Gun Law Scorecard.
But then in 2019, Scott vetoed a bill that would have created a waiting period for handgun purchases—despite evidence that states with this law have reduced rates of suicide and homicide. 
Like nearly all states, Vermont saw an increase in gun violence during the pandemic, with gun death rates increasing 24% in 2020. In response, on February 16, the legislature delivered to Scott SB 30, a bill that would have done several things to reduce gun violence, including closing the "Charleston Loophole" by preventing a gun dealer from turning over a gun to a purchaser until a background check clears. 
Governor Scott vetoed the bill on February 22, stating that the provision closing the Charleston Loophole was "excessive and unreasonable." He kept a path open for the bill, however, if lawmakers amend it to require gun dealers to wait seven days, instead of indefinitely, to turn over a gun to a purchaser who has not passed a background check. 
While 91% of checks conducted through the National Instant Background Check System (NICS) take under two minutes, about 9% require more time to determine if a buyer is prohibited. Delayed checks tend to take longer precisely because there is something worth looking into; transfers that take place before a background check clears are eight times as likely to involve people prohibited from gun possession than other sales. Once a gun is transferred to a person who turns out later to be prohibited, getting the gun back can be dangerous, time-consuming, and costly.
Governor Scott has faced significant pressure from the gun lobby and gun extremists to abandon efforts to address gun violence in the state. When the governor stays true to his word and signs an amended SB 30 that gives the FBI additional time to investigate and complete a background check, it will represent an important step in the right direction.
JOIN THE FIGHT
Gun violence costs our nation 40,000 lives each year. We can't sit back as politicians fail to act tragedy after tragedy. Giffords Law Center brings the fight to save lives to communities, statehouses, and courts across the country—will you stand with us?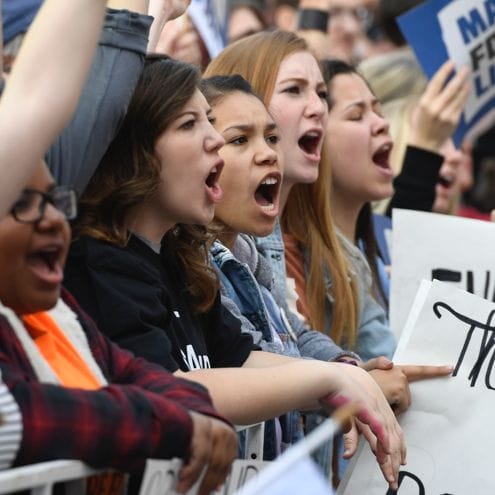 Gun Safety Spotlight
Maryland's Gun Laws Are Strong and Effective. The State Wants to Do More Still
Maryland has the seventh strongest gun laws in the nation and a gun death rate that is below the national average, yet it still has a higher gun death rate than most of the other states that earned an A- on Giffords Law Center's Annual Gun Law Scorecard. The higher gun death rate is driven mostly by interpersonal homicides in Baltimore. Recognizing this, in 2021 the state invested in evidence-based, proven solutions to community violence.
In 2022, Maryland is aiming to do more to prevent gun violence and lower its gun death rate. Hearings are scheduled for bills that would allow Medicare to fund hospital-based violence intervention programs (SB 350) and strengthen the state's child access prevention law (HB 659). Two bills that would prohibit ghost guns—untraceable, undetectable firearms—have had hearings this session (HB 425 and SB 387). A bill to prohibit guns at polling locations (HB 30) is also pending. These bills would enact policies that are backed by data and likely to further reduce Maryland's gun death rate. 
In Maryland, and the rest of the United States, Americans want to see an end to the epidemic of gun violence. Fortunately, Marylanders, unlike residents of many states, are getting what they deserve from their elected officials—action.
Gun Lobby Extremism
Corporations Took Steps to Reduce Gun Violence. They Were Punished by States—at the Cost of Taxpayers
Following the shooting in Parkland, Florida, on February 14, 2018, the financial services behemoth Citigroup declared that gun dealers using its services must agree to not sell guns to anyone under 21 years of age, not to sell bump stocks and large-capacity ammunition magazines to anyone, and to perform background checks on all gun sales. Other major financial institutions followed, with Bank of America and JP Morgan Chase refusing to provide financing to makers of assault weapons.
But as some states weaken the rights of and protections for their residents, they are also passing laws to protect the gun industry from corporate efforts to reduce gun violence. In 2021, Texas and Wyoming passed bills to prohibit local governments from entering into contracts with financial institutions that "discriminate" against the firearm industry. Even though it hasn't passed such a law, Louisiana enforced the policy nevertheless when the state's bond commission refused to certify a bond refinancing deal with JP Morgan because of its firearms policy. The state ended up accepting a contract with Wells Fargo that had less favorable terms and cost taxpayers more.
Other state legislatures controlled by gun violence prevention opponents have introduced similar laws. Arizona, Indiana, Kansas, Kentucky, Missouri, New Hampshire, and West Virginia have similar bills pending. If enacted, the consequences of these bills will fall, undoubtedly, on taxpayers, all in the name of gun extremism.
MEDIA REQUESTS
Our experts can speak to the full spectrum of gun violence prevention issues. Have a question? Email us at media@giffords.org.
Contact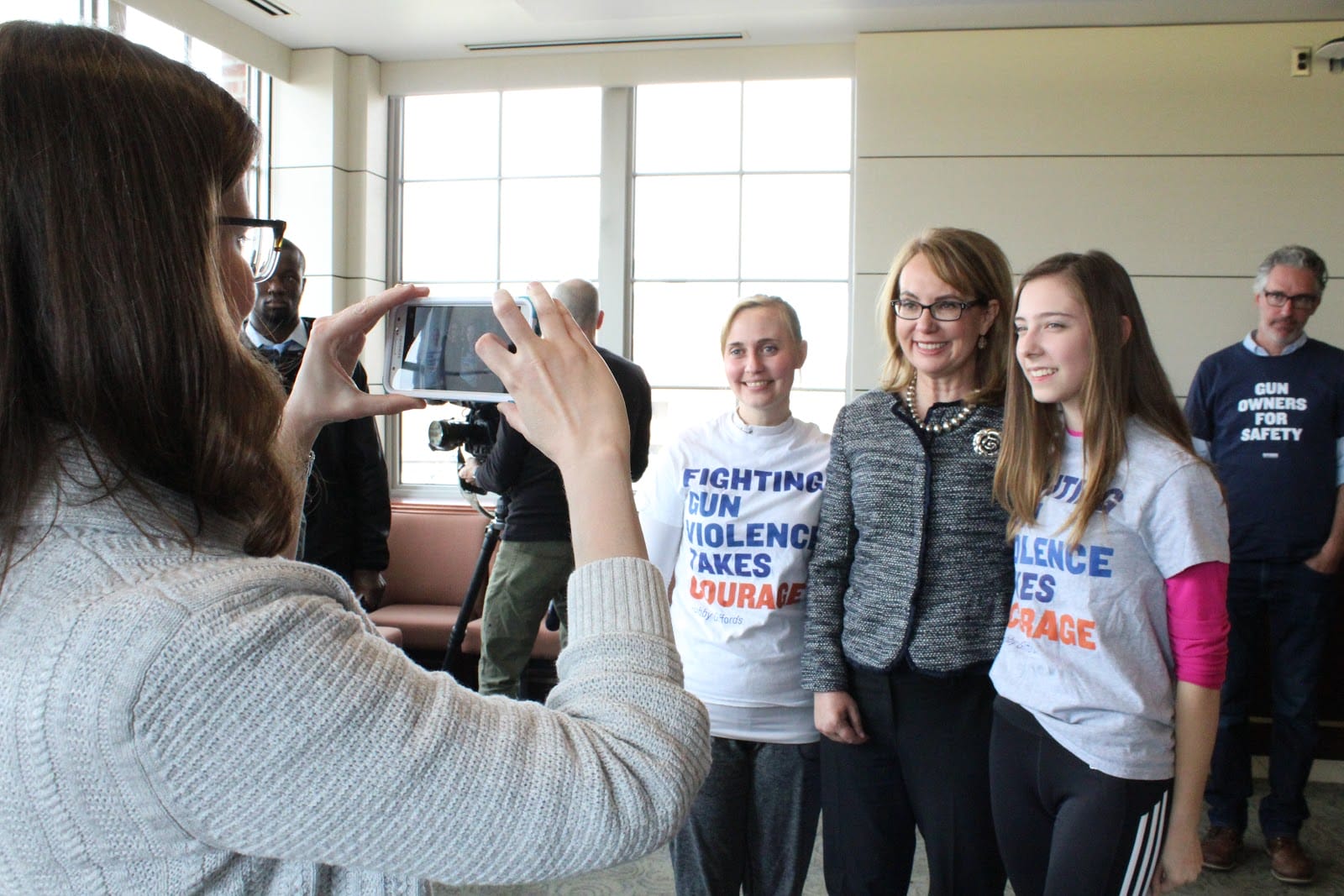 Bills in Motion
In the first few weeks of 2022, courageous state legislators have introduced bills to strengthen background check requirements, fund proven community violence intervention programs, improve domestic violence prohibitions, and regulate or prohibit ghost guns in 26 states. Meanwhile, the gun lobby continues to push its dangerous guns in schools and permitless carry bills in over a dozen states. We're committed to helping state legislatures enact laws that will make our communities safer and push back against harmful gun lobby legislation.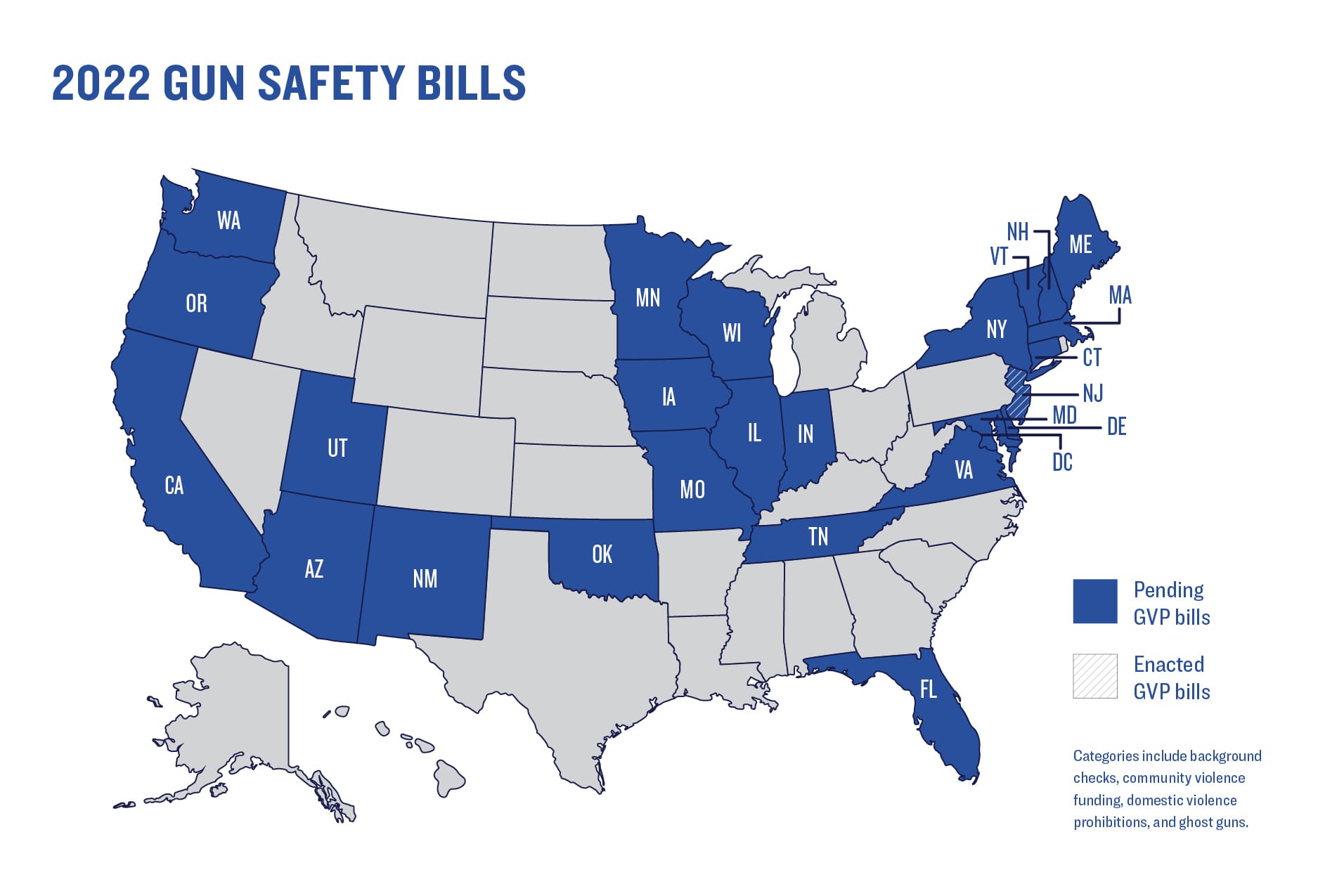 Gun Safety Bills
BACKGROUND CHECKS: Vermont SB 30 has a hearing on 3/8.At least 12 states have bills pending that would require all gun buyers to be subject to background checks, or would strengthen existing background check laws.
COMMUNITY VIOLENCE: Tennessee SB 1773 has a hearing on 3/1. Virginia HB 30, SB 29, and SB 30 have all passed their chambers of origin. At least 10 states have bills pending that relate to the allocation, protection, or administration of funding for evidence-based violence prevention programs.
DOMESTIC VIOLENCE: Kansas SB 192 has a hearing scheduled for 3/2. Vermont SB 30 has a hearing on 3/8. Iowa HB 825 and New York SB 6443 have passed their first chambers. Legislation to strengthen domestic violence laws is pending in at least 17 states. 
GHOST GUNS: Washington HB 1705 passed its chamber of origin and a committee. Bills that would regulate or prohibit untraceable firearms are pending in at least nine states and the District of Columbia.
Gun Lobby Bills
GUNS IN SCHOOLS: Maryland HB 780 has a hearing scheduled for 3/10. Missouri SB 752 will be heard on 3/1. Tennessee HB 1735 has a hearing on 3/2. Arizona HB 2447 passed two committees. Dangerous bills to allow guns in school or on campus are pending in at least 10 states.
PERMITLESS CARRY: Georgia HB 1358 had a hearing on 2/28. Maryland HB 1206 has a hearing on 3/9. Alabama HB 272 passed its chamber of origin. There are reckless permitless carry bills pending in at least 10 states.
STAND YOUR GROUND: Colorado HB 1105 had a hearing on 2/28. Arizona SB 1650 passed a committee. Bills that make it easy to use deadly force in public and evade justice are pending in at least 10 states.
LIABILITY FOR ENFORCING GUN LAWS: Mississippi HB 1418 and  Wyoming SB 102 both passed their first chambers. Bills that would make law enforcement officers or other state and local government officials personally liable for enforcing federal gun laws are pending in at least 10 states.
HERE TO HELP
Interested in partnering with us to draft, enact, or implement lifesaving gun safety legislation in your community? Our attorneys provide free assistance to lawmakers, public officials, and advocates working toward solutions to the gun violence crisis.
CONTACT US