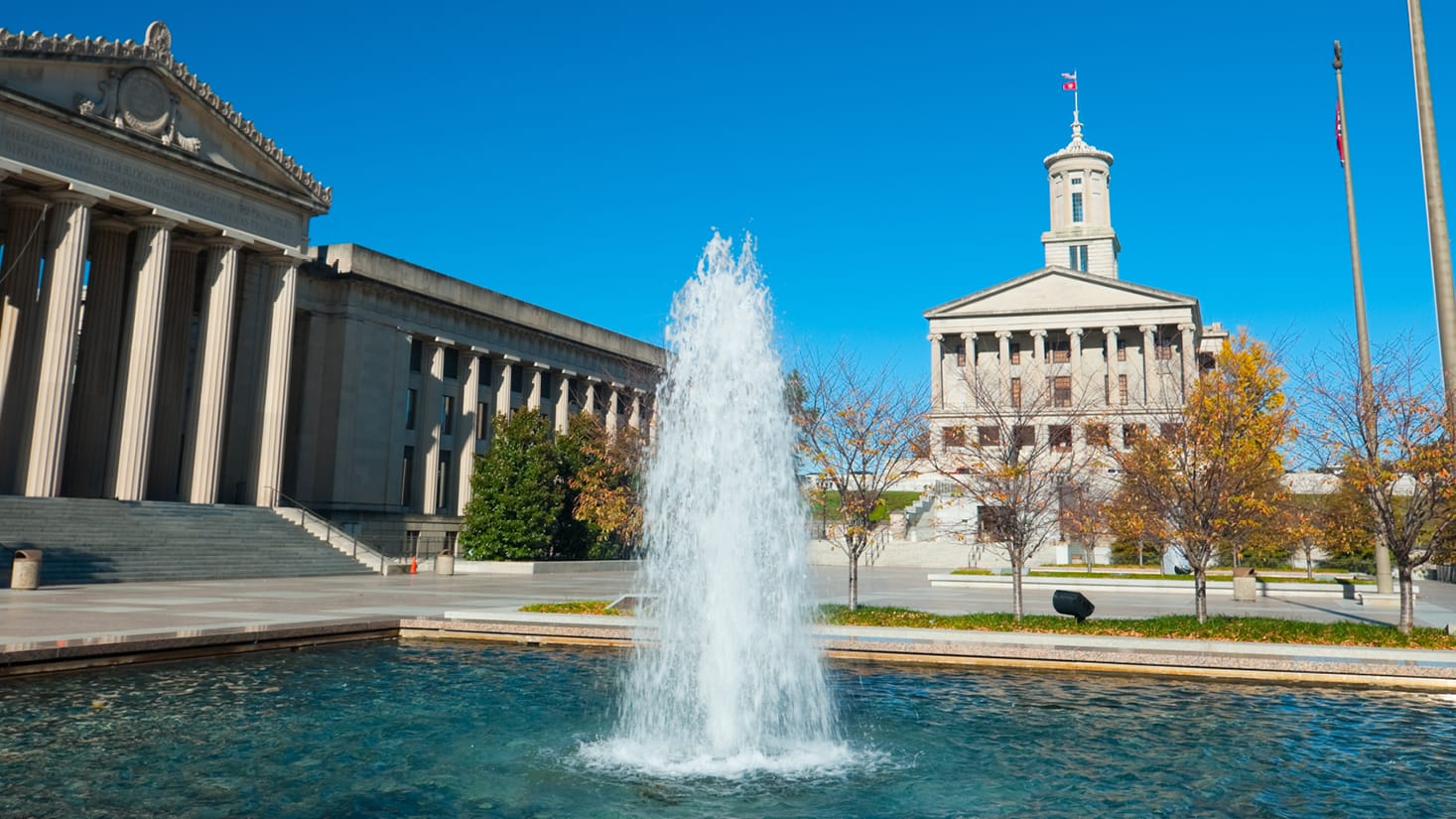 Giffords Law Center Gun Law Trendwatch: April 11, 2023
A Roundup and Analysis of the Latest State Firearm Legislation
Tennessee, a State Historically Beholden to Gun Extremists, Has an Opportunity to Save Lives. Will It Take It?
Every other week during the state legislative cycle, Gun Law Trendwatch breaks down trends in the gun violence prevention universe. We take an in-depth look at a topic of particular interest to legislators and advocates—this week it's the choice Tennessee legislators face in the wake of yet another mass shooting—and provide updates on significant gun safety and gun lobby bills as they move through state legislatures.
State of the States
It's Hard to Say That Any Single Law Could Have Prevented a Shooting, but a Few Proven Ones May Have Made a Difference
The country is reeling from another preventable mass shooting at an elementary school. On April 27, a 28-year-old former student carrying two assault weapons and a handgun killed three nine-year-olds and three adult staff members at the Covenant School in Nashville, Tennessee. The shooter was able to purchase seven firearms from five local gun stores over a two-year period before the shooting.
Tennessee has a gun death rate that is a remarkable 56% higher than the already astonishingly high national average. It also has the 10th weakest gun laws of all 50 states, earning it an F grade on our Annual Gun Law Scorecard. In 2021, Tennessee repealed a law requiring people carrying hidden guns in public to get a permit and background check and in 2022, it repealed a ban on short-barreled rifles and shotguns. A sawed-off shotgun was found at the shooter's home.
It's hard to prove that any single law could have prevented a shooting, but in this case, there are several types of reasonable laws in effect in other states that might have made a difference.
Extreme risk protection order (ERPO) laws allow concerned family members, like the Covenant School shooter's parents, to petition a court for an order that restricts a loved one's access to guns temporarily if they pose a credible danger to their safety or the safety of others. Nineteen states and the District of Columbia have ERPO laws and they have been used in these states to disarm people who were at high risk of committing a mass shooting. Michigan and Minnesota are working to enact ERPO laws this year. 
The Covenant School shooter also used assault weapons in the massacre. Assault weapons are types of ultra-lethal firearms because they allow a shooter to fire numerous high velocity rounds in seconds without losing control of the weapon. One of the assault weapons used by the shooter was foldable, making it easy to conceal. Assault weapons have been used in ten of the 17 deadliest mass shootings in the last decade and allow an assailant to injure and kill twice the number of people compared to an assailant with a non-assault weapon.
Assault weapons are versions of firearms designed for the battlefield. Doctors say that bullets fired from an assault weapon can "liquify" organs. The effect on children's bodies can be so damaging that after an assault weapons massacre at Robb Elementary in Uvalde, Texas, last year, parents had to provide DNA samples to identify their slain children.
Tennessee does not have any law limiting or prohibiting assault weapons, nor the large-capacity magazines that can make them even deadlier by allowing a shooter to file dozens of rounds without reloading. In 2023, Illinois became the 10th state, including the District of Columbia, to enact an assault weapons ban, and serious efforts are underway this session in Colorado, Rhode Island, and Washington State. Fourteen states and the District of Columbia have banned large-capacity magazines, with Illinois becoming the most recent earlier this year.
As foreseeable and despicable as the tragedy in Nashville was, Tennessee legislators could use it to understand where they have opportunities to save future lives. Whether they will grasp this moment to make lifesaving advances—as most Americans want lawmakers to do—or forsake it in favor of gun extremism remains to be seen.
JOIN THE FIGHT
Gun violence costs our nation 40,000 lives each year. We can't sit back as politicians fail to act tragedy after tragedy. Giffords Law Center brings the fight to save lives to communities, statehouses, and courts across the country—will you stand with us?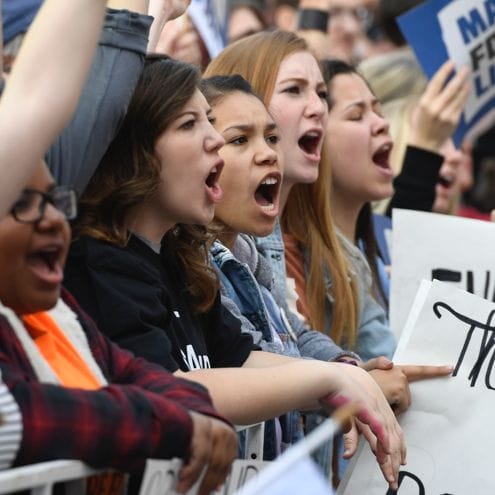 Gun Safety Spotlight
Strong Gun Violence Prevention Policies Are Advancing in Many States
Several states have refused to turn a blind eye to the mounting gun deaths and mass shootings in our nation and are steadily advancing effective and popular gun violence prevention policies through their legislatures this year. 
On April 13, Michigan's governor signed bills to close the private sale loophole (HB 4138 and HB 4142) as well as bills to keep guns out of the hands of minors (SB 79, SB 80, SB 81, and SB 82). This is the first major legislative effort on gun violence prevention in more than a decade, at least. A bill to create an extreme risk protection order law (SB 83) is also moving and has passed its chamber of origin. 
At least three states are moving bills that would create a standard of conduct for the gun industry. Known as "Victims' Access to Justice" laws, these measures would make it easier for victims of gun violence to sue gun industry members who behave recklessly. These bills are currently moving in Hawaii (HB 426), Colorado (SB 168), and Washington State (SB 5078).
Also in Hawaii, a bill that would declare numerous sensitive locations off limits to guns (HB 984) is clearing final committees, and another bill that would require an applicant for a concealed carry permit to take firearms safety training (SB 1230) has passed its chamber of origin. Maryland is also advancing bills to prohibit guns in sensitive locations (SB 1) and to strengthen the process of granting and revoking concealed carry permits (HB 824).
In Colorado, bills that would raise the minimum age to purchase firearms (SB 169) and allow licensed healthcare professions and educators to petition for extreme risk protection orders (SB 170) have been sent to the governor. A bill that would create a waiting period (HB 1219) is also nearing the finish line. 
New Mexico enacted a child access prevention (CAP) law (HB 9) on March 14 and a similar bill in Michigan has been sent to the governor (SB 79). A bill in Maryland to strengthen its CAP law and require safe storage around people prohibited from firearms possession (SB 858) has passed a chamber.
In Nevada, several key bills passed out of committee this week: SB 171 would prohibit people who have committed hate crimes from possessing guns; AB 354 would keep guns away from polling locations; and AB 355 would prevent people under the age of 21 from purchasing certain types of long guns.
In Washington State, a bill to prohibit assault weapons (HB 1240) has passed its chamber of origin. Another bill that would create a 10-day waiting period and require firearms purchasers to take firearms safety training (HB 1143) has passed its chamber of origin and a senate committee. Vermont is moving a waiting periods bill (HB 230) that would also expand ERPO petitioners to family members and create a CAP law.
With approximately two out of three Americans saying they want stronger gun safety laws, these states are clearly listening and poised to get the job done.
Gun Lobby Extremism
Florida and North Carolina Race to the Bottom to Appease Gun Zealots
Laws that require a person to obtain a background check and permit to purchase a gun are extremely effective at preventing gun homicides and suicides, and are very popular. When Connecticut enacted its "permit to purchase" law, its firearm homicide rate decreased by an astonishing 28% and its firearm suicide rate decreased by an even greater 33%. When Missouri repealed its law, the opposite happened—the state's gun homicide rate increased by a whopping 47% and its gun suicide rate increased by 24%.
In spite of this overwhelming evidence that permit to purchase laws save lives, the day after the massacre at the Covenant School, the North Carolina legislature jubilantly repealed the state's permit to purchase law. The governor had initially vetoed the bill but the legislature, dominated by gun extremists, overrode the veto. Going forward, people who purchase guns from unlicensed sellers online or elsewhere will not be required to undergo a background check, enabling people with dangerous histories to easily acquire a gun.
In another tone deaf and dangerous move, on April 3, Florida repealed its law requiring people carrying hidden, loaded guns in public to get a background check and permit. The research shows that states that have weakened their public carry laws experience up to 15% increases in overall violent crime rates and an 11% increase in handgun homicide rates. 
In Florida specifically, over a one-year period, 7,605 Florida residents applied for and were denied concealed carry permits because of a disqualifying history. Under the new law, there will be no barrier to prevent these individuals—who think they are eligible to carry concealed but are not—from carrying guns in public. In addition to being terrible for public safety, the repeal is deeply unpopular.
The gun absolutism that is gripping states like Florida and North Carolina is taking a toll on American lives. In the past 20 years, 24 states have repealed their concealed carry permitting laws and two states have repealed their background check and permit to purchase laws. Numerous states have enacted dangerous so-called Stand Your Ground laws. 
Accordingly, in over half the states in the country, a person can buy a gun without a background check, carry it in public without a license, and legally shoot someone during an argument. 
Over the past decade, the total lives lost to gun violence have increased dramatically. It's long past time to decisively reject this gun extremism in favor of popular, commonsense, effective laws that save lives. 
Even though this path forward is favored by most Americans, too many legislators in these states are beholden to the gun lobby. To end the epidemic of gun violence in this country, voters in these states will have to find the courage to reject legislators who prioritize gun extremism and gun industry profits over the lives of their constituents.  
MEDIA REQUESTS
Our experts can speak to the full spectrum of gun violence prevention issues. Have a question? Email us at media@giffords.org.
Contact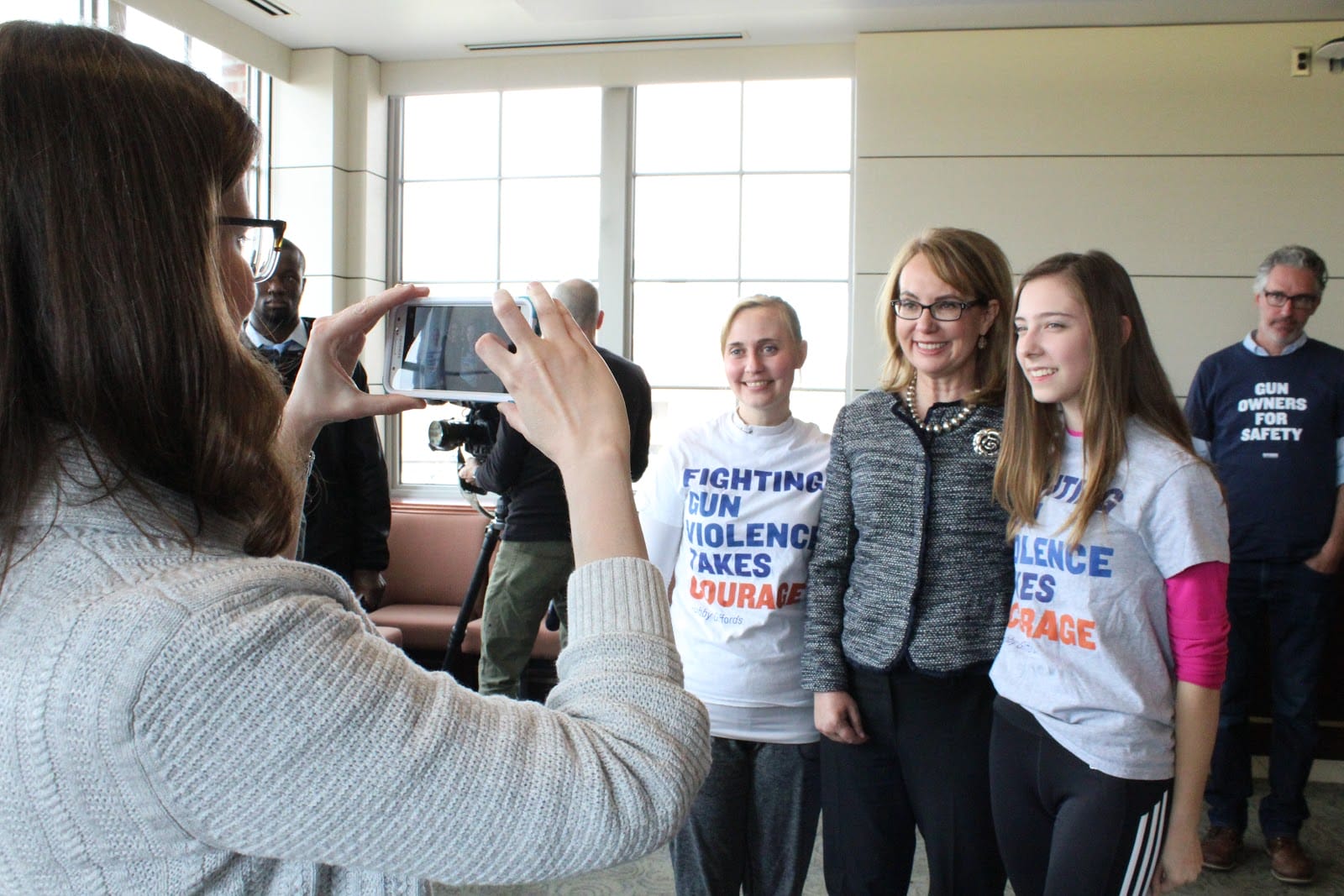 Bills in Motion
Lawmakers intent on protecting their constituents from gun violence began 2023 with the introduction of hundreds of gun violence prevention bills. Notably, bills to strengthen background check requirements, fund proven community violence intervention programs, improve domestic violence prohibitions, and regulate or prohibit ghost guns have been introduced in at least 30 states and the District of Columbia. Gun extremists nevertheless continue to push their dangerous agenda of more guns to address gun violence and have introduced several bills to bring guns in schools, allow permitless carry, allow people to shoot first and ask questions later, and make law enforcement officers liable for enforcing federal gun laws in over a dozen states. For nearly 30 years, we have helped states make our communities safer with evidence-based policies and by fighting the gun lobby. In 2023, we are stronger than ever.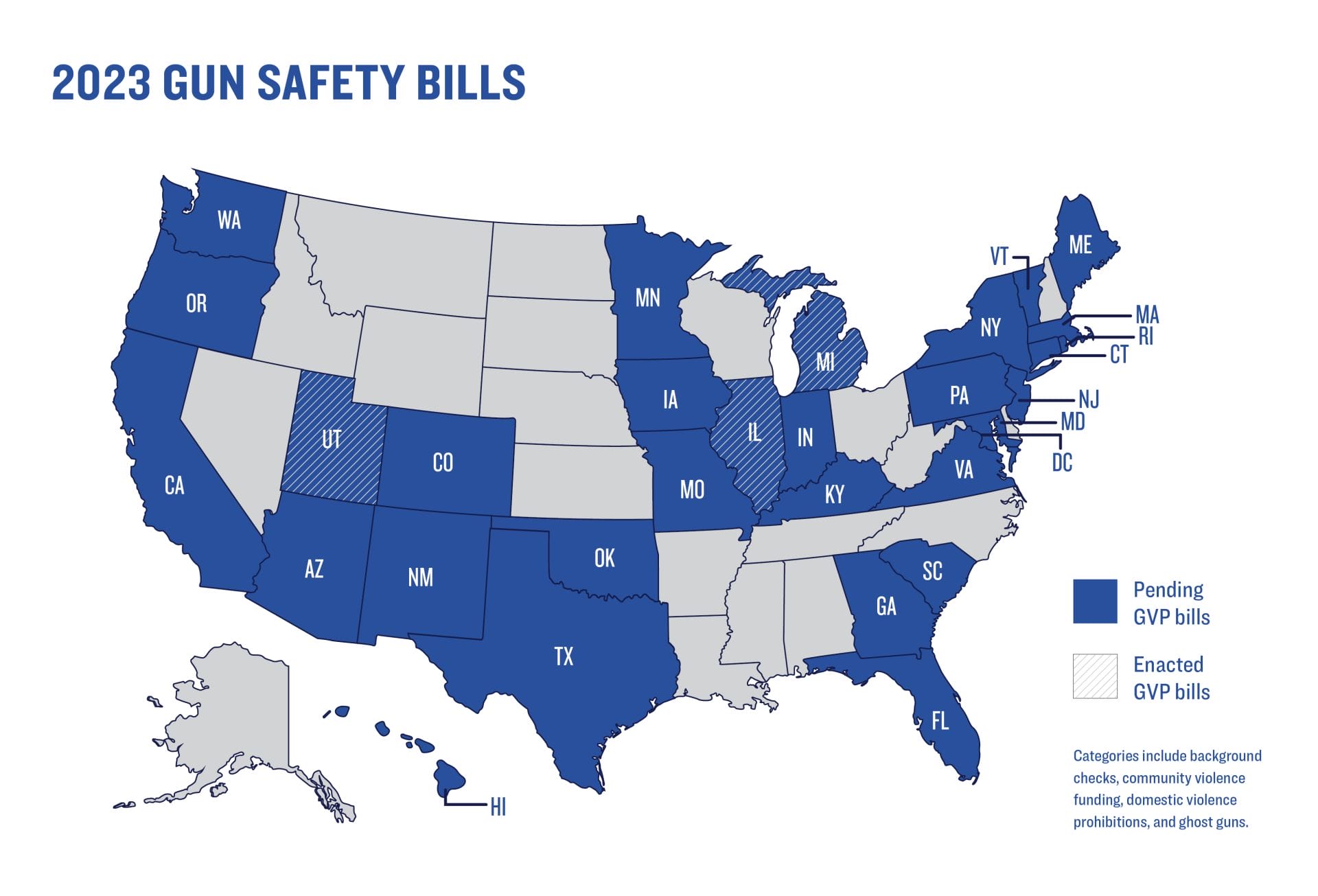 Gun Safety Bills
BACKGROUND CHECKS: California AB 1406 and AB 1598 have hearings scheduled for 4/18. Hawaii HB 984 was scheduled to be heard on 4/6. It has passed its chamber of origin and a senate committee. Connecticut SB 973 has passed a committee. Michigan HB 4138 and HB 4142 have passed both chambers and SB 76 and SB 77 have passed their house of origin. Minnesota HB 2890, SB 1116, and SB 2909 have passed committees. Washington HB 1143 has passed its chamber of origin and a senate committee. At least 19 states have bills pending that would enact universal background checks or strengthen existing background check laws. 
COMMUNITY VIOLENCE: Utah HB 304 was enacted on 3/14. California AB 912 has a hearing on 4/12 and has passed a committee. Colorado SB 2 and Rhode Island HB 5200 were scheduled to be heard on 4/6. Illinois HB 3284 has passed a committee. Maryland HB 200 has been sent to the governor and SB 833 has passed its chamber of origin. Minnesota HB 855 has passed a committee. New Jersey AB 4978 has passed its chamber of origin. New Mexico SB 192 has been sent to the governor. Virginia HB 1400 has passed both chambers. Washington HB 1140 has passed a committee. At least 19 states and the District of Columbia have bills pending that allocate, protect, or administer funding for evidence-based violence prevention programs.
DOMESTIC VIOLENCE: Utah HB 199 was enacted on 3/14. California AB 36 has a hearing on 4/11. Hawaii HB 984 was scheduled to be heard on 4/6 and has passed its chamber of origin. California AB 818, Connecticut HB 6667, and Texas HB 544 have all passed committees. Vermont SB 4 has passed its chamber of origin. Washington HB 1562 and SB 5231 have passed their houses of origin. At least 17 states and the District of Columbia have bills pending that would improve efforts to keep guns out of the hands of people who commit domestic abuse.
GHOST GUNS: California AB 1089has a hearing on 4/18 and passed a committee. Connecticut HB 6667 has also passed a committee. Maryland HB 135 has passed its chamber of origin. Oregon HB 2005 has passed a committee. At least 15 states and the District of Columbia have bills pending that regulate ghost guns or improve the effectiveness of their ghost gun policies.
Gun Lobby Bills
GUNS IN SCHOOLS: Tennessee HB 1202 was scheduled for a hearing on 4/5. Arizona HB 2667, SB 1300, and SB 1331 have passed their chambers of origin as has Missouri HB 70. Missouri HB 571 has passed a committee. Mississippi SB 2079 has been sent to the governor. Oklahoma HB 2139 has passed its house of origin. Tennessee HB 1202 has passed a committee. Dangerous bills to allow or expand the ability to carry guns in school or on campus are pending in at least 17 states.
PERMITLESS CARRY: Florida HB 543 was enacted on 4/3. There are reckless permitless carry bills pending in at least six states.
STAND YOUR GROUND: Connecticut HB 6817 has passed a committee and North Dakota HB 1213 has passed its chamber of origin. Bills that make it easy to use deadly force in public and evade justice are pending in at least 10 states.
LIABILITY FOR ENFORCING GUN LAWS: Kentucky HB 153 was enacted on 3/28. Bills that would make law enforcement officers or other state and local government officials personally liable, or otherwise impose onerous penalties on law enforcement agencies or localities, for enforcing federal gun laws are pending in at least 11 states.
HERE TO HELP
Interested in partnering with us to draft, enact, or implement lifesaving gun safety legislation in your community? Our attorneys provide free assistance to lawmakers, public officials, and advocates working toward solutions to the gun violence crisis.
CONTACT US