Giffords Law Center Gun Law Trendwatch: February 23, 2021
A Roundup and Analysis of the Latest State Firearm Legislation
Following a year of historic protests for racial justice, some states double down on racist "stand your ground" laws.
Every other week during the state legislative cycle, Gun Law Trendwatch breaks down trends in the gun violence prevention universe. We take an in-depth look at a topic of particular interest to legislators and advocates—this week it's the alarming expansion of reckless Stand Your Ground laws in states around the country—and provide updates on significant gun safety and gun lobby bills as they move through state legislatures.
State of the States
Dangerous "Stand Your Ground" bills on the move in state legislatures
50
people killed each month due to Stand Your Ground
In any given month, 30 to 50 people across the United States are killed as a result of Stand Your Ground laws.
Source
Chandler McClellan and Erdal Tekin, "Stand Your Ground Laws, Homicides, and Injuries," Journal of Human Resources 52, no. 3 (2017): 621–653.
After the murders of George Floyd, Breonna Taylor, and many other unarmed Black Americans at the hands of police, millions of people took to the streets this summer to demand racial justice and police accountability.
Although nearly all of those protests were peaceful, right-wing media pushed the false narrative that the Black Lives Matter and "antifa" movements were violent and widely responsible for property destruction and death. The gun lobby and extremist legislators seized the opportunity created by this disinformation to advance and expand one of their signature policies, Stand Your Ground, that dangerously broadens how and where people can use deadly force in self-defense. 
MEDIA REQUESTS
Our experts can speak to the full spectrum of gun violence prevention issues. Have a question? Email us at media@giffords.org.
Contact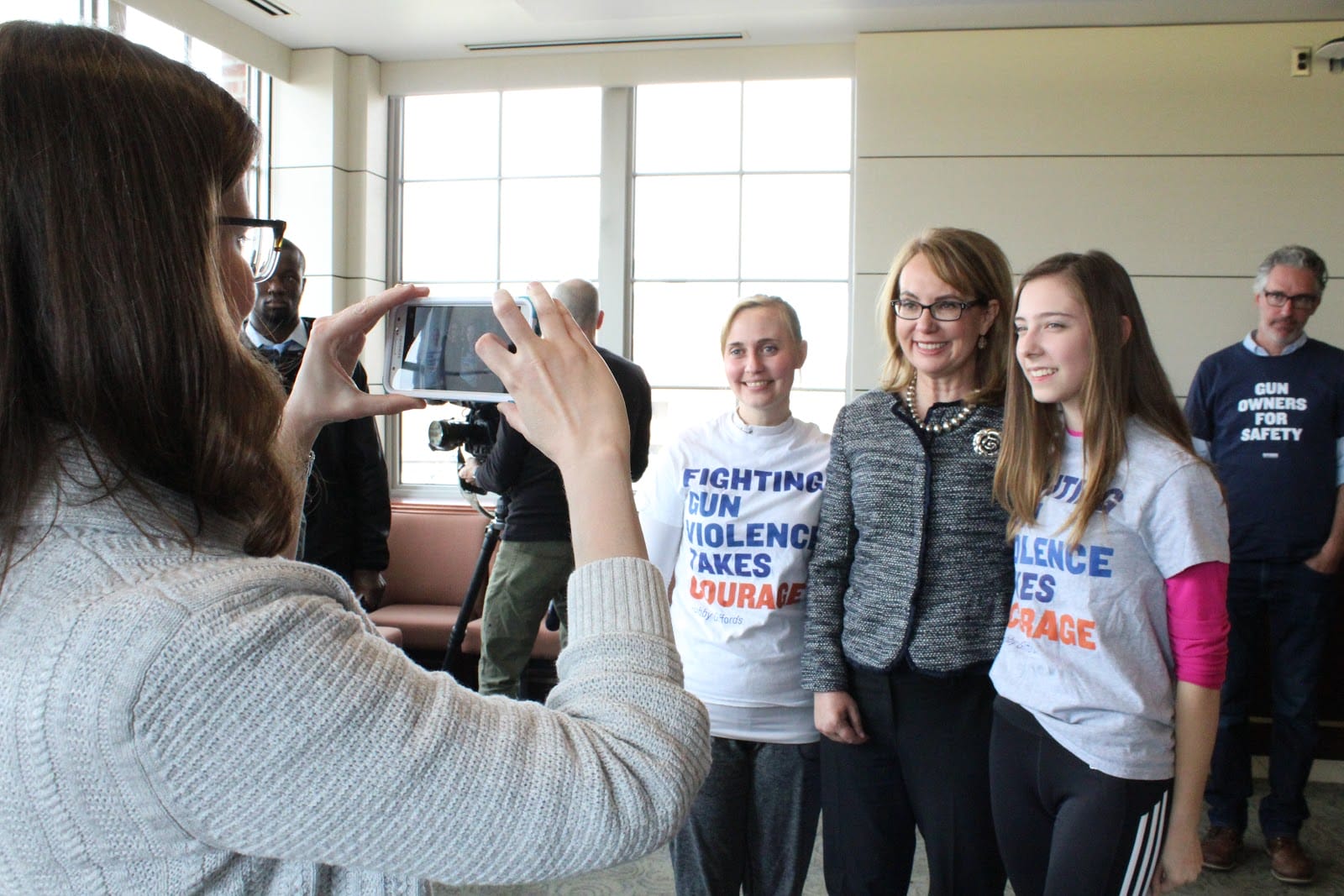 Developed by the hyper-conservative group American Legislative Exchange Council (ALEC), Stand Your Ground laws distort the usual standard for self-defense by allowing people to use lethal force even if they could have avoided violence by retreating from a confrontation. Research has shown that these laws lead to more killing, with no measurable reduction of crime, and exacerbate systemic racism.
In 1994, Utah became the first state to remove the duty to retreat before using deadly force in self-defense. At the behest of the NRA and ALEC, Florida enacted a more extreme version in 2005 that allows shooters to evade arrest and prosecution. Since then, 26 states have followed, with Ohio passing a Stand Your Ground law this session (2019 SB 157) in the face of widespread opposition.
The false narrative pushed by conservative media that Black protestors are actually angry rioters threatening the lives and property of white Americans has led to vigilantism with deadly consequences.
It has also spurred legislators in 15 states to introduce bills in 2021 to enact or expand Stand Your Ground laws. These bills would:
Create new Stand Your Ground laws (Arkansas, Hawaii, New York, and North Dakota)
Allow deadly force to be used against people engaged in "riots" or "mobs" (Missouri, Mississippi, Oklahoma, New Hampshire, South Carolina, and Tennessee)
Allow deadly force to be used to protect property or to protect against property-only crimes (Mississippi and Tennessee)
Make it much more difficult to arrest or prosecute individuals who claim to have used force in self-defense, or to immunize shooters from civil liability (Hawaii, Minnesota, North Dakota, Oklahoma, South Dakota, and Utah)
Expand the doctrine to places like occupied vehicles, liquor stores and houses of worship, or to defend the life of a fetus (Connecticut, Indiana, Nebraska, Hawaii, New Hampshire, and Oklahoma)
Stand Your Ground laws already have a disproportionate impact on Black and Brown communities and have helped the killers of Trayvon Martin, Jordan Davis, Ahmaud Arbery, and many others evade justice. The draconian expansions proposed in 2021 will undoubtedly lead to more racial violence and exacerbate the injustices that Americans took to the streets to protest against last year.
We call on courageous legislators in states where these bills are pending to resist the pressure from the gun lobby, stand with the millions of Americans who want to see an end to violence, and reject these racist, unjust laws.
Gun Safety Spotlight
Prohibiting Guns in State Capitols and Polling Places
Ginned up on false claims about widespread election fraud and egged on by former President Trump and Senators Ted Cruz (TX) and Josh Hawley (MO), armed insurrectionists stormed the United States Capitol on January 6, 2021. Armed extremists also showed up that day in Georgia, and in several other states over the course of 2020 where capitols were besieged by far right groups and individuals denouncing gun safety laws, stay-at-home orders, and peaceful protests for racial justice. Prior to the 2020 election, urging from President Trump led militant groups to promise to patrol the polls with their firearms.
The Second Amendment right does not protect the use of firearms to chill the rights of other Americans or intimidate lawmakers. Several states have introduced bills to prohibit firearms in state capitol buildings and polling locations. Two bills in Virginia—HB 2295 and SB 1381—that would prohibit guns in the state capitol and state-owned buildings have passed their houses of origin. Similar bills are pending in Iowa, Kansas, Michigan, Oklahoma, Vermont and Washington. Virginia HB 2081, which would prohibit guns at polling places, is awaiting the governor's signature while Indiana and Maryland also have bills pending that would keep guns away from polling places.
Gun Lobby Extremism
Liability for Private Property Owners
A misguided Minnesota bill (HB 437) would make it easy to sue private property owners who want to keep visitors from bringing guns onto their properties. The bill would make private home and business owners liable for any injuries a person sustains on their property if the person claims a gun would have prevented the injury.
Rather than keep people safe from harm, data shows that the presence of guns in the home makes a person significantly more likely to die in a homicide or suicide, and carrying a firearm may actually increase a victim's risk of firearm injury during the commission of a crime. Lawmakers should reject this dangerous and unprecedented attempt to elevate gun rights above private property rights.
Bills in Motion
In the first few months of 2021, courageous state legislators have introduced bills to strengthen background check requirements, fund proven community violence intervention programs, improve domestic violence prohibitions, and enact or strengthen extreme risk protection order laws in 31 states and the District of Columbia. Meanwhile, the gun lobby continues to push its dangerous guns in schools and permitless carry bills in dozens of states. We're committed to helping state legislatures enact laws that will make our communities safer and push back against gun lobby legislation that will bring more guns to more places.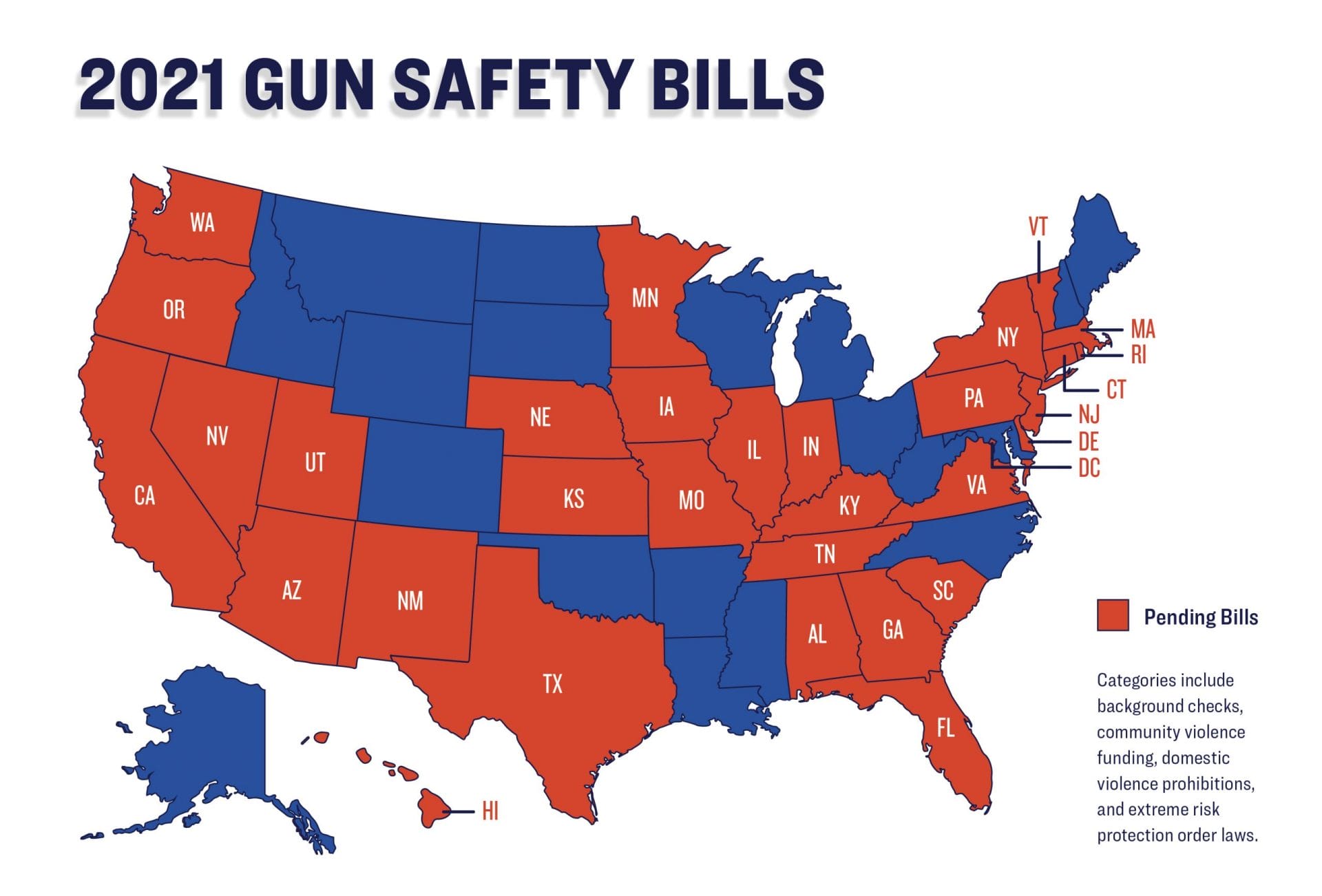 Gun Safety Bills
BACKGROUND CHECKS: Virginia HB 2319 and HB 2128 passed both chambers. Oregon HB 2543 had a hearing on 2/18. Legislation to strengthen or enact background checks is pending in at least 19 states.
COMMUNITY VIOLENCE: Connecticut

HB 5677 passed a committee, and HB 6439 has hearings on 2/22 and 2/26.

New Mexico

HB 102 passed a committee. Currently, at least 15 states and the District of Columbia have bills pending that would allocate or protect funding for evidence-based violence prevention programs.

DOMESTIC VIOLENCE: District of Columbia B 181 was sent to Congress on January 13th; it is projected to pass into law on May 24th. Virginia HB 1992 passed both chambers. Nebraska L 13 has a hearing on 3/3. Legislation to strengthen domestic violence laws is pending in at least 18 states and the District of Columbia. 
EXTREME RISK PROTECTION ORDER: District of Columbia

B 1021 was enacted 1/13 and B 57 was sent to the mayor.

New Mexico

HB 193 passed a committee and had a hearing on 2/22. Bills to enact or strengthen extreme risk protection order laws are pending in at least 14 states and the District of Columbia.
Gun Lobby Bills
GUNS IN SCHOOLS: Montana

HB 102 was

enacted on February 18th. Utah HB 216 passed the House. Arkansas

SB 161

and HB 1327, Arizona HB 2840, and North Dakota HB 1339 each

passed a committee.

Nebraska

L 417 has a hearing 3/3

and North Carolina SB 43 has a hearing on 2/23

. Dangerous bills to allow guns in school or on campus are pending in at least 33 states. 

PERMITLESS CARRY: Montana

HB 102 was enacted on February 18th.

Indiana

HB 1369 passed two committees.

North Dakota HB 1304 passed a committee. Nebraska

L 236 has a hearing 2/24. There are reckless permitless carry bills pending in at least 13 states.
HERE TO HELP
Interested in partnering with us to draft, enact, or implement lifesaving gun safety legislation in your community? Our attorneys provide free assistance to lawmakers, public officials, and advocates working toward solutions to the gun violence crisis.
CONTACT US