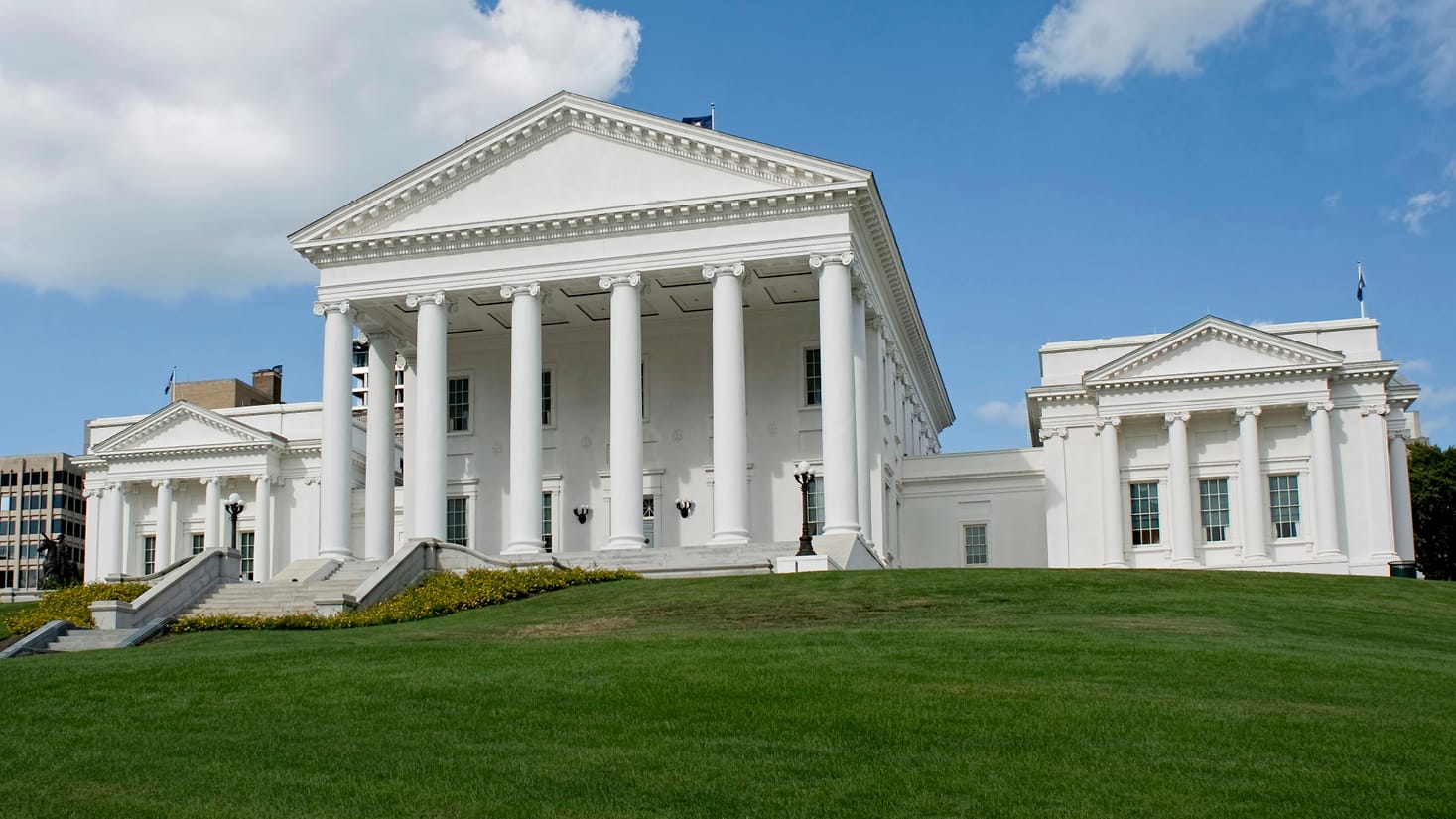 Giffords Law Center Gun Law Trendwatch: February 15, 2022
A Roundup and Analysis of the Latest State Firearm Legislation
Following Historic Progress on Gun Safety in 2020 and 2021, a Newly Flipped Legislature Means Virginia May Lose it All
Every other week during the state legislative cycle, Gun Law Trendwatch breaks down trends in the gun violence prevention universe. We take an in-depth look at a topic of particular interest to legislators and advocates—this week it's the risk Virginia's new Republican majority poses to the state's gun safety laws—and provide updates on significant gun safety and gun lobby bills as they move through state legislatures.
State of the States
Virginia's Commonsense Gun Safety Laws are in Jeopardy
Following a string of high-profile, catastrophic mass shootings in 2018 and 2019, Virginia voters elected a gun safety majority to the legislature on November 4, 2019. In the two years that followed, Virginia enacted a slew of strong, evidence-based gun laws and raised its grade on Gifford Law Center's Annual Gun Law Scorecard from a D in 2018 to a B in 2020.
In 2020 and 2021, Virginia's gun safety majority passed bills that did the following:
Require background checks on all firearms purchases
Allow law enforcement to get a court order that temporarily disarms someone at high risk of committing violence
Take guns away from people subject to domestic violence restraining orders
Provide funding to community-led violence prevention initiatives
Limit handgun purchases to one a month
Require gun owners to report lost and stolen firearms to law enforcement
Allow localities to prohibit firearms at permitted events
Prohibit gun possession by people who commit domestic violence misdemeanors
Give law enforcement extra time to complete a background check
Prohibit guns in and around the state capitol and at polling places
Following a 2021 election where control of the house of delegates and governorship flipped to Republican control, these commonsense gun policies are in jeopardy.
The new Republican majority is making a concerted effort to undo this progress. Numerous bills have been introduced to repeal the gun safety laws enacted in 2020 and 2021, including SB 364, which would eliminate a law enacted in 2020 that limits handgun purchases to one a month.
First passed in 1993 to reduce gun trafficking, Virginia's law limiting handgun purchases to one per month successfully reduced crime gun exports until it was repealed in 2012. Predictably, the rate of guns that originated in Virginia and were used in crimes in other states began to climb once again. In 2020, the legislature wisely reinstated this law—but SB 364 would repeal it, repeating the mistakes of the past. 
In addition to bills repealing laws enacted in 2020 and 2021, lawmakers have introduced extreme bills that would significantly imperil gun safety—such as permitless carry, which would allow people to carry loaded guns in public without a background check or safety training (HB 288 and SB 330). 
Virginia is an excellent example of why Americans can never lose sight of gun violence prevention as a voting issue. Although headline-grabbing mass shootings fell from the spotlight during the pandemic years of 2020 and 2021, gun violence did not recede. Voters trained their sights on other issues, such as school closures, mask mandates, and an unpopular incumbent president; now, the prevention efforts they prioritized in 2018 are at great risk of being undone.
To truly make long-term, lasting change in America's gun violence epidemic, voters must not waver in their commitment to electing gun safety champions—or we risk seesawing on this issue every election cycle and losing historic gains.
JOIN THE FIGHT
Gun violence costs our nation 40,000 lives each year. We can't sit back as politicians fail to act tragedy after tragedy. Giffords Law Center brings the fight to save lives to communities, statehouses, and courts across the country—will you stand with us?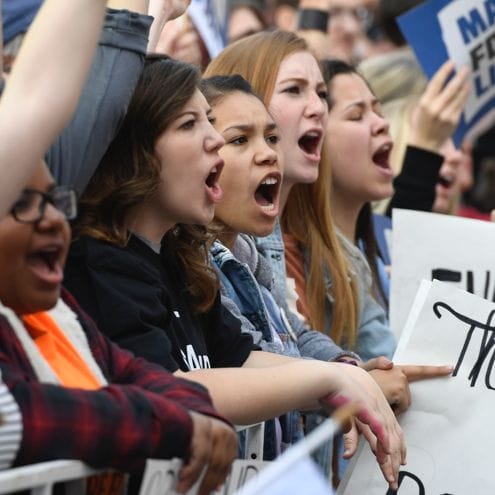 Gun Safety Spotlight
Historic New York Law Makes it Easier for Survivors to Hold the Gun Industry Accountable
In 2021, New York passed a historic law that gives gun violence victims and survivors more avenues to sue reckless gun dealers and manufacturers.
The gun lobby's campaign of fear and division puts gun manufacturer profits over public safety. We have them on the defensive—and we're not letting up.
Unlike nearly every commercial industry, gun manufacturers and sellers have been largely immune from civil lawsuits since the gun industry successfully lobbied for the Protection of Lawful Commerce in Arms Act (PLCAA) in 2005. PLCAA allows the gun industry to engage in irresponsible behavior unchecked by the normal avenues of civil liability. Armed with these exceptional protections, the industry has acted with impunity, flooding the streets with weapons and remaining secure in the assumption that it will be able to dodge lawsuits brought by the victims of its irresponsible practices. 
New York's bill has the potential to hold the industry accountable for its role in America's epidemic of gun violence and create a seismic shift in its business practices that will result in safer communities for all Americans. 
Following New York's example, efforts are underway in California (AB 1594), Illinois (HB 4156 and SB 2954), and New Jersey (AB 1765) to enact similar legislation. More states are likely to follow suit.
Gun Lobby Extremism
Is Death an Appropriate Penalty for Vandalism? One Arizona Lawmaker Thinks So
The overwhelming number of racial justice protests in 2020 were peaceful. Yet many Americans wrongly believe that these historic protests against the killing of unarmed Black people largely involved looting and vandalism. Gun extremists in some state legislatures have taken advantage of this false narrative to introduce legislation that expands civilians' ability to shoot and kill others.
Arizona SB 1650 would allow a property owner or employee to use deadly force to stop someone from defacing or damaging the owner's property if the person is carrying a deadly weapon or "dangerous instrument." The bill does not require that the owner or employee fear for their personal safety.
Business owners have insurance as well as civil and criminal remedies for destruction of their property; they should not be given license to kill to protect it from vandalism or damage. This bill would be an extreme expansion of the legal justification for the use of deadly force, something that should not be entertained or tolerated in a civilized society.
MEDIA REQUESTS
Our experts can speak to the full spectrum of gun violence prevention issues. Have a question? Email us at media@giffords.org.
Contact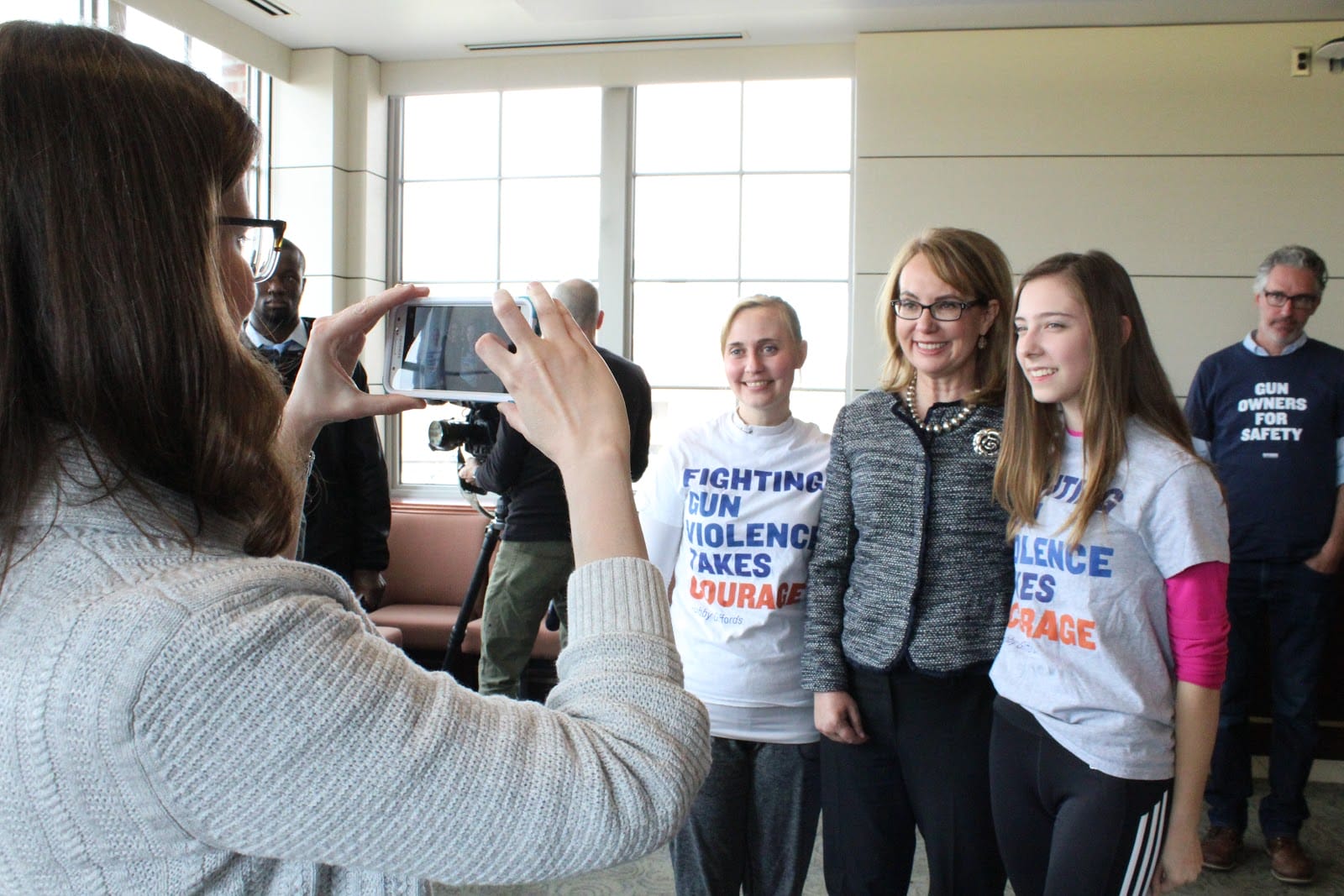 Bills in Motion
In the first few weeks of 2022, courageous state legislators have introduced bills to strengthen background check requirements, fund proven community violence intervention programs, improve domestic violence prohibitions, and regulate or prohibit ghost guns in 24 states. Meanwhile, the gun lobby continues to push its dangerous guns in schools and permitless carry bills in over a dozen states. We're committed to helping state legislatures enact laws that will make our communities safer and push back against harmful gun lobby legislation.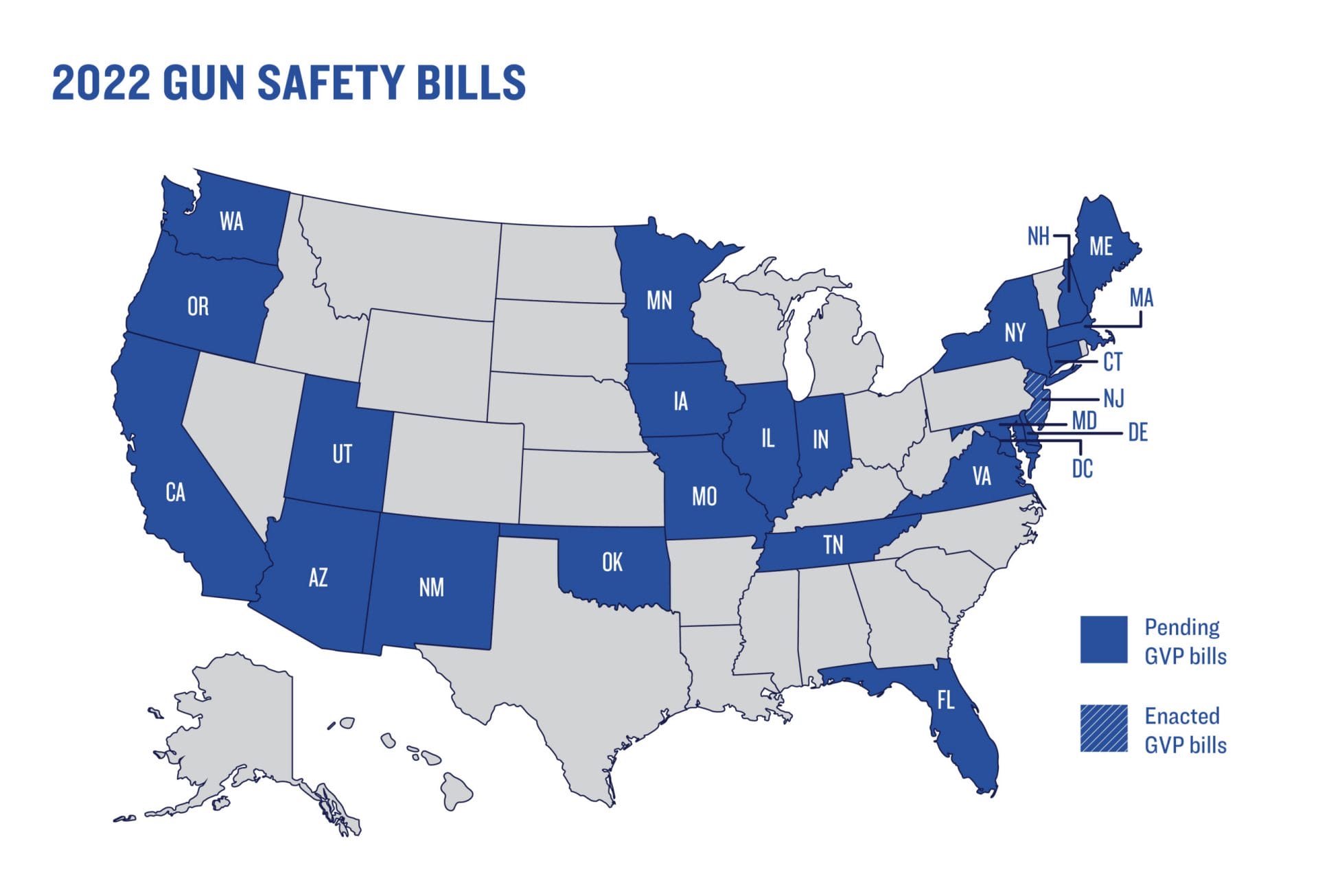 Gun Safety Bills
BACKGROUND CHECKS: Illinois HB 5535, which would create a firearm purchase permit, is scheduled to be heard on 2/15. At least nine states have bills pending that would require all gun buyers to be subject to background checks, or would strengthen existing background check laws.
COMMUNITY VIOLENCE: Illinois HB 3057 has a hearing scheduled for 2/16. Maryland SB 350 is scheduled to be heard on 2/22. New Mexico HB 96 has passed two committees. Virginia HB 833 has passed its chamber of origin. At least eight states have bills pending that relate to the allocation, protection, or administration of funding for evidence-based violence prevention programs.
DOMESTIC VIOLENCE: Illinois HB 2541 and 3168, and Oklahoma HB 3743 are all scheduled for hearings on 2/15. Massachusetts SB 939 passed a committee. Legislation to strengthen domestic violence laws is pending in at least 14 states. 
GHOST GUNS: Illinois HB 4055 and 4757 have hearings scheduled for 2/15. Maryland SB 387 is scheduled for a hearing on 2/16. California AB 311 has passed the Assembly. Virginia S 310 has passed two committees. Bills that would regulate or prohibit untraceable firearms are pending in at least 10 states and the District of Columbia.
Gun Lobby Bills
GUNS IN SCHOOLS: Arizona HB 2448 has a hearing scheduled for 2/14, and HB 2414 and HB 2447 have passed committees. Missouri HB 1481 has passed two committees. Dangerous bills to allow guns in school or on campus are pending in at least 13 states.
PERMITLESS CARRY: Alabama HB 272 has a hearing scheduled on 2/16. Georgia SB 319 has passed a committee. There are reckless permitless carry bills pending in at least 10 states.
STAND YOUR GROUND: No bills have been scheduled for hearings or passed committees since our last edition of Trendwatch. Bills that make it easy to use deadly force in public and evade justice are pending in at least 11 states.
LIABILITY FOR ENFORCING GUN LAWS: South Dakota HB 1052 has a hearing scheduled for 2/14. Alabama SB 2 and Georgia SB 245 have passed committees. Mississippi HB 1418 has passed its chamber of origin. Bills that would make law enforcement officers or other state and local government officials personally liable for enforcing federal gun laws are pending in at least nine states.
HERE TO HELP
Interested in partnering with us to draft, enact, or implement lifesaving gun safety legislation in your community? Our attorneys provide free assistance to lawmakers, public officials, and advocates working toward solutions to the gun violence crisis.
CONTACT US