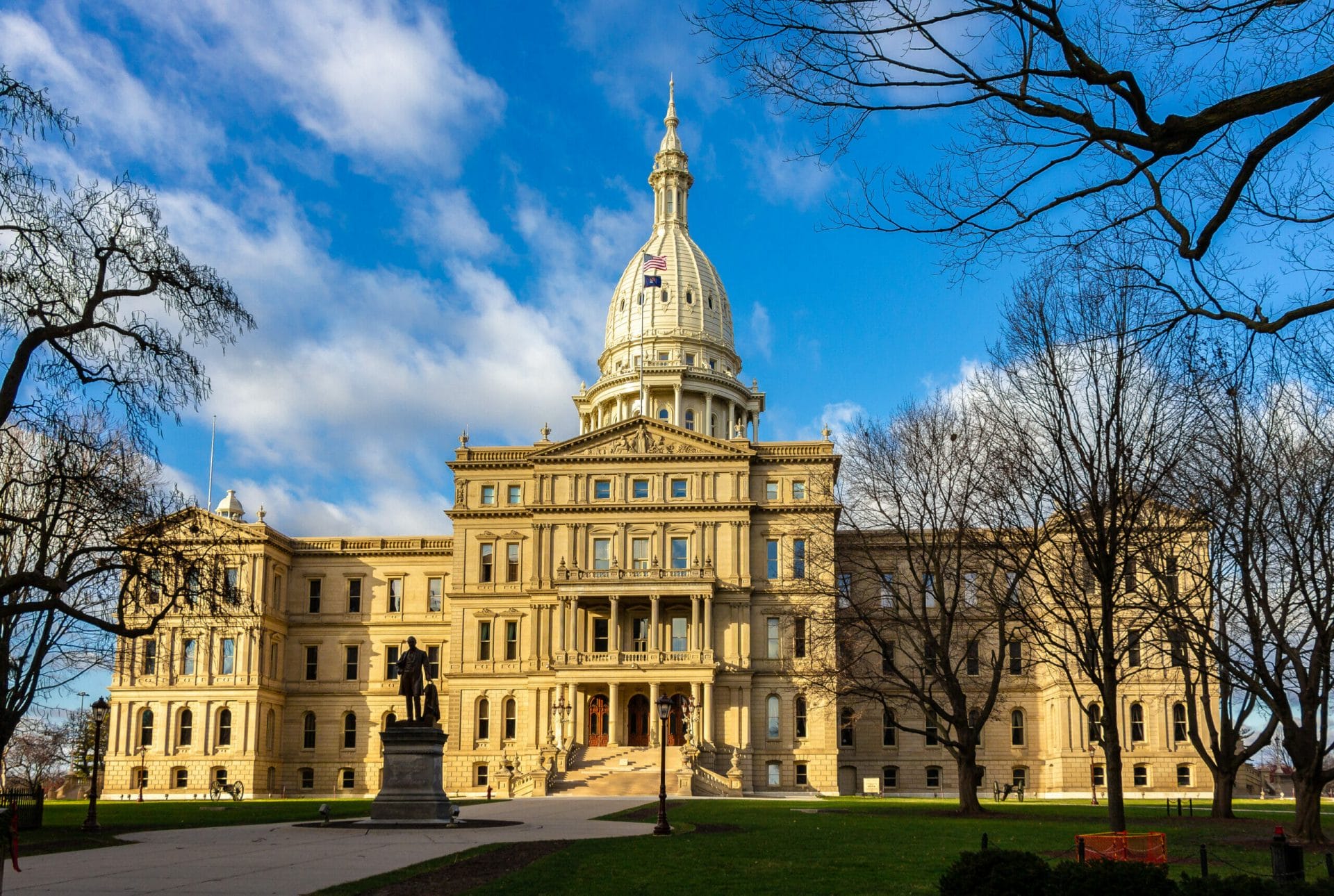 Giffords Law Center Gun Law Trendwatch: February 28, 2023
A Roundup and Analysis of the Latest State Firearm Legislation
Michigan Makes Headlines for Another Mass Shooting. Its Legislature Is Finally Poised to Take Action to Prevent Gun Violence.
Every other week during the state legislative cycle, Gun Law Trendwatch breaks down trends in the gun violence prevention universe. We take an in-depth look at a topic of particular interest to legislators and advocates—this week it's legislative progress in Michigan following yet another mass shooting—and provide updates on significant gun safety and gun lobby bills as they move through state legislatures.
State of the States
Michigan Has Been Held Hostage by Its State Legislators for Years—but Voters Have Had Enough
Michigan is in the news again for yet another high-profile, preventable mass shooting. On Monday, February 13, a gunman with a history of gun crimes and alleged mental illness killed three students and injured five others at Michigan State University (MSU).
Just over a year earlier, in Oxford, Michigan, a 15-year-old high school student with behavioral problems ​​shot and killed four of his fellow students and injured seven others. Emma Riddle, who survived the Oxford High School shooting, was at MSU when she received an email from university administrators telling her that an active shooter was on campus and that she should "run, hide, fight."
In addition to the horrific mass shootings at Oxford High School and MSU in 2021 and 2023, Michigan has made headlines as a breeding ground for right-wing extremism and political violence.
But voters have had enough. In 2022, Michigan voters delivered a decisive victory for candidates who ran on gun safety during the midterm elections. These results are reflective of national trends when Americans across the nation said stronger gun laws were a top priority.
These newly elected candidates have wasted no time in joining with existing legislators who want change. In 2023, lawmakers have introduced bills to close the private sale background check loophole, allow family members and law enforcement officers to temporarily remove guns from at-risk people, make adults criminally liable for leaving unattended guns accessible to kids and teens, strengthen laws to keep guns out of the hands of people who commit domestic abuse, and fight the scourge of ghost guns that are flooding city streets.
Secretary Benson has also stated her intention to work with lawmakers to protect the polls from armed intimidation—and House members recently introduced bills to ban guns at polling places and in places where absentee votes are being counted, and to prevent the intimidation of an election official. The Michigan State Capitol Commission is also considering a proposal to ban firearms at the state capitol.
Elections have consequences, and that's exactly what Michigan voters intended when they elected representatives who refuse to accept the status quo on gun violence and extremism.
JOIN THE FIGHT
Gun violence costs our nation 40,000 lives each year. We can't sit back as politicians fail to act tragedy after tragedy. Giffords Law Center brings the fight to save lives to communities, statehouses, and courts across the country—will you stand with us?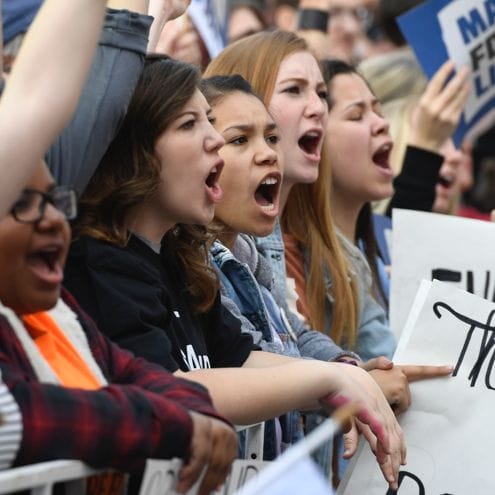 Gun Safety Spotlight
A Supreme Court Decision on Public Carry Could Increase Violent Crime, but States Are Taking Action to Prevent It
More people are carrying guns, and the risk of gun violence in public has increased—thanks in part to a Supreme Court decision in Bruen that forced states with strong concealed carry laws to weaken them in ways known to increase violent crime and gun homicides. Increasingly, when people carry guns in public, common disagreements are turning into gun battles.
In its radical and dangerous 2022 decision, the Supreme Court held for the first time in history that the Second Amendment protects the right to carry guns in public. Nevertheless, the Court acknowledged that prohibiting guns in sensitive locations is part of the history and tradition of American gun regulation. Accordingly, to ameliorate the dangers of the Bruen decision and other trends in gun purchasing and carrying, several states are working hard to prohibit guns in a variety of sensitive locations where they pose even greater risks.
In 2022, Colorado, New Jersey, New York, and Washington prohibited guns in certain sensitive locations such as polling places, school board meetings, demonstrations, athletic events, government property, and places where votes are being tabulated.
More states that prioritize safety over gun industry profiteering are taking similar action in 2023. A bipartisan bill (SB 44) to prevent armed intimidation at the polls has passed the New Mexico Senate. A bill to prohibit guns in polling places, government property such as the state capitol building, and other places sensitive to the exercise of democracy is moving in Hawaii (SB 1230). Serious efforts to keep guns out of sensitive locations are also underway in California (SB 2), Connecticut (HB 6667), Maryland (SB 1 and 118), Michigan (HB 4127, HB 4128, and HB 4129), Minnesota (SB 353), Vermont (SB 31), and Washington (SB 5444 and HB 1195).
While an ultraconservative majority of the Supreme Court is determined to inflict its dangerous ideological agenda on Americans, states are equally determined to fight back and protect their residents from gun violence.
Gun Lobby Extremism
Pandering to Gun Extremists and Rejecting Public Safety, Legislators in Florida Introduce Permitless Carry
Until 2011, only one state—Vermont—allowed people to carry hidden, loaded guns in public without a background check or permit. A sparsely-populated and mostly-rural state, Vermont has allowed permitless carry since its founding. Over the past 12 years, however, 24 states with laws requiring a person to get a background check and permit to carry in public have repealed them.
Importantly, all of the states that have repealed their concealed carry permitting laws allow a person to purchase a gun from an unlicensed seller without a background check. Texas eliminated its permit to carry in 2021 and in the year since, arrests for illegal carrying have skyrocketed.
Florida is considering legislation similar to what Texas enacted in 2021—a convoluted system that would allow individuals to carry without a permit if they would have been eligible for a permit when one was required. The eligibility requirements, however, are quite complicated. For example, in Florida, a person is not eligible for a concealed carry permit if, within the previous three years, the person was committed under Florida's substance abuse services laws or similar laws of any other state, was deemed a habitual offender for disorderly intoxication, or has two or more convictions for driving under the influence. 
Difficulty understanding eligibility requirements might be why so many people have been arrested for illegal carrying in Texas after the state repealed its permitting laws. A similar outcome can be expected in Florida. 
Permitless carry is dangerous, politically motivated, and opposed by many law enforcement officials. The sheriffs of two of Florida's largest counties have said the bill will endanger officers' lives. If Florida's lawmakers truly care more about protecting law enforcement and other lives than they do about appealing to gun extremists, they will reject this dangerous legislation.
MEDIA REQUESTS
Our experts can speak to the full spectrum of gun violence prevention issues. Have a question? Email us at media@giffords.org.
Contact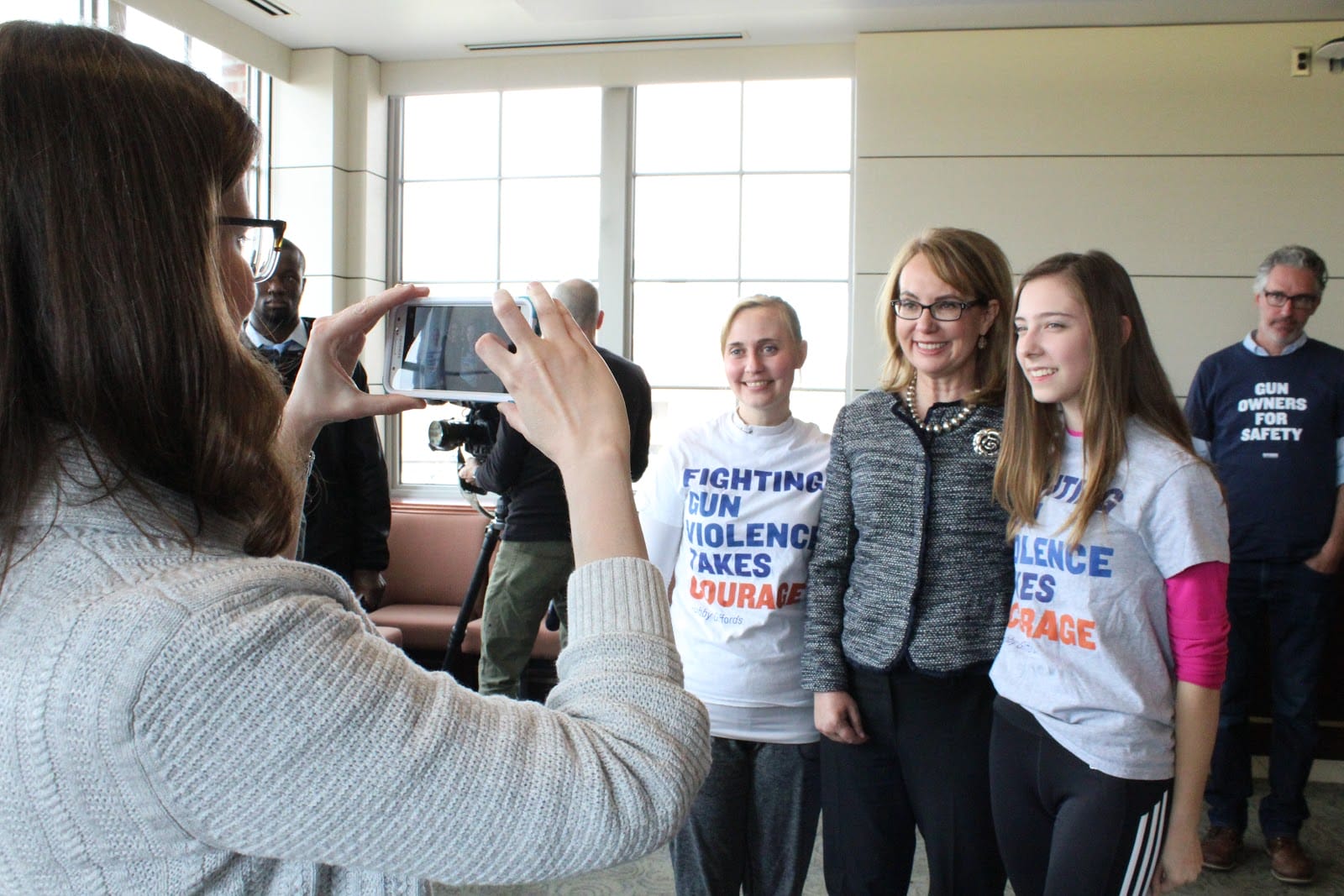 Bills in Motion
Lawmakers intent on protecting their constituents from gun violence began 2023 with the introduction of hundreds of gun violence prevention bills. Notably, bills to strengthen background check requirements, fund proven community violence intervention programs, improve domestic violence prohibitions, and regulate or prohibit ghost guns have been introduced in at least 28 states and the District of Columbia. Gun extremists nevertheless continue to push their dangerous agenda of more guns to address gun violence and have introduced several bills to bring guns in schools, allow permitless carry, allow people to shoot first and ask questions later, and make law enforcement officers liable for enforcing federal gun laws in over a dozen states. For nearly 30 years, we have helped states make our communities safer with evidence-based policies and by fighting the gun lobby. In 2023, we are stronger than ever.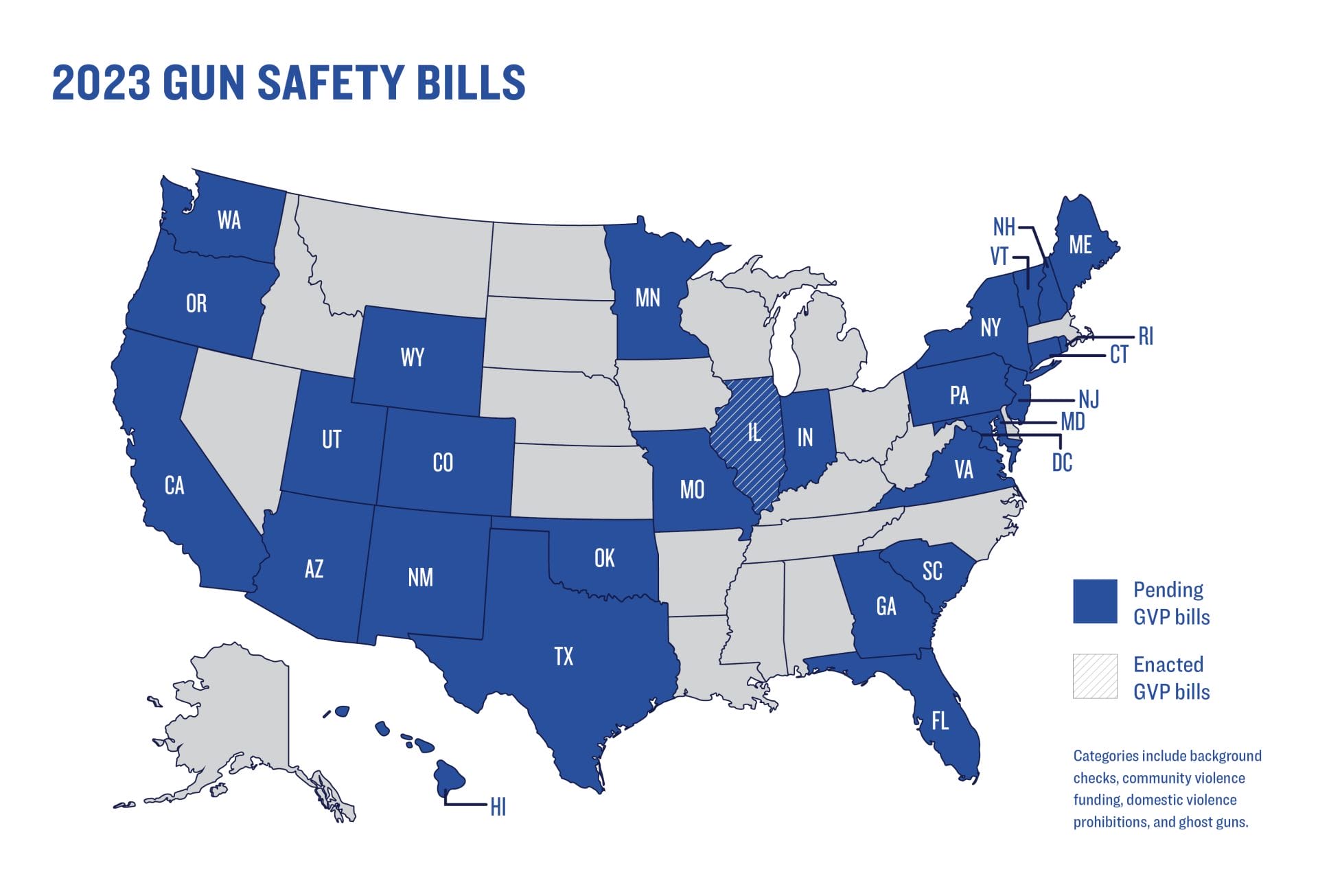 Gun Safety Bills
BACKGROUND CHECKS: Connecticut SB 973 was scheduled to be heard on 2/23. Washington HB 1143 was also scheduled for a hearing on 2/23 and has passed a committee. Hawaii HB 984 and Minnesota HB 14 have passed committees. Washington SB 5232 has passed a committee. At least 15 states have bills pending that would enact universal background checks or strengthen existing laws.
COMMUNITY VIOLENCE: Connecticut HB 5653 had a hearing on 2/22, and HB 6659 has hearings scheduled for 2/23, 2/24, 2/27, 2/28, and 3/1. Maryland HB 856 has a hearing scheduled for 3/7, HB 974 is scheduled to be heard on 3/8, and SB 598 and SB 833 have hearings on 2/22. Minnesota HB 25, New Jersey AB 4978, and New York SB 2364 have all passed committees. Virginia HB 1400 has passed the senate and is in conference and SB 800 has passed its chamber of origin. At least 15 states have bills pending that allocate, protect, or administer funding for evidence-based violence prevention programs.
DOMESTIC VIOLENCE: Illinois HB 1404 had a hearing scheduled for 2/21. Utah HB 199 was scheduled to be heard on 2/21 and has passed its chamber of origin.  Vermont SB 4 had hearings scheduled for 2/21 and 2/22. Hawaii HB 984 has passed a committee. Washington HB 1562 has passed a committee and SB 5231 has passed the senate. At least 17 states have bills pending that would improve efforts to keep guns out of the hands of people who commit domestic abuse.
GHOST GUNS: Virginia SB 1181 has passed its chamber of origin. At least 11 states have bills pending that regulate ghost guns or improve the effectiveness of their ghost gun policies.
Gun Lobby Bills
GUNS IN SCHOOLS: West Virginia SB 10 is eligible to be sent to the governor. Arizona HB 2667 and SB 1300 have passed a committee, and SB 1331 has passed its chamber of origin. Mississippi SB 2079 has passed its chamber of origin. North Carolina HB 49 and SB 41 have passed their chambers of origin. Oklahoma HB 2139 has passed a committee. Dangerous bills to allow or expand the ability to carry guns in school or on campus are pending in at least 16 states.
PERMITLESS CARRY: South Carolina HB 3594 has passed a committee. There are reckless permitless carry bills pending in at least seven states.
STAND YOUR GROUND: North Dakota HB 1213 has passed its chamber of origin. Bills that make it easy to use deadly force in public and evade justice are pending in at least nine states.
LIABILITY FOR ENFORCING GUN LAWS: Kentucky HB 153 and Nebraska LF 194 passed committees. Bills that would make law enforcement officers or other state and local government officials personally liable, or otherwise impose onerous penalties on law enforcement agencies or localities, for enforcing federal gun laws are pending in at least 11 states.
HERE TO HELP
Interested in partnering with us to draft, enact, or implement lifesaving gun safety legislation in your community? Our attorneys provide free assistance to lawmakers, public officials, and advocates working toward solutions to the gun violence crisis.
CONTACT US