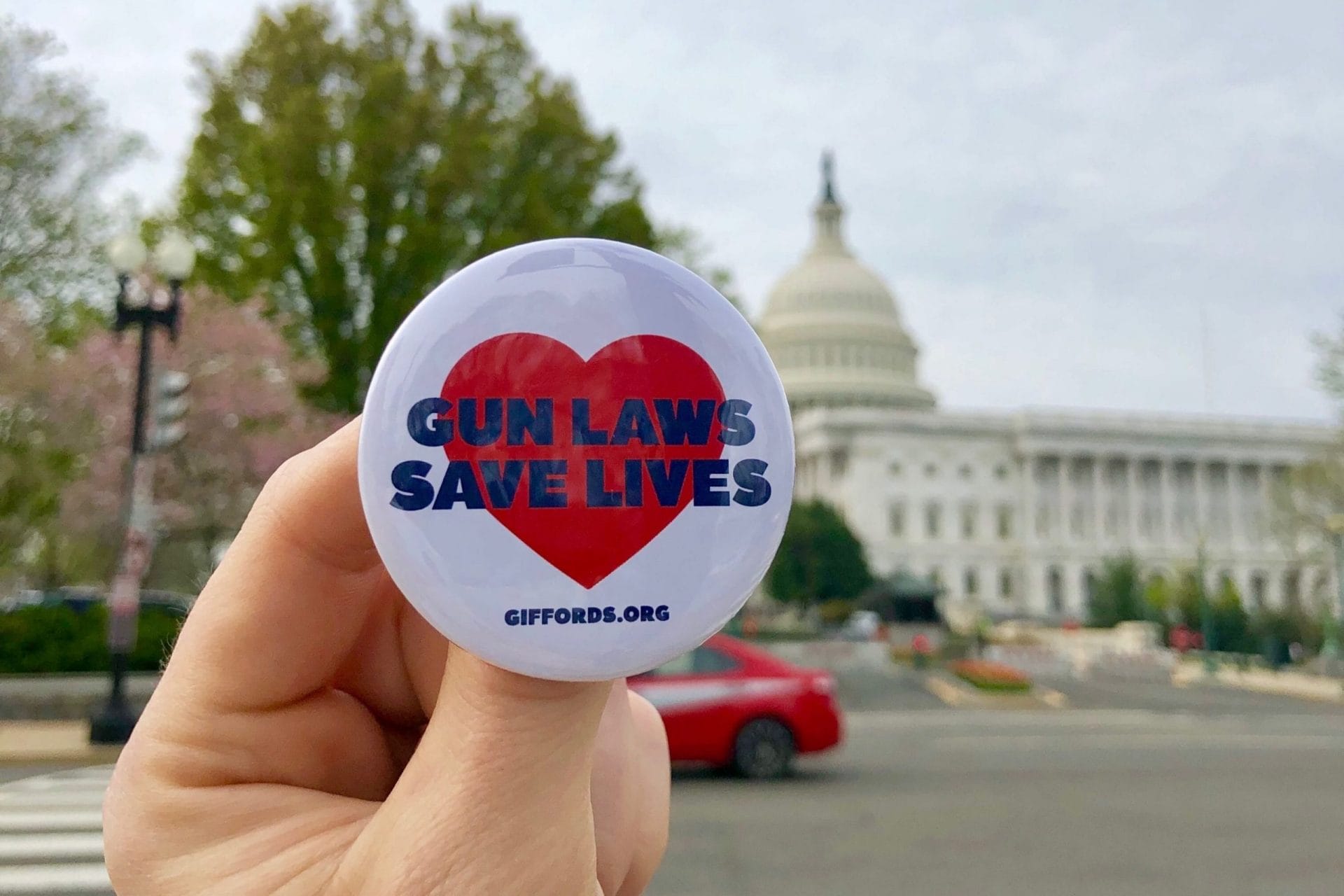 Giffords Law Center Gun Law Trendwatch: June 2, 2021
A Roundup and Analysis of the Latest State Firearm Legislation
In 2020, guns exacerbated societal problems caused by a global pandemic, racial injustice, and anti-democratic violence. In 2021, lawmakers responded.
Every other week during the state legislative cycle, Gun Law Trendwatch breaks down trends in the gun violence prevention universe. We take an in-depth look at a topic of particular interest to legislators and advocates—this week it's how lawmakers responded to gun violence in the 2021 legislative cycle—and provide updates on significant gun safety and gun lobby bills as they move through state legislatures.
State of the States
Lawmakers Respond to Gun Violence.
2020 was a historic year. A deadly pandemic ravaged the globe. The murders of unarmed Black Americans—including George Floyd, Breonna Taylor, and so many others—prompted global and historic protests for racial justice and police accountability. A United States president refused to concede his loss from a free and fair election, and encouraged his supporters to violently storm the Capitol. Amid all of this, gun violence surged in major cities. It is clear that when America experiences periods of societal unrest, the epidemic of gun violence intensifies, creating additional health and safety risks. Fortunately, lawmakers have responded to these events by enacting significant gun safety legislation crafted to prevent future spirals of violence.
While it will take researchers time to fully understand the relationship of the events of 2020 and the ensuing gun violence, there is much we already know. During the pandemic, a spike in gun sales strained the background check systems. More guns in the home is correlated with more shootings, both unintentional and intentional, and suicides among youth and adults alike. Unsecured guns in the home are also susceptible to theft during burglaries and home invasions, fueling the criminal market for guns.
Given these facts, it's more important than ever to ensure that minors and people legally prohibited from owning firearms do not have easy access to guns. We must also make sure that background check systems are robust and lost or stolen guns are recovered quickly before they are used in subsequent crimes. Legislators in Oregon, Colorado, Nebraska, Maryland, Utah, Virginia, and Montana enacted a slew of policies this year to achieve those goals. 
Colorado (HB 1106) enacted a safe storage law that requires gun owners to keep their firearms locked away from minors. Nebraska enacted a law (LB 236) that requires gun owners who are transporting or storing guns in their cars to keep them unloaded, stored separately from ammunition, and in a case. Utah passed a law (HB 267) that allows people at risk of suicide or other violence to voluntarily put themselves on a list of people who are ineligible to purchase firearms. Colorado legislators also enacted SB 78, which requires gun owners whose guns have been lost or stolen to report the incidents to local law enforcement.
Virginia extended the time that state police have to conduct a background check on a gun purchaser (HB 2128) and prohibited people convicted of domestic violence misdemeanors from possessing firearms (HB 1992). Montana added a new category of people convicted of felonies to its list of prohibited gun purchasers (HB 333). Maryland fully closed the private sale loophole by requiring people buying long guns from private sellers to pass a background check (2020 HB 4). In Oregon, Oregon Governor Kate Brown signed a bill (SB 554) that would require the safe storage of firearms to prevent access by minors and prohibited people.
In an effort to reduce police shootings and interpersonal gun violence, Illinois, Indiana, Maryland, New York, Tennessee, Vermont, and Washington passed legislation to implement police reforms and/or invest in community violence intervention strategies. Notably, Maryland enacted two bills— 2020 SB 708 and 2021 HB 588—which appropriate more than $5.2 million to community violence intervention programs in the state, with $3 million earmarked for Baltimore. Among other things, Illinois's police reform legislation (HB 3653) improves the ability of the state attorney general to prosecute law enforcement agencies that repeatedly violate the civil rights of civilians and strengthens requirements that officers be trained in crisis intervention. It would also strengthen standards governing officers' use of force, as well as require officers to wear body cameras and intervene to prevent unlawful force. 
Finally, the riot at the US Capitol, as well as other armed protests at state capitols in 2020, highlighted the role guns can play in intimidating Americans who are exercising their constitutional rights to vote, peaceably assemble, and engage in free speech. Two states have already enacted laws to prohibit the use of guns to threaten democratic participation. Virginia (HB 2295) and Washington (SB 5038) have prohibited some or all guns at the state capitol. Washington's bill also prohibits openly carried guns at public demonstrations and Virginia has also prohibited guns at locations where elections are taking place (HB 2081).
Giffords applauds legislators who have responded appropriately to recent spikes in gun violence and taken action to improve the safety of their constituents. Looking ahead, we encourage all lawmakers to join them in comprehensively regulating guns in their states.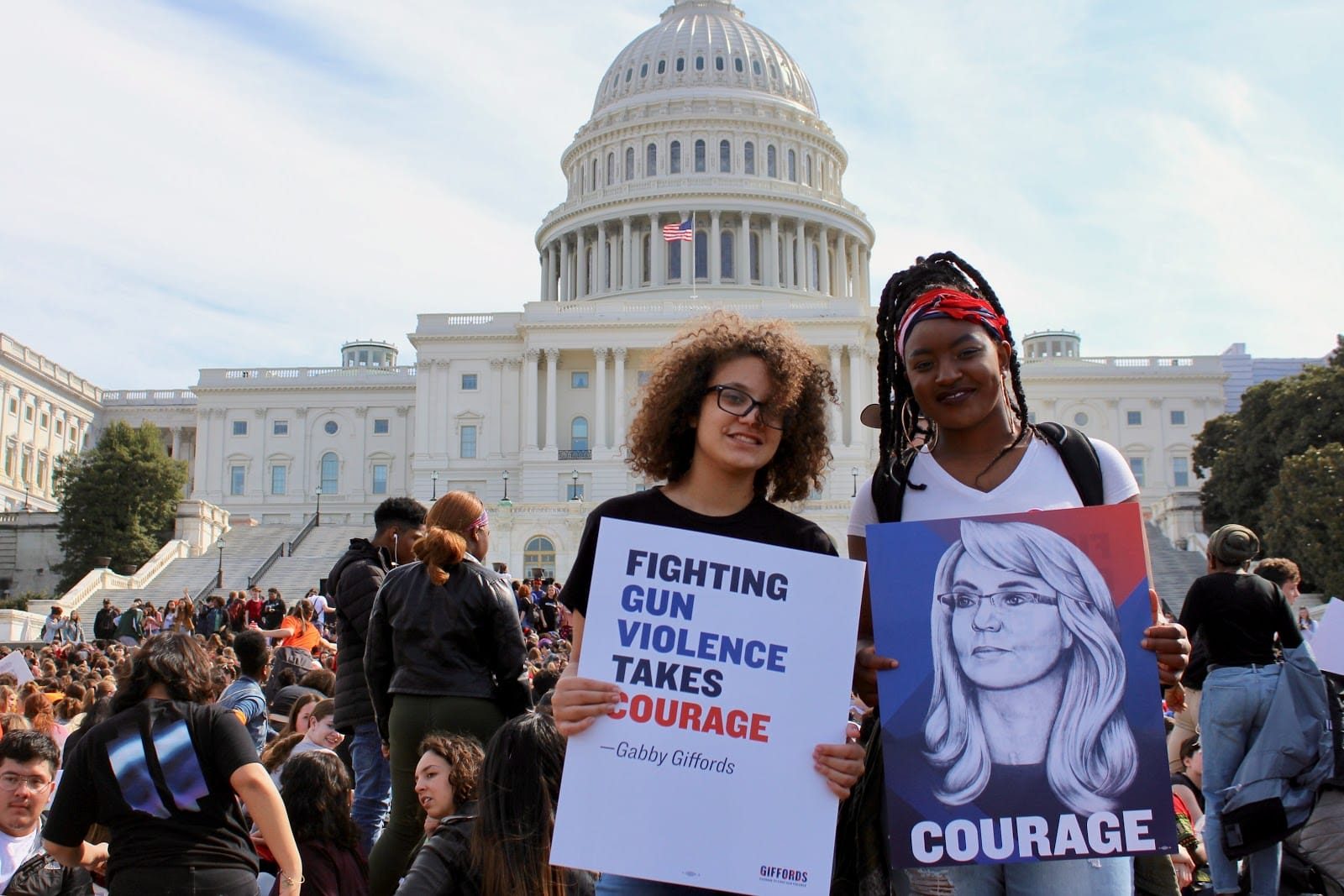 JOIN THE FIGHT
Nearly 40,000 Americans lose their lives to gun violence every year. Giffords Law Center is leading the fight to save lives by championing gun safety policies and holding the gun lobby accountable. Will you join us?
Gun Safety Spotlight
Schools, Not State Lawmakers, Should Decide Whether Guns Can Be Carried on Their Campuses
For decades, the gun industry has lobbied state lawmakers to prevent local governments and public schools and universities from being able to make policies regarding guns on their properties. In states where voters have elected legislators committed to gun safety in recent years, this is changing.
Virginia enacted a law (HB 1909) that puts the power to make these policies back in the hands of K-12 school boards. A bill signed by Governor Brown in Oregon (SB 554) did the same for public schools, as well as state colleges and universities. A bill in Colorado (SB 256) that has passed its house of origin would allow the governing institutions of K-12 schools and public colleges and universities to prohibit guns on campus. 
Schools should be safe havens from violence. While the data is clear that guns put students more at risk of gun violence, not less, at the very least, schools should be making such health and safety decisions for themselves.
Gun Lobby Extremism
Guns Lobby Capitalizes on Fear to Drive Reckless Permitless Carry Bills
For years, gun zealots have been pushing laws to allow anyone to carry loaded firearms in public without a background check or permit. Up until 2015, only four states did not require a background check or permit to carry loaded, hidden guns in public. Over the subsequent four years, 11 more states passed permitless carry laws.
11%
Gun homicide increase due to concealed carry
Weak concealed carry permitting laws are associated with 11% higher handgun homicide rates than states with strong permitting systems.
Source
Michael Siegel, et al., "Easiness of Legal Access to Concealed Firearm Permits and Homicide Rates in the United States," American Journal of Public Health 107, no. 12 (2017): 1923–1929.
Despite the robust academic data demonstrating that states that allow more people to carry more guns in public have higher rates of violent crime, the gun industry has successfully preyed on people's fears and marketed the falsehood that carrying a gun makes you safer. 
The gun lobby has pushed permitless carry legislation through in five states so far this year—Arkansas (HB 1898), Iowa (HB 756), Montana (HB 102), Tennessee (SB 765), and Utah (HB 60). A permitless carry bill is on the governor's desk in Texas (HB 1927), and bills in Louisiana (HB 596) and South Carolina (HB 3096) have passed their chambers of origin. 
Of the five states with the highest gun death rates in the United States, three of them are permitless carry states. If states are truly interested in the safety and welfare of their residents, allowing unvetted people to secretly carry loaded guns in public is not the answer.
MEDIA REQUESTS
Our experts can speak to the full spectrum of gun violence prevention issues. Have a question? Email us at media@giffords.org.
Contact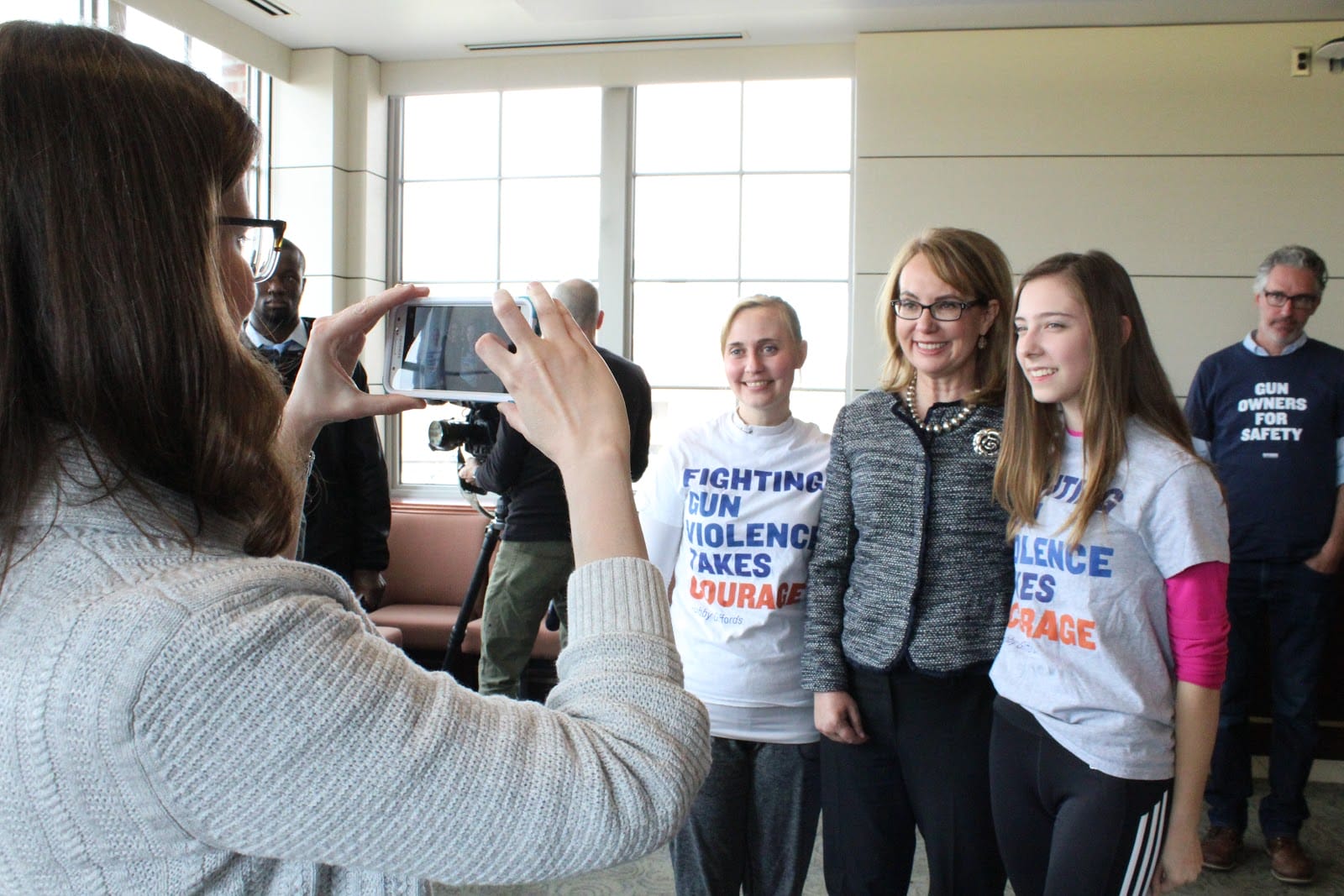 Bills in Motion
In the first half of 2021, courageous state legislators have introduced bills to strengthen background check requirements, fund proven community violence intervention programs, improve domestic violence prohibitions, and enact or strengthen extreme risk protection order laws in 34 states. Meanwhile, the gun lobby continues to push its dangerous guns in schools and permitless carry bills in dozens of states. We're committed to helping state legislatures enact laws that will make our communities safer and push back against gun lobby legislation that will bring more guns to more places.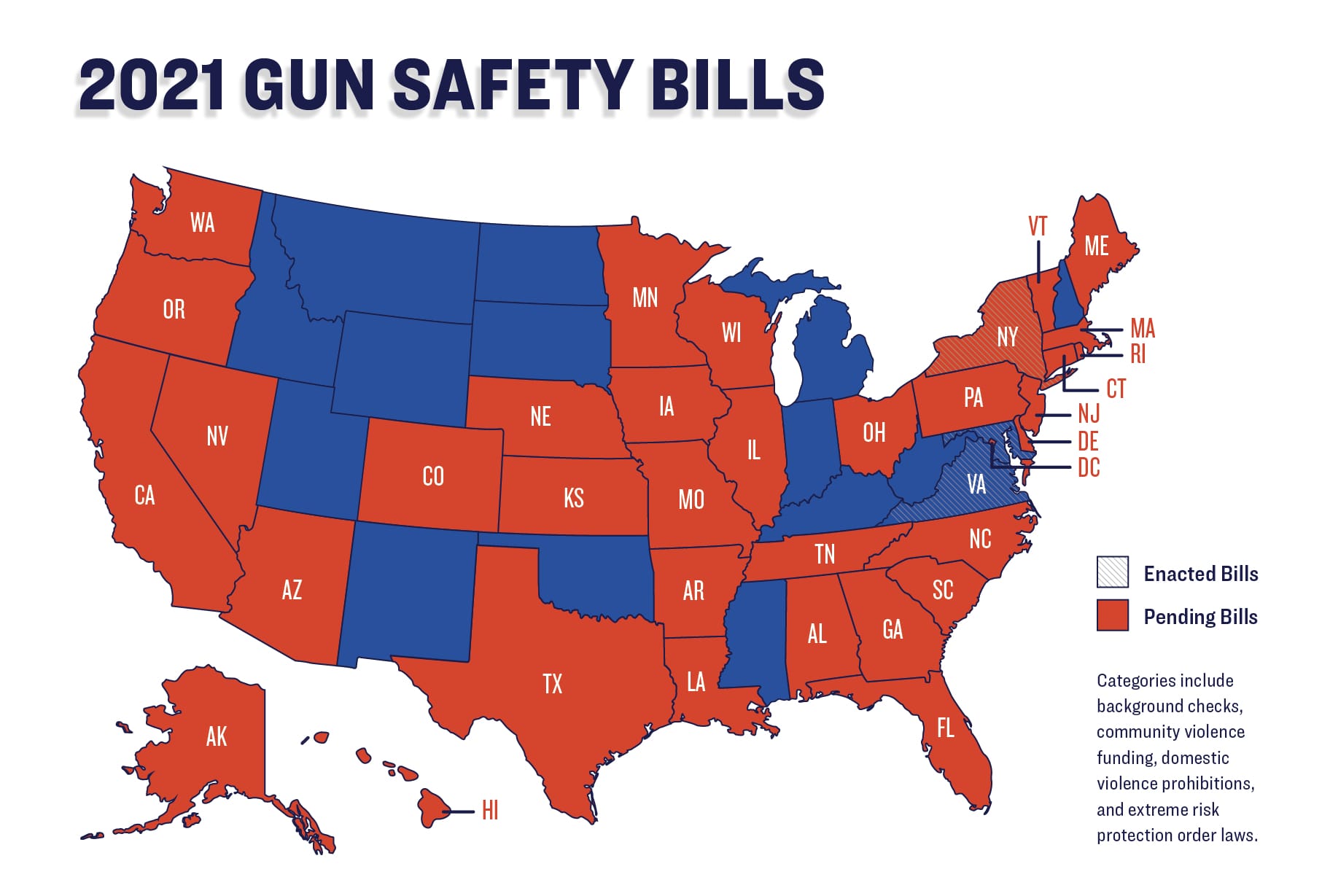 Gun Safety Bills
BACKGROUND CHECKS: Colorado HB 1298 passed a senate committee. Legislation to strengthen or enact background checks is pending in at least 22 states.
COMMUNITY VIOLENCE: Maryland HB 588 was enacted 5/18. Florida SB 2500 was sent to the governor. Massachusetts HB 4001 passed a second senate committee. Colorado HB 1299 passed a senate committee. Connecticut HB 5677 and HB 6034 passed the house. California AB 1223 passed a second committee. Currently, at least 17 states have bills pending that would allocate or protect funding for evidence-based violence prevention programs.
DOMESTIC VIOLENCE: Nevada AB 42 was sent to the governor. Colorado HB 1255 passed a senate committee. California SB 320 and SB 538 each passed a second committee. New York SB 5026 and SB 6443 each passed a committee. Legislation to strengthen domestic violence laws is pending in at least 20 states.
EXTREME RISK PROTECTION ORDER: Nevada SB 6 was sent to the governor. California SB 538 passed a second committee. Bills to enact or strengthen extreme risk protection order laws are pending in at least 19 states.
Gun Lobby Bills
GUNS IN SCHOOLS: Montana HB 572 was enacted 5/14. Texas HB 781, HB 1788, and SB 741 were each sent to the governor.Dangerous bills to allow guns in school or on campus are pending in at least 21 states.
PERMITLESS CARRY: Louisiana SB 118 passed a house committee. There are reckless permitless carry bills pending in at least 9 states.
STAND YOUR GROUND: New Hampshire HB 196 passed a senate committee. There are Stand Your Ground laws pending in at least 14 states. 
HERE TO HELP
Interested in partnering with us to draft, enact, or implement lifesaving gun safety legislation in your community? Our attorneys provide free assistance to lawmakers, public officials, and advocates working toward solutions to the gun violence crisis.
CONTACT US