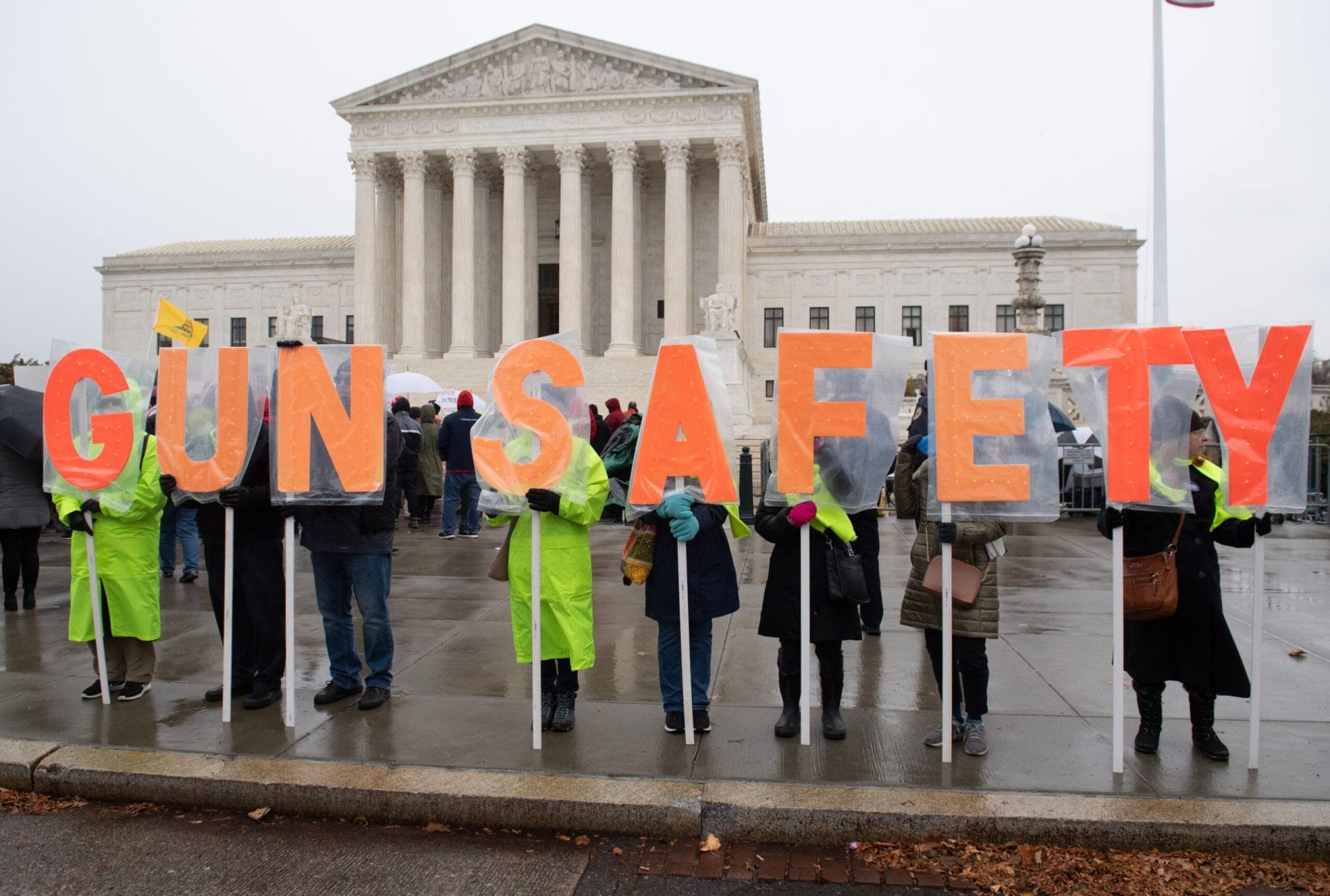 Giffords Law Center Gun Law Trendwatch: May 10, 2022
A Roundup and Analysis of the Latest State Firearm Legislation
In 2022, Bipartisan Efforts are Underway to Make it Harder for People Who Commit Domestic Abuse to Access Guns
Every other week during the state legislative cycle, Gun Law Trendwatch breaks down trends in the gun violence prevention universe. We take an in-depth look at a topic of particular interest to legislators and advocates—this week it's bipartisan efforts to strengthen domestic violence-related gun laws—and provide updates on significant gun safety and gun lobby bills as they move through state legislatures.
State of the States
Laws That Make It Harder for People Who Commit Domestic Abuse to Access Guns Save Lives
In a country with more guns than people, it's no surprise that American women are 21 times more likely to be killed with a gun than women in peer nations. The statistics are truly staggering—roughly one woman is killed with a gun every 14 hours by her intimate partner in the US. More than half of mass shootings are domestically related and, according to one study, nearly a third of mass shooters had a history of domestic violence.
600+
American women shot to death by intimate partners
Every year, over 600 American women are killed with a gun by a current or former intimate partner—and rates are highest in states with the weakest gun laws.
Source
Federal Bureau of Investigation, Uniform Crime Reporting Program: Supplementary Homicide Reports (SHR), 2014–2018.
During the pandemic, things have only gotten worse for people who have been victims of domestic violence. One Massachusetts hospital saw nearly double the number of domestic violence cases in 2020 from the previous three years and found that physical injuries were more likely to be more severe. The Phoenix Police Department reported a 175% increase in domestic violence homicides in January through November 2020 compared to the same period in 2019. 
Despite these grim numbers, the data is clear: laws that make it harder for people who commit domestic abuse to access guns save lives. 
For example, states that prohibit people subject to restraining orders from gun possession have 13% fewer domestic violence gun homicides. Similarly, when people subject to domestic violence-related protective orders must prove that they actually turned in their guns, intimate partner gun homicides are reduced by 16%. 
Even traditionally red states recognize the need for laws that keep guns out of the hands of people who commit domestic abuse. On May 2, Iowa—a state that has made headlines in recent years for dramatically weakening its gun laws—enacted HB 825, which makes it easier for courts to prohibit firearms possession by people who commit domestic abuse. Maine also enacted a law (SB 551a) on April 20 that strengthens efforts to remove guns from people subject to domestic violence restraining orders. Earlier this year, Vermont enacted SB 4, which explicitly allows courts to order firearm relinquishment from people subject to emergency restraining orders.
Another law that is important to protecting abuse victims requires law enforcement, when responding to a domestic violence incident, to remove any guns from the home. Fourteen states, including Ohio and West Virginia, have such a law. Surprisingly, this list does not include New York, a state with otherwise strong gun safety laws. Two bills (AB 5455, SB 5026) that recently passed their first committees would change that. Another bill in New York that has passed its chamber of origin (SB 6443) would require a court, when issuing a protective order, to ask whether the respondent possesses firearms. 
Despite this progress, there is much more that can be done to prevent the loss of life to domestic violence—and we urge legislators from both sides of the aisle to continue to come together on this issue.
JOIN THE FIGHT
Gun violence costs our nation 40,000 lives each year. We can't sit back as politicians fail to act tragedy after tragedy. Giffords Law Center brings the fight to save lives to communities, statehouses, and courts across the country—will you stand with us?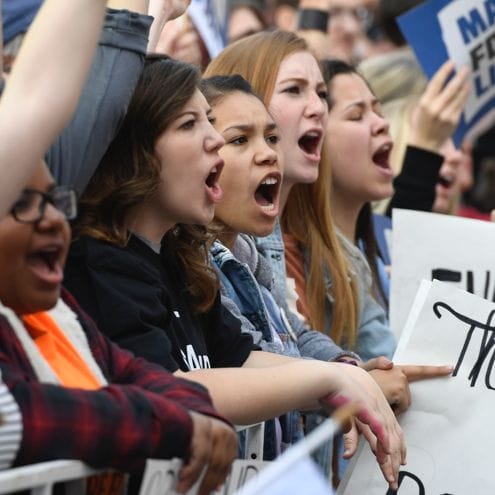 Gun Safety Spotlight
New Federal and State Ghost Gun Laws Can Hopefully Stem the Bloodshed
In recent years, the gun industry has attempted to skirt stronger gun laws by developing ways for people to easily buy and manufacture guns from home without a background check, waiting period, or safety regulations. These homemade guns lack serial numbers, making them untraceable, often undetectable, and extremely appealing to people who commit crimes with firearms. Accordingly, such "ghost guns" have exploded onto crime scenes and into criminal enterprises across America in recent years.
In April, the effort to combat the scourge of ghost guns got a significant boost when the Biden administration announced a new rule that will meaningfully regulate the ghost gun industry and people who purchase their parts and kits. The rule goes into effect in August, but, in the meantime, states are continuing to pursue their own efforts to regulate the sale and possession of ghost guns.
Already this year, Washington and Maryland passed strong ghost gun regulations, following efforts by California, Connecticut, Delaware, Hawaii, New Jersey, New York, Rhode Island, and the District of Columbia in recent years. 
Illinois sent a bill to the governor (HB 4383) that would generally prohibit the sale and transfer of unserialized firearms and frames/receivers (the main component of a firearm). It also bans the sale and possession of unfinished frames and receivers, which are often sold in kits and easily converted to functional firearms. A moving bill in California (AB 1621) would further strengthen the state's law by defining more ghost gun products as firearms, thereby subjecting them to California's strong gun laws—including waiting periods.
When state laws work in concert with federal laws, they have the greatest chance of being effective. The state and federal efforts in 2022 to address this growing threat will hopefully pay off with a great reduction of the number of ghost guns on the street in future years.
Gun Lobby Extremism
Tennessee, with a Gun Death Rate 57% Higher than the National Average, Is Moving in the Wrong Direction
Tennessee has the 10th highest gun death rate in the nation, 57% higher than the national average. In 2021, it enacted permitless carry by repealing a longstanding law requiring anyone carrying a hidden, loaded gun in public to get a permit and background check. It also made it harder for state law enforcement officers to enforce federal gun laws that keep guns away from people with serious mental illness or who have committed domestic abuse.
In 2022, Tennessee is doubling down on its race to the bottom on gun safety. State lawmakers sent a bill (SB 2628) to the governor that would repeal a prohibition on the manufacture, possession, and sale of short barrel rifles and shotguns, which are particularly dangerous because of their powerful and concealable nature.
In fact, short-barreled rifles and shotguns, along with machine guns, were the weapons of choice for organized crime in the post-Prohibition era, which led to the National Firearms Act in 1934 that required these dangerous weapons to be registered with the Bureau of Alcohol, Tobacco, Firearms and Explosives (ATF). 
A year after enacting permitless carry, Tennessee legislators are also advancing a bill (HB 1735) that would lower the age for permitless carry from 21 to 18. This would mean more young adults—who are at disproportionately higher risk for depression, mental illness, and violence—would be carrying guns in public in the state without a background check or safety training. 
Given its high rates of gun suicides and homicides, Tennessee should be looking at how to save lives from guns, not bring more of them into more aspects of life.
MEDIA REQUESTS
Our experts can speak to the full spectrum of gun violence prevention issues. Have a question? Email us at media@giffords.org.
Contact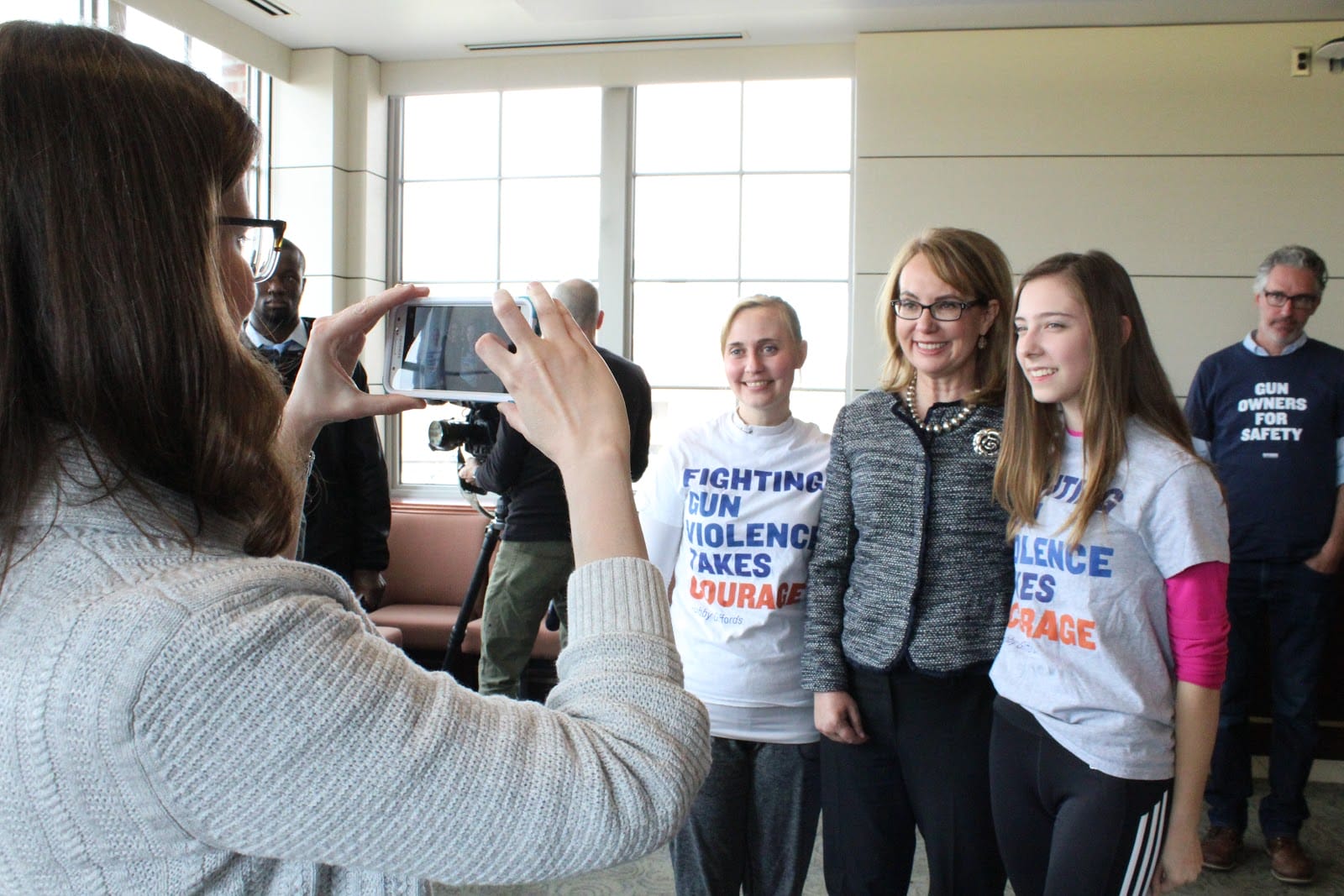 Bills in Motion
In the first few weeks of 2022, courageous state legislators have introduced bills to strengthen background check requirements, fund proven community violence intervention programs, improve domestic violence prohibitions, and regulate or prohibit ghost guns in 39 states. Meanwhile, the gun lobby continues to push its dangerous guns in schools and permitless carry bills in over a dozen states. We're committed to helping state legislatures enact laws that will make our communities safer and push back against harmful gun lobby legislation.
Gun Safety Bills
BACKGROUND CHECKS: At least eight states have bills pending that would require all gun buyers to be subject to background checks, or would strengthen existing background check laws.
COMMUNITY VIOLENCE: California AB 2253, AB 2534, and AB 2697 have passed committees and have hearings on 5/11. California AB 1929 has also passed a committee. Colorado SB 145 has passed its chamber of origin and two committees. Connecticut HB 5037 and MA H 4700 have passed committees. At least 14 states and the District of Columbia have bills pending that relate to the allocation, protection, or administration of funding for evidence-based violence prevention programs.
DOMESTIC VIOLENCE: Iowa HB 825 was enacted. New York AB 5455, AB 8105, and SB 6443 passed committees. Legislation to strengthen domestic violence laws is pending in at least 13 states and the District of Columbia.
GHOST GUNS: Illinois HB 4383 has been sent to the governor. California SB 1327 and AB 1621 and passed committees and have hearings on 5/9 and 5/11, respectively. California AB 311 has passed its chamber of origin and AB 2156, AB 2552, and SB 1327 have passed committees. Bills that would regulate or prohibit untraceable firearms are pending in at least 10 states and the District of Columbia.
Gun Lobby Bills
GUNS IN SCHOOLS: Dangerous bills to allow guns in school or on campus are pending in at least 11 states.
PERMITLESS CARRY: There are reckless permitless carry bills pending in at least five states.
STAND YOUR GROUND: Oklahoma SB 925 passed its chamber of origin. Bills that make it easy to use deadly force in public and evade justice are pending in at least 10 states.
LIABILITY FOR ENFORCING GUN LAWS: Bills that would make law enforcement officers or other state and local government officials personally liable for enforcing federal gun laws are pending in at least three states.
HERE TO HELP
Interested in partnering with us to draft, enact, or implement lifesaving gun safety legislation in your community? Our attorneys provide free assistance to lawmakers, public officials, and advocates working toward solutions to the gun violence crisis.
CONTACT US