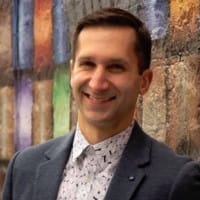 Author
Brian Wesolowski
Communications Director , Giffords
Brian Wesolowski served as the communications director for Giffords, where he led external communications across the organization. Brian has more than 15 years of communications and outreach experience, having worked in both organizational and agency settings.

Previously Brian served as vice president for external affairs at the Center for Democracy & Technology, a digital rights advocacy nonprofit. He began his career working for DC-based communications and public affairs agencies, supporting a wide range of government, nonprofit, and corporate clients. He also served as the director of communications for Qatar's Supreme Council of Information and Communication Technology, the country's government technology policy body and telecommunications regulatory authority. While in Qatar, he founded and led the country's affiliate of Creative Commons and worked to promote digital openness.

Brian holds a Bachelor of Arts in Leadership and Communications from the University of Richmond and a Master of Public Administration from the University of Michigan, with a specialization in Science and Technology Policy.