Protecting Democracy from Armed Intimidation: A Guide for States
On July 4, 2022, a 21-year-old white man armed with an AR-15 style assault weapon slaughtered seven individuals and wounded dozens more when he shot into a crowd assembled to celebrate American Independence Day in Highland Park, Illinois.
When America declared independence from the British monarchy in 1776, it began an experiment in democracy. White, land-owning men were afforded certain inalienable rights and freedoms which were eventually expanded to include the right to vote; peacefully assemble, protest, worship, and speak; and to be treated equally under the law regardless of race, sex, or creed. It was this system of values and governance that led to the notion of American exceptionalism: the idea that our unique political system has enabled freedom and prosperity unparalleled in the world.
Appendix: States that Prohibit Guns in Places Essential to the Exercise of Constitutional Rights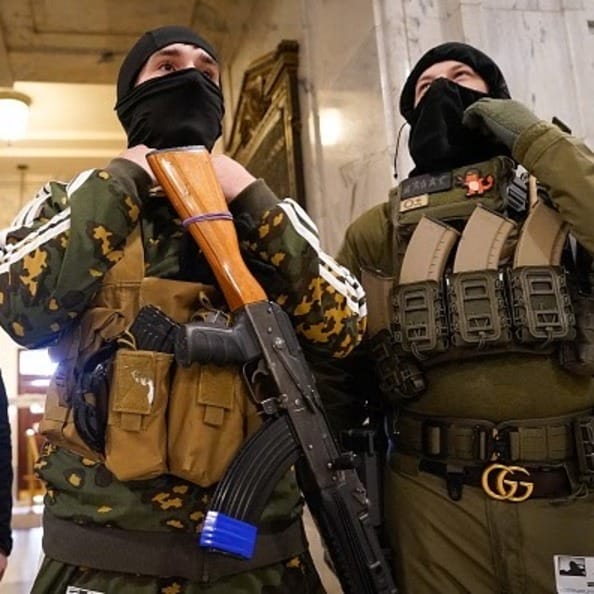 Download PDF
Our constitutional democracy, and the civil liberties afforded by it, are the crux of such inimitability. But the American experiment that has endured for nearly 250 years is being threatened by a different type of American exceptionalism—an epidemic of gun violence and extremist gun culture unrivaled in peer nations. Rising far-right radicalism and the use of guns to intimidate and harass Americans engaged in constitutionally protected activities threaten the destabilization of the very liberties and freedoms that underscore the American way of life.
Although the United States has a long and shameful history of white supremacists using violence to threaten and kill people of color who dare to participate in democracy, the use of firearms as an intimidation tactic reached systemic levels in 2020. People protesting Covid mitigation strategies, gun laws, and the results of the 2020 election brought their guns into public and private spaces to intimidate and harass lawmakers, election workers, voters, and protestors. This behavior has continued well into 2022 and shows no sign of abating. 
At the same time, gun violence is on the rise across the country. The Centers for Disease Control and Prevention reported that more Americans were killed with guns in 2020 than any year in our nation's history. And initial estimates indicate that this trend is only getting worse, with nearly 49,000 Americans dying from gun violence in 2021. A recent study by RAND shows that a steady increase in homicides in the United States since 2014 has been driven entirely by increases in gun homicides.
Against this backdrop, on June 23, 2022, the United States Supreme Court issued a decision in New York State Rifle & Pistol Assn., Inc. v. Bruen,1 finding for the first time in American history that the Second Amendment protects the right to carry a concealed firearm outside the home for self defense unrelated to service in a militia. The Court also used Bruen as a vehicle to create a new test for evaluating gun laws under the Second Amendment. Issued by an ultra conservative supermajority, the decision is poised to make it more difficult to uphold reasonable, commonsense gun laws such as the New York law at issue in the case.
The New York law, and the laws of seven other states, required an applicant for a concealed carry permit to demonstrate a "proper cause" to carry a gun in public. The Bruen decision, which struck down the proper cause requirement, will force the six states that previously had this requirement to allow many more people to carry guns in public. 
The states that had their proper cause requirements struck down in Bruen comprise around one-quarter of the nation's population. Already, in one of those states—Maryland—applications for concealed carry permits shot up to over 5,300, up from approximately 600 the year before during the same two-week period. 
Greater numbers of guns in public, more gun violence, and growing far-right extremism threaten participation in all facets of our democratic process: at legislative hearings, school board meetings, demonstrations, rallies, the voting booth, and in vote tabulation centers. 
In advance of the 2022 midterm elections, when far right candidates for office are using violent rhetoric to whip up support among extremists, this report provides a roadmap of where to begin protecting democratic participation from armed extremism. First, we examine how threats to such participation have escalated in recent years. Second, we offer specific policy recommendations that policymakers should enact to prevent them. Finally, we provide a catalog of the existing laws of all 50 states that must be enforced now to prevent armed intimidation.
MEDIA REQUESTS
Our experts can speak to the full spectrum of gun violence prevention issues. Have a question? Email us at media@giffords.org.
Contact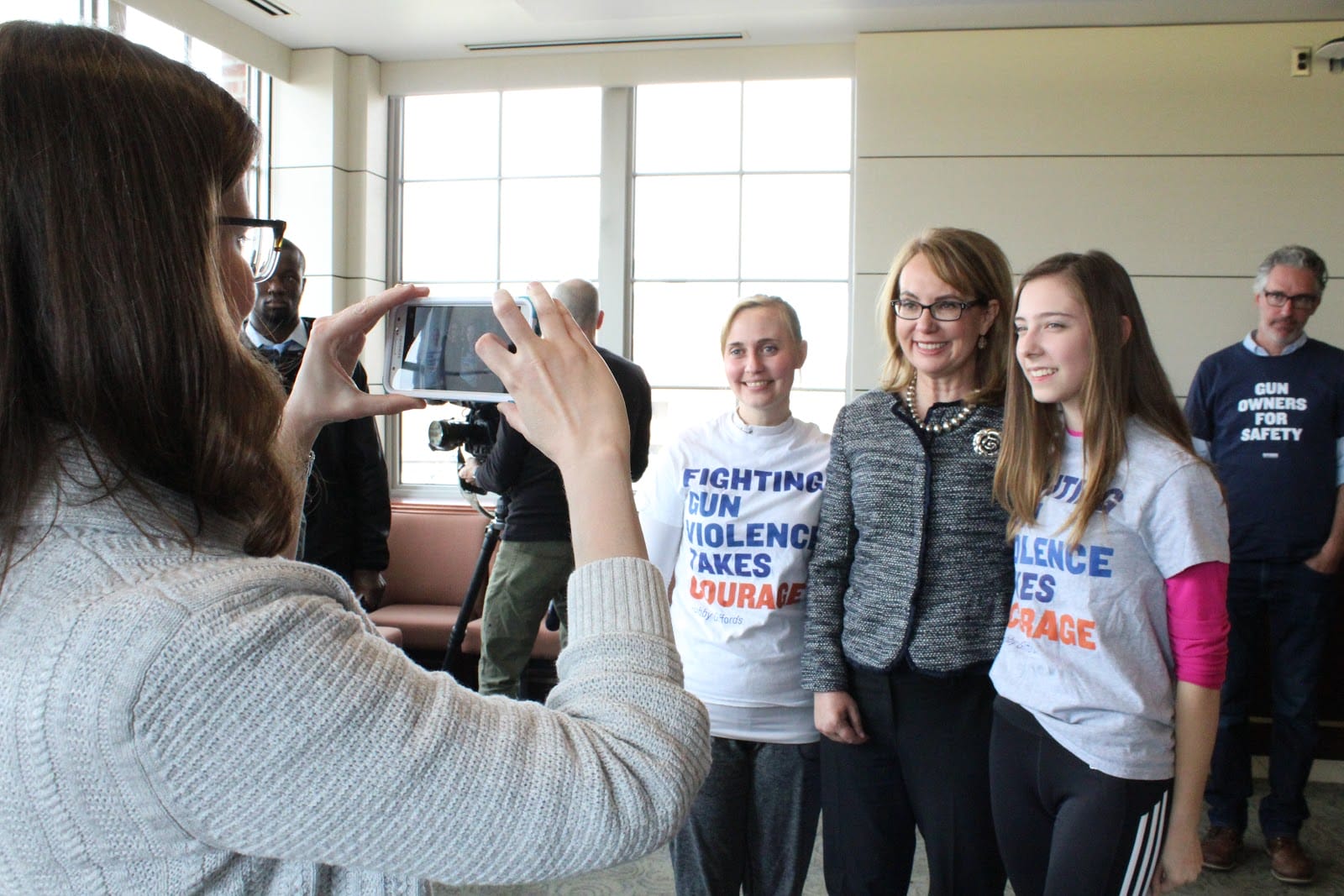 Armed Intimidation: An Escalating Threat
During his candidacy and presidency, Donald Trump stoked baseless fears of election and voter fraud. Such rhetoric catalyzed many individuals and organizations to promise to keep Trump in office using violence. After Trump directed them to "stand by," the anti-government conspiracy organization the Oath Keepers vowed to monitor the polls, "drawing their weapons if needed."
When it became apparent in November 2021 that Joe Biden had triumphed over Donald Trump in the election, far-right extremists began threatening election officials and legislators in swing states in the hopes that they would defy the majority vote and overturn the election results. Armed "Stop the Steal" protestors descended on state capitols around the country.
People involved with election administration became the subject of far-right election conspiracies—including an executive at Dominion Voting Systems, the company that manufactured many of the voting machines used in the 2020 election. Extremists claimed the executive switched votes from Trump to Biden and published his address and phone number online, forcing him into hiding.
Shortly before Christmas, an armed mob descended on the home of Michigan Secretary of State Jocelyn Benson, who was decorating her home with her four-year-old son. One of the protestors stated "We will not stand down, we will not stop, we will continue to rise up, we will continue to take this election back for the president that actually won it by a landslide…This is not over. It is far from over—in fact, it's just beginning." Two months earlier in Michigan, militia members who had amassed an arsenal of assault weapons were arrested for planning to kidnap and murder Michigan Gov. Gretchen Whitmer.
On January 6, 2021, the Proud Boys, an extremist hate group, were prominent participants in an armed insurrection that attacked the United States Capitol Building. Their intent was to assassinate Vice President Mike Pence for refusing to install Trump in office. In the year and a half since, people openly carrying firearms have continued to assemble at the state capitols across the country—including in Arizona, Ohio, Oregon, Michigan, Texas, and Virginia—claiming state legislators were complicit in a fraudulent and stolen 2020 election.
Rather than shock Americans of all political persuasions into rejecting political violence, the events of January 6, 2021, appear to have helped normalize them, escalating an unprecedented threat to American democratic institutions and participation. According to a study released nearly a year after the January 6 insurrection, of white evangelicals who believe that Trump won the 2020 election, 39% of them said violence may be necessary to save the country. 
Parents angry about mask mandates, inclusivity guidelines, and the paper tiger of critical race theory have threatened school board members and educators with violence. White supremacist hate groups have disrupted parades and public events celebrating Pride month and LGBTQ-themed children's storytime at libraries. After the Supreme Court reversed Roe v. Wade, armed extremists confronted abortion rights protestors. Public assemblies, protected by the First Amendment, remain mostly peaceful events, but protests and demonstrations that involve armed individuals comprise 10% of all violent or destructive demonstrations.
All signs indicate that the threat of political violence is growing. In a study recently published by the UC Davis Violence Policy Research Center, researchers found that half of Americans think another civil war is imminent and 12.4 million Americans would be somewhat or completely willing to kill a person in a situation in which they believe force or violence is justified to advance an important political objective. The same study found that over 47.7 million Americans, including non-gun owners, think it is somewhat or extremely likely that they will be armed with a gun in the next few years in a situation in which they think force or violence is justified to advance an important political objective. 
Keeping radicalized individuals from patrolling public spaces with firearms is critical to reducing the risk of violence at places where Americans are exercising constitutional rights. Equally as important is protecting these spaces from the threat of violence, particularly to ensure that Black and Brown Americans who have been disproportionately impacted by gun violence are not disenfranchised or dissuaded from actively participating in the democratic process. This risk is not hypothetical. A lawsuit filed in March 2022 alleges that armed pro-Trump activists went door-to-door in areas of Colorado where large numbers of people of color reside asking them how they voted and photographing their homes.
In 2021, researchers from Northeastern University published a study finding that Americans were less likely to attend a protest, express their opinions at a protest using signs or vocalization, or bring children to a protest if guns were present. Such hesitation to engage in activities that might be targeted by gun extremists is understandable given that American gun violence is, in fact, increasing. As noted, the CDC released data showing that 2020 saw the highest number of gun deaths on record for Americans in a single year, a rise driven primarily by sharp increases in gun homicides. Early evidence suggests this record held for only a year, as the surge in gun deaths continued and set an even higher record.
Amidst the steady increase in homicides in the United States since 2014, many states have actively weakened their gun laws, embracing the gun lobby's priority to eliminate laws that require permits and background checks for people to carry concealed firearms in public. Of the five states that saw the largest per capita increases in gun homicides, three of them have passed permitless concealed carry since these increases began. Research shows that states with weak concealed carry laws have significantly higher rates of violent crime and handgun homicides.2
The reasons for the increases in gun homicides are manifold, but one likely contributing factor is the dramatic spike in gun sales and new firearm-owning households. There are more guns than people in America, as well as more radicalized people than ever before. More armed individuals, and more individuals feeling emboldened to use their firearms as a tool of intimidation, underscores what researchers of extremism describe as "conditions…ripe for violence."
The following section, as well as this resource as a whole, is intended to help state and local officials, activists, advocates, members of the press, and others understand how they might help protect our democratic activities from armed intimidation and gun violence.
JOIN THE FIGHT
Gun violence costs our nation 40,000 lives each year. We can't sit back as politicians fail to act tragedy after tragedy. Giffords Law Center brings the fight to save lives to communities, statehouses, and courts across the country—will you stand with us?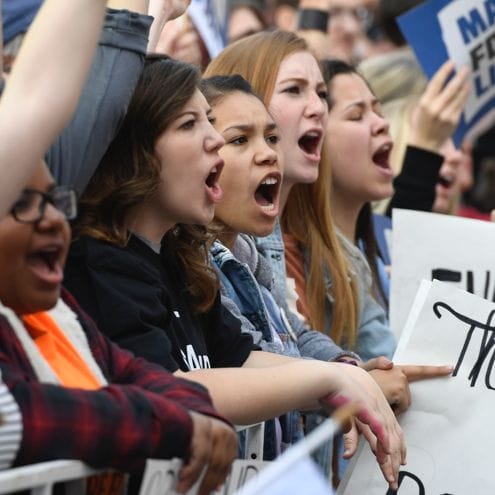 Laws to Prevent Armed Intimidation
In response to the events of 2020 and 2021, several states took action to safeguard spaces and activities essential to the democratic process. In 2021, Oregon, Virginia, and Washington prohibited individuals from carrying some or all guns in or around their state buildings. Virginia also prohibited guns in state-owned buildings or offices where state employees work regularly.
Building on that success, in 2022 Washington banned openly carried firearms in local government buildings where meetings or hearings are held, as well as all firearms at school board meetings.3 Colorado prohibited open carry around polling locations and places where elections are being conducted or votes tabulated.4 Washington also prohibited guns in ballot counting or voting centers and certain areas used to register voters.5 New York prohibited firearms in all government buildings, houses of worship, libraries, polling sites, and public demonstrations and rallies.6  
States also responded to the extraordinary threats of violence directed at election workers since the 2020 election. In 2022, three states—Colorado,7 Maine,8 and Oregon9—enacted legislation that would make it illegal to harass or intimidate election workers. Similar bills were introduced in Minnesota,10 New Mexico,11 Vermont,12 and Washington.13  
To protect Americans of all races, ethnicities, and identities who enjoy the liberties guaranteed to them by the Constitution, local and state legislators and officials must follow in the footsteps of these states and enact these policies and others. We offer the following recommendations for policies and practices to help ensure that all Americans can exercise their rights without the threat of violence.
Since the Reconstruction era, white supremacists have exploited weak open carry laws to threaten and intimidate people of color and others.14 In recent years, hate groups and political extremists have brought firearms to rallies,15 Islamic houses of worship,16 and campaign offices of political opponents intending to intimidate and harass people at these locations.17 Research suggests that the presence of a weapon also increases aggressive and violent behaviors, making violence more likely.18
Banning open carry entirely19 is in the best interests of public safety and also helps protect Americans from the fear that guns may be used to intimidate them, particularly when they are voting, conducting election activities, attending meetings of public boards or legislative hearings, visiting government buildings, worshiping, or assembling in demonstration or protest.
Prohibit all guns, including concealed carry, in specified areas 
People carrying concealed weapons in public present a substantial risk to public safety, especially in states with weak concealed carry laws.20 These public health and safety risks are exacerbated when guns are carried in places where emotions and tensions can flare, such as meetings of legislative and administrative bodies, places where elections are being conducted, and places that attract extremists, such as houses of worship and rallies or protests.
In addition to these material health and safety risks, the possible presence of any guns, whether carried openly or concealed, poses the danger that the exercise of First Amendment and other constitutional rights may be inhibited. People may avoid civic and public activities for fear of gun violence if guns are allowed at places like legislative hearings and protests. Americans, particularly racial, ethnic, religious, and gender minorities, may not volunteer to work the polls or attend a meeting of the city council if they fear that a gun could be turned on them. 
While prohibiting openly carried firearms at these locations serves to protect individuals from outward gun intimidation, prohibiting concealed carry at these particularly sensitive locations reassures the public that these spaces are free of guns entirely. 
In addition to their obvious importance for public health and safety and preventing armed intimidation, the Supreme Court recently reaffirmed in Bruen that laws prohibiting guns in sensitive places have a long-standing history and tradition in American law. Accordingly, such laws are presumptively constitutional under the Second Amendment.
Allow local governments to pass laws about where and when guns can be carried 
Fundamentally, gun violence is a local issue and impacts communities in different ways. Accordingly, local communities should have the power to prevent gun violence and the threat of it in the same ways they are otherwise empowered to protect the health and safety of their residents. Yet most American communities have had this power striped from them by state governments at the behest of the gun industry.
"Preemption" occurs when a higher level of government removes regulatory power from a lower level of government. For nearly all of our nation's history, local governments have had the authority to enact their own firearm regulations in the interest of protecting public safety. However, thanks to gun industry lobbying, most states have explicitly removed authority from local governments to regulate guns and ammunition.
Local communities are in the best position to understand the risk of gun violence in their communities, and the places where guns are likely to be used to intimidate or harass others. State governments should repeal their preemption statutes and return this freedom to localities. Colorado repealed its preemption law in 2021 and in response, several communities have begun enacting ordinances that, among other things, prohibit open carry and concealed carry at polling places and protests, in government buildings, and in other sensitive locations.
Make it a crime to intimidate or harass anyone involved in the administration of elections
To truly be free and fair, America's elections must be administered by competent individuals who execute their jobs faithfully, with integrity, and without partisan interference. When election workers are threatened or intimidated, it increases the risk that they might be coerced into engaging in illegal activity to protect their safety. More likely, such tactics will drive experienced workers out of the profession altogether. The harassment of election workers seriously imperils our ability to conduct safe and secure elections.
After Donald Trump lost the 2020 election, he and other individuals pushing election conspiracy lies began attacking Fulton County, Georgia, election workers Ruby Freeman and her daughter, Shaye Moss. Trump claimed Freeman and Moss engaged in election fraud and were responsible for his loss in Georgia to Joe Biden. Freeman and Moss, Black women, began receiving threats of violence, including lynching, and messages laced with racial slurs. Freeman was forced to flee her home. Moss's teenage son also received threats and began struggling academically. 
In early 2022, the Department of Justice Election Threats Task force, which convened in 2021 following a significant increase in threats against election workers, stated that it had documented over 1,000 reports of threats to election officials. One of those threats was sent to a Michigan official who voted to certify the election. The threat included a picture of the official's daughter along with the picture of a brutalized corpse and a note that read it would "be a shame if something happened to your daughter at school." The New Hampshire woman who sent the threat is currently being prosecuted for sending interstate threatening communications. From the 1,000 reports, only five individuals have been charged with crimes. A survey conducted by the Brennan Center for Justice found that one in three election workers felt unsafe and nearly one in five felt their lives could be in danger as a result of their work.
Under federal law, it is a crime to intimidate or threaten any person registering to vote or voting, or attempting to register or vote.21 It is not, however, a federal crime to engage in such acts towards people conducting elections or counting ballots. During the 117th Congress, legislators from Michigan and Georgia sponsored bills that would make it a crime to threaten or intimidate an election official. As of the date of publication of this report, however, neither bill has been brought up for a vote. As discussed above, bills proposing such measures have been enacted in three states since 2020 and introduced in several more.
Congress and the states must enact legislation to protect election workers from threats and acts of violence to safeguard the democratic process.
Post warning signs at polling places and other locations 
According to the Institute for Constitutional Advocacy and Protection, in addition to the federal crime of intimidating or threatening people attempting to vote or register to vote, "[e]very state also separately prohibits interference with voters and/or voter intimidation." Many states also have laws that prevent criminal intimidation generally. For example, Arizona makes it a crime to threaten physical injury against someone, or intimidate someone into fearing for their physical safety.22 In Georgia, it is a misdemeanor to intentionally and without legal justification point or aim a gun at another person, whether the gun is loaded or unloaded.23 Michigan prohibits a person from going armed with the intent to use a firearm against another.24
It is not uncommon for states to post signs indicating that certain behavior may be violating the law. For example, Wisconsin requires gun dealers to provide a warning to all gun purchasers stating "if you leave a loaded firearm within the reach or easy access of a child you may be fined or imprisoned or both if the child improperly discharges, possesses or exhibits the firearm."25
State and local governments should similarly require signs to be posted near areas where gun intimidation is likely to inhibit the exercise of constitutional rights explaining that certain behaviors with a gun near these areas is or may be a violation of the law.
This November, Americans will be voting under the shadow of the January 6 insurrection and three years of armed intimidation and harassment. The possibility that Americans will be subject to armed intimidation at the polls, scared into not participating in the election, or subject to violence is real and imminent.
We must use every tool at our disposal to prevent the use of guns to erode the freedoms and liberties America was founded on. If we fail to do so, we may witness the end of the American experiment.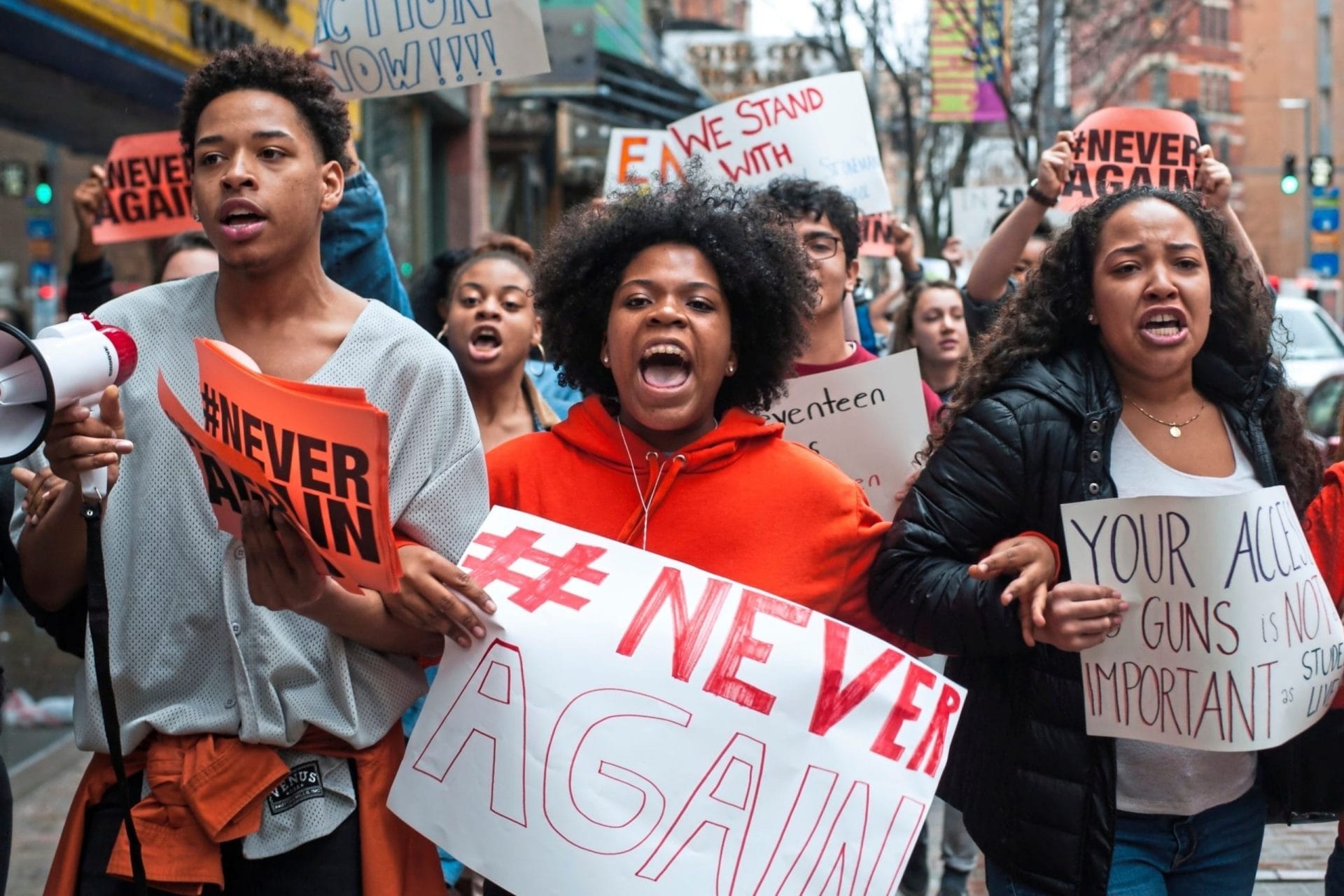 TAKE ACTION
Students, veterans, survivors: Americans from all walks of life across the country are standing up for commonsense gun reform. If you're fed up with politicians who care more about protecting gun lobby profits than your safety, stand with us in this fight. 
Join Us