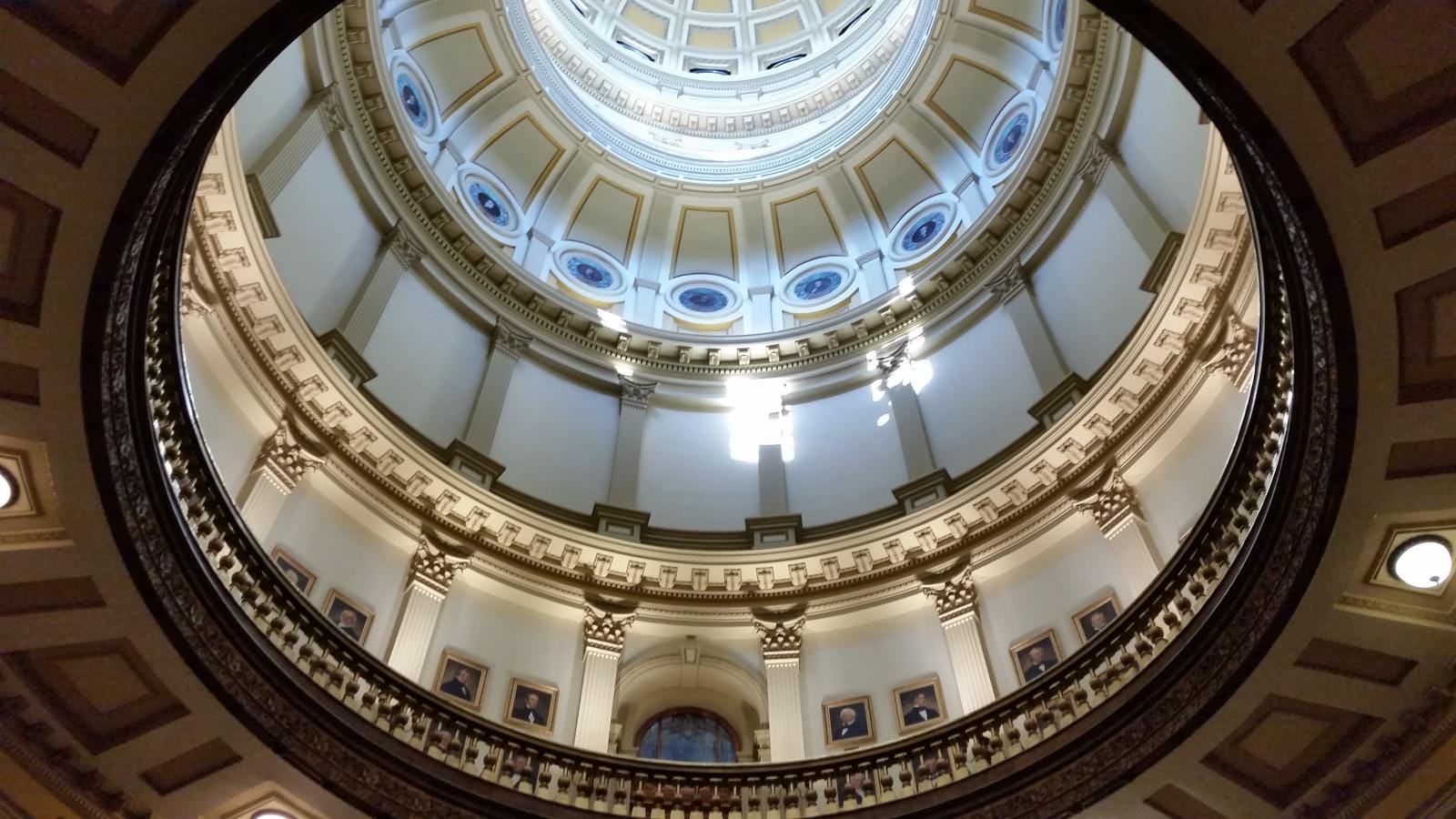 Giffords Law Center Gun Law Trendwatch: May 16, 2023
A Roundup and Analysis of the Latest State Firearm Legislation
Colorado Uses Its Voter Mandate on Gun Safety to Enact Strong Laws.
Every other week during the state legislative cycle, Gun Law Trendwatch breaks down trends in the gun violence prevention universe. We take an in-depth look at a topic of particular interest to legislators and advocates—this week it's the recent wave of Colorado gun safety efforts—and provide updates on significant gun safety and gun lobby bills as they move through state legislatures.
State of the States
Colorado Voters Want to See Gun Safety Progress, and in 2023, Legislators Have Not Let Up
The 2022 midterms made it clear that voters are sick and tired of inaction on gun violence prevention and they want change. Following that election, voters delivered mandates to legislatures in Michigan and Minnesota, states that have begun passing strong and effective gun safety policies.
The same thing happened in Colorado in 2018 following numerous devastating, high-profile mass shootings in the state. That year, Colorado voters flipped the state legislature demanding significant progress on gun reform—and a tidal wave of gun safety efforts followed.
In 2019, the state enacted an extreme risk protection order law that allows concerned loved ones to petition a court for an order that temporarily restricts a person's access to guns if they pose a credible threat to themselves or others.
In 2021, legislators passed a child access prevention law, strengthened efforts to remove guns from people who commit domestic abuse, prohibited some people convicted of violent misdemeanors from buying guns, and closed the "Charleston Loophole" by forbidding gun sellers from turning over a firearm to a purchaser until a background check has cleared. Legislators also returned to local governments the freedom to pass local gun safety laws—a freedom previously removed at the behest of the gun industry—and required gun owners to report the loss or theft of a firearm to local law enforcement. 
Following troubling incidents of armed intimidation across the country, in 2022, Colorado prohibited guns at polling locations and places where elections are being conducted or votes tabulated, as well as allocated funding to community violence prevention programs via an Office of Gun Violence Prevention that was created the prior year.
Colorado voters want to see more of these efforts—and in 2023, legislators have not let up.
So far this year, Colorado has enacted a three-day waiting period on gun purchases—a law associated with meaningful reductions in gun suicides and homicides. Colorado also became one of eight states since 2021 to enact a "Victims' Access to Justice" law that makes it easier for gun violence survivors to sue gun sellers who behave recklessly. The state also made it harder for people at high risk of suicide and homicide to purchase firearms by raising the minimum age to buy guns to 21.
In 2012, Colorado earned a D on Giffords Law Center's Annual Gun Law Scorecard. A decade later, it earned a B and, thanks to demands by voters, is only likely to continue improving its grade.
Once a state where the gun lobby thought it could intimidate legislators into doing its bidding, Colorado voters have shown the nation that they have the power to stand up to gun extremists and deliver the change they want to see.
JOIN THE FIGHT
Gun violence costs our nation 40,000 lives each year. We can't sit back as politicians fail to act tragedy after tragedy. Giffords Law Center brings the fight to save lives to communities, statehouses, and courts across the country—will you stand with us?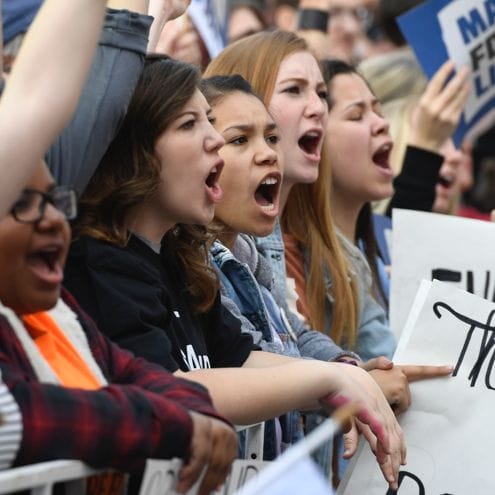 Gun Safety Spotlight
Assault Weapons Saved the Gun Industry but Are Destroying American Lives. States Are Fighting Back.
Once viewed skeptically by the gun industry and its consumers, a calculated change in assault weapon marketing after 9/11 to appeal to gun owners revived a stagnating gun industry. "[P]lay[ing] off the conflict-zone images of soldiers in tactical gear holding M16 and M4 carbine rifles" in Afghanistan was the best "accidental advertising campaign in history," according to the former head of the gun lobbying group, the National Shooting Sports Foundation.
Today, assault weapons have been used in nearly all of the highest-profile mass shootings in recent history. They enable a shooter to fire numerous high-velocity rounds quickly without losing control of the weapon. In 2012, the shooter at Sandy Hook Elementary used an assault weapon to fire 154 rounds in less than five minutes, killing 20 first graders and six educators. Because of their unique lethality, assault weapons are often the weapons of choice for mass shooters. Bullets fired from them can liquefy organs.
The data is also clear that banning assault weapons saves lives. The federal assault weapons ban that lapsed in 2005 was associated with a 70% reduction in mass shooting fatalities.
Currently, only 10 states and the District of Columbia have bans on some or all types of assault weapons. Although bans were enacted in several states in the 1990s and 2000s, no other states took action until Delaware passed its ban in 2022. In 2023, Washington and Illinois followed suit. A serious effort is moving through the legislature in Rhode Island.
As Americans continue to witness more carnage caused by these weapons of war, pressure for their extinction is likely to continue to mount.
Gun Lobby Extremism
The Allen, Texas, Shooter Was a Radicalized Far-Right Gun Extremist
All evidence indicates that the shooter in Allen, Texas, who slaughtered eight individuals—including a three-year-old and his parents, and 11 and eight–year-old sisters—was a radicalized far-right extremist. He engaged with white supremacist and neo-Nazi content online, and penned racist, antisemitic, and misogynistic screeds. He appears to have been inspired by stochastic terrorist accounts such as Libs of TikTok and far-right provocateurs including Tim Pool. Unfortunately, this is not the first time that hateful ideologies have motivated high-profile mass shootings.
Far-right political rhetoric and resulting violence is a growing threat in the US. In 2021, the FBI stated that racially and ethnically motivated extremists like the Allen, Texas shooter, as well as anti-government radicals, posed the greatest domestic terrorist threat going into 2022. There are no signs that such threats have abated, and all indications are that they are growing. 
States must respond swiftly to counteract this trend. Vermont has taken steps in this direction, joining 25 other states that prohibit firearms training for illegal anti-government paramilitary activity. But much more is needed. 
One important measure that can prevent armed hate is a prohibition on gun possession by people convicted of hate crimes. Currently, only 11 states generally restrict people convicted of violent hate crimes from accessing guns under state law, despite the fact that such convictions are excellent predictors of future violence. A "disarm hate" bill is currently moving in Nevada, but whether the state's new governor will sign this lifesaving policy is an open question. 
States must waste no time disarming violent far-right extremists lest even more Americans end up their victims.
MEDIA REQUESTS
Our experts can speak to the full spectrum of gun violence prevention issues. Have a question? Email us at media@giffords.org.
Contact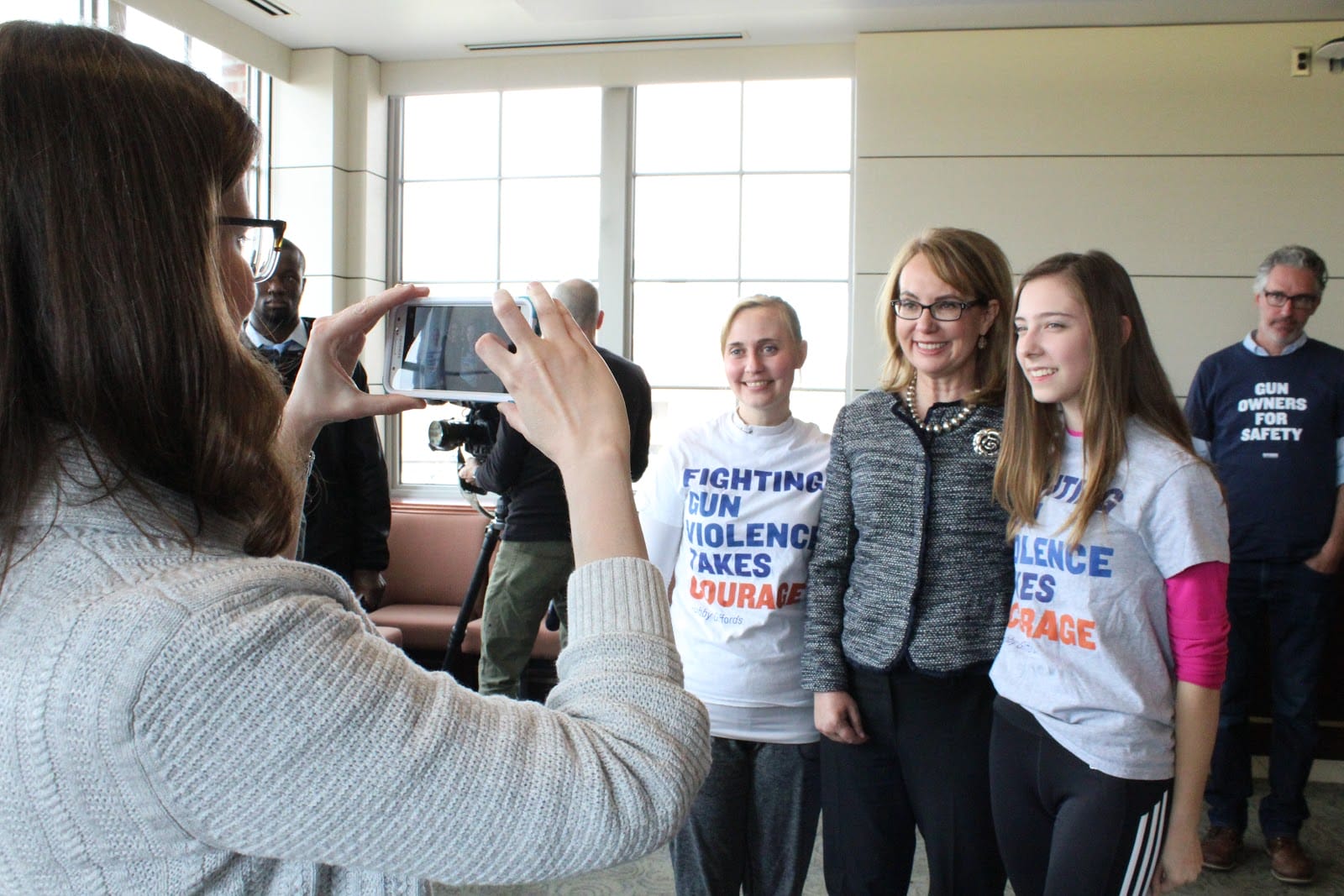 Bills in Motion
Lawmakers intent on protecting their constituents from gun violence began 2023 with the introduction of hundreds of gun violence prevention bills. Notably, bills to strengthen background check requirements, fund proven community violence intervention programs, improve domestic violence prohibitions, and regulate or prohibit ghost guns have been introduced in at least 28 states and the District of Columbia. Gun extremists nevertheless continue to push their dangerous agenda of more guns to address gun violence and have introduced several bills to bring guns in schools, allow permitless carry, allow people to shoot first and ask questions later, and make law enforcement officers liable for enforcing federal gun laws in over a dozen states. For nearly 30 years, we have helped states make our communities safer with evidence-based policies and by fighting the gun lobby. In 2023, we are stronger than ever.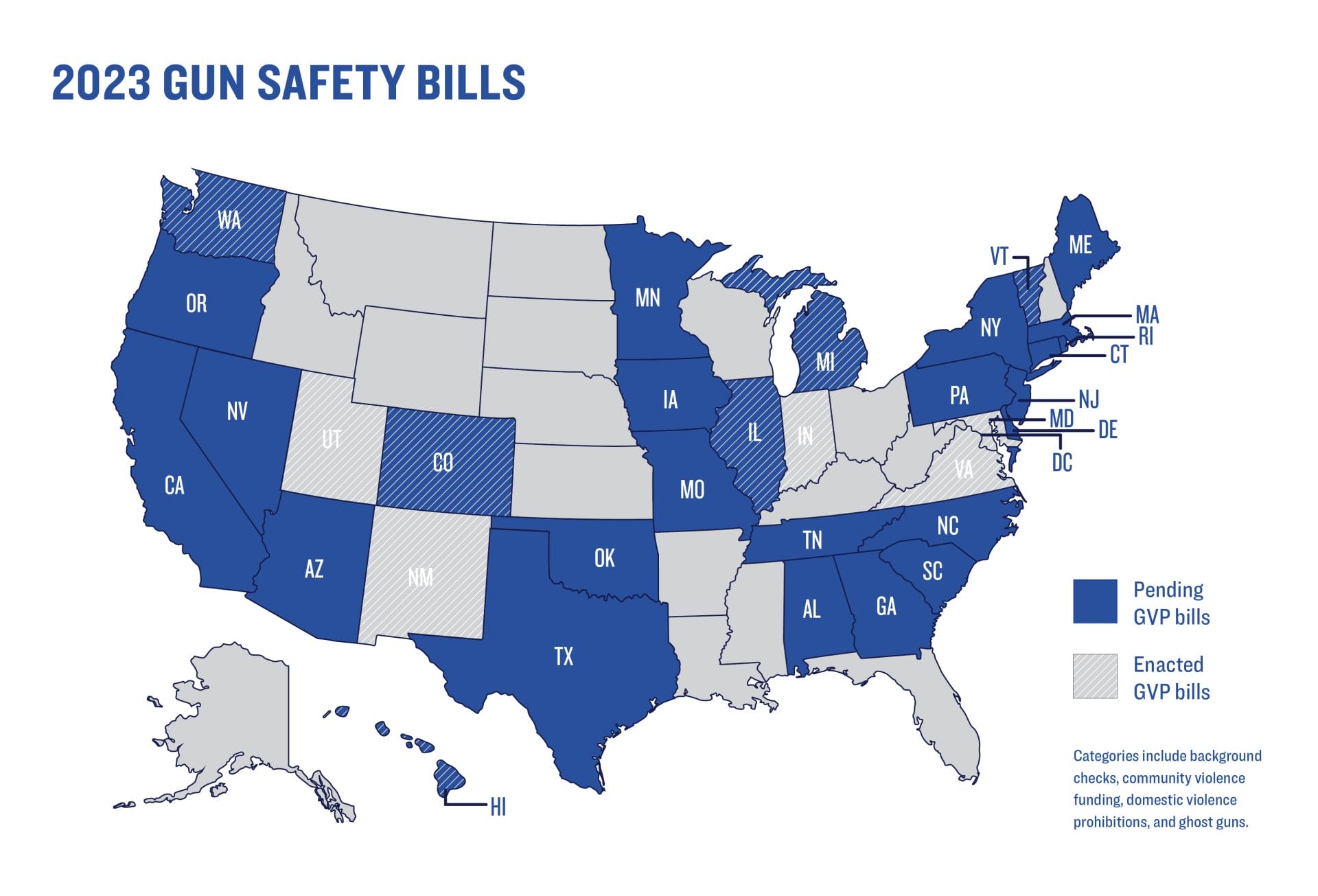 Gun Safety Bills
BACKGROUND CHECKS: Washington HB 1143 was enacted on 4/25. Minnesota SB 2909 has been sent to the governor. California AB 1406 and AB 1598 have each passed a committee. Delaware SB 2 has passed its chamber of origin. Nevada SB 367, Pennsylvania HB 714, and Texas HB 220 have passed committees. At least 21 states have bills pending that would enact universal background checks or strengthen existing background check laws.
COMMUNITY VIOLENCE: District of Columbia B 75 (2021) was enacted on 4/6, Maryland HB 200 was enacted on 4/24, and Colorado SB 241 was enacted on 4/27. California AB 912 was scheduled to be heard on 5/10. AB 762 was scheduled for a hearing on 5/12 and has passed a committee. Colorado SB 2 has been sent to the governor. Connecticut HB 6659 and Massachusetts HB 3900 have passed committees. Minnesota SB 2995 is in a conference committee. New Jersey AB 4978 has passed its chamber of origin. New York AB 3000 has passed a committee, AB 3003 has been sent to the governor, and SB 2364 has passed its chamber of origin. At least 13 states and the District of Columbia have bills pending that allocate, protect, or administer funding for evidence-based violence prevention programs.
DOMESTIC VIOLENCE: District of Columbia B 760 (2021)was enacted on 4/21. California AB 36 was scheduled to be heard on 5/10 and has passed a committee, and AB 818 has also passed a committee. Connecticut HB 6667 has passed committees. Texas HB 544 has passed its house of origin. Vermont SB 4 is in concurrence. Washington HB 1562 and SB 5231 have been sent to the governor. At least 15 states and the District of Columbia have bills pending that would improve efforts to keep guns out of the hands of people who commit domestic abuse.
GHOST GUNS: District of Columbia B 760 (2021) was enacted on 4/21. California AB 1089 has passed a committee and had a hearing on 5/10. Colorado SB 279 has been sent to the governor. Connecticut HB 6667 has passed a committee. At least 15 states and the District of Columbia have bills pending that regulate ghost guns or improve the effectiveness of their ghost gun policies.
Gun Lobby Bills
GUNS IN SCHOOLS: Missouri HB 70 has passed its chamber of origin and HB 571 has passed a committee. Tennessee HB 1202 has passed a committee. Texas HB 13 has passed its chamber of origin. Dangerous bills to allow or expand the ability to carry guns in school or on campus are pending in at least 17 states.
PERMITLESS CARRY: North Carolina HB 189 has passed a committee. South Carolina HB 3594 has passed its chamber of origin. There are reckless permitless carry bills pending in at least eight states.
STAND YOUR GROUND: Bills that make it easy to use deadly force in public and evade justice are pending in at least nine states.
LIABILITY FOR ENFORCING GUN LAWS: Bills that would make law enforcement officers or other state and local government officials personally liable, or otherwise impose onerous penalties on law enforcement agencies or localities, for enforcing federal gun laws are pending in at least nine states.
HERE TO HELP
Interested in partnering with us to draft, enact, or implement lifesaving gun safety legislation in your community? Our attorneys provide free assistance to lawmakers, public officials, and advocates working toward solutions to the gun violence crisis.
CONTACT US