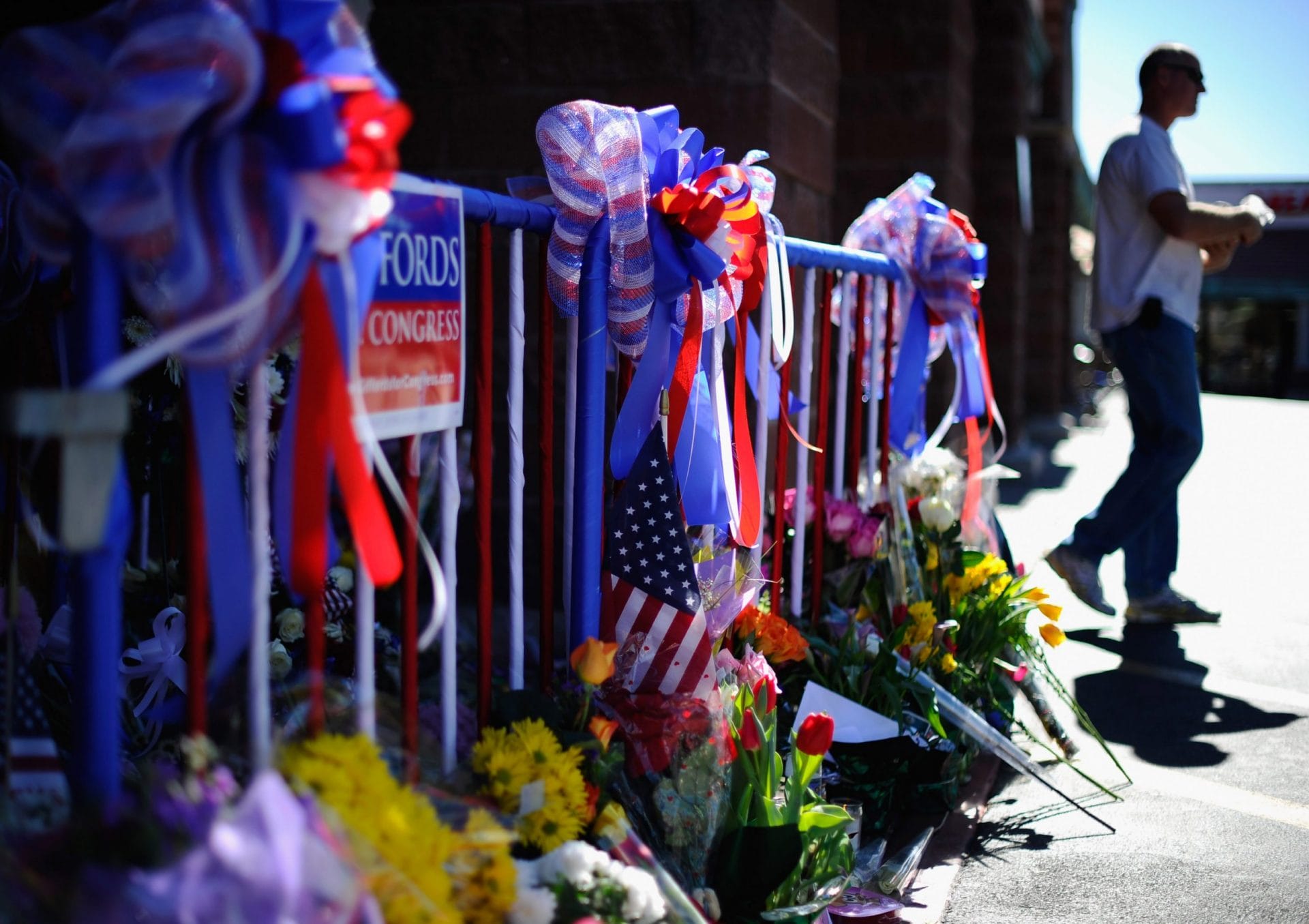 Founded in the wake of tragedy, Giffords has turned outrage into action, researching and enacting lifesaving solutions to gun violence. 
On January 8, 2011, Congresswoman Gabrielle Giffords was shot while meeting with constituents in her hometown of Tucson, Arizona. The shooter killed six people and wounded 13 others, including Gabby. Despite her life-threatening injuries, Gabby embarked on a courageous rehabilitation journey, inspiring the nation.
Nearly 20 years earlier, on July 1, 1993, a gunman went on a murderous rampage at the San Francisco law firm Pettit & Martin. Eight people were killed and six were wounded in a tragedy that shook the Bay Area legal community to its core.
Mass shootings are all too common in the United States. And the gun violence crisis—one that isn't found in other industrialized nations—doesn't end there: firearm suicide, community violence, and domestic violence tear apart the very fabric of American life.
Sometimes, out of tragedy comes action. This is the story of Giffords.
Lawyers Unite for Gun Safety
In the wake of the 101 California Street massacre, a group of local attorneys formed Legal Community Against Violence (LCAV). For years, LCAV pushed for the passage of safer gun laws in California, eventually helping cut the state's gun death rate in half. LCAV, by then called the Law Center to Prevent Gun Violence, began to expand its work beyond California, responding to the full extent of the nation's gun violence crisis and the public's demand for change.
High-profile mass shootings often draw the country's attention to this everyday crisis. One of the nation's deadliest mass shootings, the 2012 massacre of 20 children and six adults at Sandy Hook Elementary, led former Congresswoman Giffords to step back into the fray.
GABBY Giffords Joins the Fight
Following the Sandy Hook shooting, Gabby and her husband, Navy combat veteran and retired NASA astronaut Captain Mark Kelly, announced the formation of an organization to fight the gun violence epidemic. Originally named Americans for Responsible Solutions (ARS), the organization quickly became a leader in the growing movement to save lives from gun violence. ARS worked tirelessly to advocate for commonsense gun safety laws at the local, state, and federal levels. Its influence grew rapidly as it helped educate officials and elect candidates who champion gun safety, shifting the playing field away from the gun lobby and further weakening its previously unchecked influence. 
In 2016, Americans for Responsible Solutions joined forces with the Law Center to Prevent Gun Violence to expand its mission and increase its impact. The organization today known as Giffords pairs the unmatched legal acumen of the country's foremost experts on gun laws with the political know-how of a dedicated issue advocacy group, creating an unstoppable force for change.
Today, our multifaceted approach to change is winning hearts, minds, and votes. We have the courage and commitment needed to bring Americans together and build a future free from gun violence. Join our movement for gun safety.

Everything we do at Giffords is in honor of the victims and survivors of the two shootings that led to our founding, along with every other victim and survivor of gun violence in America.
101 California St. Victims & Survivors
Allen J. Berk (deceased)
Jack Berman (deceased)
Deborah Fogel (deceased)
Donald Merrill (deceased)
Shirley Mooser (deceased)
John Scully (deceased)
Jody Jones Sposato (deceased)
David Sutcliffe (deceased)
Brian F. Berger (injured)
Deanna Eaves (injured)
Sharon Jones O'Roke (injured)
Charles Ross (injured)
Michelle Scully (injured)
Victoria Smith (injured)
Tucson Safeway Victims & Survivors
Christina-Taylor Green (deceased)
Dorothy Morris (deceased)
John Roll (deceased)
Phyllis Schneck (deceased)
Dorwan Stoddard (deceased)
Gabriel Zimmerman (deceased)
Bill Badger (injured)
Ronald Barber (injured)
Kenneth Dorushka (injured)
James Fuller (injured)
Randy Gardner (injured)
Gabrielle Giffords (injured)
Susan Hileman (injured)
George Morris (injured)
Mary Reed (injured)
Pamela Simon (injured) 
Mavanell Stoddard (injured) 
James Tucker (injured)
Kenneth Veeder (injured)