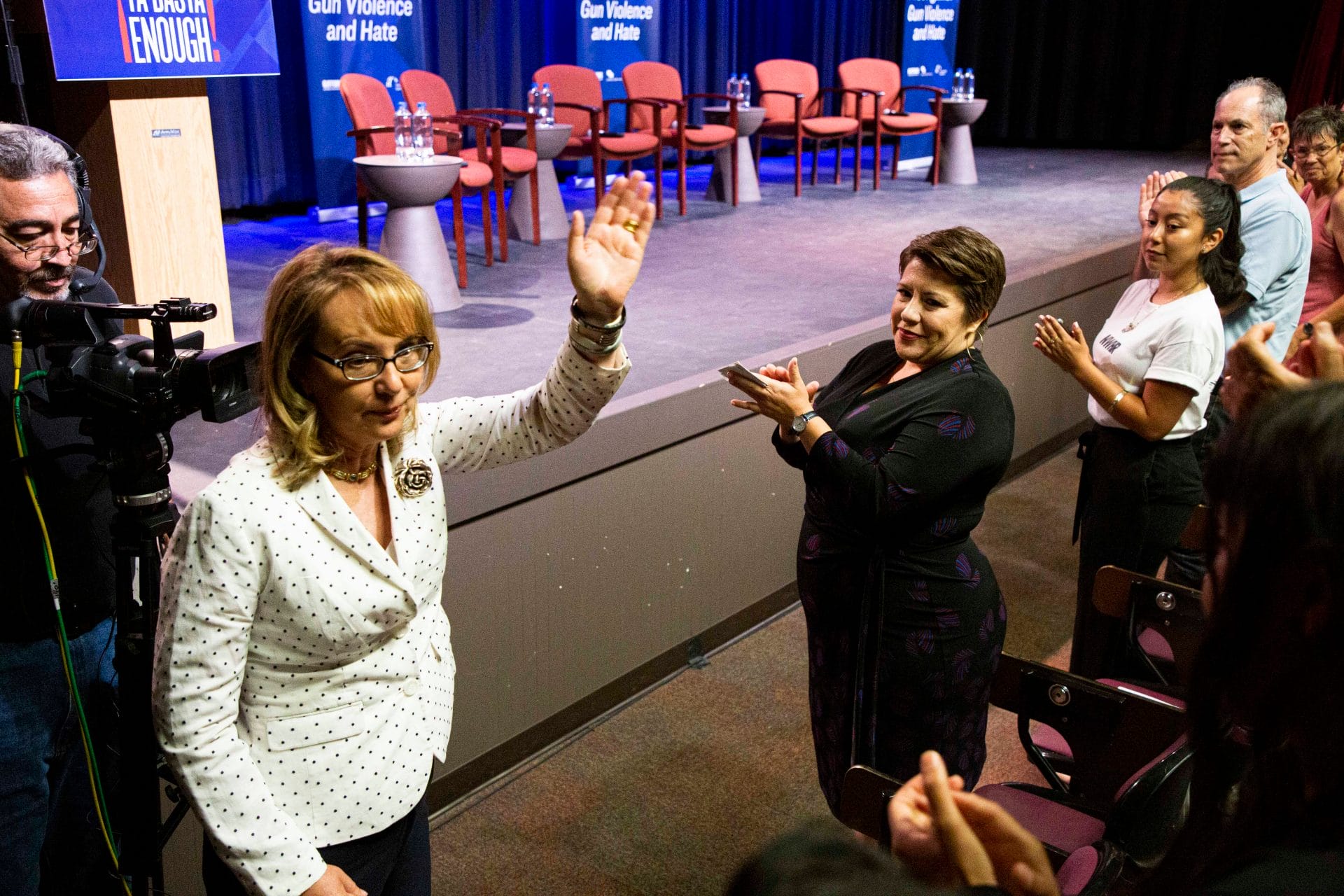 In El Paso, Latinos and Allies Rise Up to Stand Against Hate
We're refusing to let hatred have the final word.
In response to the horrific mass shooting earlier this month that claimed 22 lives in El Paso, Giffords and the Latino Victory project teamed up to host ¡YA BASTA! Latinos Rise Against Gun Violence and Hate — a tour with stops in El Paso, Dallas, Houston, and San Antonio.
The tour kicked off on Thursday night in El Paso, where former Congresswoman Gabby Giffords joined Congresswoman Veronica Escobar and Texas State Representative César J. Blanco, as well as Mayra Macías, executive director of Latino Victory Project; Vanessa Gonzalez, executive vice president of The Leadership Conference on Civil and Human Rights; and Edna Chavez, a youth activist and freshman college student.
The goal of the ¡YA BASTA! tour is to raise awareness within the Latino community about the growing threats of gun violence and white supremacist-based anti-Latino sentiment. On Thursday night, El Paso residents turned out in full force to show their support for gun safety laws and stand up to hate-fueled violence (live stream of the full event courtesy of Telemundo).
During the El Paso town hall, a shooting near El Paso High School left one man injured, underscoring the urgent need for strong gun safety laws in the state of Texas.
Earlier this week, Giffords Law Center released a report highlighting the rise of hate-fueled violence across the country, exploring the devastating impact that gun violence has on the people of Texas, and outlining policy recommendations for curbing this epidemic.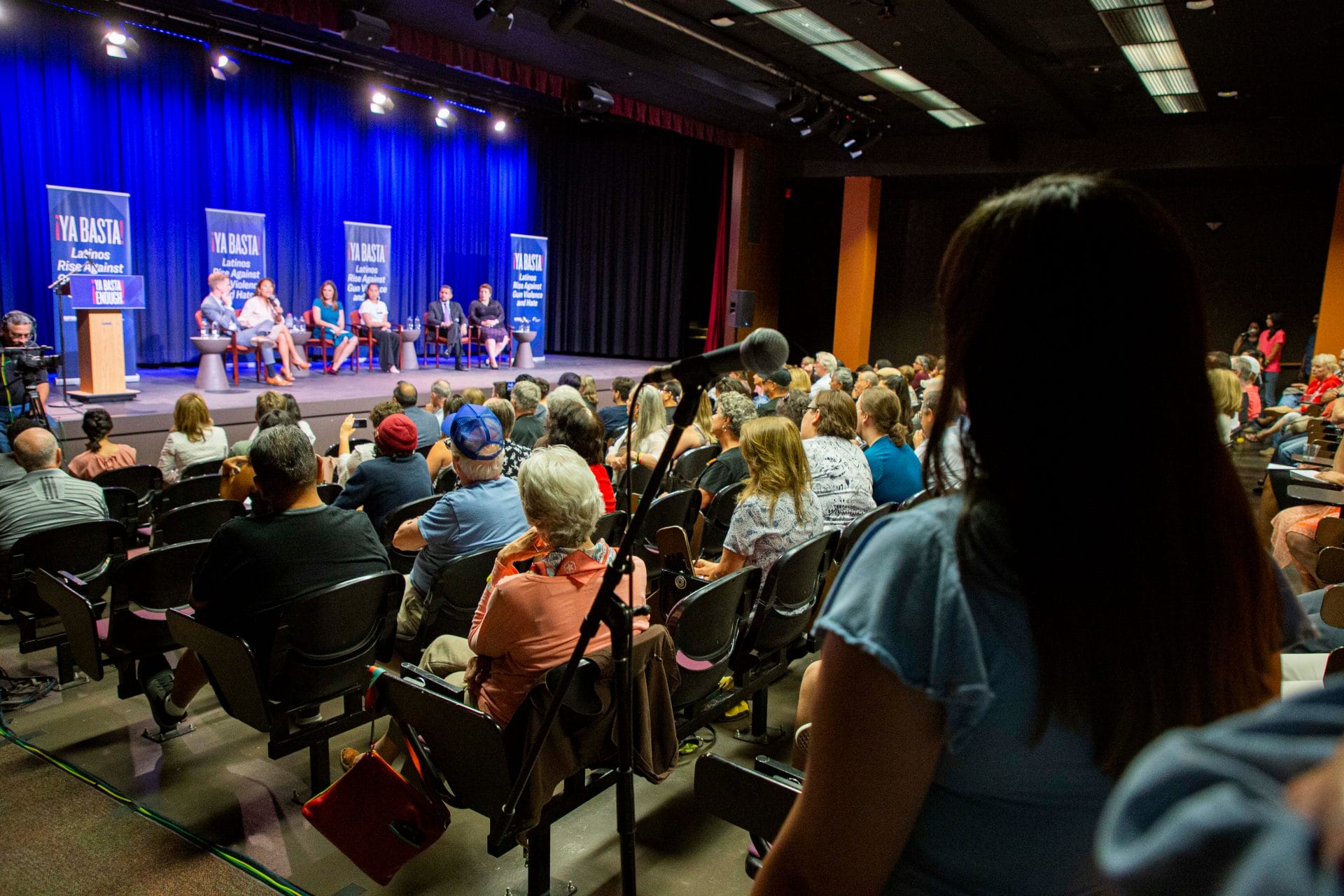 Combatting Hate-Fueled Violence
Hate-fueled violence is on the rise, threatening peace and security in Texas and around the country. Bigoted ideologies run rampant through dark corners of the internet, breeding hate and inciting violence. The mass shooting in El Paso—the deadliest targeted attack against Latinos in recent American history—is a tragic reminder of the deadly consequences when this hate is armed.
Violent extremists and hate groups often use firearms as tools of violence and intimidation. Disturbing events like those that played out on the streets of Charlottesville in 2017 have occurred alongside deadly firearm attacks and plots across the nation. These are just some of the most visible examples of a large and growing threat, as hate-fueled violence is on the rise nationwide and throughout the world.
In too many cases, the presence of a firearm turns bigoted threats into deadly assaults.
Texas's Gun Laws Endanger Families
More than 3,000 lives are lost to gun violence every year in Texas—that's one death every three hours. We know what laws and policies will solve the gun violence crisis. We just need legislators with the courage to enact them.
Every year, Giffords Law Center's policy experts compare, grade, and rank the strength of each state's gun safety laws in our Annual Gun Law Scorecard . As the Scorecard consistently shows, states with evidence-based gun laws have far lower rates of gun death and injury. In our latest report, Texas's gun laws ranked worse than 33 other states—two-thirds of the nation—and earned the state a failing grade.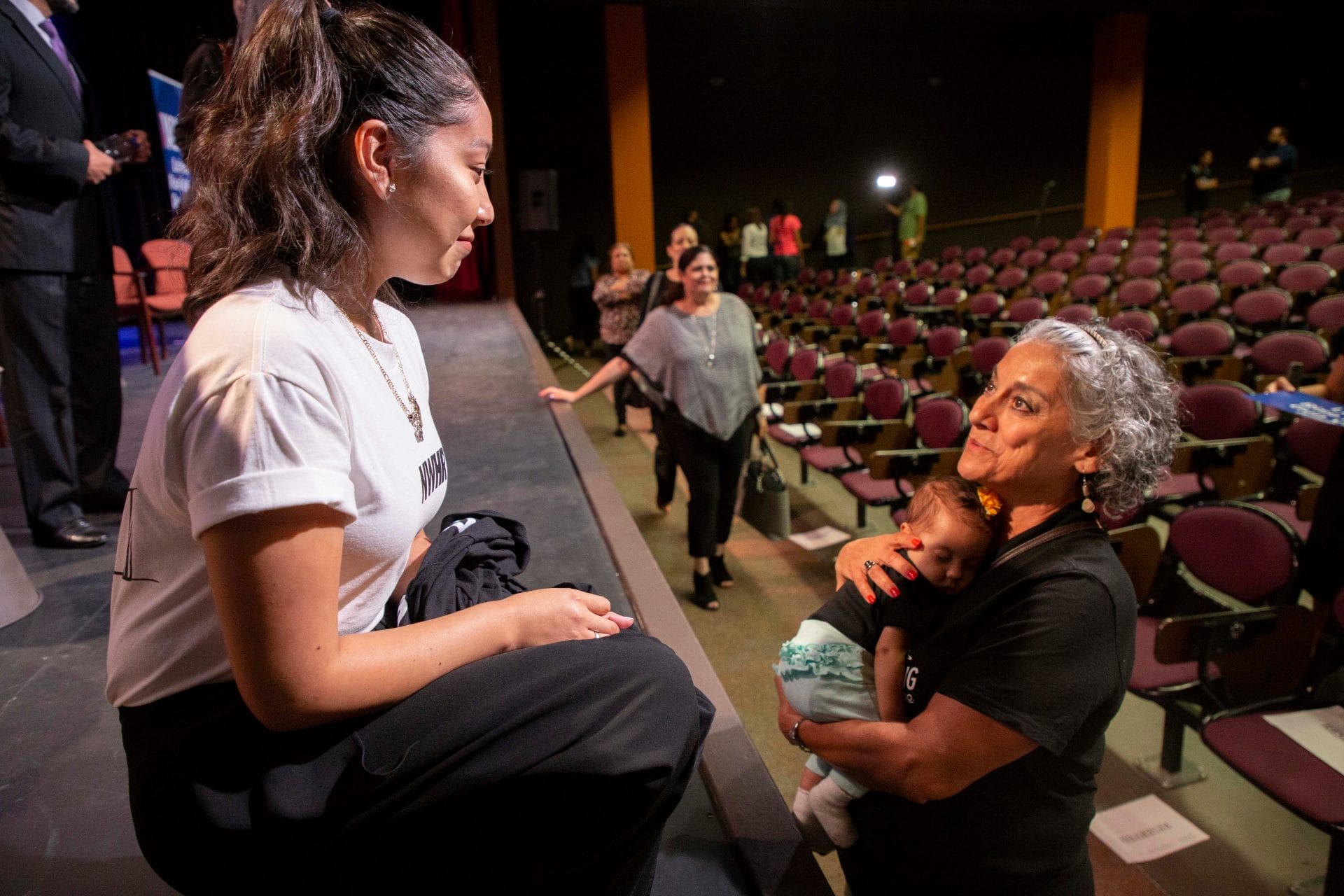 And this crisis is only getting worse—Texas has experienced a sharp increase in murder and violence in recent years, an increase that is due almost exclusively to fatal gunshots.
Building a Safer Future in Texas
The Second Amendment is not under threat, but Americans are—and Texans more than most. While gun laws can't stop every tragedy, Texas's existing laws are barely trying to stop any.
Our policy recommendations for Texas include the following:
Passing universal background checks
Enacting extreme risk protection orders
Disarming violent domestic abusers, hate crime offenders, and others convicted of violent crimes
Strengthening protections against military-style weapons
Limiting young people's unsupervised access to firearms
Giving law enforcement tools to curb the flow of illegal guns on the black market
Investing in lifesaving violence intervention programs to break the cycle of violence
Allowing local governments to enact gun laws fitting the needs of their communities
By following the evidence and the data, we can craft lifesaving, responsible gun safety reform for Texas's families. We hope you'll stand with us in this fight.
Learn more: