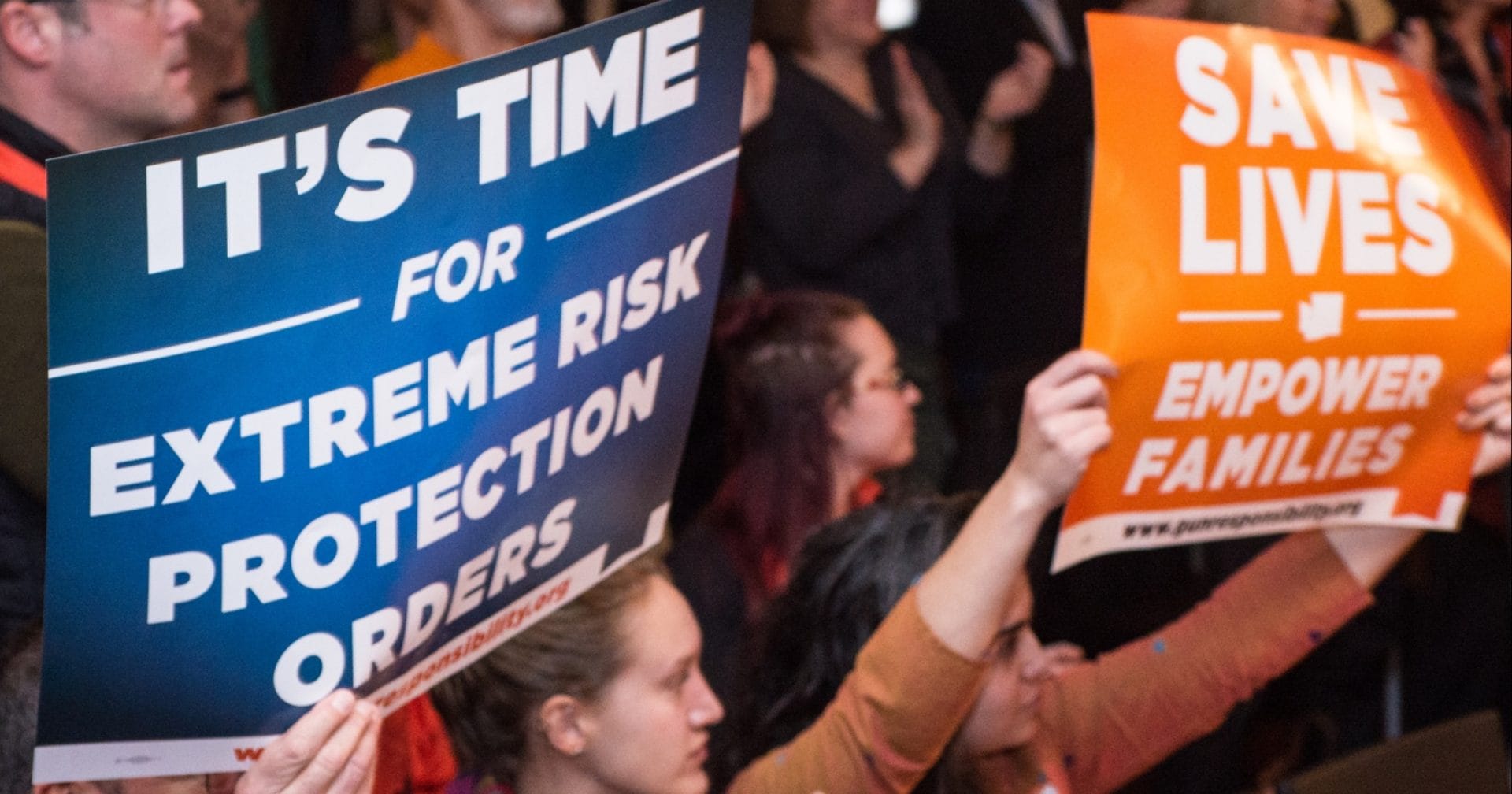 Extreme Risk Protection Orders Work
Extreme risk protection orders are a lifesaving tool that can prevent gun tragedies before they occur.
From mass shootings to suicides, people who use guns to harm themselves or others often show warning signs.
Extreme risk protection order (ERPO) laws—also called "red flag laws," gun violence restraining orders, or lethal violence protection orders—are a legal tool to respond to those warning signs and intervene. They give law enforcement, family members, and in some cases, certain health professionals, the ability to petition the courts to temporarily disarm a person in crisis. This can create a critical cooling off period, enabling someone to receive treatment or for law enforcement to investigate.
[It's Time to Retire the Term "Red Flag Laws"]
Research shows the overwhelming majority of people with mental illness are never violent towards others, and that mental illness is not a predictor of violence. Extreme risk orders are based on signs of dangerous behaviors—not a mental health diagnosis.
Extreme risk laws are working.
As of August 2019, 17 states and the District of Columbia have passed extreme risk laws, including Colorado, Hawaii, and Nevada during this year's legislative cycle. And more importantly, they're working. ERPO laws have been proven to save lives— studies in Connecticut and Indiana show they are effective at reducing gun suicides, which account for two-thirds of our nation's gun deaths. Just last week, new research on California's extreme risk law documented 21 cases in which the law may have helped to prevent potential mass shootings. And in Maryland, the sheriff of the state's largest county has said "there's no doubt that this law has saved lives."
[Extreme Risk Laws Are Saving Lives]
ERPO laws are being used to temporarily disarm individuals who have made significant and credible threats of violence, including:
ERPO laws are gaining traction in the states, but we need to do more to make sure they're being properly implemented. We also need to create a complementary federal ERPO process that can be used to fill the critical gap in states that do not have such laws.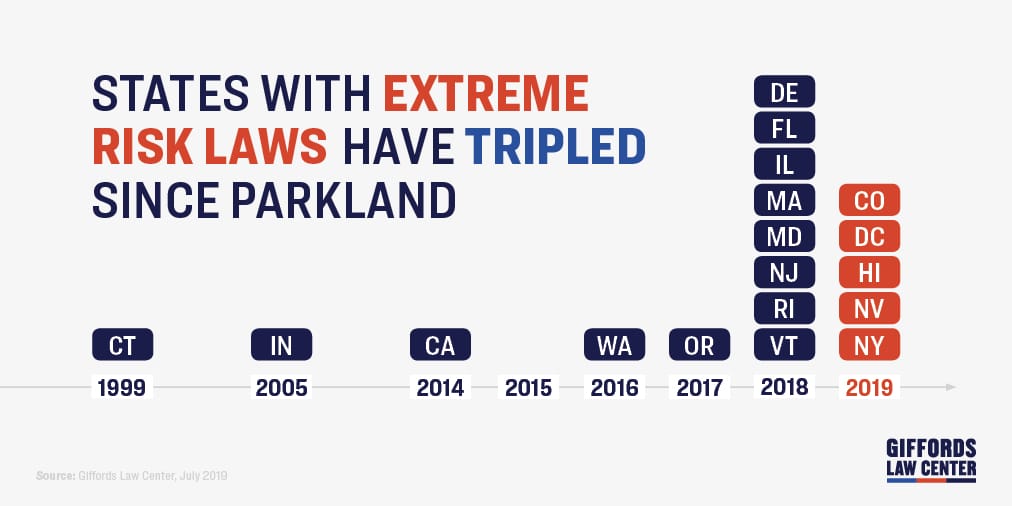 Extreme risk laws have bipartisan support.
ERPO laws have enjoyed widespread bipartisan support at the state level. Five of the eight ERPO laws enacted in 2018 were signed by Republican governors. The previous year, a Republican state senator in Oregon played a critical role in passing the state's ERPO law after his stepson died by suicide.
At the federal level, Congressman Salud Carbajal introduced the Extreme Risk Protection Order Act, which would provide grants to states to implement extreme risk laws, and has been cosponsored by nearly 170 Democrats and Republicans. Congresswoman Lucy McBath introduced the Federal Extreme Risk Protection Order Act, which would allow federal courts to issue extreme risk protection orders and is modeled on legislation introduced by Senators Lindsay Graham and Richard Blumenthal in the previous Congress. Senator Graham also held a hearing in the Senate Judiciary Committee earlier this year to highlight the success of state extreme risk laws. At that hearing, senators from both parties expressed interest in providing grants to states to help them implement extreme risk laws.
An overwhelming majority of the American public supports extreme risk laws. A poll conducted in October 2018 found that 89% of the public supports laws that let family members or law enforcement ask a court to temporarily suspend a person's access to guns when there are clear warning signs they pose a danger to themselves or others.
Editorial boards and nonprofit organizations are speaking out in support of extreme risk laws too.
Extreme risk laws are just common sense. But they're also a relatively new idea. That's why it's important that so many editorial boards across the country are educating their readers—who, like all of us, are tired of the seemingly endless string of mass shootings—on the benefits of these laws. We're also seeing widespread support for extreme risk laws from organizations representing Americans from all walks of life.
Here are some of the editorial boards and organizations that have voiced their support:
Editorial Boards
Social Justice and Civic Engagement Organizations
Law Enforcement Organizations
Medical, Public Health, & Mental Health Organizations
Education Organizations
Gun Violence Prevention Organizations
Our experts have even more information.
If you're looking to read further on extreme risk laws and their lifesaving impact, here are additional resources from our team of experts: