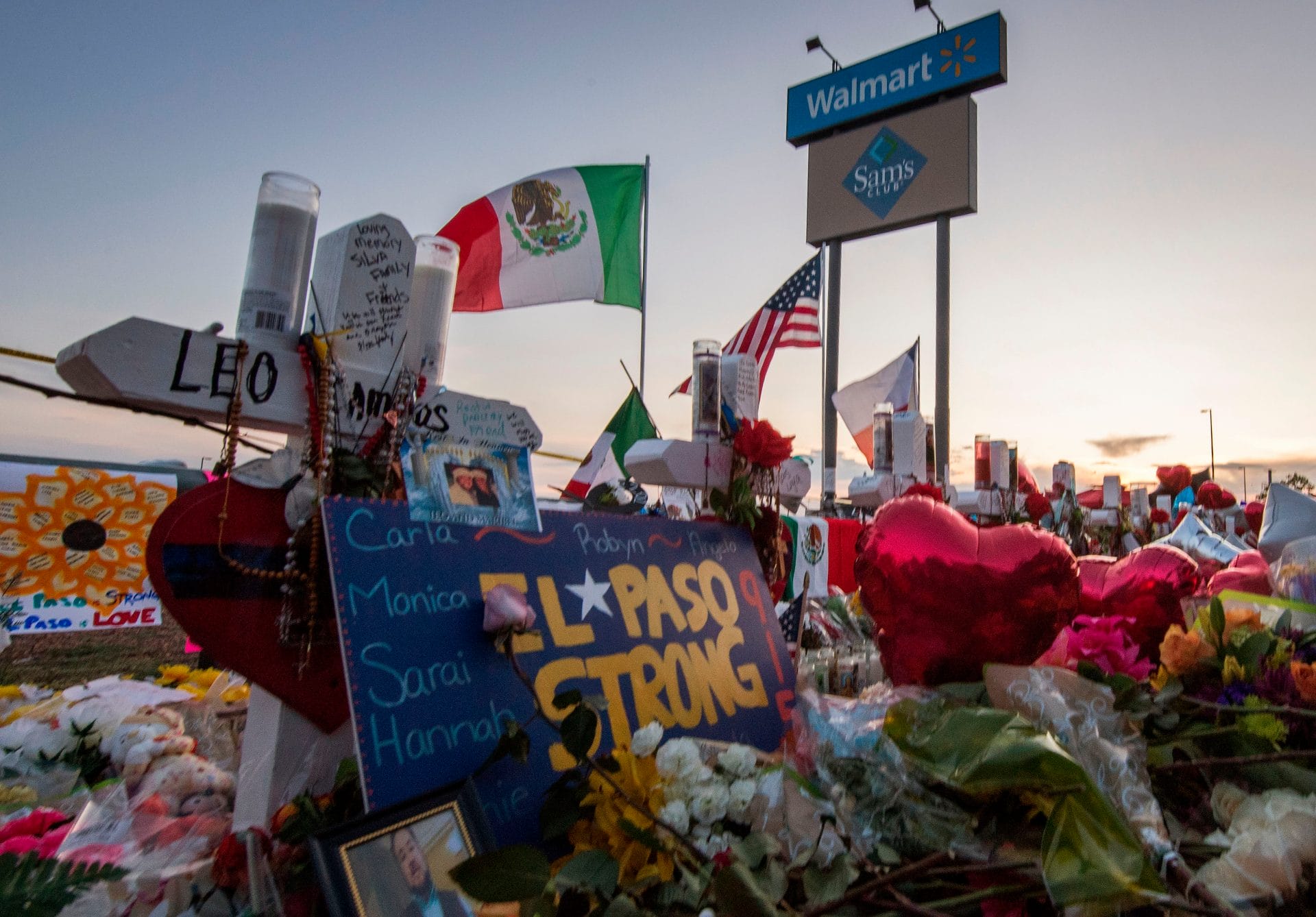 The Enemy Within: Why Domestic Terrorism Poses a Greater Threat than Foreign Terrorism
As an ATF agent of 25 years, I swore an oath to defend this country against enemies foreign and domestic.
These days, it seems like the domestic enemies outnumber the foreign ones. In a statement before the House Homeland Security Committee last month, FBI Director Christopher Wray explained that domestic terrorists have been responsible for more American deaths than international terrorists in recent years.
"The recent attacks in Texas and California underscore the continued threat posed by domestic violent extremists and perpetrators of hate crimes," Wray said.
Americans are much, much more likely to lose their lives to gun violence, which kills 36,000 people in the United States each year, than foreign terrorism. Despite the outsized fear of foreign terrorism in our post-9/11 world, you're twice as likely to be shot and killed by a toddler than you are to be murdered by a terrorist. And despite the rhetoric we often hear from President Trump, Muslim Americans are more likely to be victims of terrorism than perpetrators.
Director Wray's statement highlights a dangerous trend—one that requires immediate action. In attacks like the bombing in Oklahoma City and the mass shooting at a concert in Las Vegas, shooters targeted their neighbors for slaughter. As this administration continues to focus its rhetoric and resources on enemies abroad, we must recognize that more frequently, the enemy is one of us.
Too often, domestic terrorism takes the form of hate crimes, and more likely than not, the suspects will use a gun. A recent FBI report found that 65% of lone-wolf domestic terror attacks between 1972 and 2015 were committed with legally purchased firearms. This is what we saw in the heinous shooting in El Paso in August, in which a white nationalist shooter drove 10 hours to massacre members of the Latinx community.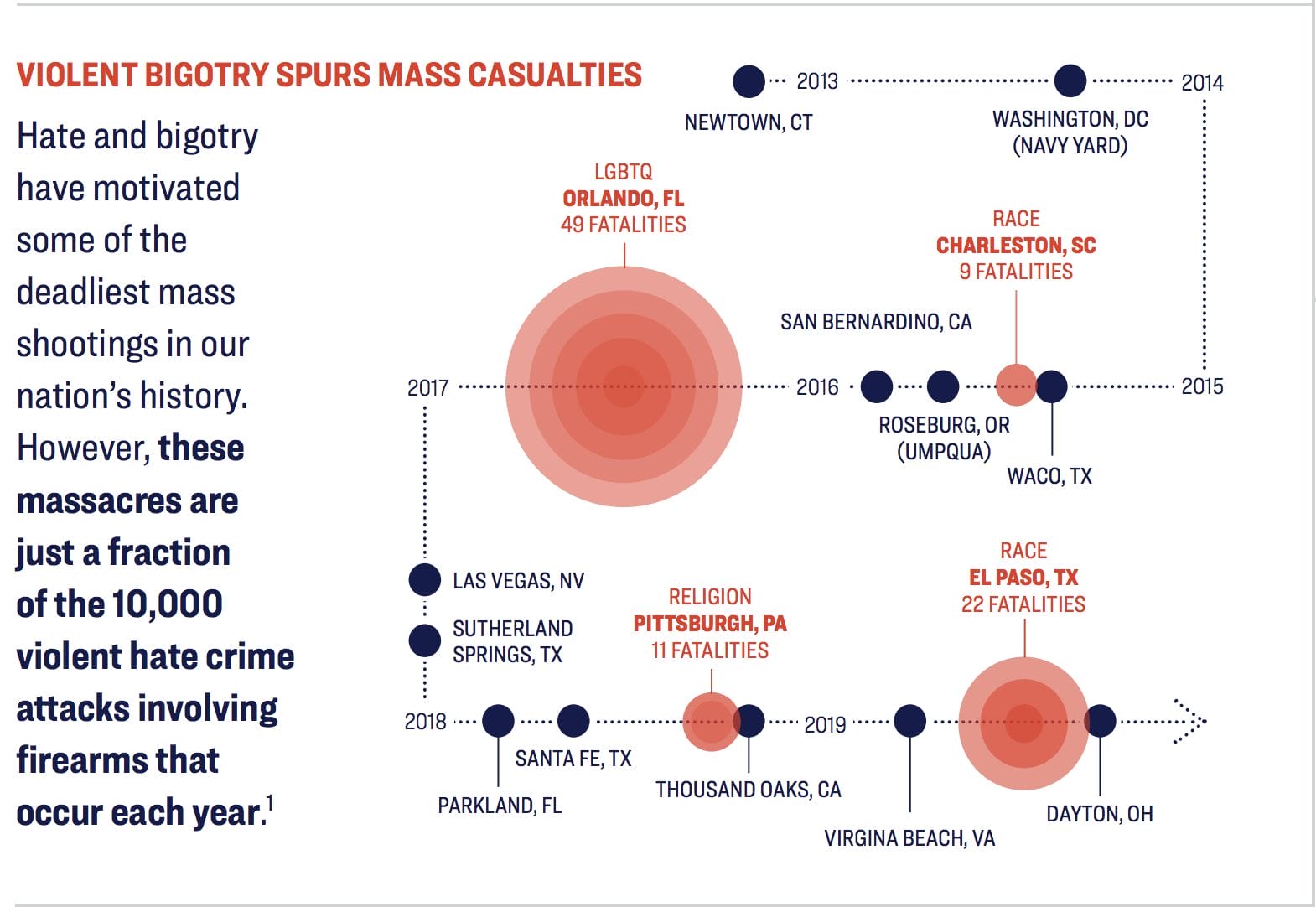 We make it far too easy for hateful people to acquire weaponry they can use to hurt others. Investing more resources in ATF would help keep guns out of the hands of domestic terrorists. Its agents need further support to face the threats we face. ATF's annual budget is only $1.2 billion, while the last aircraft carrier purchased for the Navy cost $13 billion. We have only 2,600 ATF agents to defend this nation against gun violence but 28,500 troops in South Korea alone.
[ Related: In El Paso, Latinos and Allies Rise Up to Stand Against Hate ]
A recent NPR story about white supremacist Frazier Glenn Miller, who shot and killed three people in 2014 during an anti-Semitic rampage, explored how and why the FBI de-prioritized home-grown white supremacist groups in recent decades. After an embarrassing series of acquittals at sedition trials for avowed white supremacists in the 1980s, the government enacted a policy dictating that it would "no longer pursue acts of white power violence as part of a movement," according to University of Chicago historian Kathleen Belew.
In 2009, Homeland Security Secretary Janet Napolitano issued a report raising the alarm about right-wing extremism and was immediately attacked for speaking an inconvenient truth. The report issued by Department of Homeland Security (DHS) under Napolitano claimed, "The possible passage of new restrictions on firearms and the return of military veterans facing significant challenges reintegrating into their communities could lead to the potential emergence of terrorist groups or lone wolf extremists capable of carrying out violent attacks."
Napolitano and DHS were right to raise this alarm. It often seems like we are suffering through a never-ending series of tragedies. Some perpetrators had service backgrounds—from the Navy Yard shooter, to the gunman who killed five Dallas police officers, to the Thousand Oaks and Sutherland Springs mass shooters. Others were self-radicalized lone wolves driven by hate-filled ideologies: the Mother Emanuel AME Church shooter, the Tree of Life Synagogue shooter, the El Paso shooter. Others were foreign terrorist sympathizers, like the San Bernardino mass shooters and the Pulse mass shooter.
While the FBI claims to have stepped up its efforts to combat domestic terrorism attacks in recent years and months, evidence suggests that these efforts are falling short. The FBI's most recent hate crimes report indicates that while hate crimes dipped slightly in 2018, violent hate crimes reached a 16-year high. And both the Latinx and transgender communities have experienced increases in hate crimes in recent months.
[ Related: Hate-Fueled Violence Is on the Rise ]
Ten years after Napolitano's report, we have a chance once again to listen to our law enforcement leaders. The enemy within is not our only threat, but by every measure it will be an equal or greater threat to our public safety in the decade to come than enemies based outside of our borders. We must not ignore the warning signs yet again.