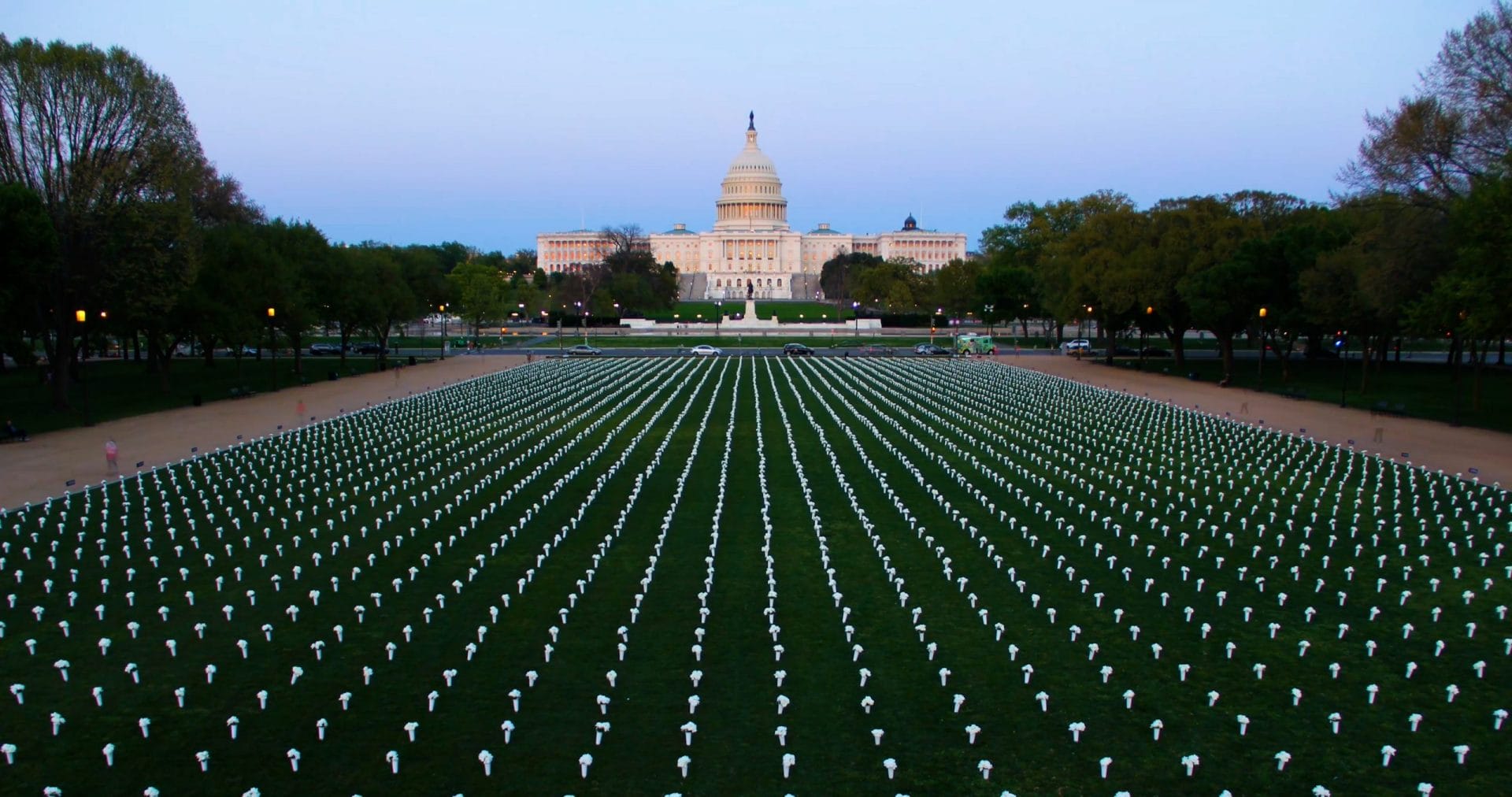 Why We Installed a Gun Violence Memorial on the National Mall
The 40,000 flowers in the memorial represent the number of Americans who die from gun violence each year.
Nearly 40,000 Americans die from gun violence each year.
That's 100 people every day whose hopes and dreams are stolen, their lives cut short by a bullet. While mass shootings like the recent tragedies in Atlanta and Boulder capture the lion's share of media and public attention, the vast majority of these preventable deaths don't generate the national calls for action they should.
We wanted to change that. So we partnered with Doug Landry, the visual artist who created the COVID-19 flag memorial on the National Mall, to visualize the scale and scope of this crisis through a floral installation in front of the United States Capitol. Our Gun Violence Memorial served as a tribute to the many lives that have been lost to gun violence, a testament to the strength and courage of survivors, and a plea to our elected officials to pass universal background checks and other lifesaving gun safety legislation in the Senate.
On Wednesday April 14th, former Congresswoman Gabby Giffords spoke at a press conference in front of the memorial alongside Speaker of the House Nancy Pelosi, Representative Lucy McBath, Representative Mike Thompson, Senator Chris Murphy, House Majority Whip Jim Clyburn, and Giffords Executive Director Peter Ambler.
"We must call upon our conscience and our courage, and take action."

Former Congresswoman Gabby Giffords
Rep. McBath, whose teenage son Jordan was murdered with a gun for playing his music too loud in 2012, opened the press conference by addressing Gabby. "You epitomize survivorship every single day," said Rep. McBath. "This movement would not be where it is today without your leadership."
Speaker Pelosi thanked Gabby and the assembled elected leaders for their continued leadership on this issue, saying of the Gun Violence Memorial, "hopefully, it will touch the hearts of some of the people that we're trying to change the minds of. Every flower is a life that could be saved."
We will be relentless, persistent, dissatisfied until the job is done," said Speaker Pelosi. "We passed the legislation in the House. It is…long overdue for the Senate to act for the people, for the children."
Representative Thompson reminded us of the tremendous toll that gun violence takes—not only in terms of lives lost, but also in terms of the pain and suffering of those left behind. "We have to do everything we can to bring it to an end," he said of this uniquely American epidemic.
"Every flower is a life that could be saved."

Speaker of the House Nancy Pelosi
Senator Murphy spoke about the possibility of passing background checks in the Senate, emphasizing the mounting urgency of this crisis. "Every parent in this country cannot understand why this Congress won't take easy steps to make sure that their kids are just a little bit safer," he said.
We hope that this memorial inspires more Americans to demand change from their elected leaders. As our nation slowly emerges from the darkness of the COVID-19 pandemic, we must not forget about this stain on our nation's conscience. We won't rest until lifesaving gun laws are enacted at the federal level. If you're with us, text Courage to 34131 or add your name to dedicate a flower to a victim of gun violence.