Lessons from Oakland's Citywide Effort that Dramatically Reduced Gun Violence
Oakland, considered for many years to be among the most dangerous cities in America, gives us reason to hope that remarkable reductions in gun violence are possible.
April 24, 2019 — As communities across the country look for ways to reduce gun violence, Giffords Law Center unveiled a new report, A Case Study in Hope: Lessons From Oakland's Remarkable Reduction in Gun Violence , exploring the city's successful citywide gun violence reduction strategy. Since 2012, Oakland has cut its annual shootings and homicides nearly in half. By 2018, Oakland recorded its lowest number of homicides in almost two decades. This stands in direct contrast to many other major American cities that saw an increase in gun violence after 2012.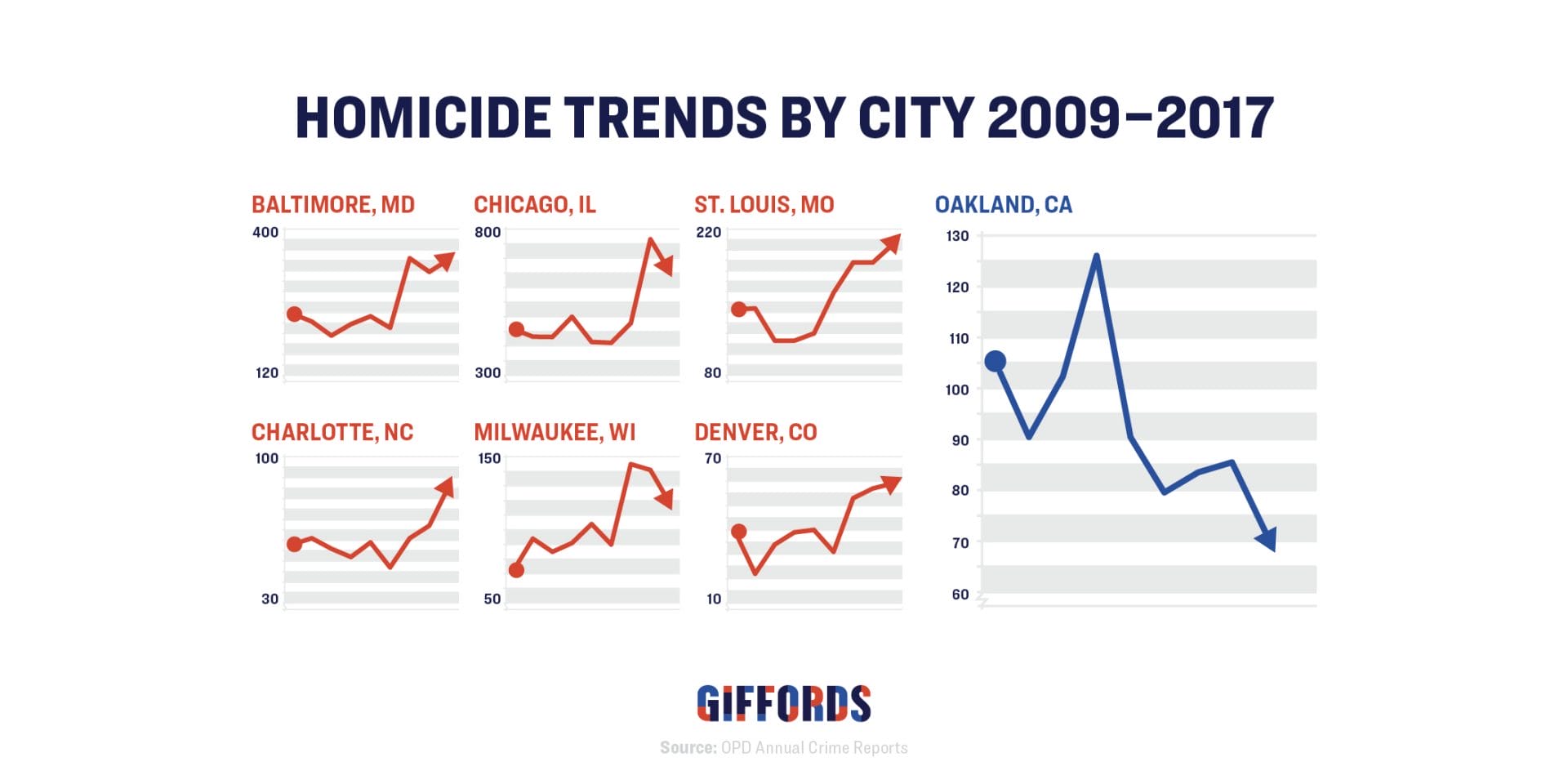 "Oakland's heroic effort to reduce gun violence gives us hope that we can make real progress in addressing the day-to-day shootings that are single largest driver of gun violence in this country," said Mike McLively, senior attorney at Giffords Law Center to Prevent Gun Violence and the lead author of A Case Study in Hope. "Oakland shows us how this can be done by understanding local violence dynamics, empowering communities, creating dedicated resources for tackling violence, and getting smart on violent crime. Not only is there hope to be found here, but also very concrete policy implications at the local, state, and national levels. Giffords is committed to lifting up success stories like Oakland's, and fighting to ensure that impacted cities and communities around the country have the policies and resources they need to implement effective solutions."
The report focuses on how Oakland bucked the national trend of rising gun violence when local leaders committed to launching a citywide violence reduction strategy, known as Oakland Ceasefire, which found remarkable success by creating an ongoing partnership between community members, social service providers, and law enforcement officials.
"In Oakland, we've embraced the notion that we can't arrest our way out of the gun violence epidemic," said Libby Schaaf, mayor of Oakland. "Instead, we looked at who was actually most at risk of engaging in violence, and worked together as a community to open a new door for them. This approach has helped us to save lives, while also addressing the trauma of gun violence that lingers in neighborhoods long after shots are fired. While we still have much work to do, I hope Oakland can serve as a model for how other American cities can come together to make their neighborhoods safer."
A Case Study in Hope , the result of collaboration between Giffords Law Center, Faith in Action, and the Black and Brown Gun Violence Prevention Consortium, illustrates how Oakland, a city that once suffered from a gun violence epidemic that took more than 100 lives every year, is now on a new path.
"Coming from the safest big city in America and co-architecting the system that helps make peace real in New York, I can definitely understand what it took for the people of Oakland to cut Oakland's gun violence rate in half, the people working together who took the time to better understand exactly why young men and women turned to violence in the first place," said Erica Ford, co-chair of the Black and Brown Gun Violence Prevention Consortium. "Guiding them with love and compassion gave them the tools to make better decisions: love over hate. There is still a long road ahead, but Oakland is well on its way to becoming a place where senseless violence is a thing of the past."
Oakland Ceasefire experienced success in reducing violence, building up community-police trust, and improving outcomes for high-risk individuals by focusing its strategy on five key components:
Analysis of violence and trends: With help from the California Partnership for Safe Communities, Oakland undertook a new survey to determine which individuals were at the highest risk of participating in serious violence. This problem analysis showed that just 400 individuals—0.1% of Oakland's population—were at the highest risk of engaging in violence at any given time.
Respectful, in-person communications: Oakland Ceasefire focuses on engaging with these high-risk individuals in positive ways, with offers of genuine assistance. This can take the form of call-ins, interventions where stakeholders meet with a small group of high-risk individuals, or custom notifications, which are direct communications used to head off imminent violence,
Relationship-based social services: The Oakland Unite network of community-based organizations provides services to those at highest risk of becoming victims or perpetrators of violence, including intensive mentoring, economic and educational training, and direct assistance to victims of violence and their families.
Narrowly focused law enforcement actions: As part of Oakland Ceasefire. the Oakland Police Department adopted ongoing, department-wide training in strategies to improve police-community relationships. The reforms have led to a dramatic increase in the department's homicide solve rate, while use-of-force incidents and complaints against the department are on the decline.
Partnership-based performance management: Oakland Ceasefire continues to make regular communication between partners and city leaders a priority to stay on top of changing patterns of violence and remain on track toward meeting yearly violence reduction goals.
A 2018 evaluation of the Oakland Ceasefire program conducted by criminologist Anthony Braga shows just how successful it has been. Along with reducing the homicide rate by more than 50 percent, nonfatal shootings in Oakland dropped from 561 in 2012 to 277 in 2018. Other forms of gun violence are also down—firearm robberies, for example, are down nearly 70 percent from 2013.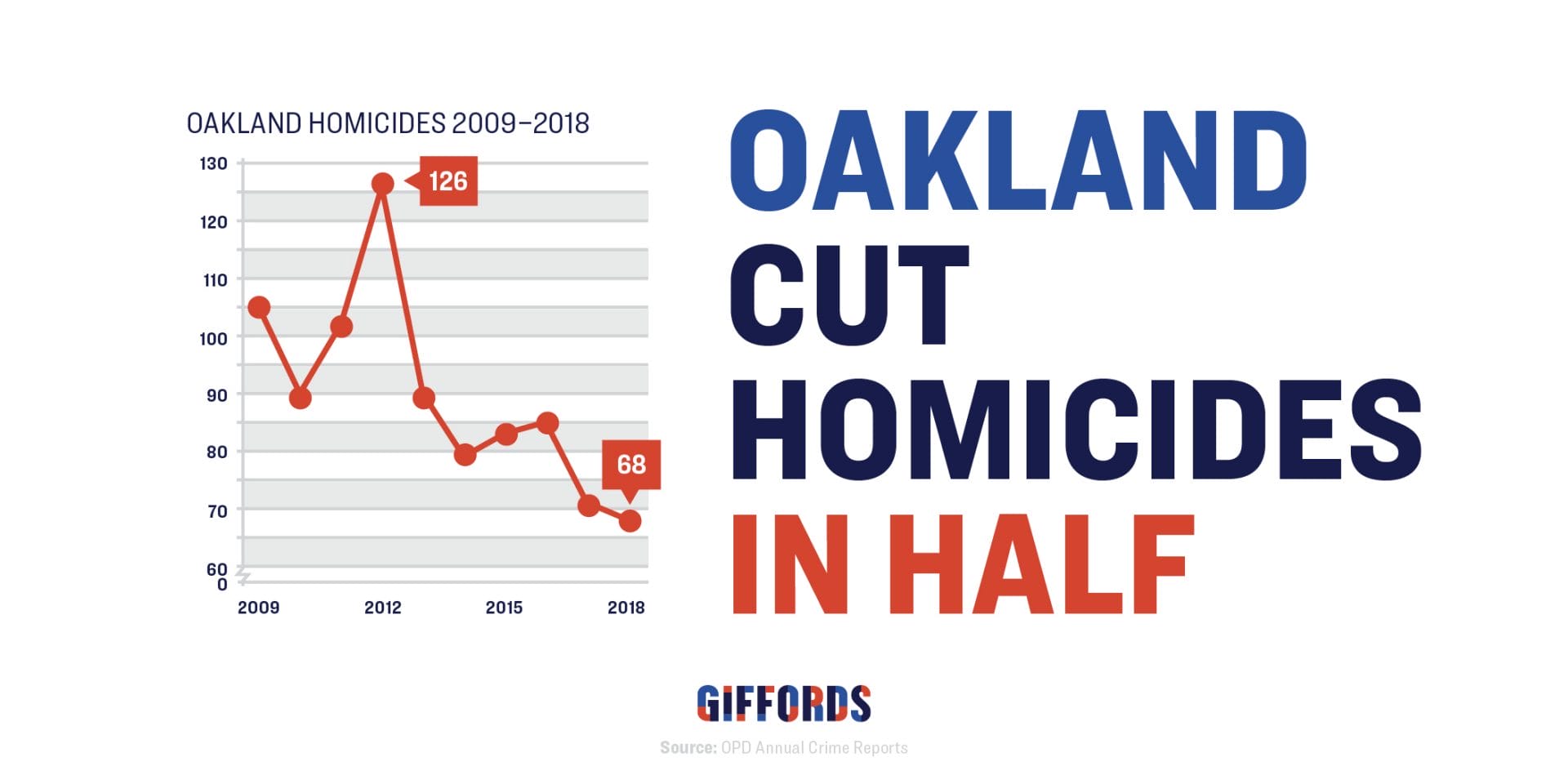 Read the full story of how the Oakland community came together to create Oakland Ceasefire and save lives from gun violence by going to page 18 of the report.
The second part of the report examines how Oakland's success could be replicated in other cities across the country by bringing together a wide array of stakeholders to work in true partnership. The analysis looks at key takeaways from Oakland for three main groups: community members, city officials, and law enforcement officers to provide a blueprint for others on how to make this work elsewhere. For a detailed overview of the key takeaways for each group go to page 67 of the report.
"Instead of blindly scaling up the law enforcement tactics that led to mass incarceration, Oakland focused on reaching those at the highest risk of becoming victims or perpetrators of violence," said Pastor Michael McBride, director of Urban Studies at Faith in Action. "These young men were in need of help and healing. The partnership we formed between city leaders, social service providers, faith and community leaders, and law enforcement shows how, with the right support, those victimized by violence can forge a new path that leads them away from guns. We are proud to show other communities how embracing our shared humanity can effectively save lives from gun violence while putting an end to mass incarceration."
In conjunction with the Oakland report, Giffords issued a memo putting a spotlight on seven states that would benefit from fully implementing strategies similar to Oakland Ceasefire.
The report released today is the third in a series of studies coordinated by Giffords Law Center and community partners. In 2017, Investing in Intervention: The Critical Role of State-Level Support in Breaking the Cycle of Urban Gun Violence was released and examined the concrete ways state leaders can support and scale up community-driven solutions that have a real and lasting impact on gun violence in urban neighborhoods. The first in the series, Healing Communities in Crisis: Lifesaving Solutions to the Urban Gun Violence Epidemic was published in 2016 and identified the most effective evidence-based violence prevention and intervention strategies.