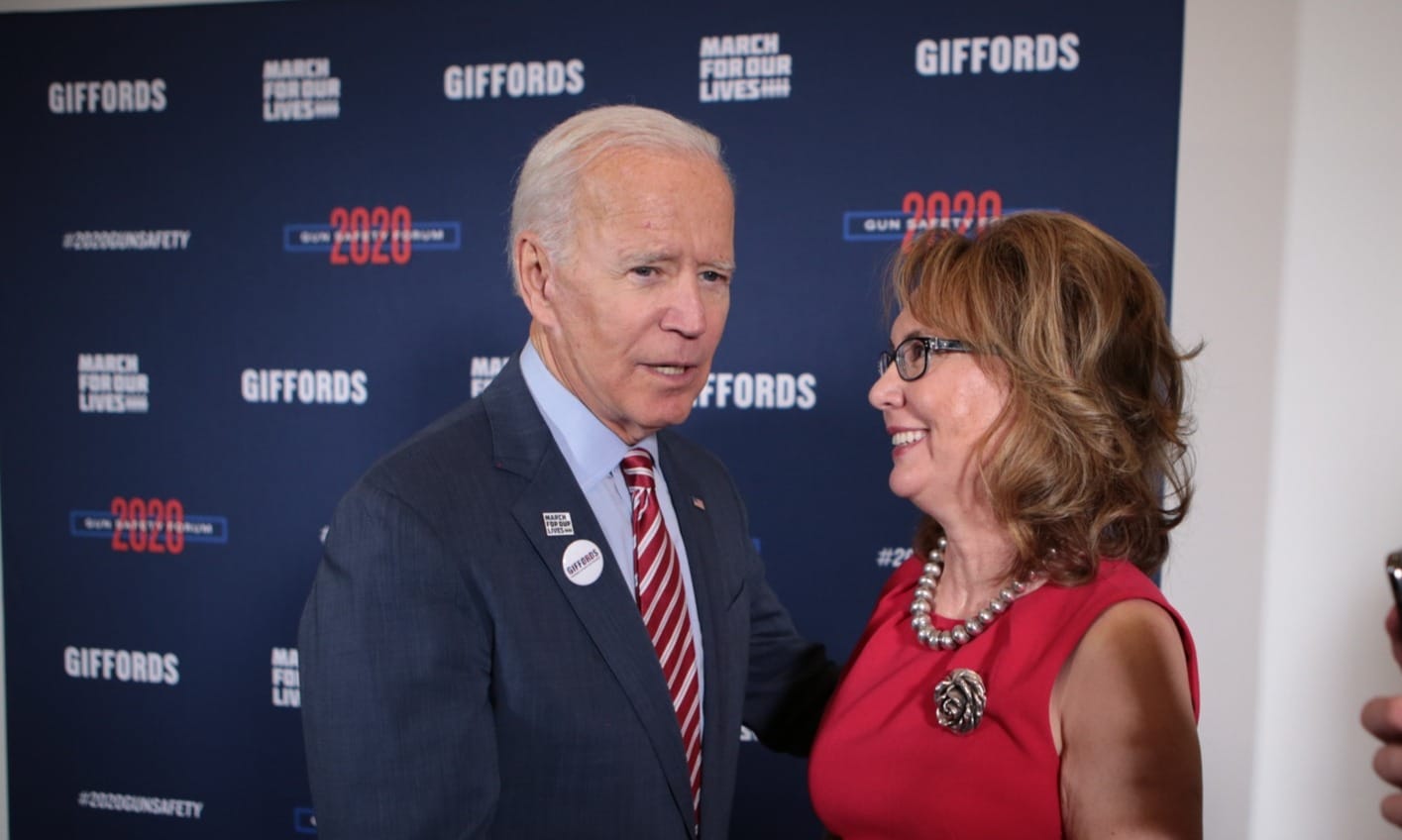 Former Congresswoman Gabrielle Giffords Endorses Joe Biden for President as the Gun Safety Choice
" As we've built a gun safety movement and campaigned to pass safer gun laws across America, he has been there with us, time and time again ."
Congresswoman Giffords to join Vice President Biden in Miami for endorsement gun safety rally this coming Monday
Washington, DC — Former Congresswoman Gabrielle Giffords, co-founder of the gun violence prevention organization Giffords , announced her endorsement and the endorsement of Giffords PAC of Joe Biden for president of the United States of America. Vice President Biden has fought for stronger gun safety laws throughout his career and has promised it will be a top priority for his administration.
Congresswoman Giffords and Vice President Biden have a long history of working together to advance commonsense gun safety laws, especially in the wake of the tragic shooting at Sandy Hook Elementary School. Biden was there to welcome Congresswoman Giffords back to the Capitol months after she was shot and then again at President Barack Obama's State of the Union address.
Statement from former Congresswoman Gabrielle Giffords, co-founder of Giffords:
"After I was shot, Joe Biden was there for me. As I worked to recover and resume my public service, he was there for me. As we've built a gun safety movement and campaigned to pass safer gun laws across America, he has been there with us, time and time again. As President, I know he will stand with the millions of Americans committed to fighting for gun safety, he will take on the NRA, and he will take action to save lives from gun violence. He's done it before. He's running for President to do it again."
"Joe Biden leads with his heart. He has the compassion and toughness to lead on gun safety. I've witnessed him comfort the survivors of gun violence, and I've seen him fight for solutions to gun violence—and win. This is the leadership we need in the White House. Joe Biden is the choice for a gun safety president."
Statement from Vice President Joe Biden:
"Congresswoman Gabby Giffords is an American hero who embodies the courage and tenacity we need to take on and defeat the gun lobby. I have been proud to work alongside Gabby in the fight to end gun violence and am honored to have her support today. Gabby's leadership and organization have pushed meaningful and lasting change across the country, winning hard-fought progress and making our communities safer. We have more work to do to end the scourge of gun violence, but I know we can do it when we have the courage to stand together and stand up to the gun lobby."
Congresswoman Giffords will join Vice President Biden in Miami for a gun safety rally on Monday, March 16, to publicly announce her endorsement. Biden shared many of his views on gun violence prevention at the  2020 Gun Safety Forum , hosted by Giffords and March for Our Lives, which took place on October 2, 2019 in Las Vegas. He also  sat down with the team at Giffords  to discuss how he would approach gun safety reform as president.
"Gun violence has become a kitchen table issue that the vast majority of Americans are demanding action on," said Peter Ambler, Giffords Executive Director. "I've seen Gabby and Vice President Biden work tirelessly to take on the NRA and pass safer gun laws. I am confident that he will bring that same commitment to the presidency. Giffords is committed to electing a gun safety president, and we're proud to rally behind a leader who has proven he will be that president."
Over his decades of public service, Vice President Biden has always made gun safety a priority. As a senator, Biden served on the Senate Judiciary Committee and in 1993 was integral to passage of the Brady Bill, establishing the federal background check system for gun purchases. In 1994, Biden was a key vote on the Federal Assault Weapons Ban that prohibited the future manufacture of assault weapons. Though the ban expired in 2004, these laws formed the building blocks of the current system we have for keeping firearms out of the hands of dangerous individuals.
After Congresswoman Gabby Giffords was shot in Tucson in 2011, Vice President Biden was a friend during her recovery and an ardent supporter of her subsequent gun safety advocacy, demonstrating his genuine personal investment in meaningful change. In 2012, after a gunman killed 26 people, including 20 children, at Sandy Hook Elementary School, the Obama administration took action in the face of a gridlocked Congress. President Obama tapped Vice President Biden to lead the task force on potential executive actions and as a result of the vice president's work, the president signed 23 executive actions into law.
Perhaps more significant than his previous accomplishments are his plans for the future. In addition to calling for universal background checks , regulating assault weapons , and extreme risk protection orders , Biden's plan goes further, addressing the need to invest in community violence intervention programs, enhancing gun safety technology, ensuring the relinquishment of firearms from prohibited buyers, and holding gun manufacturers accountable.
Giffords #GunSafetyPresident
Giffords is leading efforts to elect gun safety candidates at all levels of leadership, including making 2020 the year for a #GunSafetyPresident. Recently released polling showed that the issue of gun safety is a major factor for voters, especially in critical swing states. Fifty-nine percent of suburban women in the swing states of Colorado, Minnesota, North Carolina, Pennsylvania, and Texas support stronger gun laws and say this issue is "very important" to their vote. An even larger group (64%) says that they would never vote for a candidate who didn't support "requiring background checks on all gun sales," outranking 13 other social and economic policy positions as the top voting determinant.