NATIONAL TOUR: Giffords Teams Up with Key Senate Candidates, Others to Rally Support for Passing Universal Background Checks 
Former Congresswoman Gabrielle Giffords will headline 'Road to Universal Background Checks Tour' virtual events with gun safety champions running to flip the Senate

New polling from Giffords reveals voters are 60 percent more likely to vote for a candidate who declares support for background checks
July 7, 2020 — Giffords, the gun violence prevention organization founded by former Congresswoman Gabrielle Giffords, announced the Road to Universal Background Checks Tour. At a series of virtual gatherings focused on states with key Senate races, Congresswoman Gabrielle Giffords will lead conversations with candidates and other activists who will speak directly with voters about the importance of electing a new Senate majority that will finally pass universal background checks.
"This is the year we will elect a gun safety majority in the Senate," said former Congresswoman Gabrielle Giffords, co-founder of Giffords. "The road to passing lifesaving gun safety legislation goes through the Senate. We must wrest control from the NRA's greatest allies—Donald Trump and Mitch McConnell—if we want to make 2021 the year that universal background checks gets signed into law.
"Americans in every part of the country strongly support universal background checks because they save lives. Voters are demanding progress in the fight to end America's gun violence epidemic, and that's why candidates are not only running on gun safety platforms, but winning on them. When elected, the candidates joining us on the tour will take historic action to make our country safer."
The Road to Universal Background Checks Tour will also highlight for voters how President Trump and his Senate allies have blocked momentum on passing legislation to require a background check on every gun sale, despite broad support for this policy.
This year's focus on the Senate builds on the unprecedented progress the House of Representatives made after the 2018 elections. The 116th Congress moved swiftly to pass HR 8, the Bipartisan Background Checks Act of 2019. Now, Giffords is leading a campaign to take the next step in the Senate next year. Senator Chris Murphy (D-CT), the legislation's lead Senate sponsor, will take part in the tour's national kickoff event, along with activist Tre Bosley. Senator Murphy and Tre will join former Congresswoman Giffords to stress the importance of electing a gun safety majority to the Senate and Vice President Joe Biden to the presidency—while protecting the gun safety majority in the House—so that universal background checks can finally become law.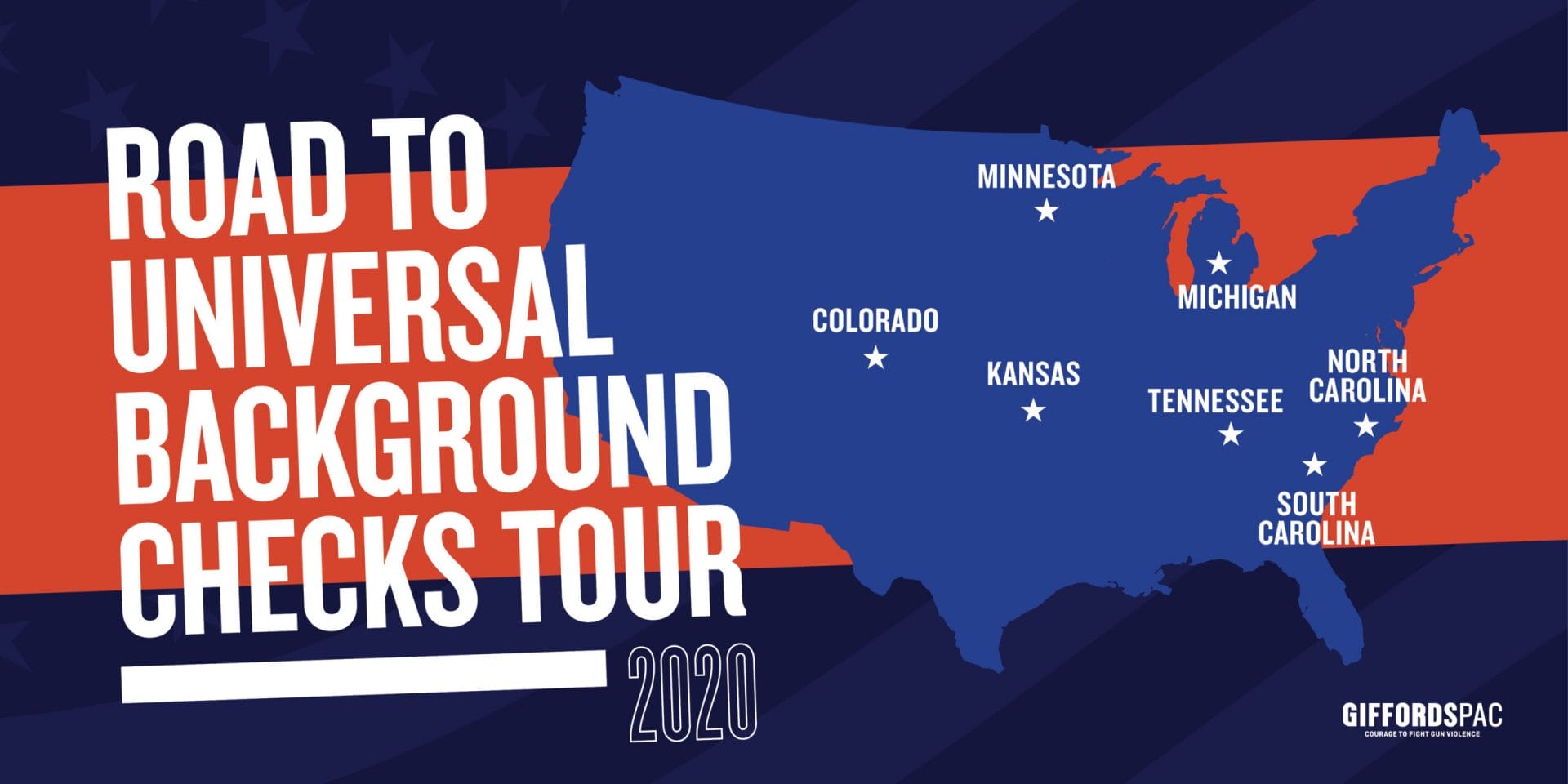 The inaugural event will highlight how even after shooting after shooting captured the attention of the nation, the Senate, led by Republican Majority Leader Mitch McConnell, has refused to hold any votes on background check legislation. Overall, Giffords is spending a six figure sum in online engagement to encourage voters in each state featured on the tour to participate in a dialogue.
"I'm proud to join Giffords in this effort to take back the Senate and highlight candidates who support background checks. What we know is that preventing gun violence is an issue voters care about. Increasingly, it is often their number one or number two concern when they decide how to vote. It also drives turnout. Young people care about a host of issues, but at the very top of their list is guns and background checks," said Senator Chris Murphy. "So it's a pretty unique issue in that it motivates swing voters, younger parents of school-aged kids, and it motivates people 18 to 25 to turn out who might not otherwise turn out."
The tour will feature at least eight stops in key states with gun safety champions who will be crucial in our fight to elect a gun safety majority in the Senate. More events are expected to be added at a later date.
July 14: National Kickoff Event with Connecticut Senator Chris Murphy
July 21: Michigan—Senator Gary Peters
July 22: Tennessee—Iraq War veteran and candidate for the US Senate James Mackler
July 29: Minnesota—Senator Tina Smith
July 30: Kansas—State Senator, candidate for the US Senate Dr. Barbara Bollier
Aug. 10: North Carolina—former State Senator, veteran and candidate for the US Senate Cal Cunningham
Aug. 11: South Carolina—former South Carolina Democratic Party Chair and candidate for the US Senate Jaime Harrison
Aug 26: Colorado—former Governor and candidate for the US Senate John Hickenlooper
Giffords also released new Public Policy Polling in conjunction with the announcement of their tour that shows that a candidate's support for universal background checks laws made it 60% more likely for someone to vote for the candidate. Only 10% of those polled said a candidate's support of universal background checks would make them less likely to vote for the candidate.
This builds on recently released polling showing that the issue of gun safety is a major factor for voters, especially in critical swing states. Fifty-nine percent of suburban women in the swing states of Colorado, Minnesota, North Carolina, Pennsylvania, and Texas support stronger gun laws and say this issue is "very important" to their vote. An even larger group (64%) says that they would never vote for a candidate who didn't support "requiring background checks on all gun sales," outranking 13 other social and economic policy positions as the top voting determinant.
Giffords is leading the effort to elect gun safety candidates at all levels of leadership, including making 2020 the year for a #GunSafetyPresident. Earlier this year, former Congresswoman Giffords announced her endorsement and the endorsement of Giffords PAC for Joe Biden for president of the United States of America. Vice President Biden shared his views on gun violence prevention at the 2020 Gun Safety Forum, hosted by Giffords and March for Our Lives, on October 2, 2019 in Las Vegas. He also sat down with the team at Giffords to discuss how he would approach gun safety reform as president.