Giffords Law Center Releases New Report on the Failure of Federal Funding to Halt Gun Homicides and Urges Robust, Refocused Investment to Save Lives 
 "America at a Crossroads: Reimagining Federal Funding to End Community Violence" highlights evidence-based intervention strategies that could address surges in shootings in cities, calls for reformed federal investments to fund this critical work 
Washington, DC — With shootings spiking this year in many areas of the country, Giffords Law Center released a new report on the decades-long failure of federal programs to reduce gun violence in America's cities. As the next administration prepares to arrive in the White House, "America at a Crossroads" details a new path forward, focused on investing in the evidence-based community violence intervention strategies that President-elect Joe Biden and Vice President-elect Kamala Harris championed on the campaign trail.

Mike McLively, Community Violence Initiative Policy Director:
"For decades, countless American communities have been traumatized by vicious cycles of community and police violence. Too often, the federal government's approach to this epidemic has been to fund strategies that lead to over-policing and mass incarceration, without meaningfully reducing gun homicide. This shameful legacy has ruined too many once-promising futures and left too many tragedies unsolved. With a new administration taking power in Washington DC, we are calling for a new way to address this problem. It's time to invest in strategies that will address root causes and help stop individuals from using a firearm in the first place so we can create a more just and safe America."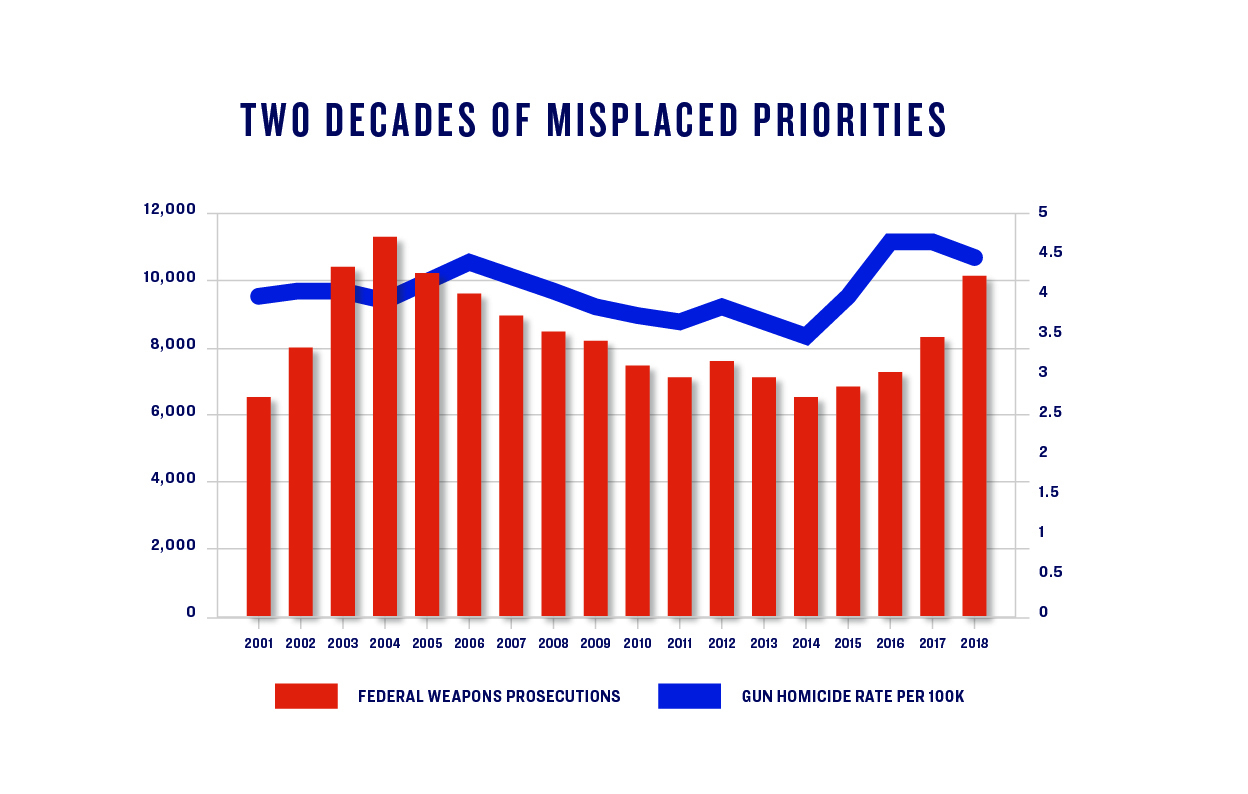 For decades, federal funding to address the gun violence epidemic has been insufficient, unfocused, and sometimes harmful. The programs supported by this funding have failed to decrease homicide rates and have contributed to the mass incarceration that has hollowed out communities of color. The lasting impact of gun violence on these communities leads to high levels of PTSD, higher rates of heart disease, and cancer.
In order to best coordinate America's response to community violence, the new analysis recommends the creation of a federal Office on Community Violence, modeled after the Office on Violence Against Women (funded at more than $530 million annually over the past few years. The report calls for the newly established office on community violence to be similarly funded to serve three core functions:

directing federal grants to localities disproportionately impacted by community violence;
building the country's technical assistance capacity; and
setting a research agenda for the community violence field and helping disseminate best practices
The report released today explains federal funding opportunities that can be used to support evidence-based, community-focused strategies. Specifically, three major federal funding streams— the Victims of Crime Act, Edward Byrne Memorial Justice Assistance Grant, and Project Safe Neighborhoods—can be used to advance these strategies and save lives.

Violence of Crime Act

Funding from the Victims of Crime Act (VOCA), which in 2020 had a balance of $6 billion, includes both state victim compensation and state assistance programs. Victim compensation is distributed to individual crime survivors, while assistance grants are awarded to organizations that support and serve survivors of crime. Unfortunately, only nine percent of victims of serious violent crime received compensation from 1993 to 2009. Grant recipients tend to be female, white, and between the ages of 25 and 59, which is not aligned with demographic data about victims of violent crime, who are overwhelmingly young men of color.

"America at a Crossroads" recommends reforms to increase the percentage of victim assistance funding earmarked for underserved victims of crime and to clarify that assistance funds may be used to support services and strategies for addressing community violence. Finally, advocates should raise awareness and build capacity to leverage this program for community violence work and make the case to state agencies that oversee funding with data, evidence, and anecdotes.

Edward Byrne Memorial Justice Assistance Grant Program

The Edward Byrne Memorial Justice Assistance Grant Program (Byrne JAG) is a criminal justice-oriented grant program that has several crime-fighting purposes laid out by Congress. These purposes include prevention and education programs, drug treatment and enforcement programs, crime victim and witness programs, and mental health programs. As of 2019, Byrne JAG has reported $263.8 million, which is funded through annual congressional appropriation.

However, nearly 65% of Byrne JAG funds have been used to support law enforcement and corrections functions, with an emphasis on increasing arrest rates for lower-level offenses, while only 6% of funds are directed to crime prevention programs. To reform Byrne JAG at the federal level, the report recommends that significant investments in strategies other than punitive crime suppression are made, with community input and partnership.

Project Safe Neighborhoods

Project Safe Neighborhoods (PSN) was created by President George W. Bush to reduce gun violence across the nation. The program has been used to increase the federal prosecution of individuals found in illegal possession of a firearm rather than those who have actually committed an act of violence, exacerbating mass incarceration with no meaningful contribution to public safety. With a balance of $20 million annually as of 2020, PSN has largely been ineffective.

Just four years after PSN was launched, federal prosecutions and convictions for weapons charges had doubled—with no corresponding decrease in national gun homicide rates. Resources have not been focused on the locations most likely to experience high rates of homicide, nor have these programs been held accountable through rigorous evaluation of outcome data. The report recommends reforming PSN to focus on jurisdictions with the highest levels of gun homicide, prioritizing evidence-informed violence prevention and intervention strategies, and requiring meaningful community engagement.
MEDIA REQUESTS
Our experts can speak to the full spectrum of gun violence prevention issues. Have a question? Email us at media@giffords.org.
Contact