Former Congresswoman Gabby Giffords, Governor Gretchen Whitmer Rally for Gun Safety in Lansing
Lansing, MI — Today, former Congresswoman Gabrielle Giffords, founder of the gun violence prevention organization Giffords, and Governor Gretchen Whitmer joined gun violence prevention groups and Michigan lawmakers at the Michigan State Capitol to demand action on gun safety and an end to preventable gun violence. The rally was held a month after the deadly mass shooting at Michigan State University that killed three students and left five others injured. The Michigan legislature is currently considering gun safety legislation that includes universal background checks and extreme risk protection orders that Giffords helped craft.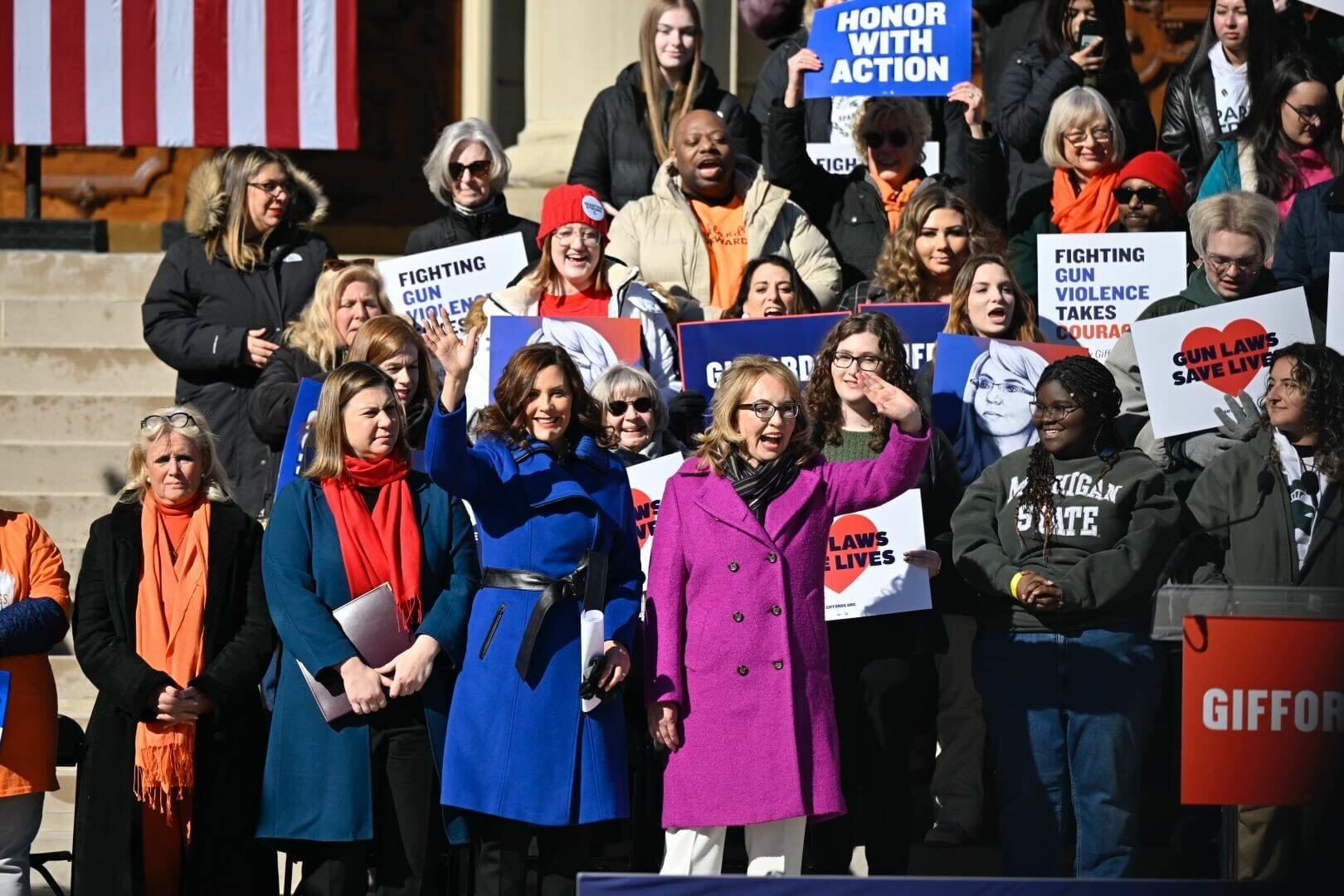 "Michigan has faced far too many tragedies. A year ago, we witnessed the horrific mass shooting at Oxford High School. Last month, the Michigan State University community was also torn apart by gun violence. And each and every day, we are witnessing our children, friends, and neighbors' lives being lost to gun violence across Michigan. Enough is enough," said former Congresswoman Gabby Giffords following Wednesday's rally. "Today we call on our leaders in Michigan to act. In the face of tragedy, we refuse to back down because lives are on the line. We cannot allow our children to fear being inside a classroom or walking down the street. We stand with Michiganders and we will continue our fight to end gun violence."
"The time for only thoughts and prayers is over. Everyone deserves to feel safe in their community," said Governor Gretchen Whitmer. "We have seen gun violence—the number one killer of kids and young people in Michigan—claim far too many lives and shatter too many families. It's about damn time we're getting commonsense reforms like universal background checks, safe storage, and extreme risk protection orders done. I look forward to signing all three. Let's keep working together to reduce violence, protect our families, and ensure our kids can live freely and without fear."
"As a gun owner, firearms instructor, and concealed carry permit holder, I am a passionate supporter of the second amendment," said Jon Gold, President of the Michigan chapter of Giffords Gun Owners for Safety. "However, I am also a survivor of gun violence and believe that we can take reasonable steps to save lives in Michigan from gun violence. The vast majority of gun owners support commonsense gun safety laws and we must take action to keep our families and communities throughout Michigan safe."
Rally participants included advocates, survivors, students, and lawmakers. The rally honored all victims and survivors of gun violence with action—from the students of Oxford High School and Michigan State University to the countless Michiganders who have lost their lives to daily community violence.
In 2022 Michigan received a C+ grade for the previous legislature's actions on Giffords Law Center's Annual Gun Law Scorecard. This year, Michigan state legislative leaders recently filed crucial gun violence prevention legislation in response to the tragic and horrific shooting that took place at Michigan State University, just a few minutes away from the state capitol. If enacted, this legislative package will require guns to be safely stored away from children and background checks to be conducted no matter how the firearm is purchased and will help ensure guns are kept out of the hands of those that pose a danger to themselves or others.
Recent polling shows strong support for the gun safety legislation that is being considered in the Michigan legislature.
The polling found that:
Gun safety is top of mind for Michigan voters. When asked what they feel is the most important issue the Michigan legislature should make a top priority, 21% chose gun laws, coming in ahead of the economy (20%), and outpacing other issues like inflation (12%), crime and public safety (10%), and improving K–12 schools (10%).
Eighty-nine percent of Michigan voters support background checks for all gun sales.
Extreme risk protection orders, sometimes known as red flag laws, are popular with Michiganders. Seventy-five percent of respondents support instituting a red flag law.
The overwhelming majority of voters (88%) support requiring gun owners to safely store their firearms.
Needed violence intervention programs that work within communities to address the root causes of gun violence were also supported by 76% of voters.
The majority of Michigan voters support the gun safety legislative package that is moving forward in the Michigan legislature. Seventy-three percent of respondents support the Michigan legislature enacting these reforms.
Support for the gun safety legislation being considered by the Michigan Legislature is supported across political and racial lines. It's universally backed by Democrats and majorities of Independents, Black voters, white voters, and gun owners.
Michigan voters are much more likely to vote for a candidate who supports gun safety than one who wants to make it easier to purchase a gun. By a 61-point margin, Michiganders are more likely to support a candidate who supports gun safety (74%) versus a candidate who wants to make it easier to purchase a firearm (13%).
Watch the Livestream HERE
MEDIA REQUESTS
Our experts can speak to the full spectrum of gun violence prevention issues. Have a question? Email us at media@giffords.org.
Contact