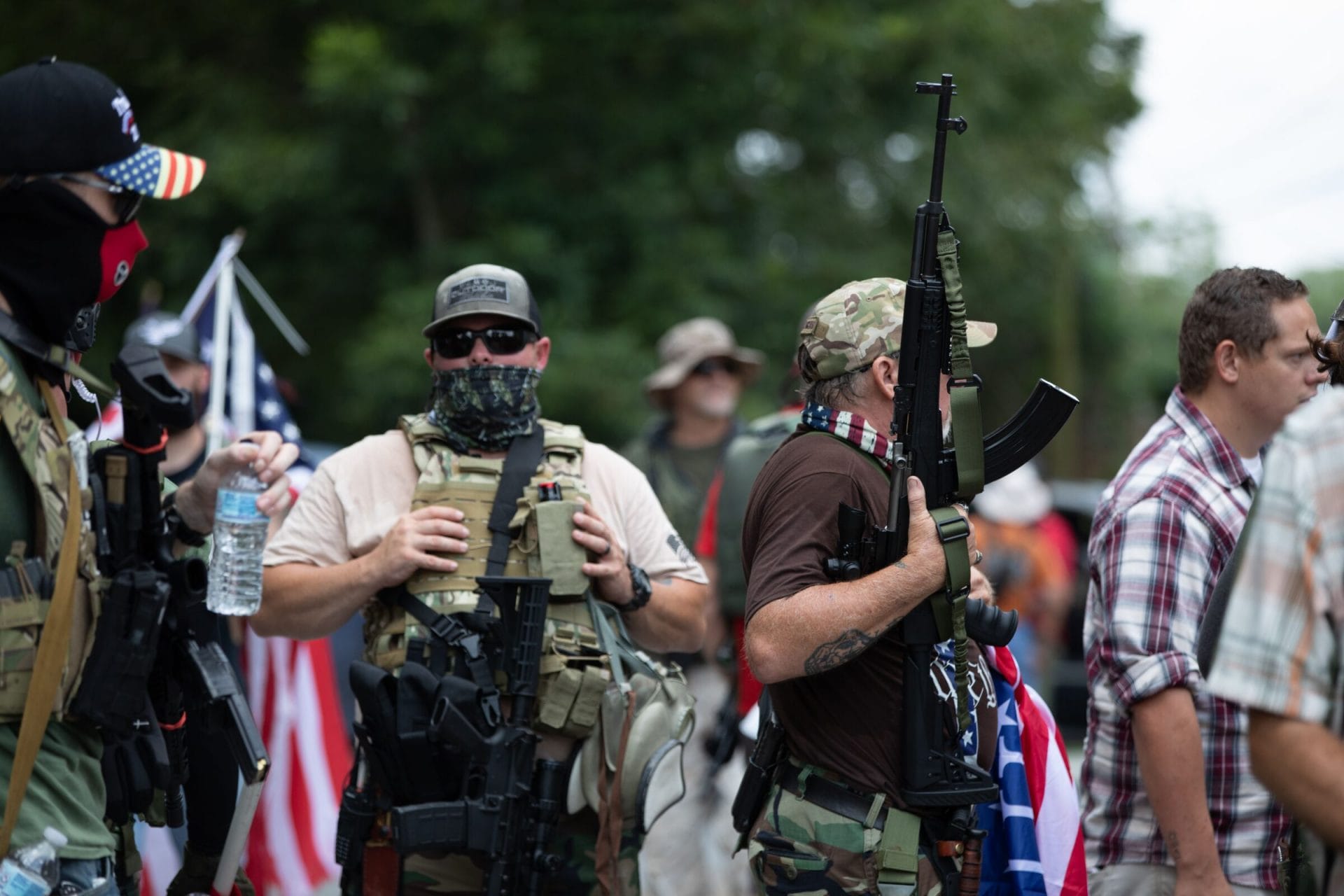 Trump Incites White Armed Protesters
This week, three protesters were shot—two fatally—in the streets of Kenosha, Wisconsin. The protesters were demanding justice for Jacob Blake, a Black man shot seven times in the back by a police officer while Blake's kids watched. 
The shooter at the protest over Blake's murder was an armed white vigilante who drove in from Illinois and clearly felt empowered to brandish his weapon openly in the face of peaceful protesters. The outcome was the tragic loss of more lives.
This is just the latest incident of armed protesters masquerading as self-styled civilian "militias" at a public demonstration. As we track incidents of firearms brandished at protests and demonstrations across the United States in 2020, we've noticed striking similarities. Many of these protests also prominently feature Confederate symbols, white supremacist slogans, and overwhelming support for President Trump.
[Related: Armed Protesters Inspire Fear, Chill Free Speech]
Why such overwhelming support? President Trump has repeatedly fanned the flames of these protests, going so far as to say that armed individuals should 'liberate' their states. And while Trump backs them at the national level, white armed protesters can often count on some members of law enforcement turning the other way or even encouraging them—just look at what happened in New Mexico. Instead of being seen as vigilantes, they are too often treated as heroes by many in power.
This stands in stark contrast to what an armed protester who is Black or Brown typically experiences. These protesters aren't seen as exercising their constitutionally protected rights—instead, they are labelled dangerous, and violence against them tends to escalate quickly.
When some Black-led protesters armed themselves in recent months because they didn't feel that they could trust the police to protect them, the police treated these protesters differently than they did white militia members. Media outlets, such as Fox News, that defended armed militias and called them good "law-abiding citizens" also wrote about Black armed protests in a different way. Fox reported that after the killing of Rayshard Brooks, armed men "took over…and began wreaking havoc."
Protesters should not be treated differently based on the color of their skin, and law enforcement and the media should not turn a blind eye to the dangers posed by white armed protesters. They have caused chaos and terror at state capitals—stalking the halls with loaded semi-automatic rifles in Nebraska and swarming the state house in Michigan to protest COVID-19 shutdowns. These angry individuals went after lawmakers with reckless impunity and then did the same to protesters speaking out against an unjust, racist system.
"These protests do not liberate anyone. They endanger the public and represent a tiny minority of Americans."
In June, members of the New Mexico Civil Guard attended a protest against police brutality to protect a statue of a Spanish conquistador. The members, armed with assault rifles, stared down unarmed groups as the police looked on until one of them shot a protester.
Many of these armed white protesters are strong supporters of the president who is quick to defend them. The white man who killed two protesters in Wisconsin before fleeing the scene was spotted at a Trump rally earlier this year. The McCloskeys from Missouri were given a star turn at the Republican National Convention after pointing guns at Black Lives Matter protesters who were walking by their house in June.
Meanwhile, increased police violence and less police protection characterize Black-led protests, regardless of whether protesters are armed. The disproportionate use of police violence against Black people was highlighted throughout this summer's protests as law enforcement used tear gas and rubber bullets on crowds instead of attempting to de-escalate situations. Trump repeatedly called these anti-racist demonstrators terrorists and sent camouflaged officers from the Department of Homeland Security to Portland, Oregon. Multiple videos show these officers putting people in unmarked SUVs and using violent tactics on protesters.
If Donald Trump and his allies really want to make America safer, they should immediately denounce these so-called militias. Tell them to put down their weapons, call out America's disturbing pattern of police violence, and focus on the solutions that can better protect all members of our communities, regardless of race.