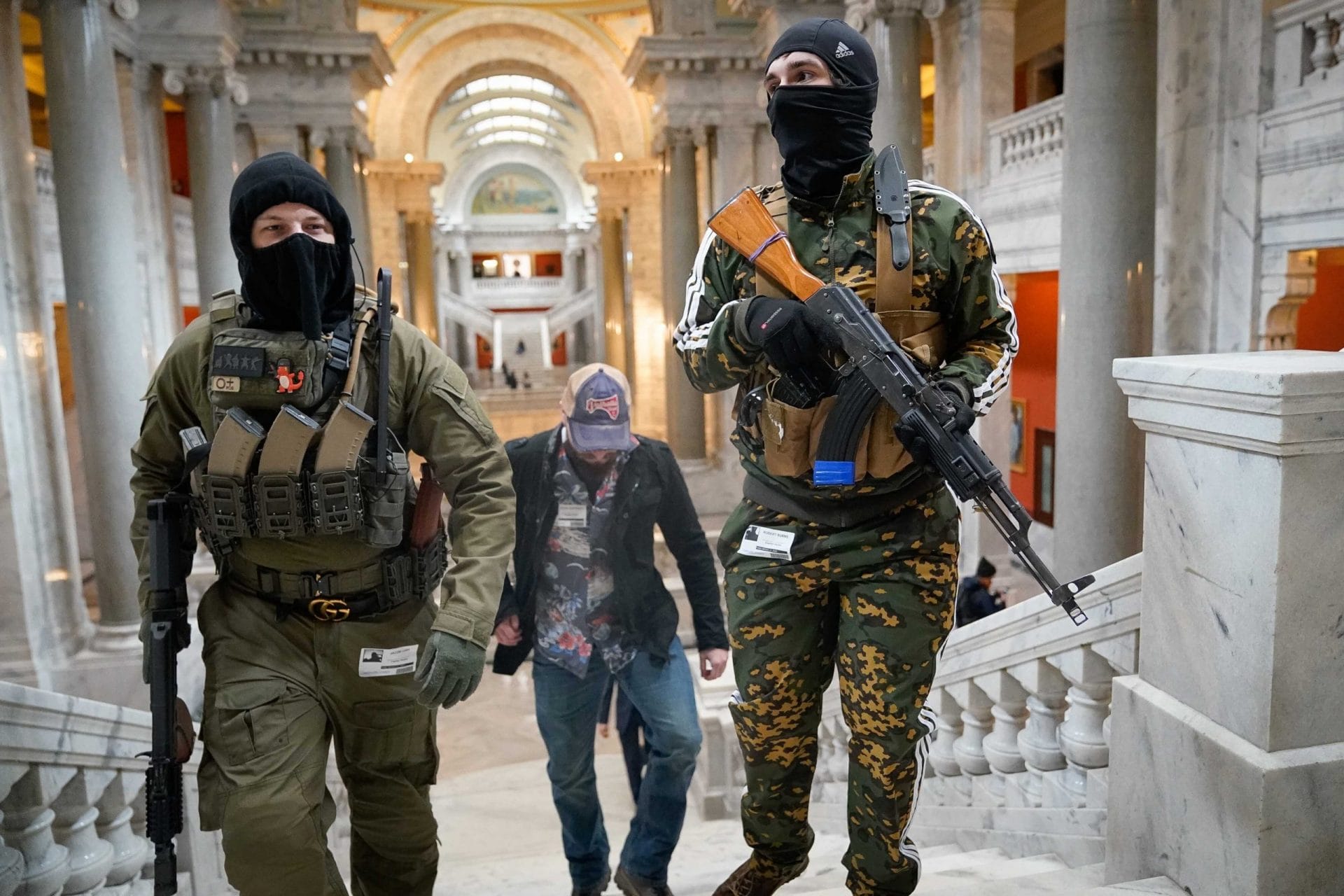 American Bar Association Takes a Stand Against Guns Undermining Democracy

Casting a ballot should be a celebratory expression of one's rights in a democracy—not a fear-inducing experience.
Election officials should be able to process and count ballots without the fear of armed vigilantes outside their offices or their homes.  And legislators should be able to debate public policy free of intimidation from self-styled "militia" members toting assault weapons in state capitols. Yet the presence of armed protestors and brandished firearms in key channels of democracy unfortunately represents an ever-growing threat to our democracy.
In February of this year, the American Bar Association (ABA) adopted Resolution 21M111, "Opposition to Guns In Polling Places," which calls for the prohibition of the unauthorized "possession and display of firearms" near polling places or locations where ballots are counted and where legislative debate is conducted. ABA resolutions are adopted by the American Bar Association's House of Delegates and represent the association's policy on major legislative and national issues. The goal of the guns in polling places resolution is to prevent violence, ensure public safety, and combat armed intimidation.
This new ABA resolution was co-sponsored by the ABA Standing Committee on Gun Violence, the Commission on Hispanic Legal Rights and Responsibilities, the Commission on Sexual Orientation and Gender Identity, the Standing Committee on Election Law, the Section of Civil Rights and Social Justice, and the Criminal Justice Section. Since 1965, the ABA has adopted 28 formal resolutions about firearm policy—some urging the adoption of certain policies or amendments to existing legislation, and some model acts that can serve as off-the-shelf bills for legislators to introduce.
The five-page report that accompanies the new resolution (Guns in Polling Places) begins with an account of the arrests of a dozen or more men in October 2020 who had planned to kidnap Governor Whitmer of Michigan, and outlines how a few of these same individuals had participated in the armed protest/occupation of the Michigan State Capitol a few months before to protest COVID lockdown orders. The background section chronicles armed protests in legislative buildings, at polling places, and at public marches and demonstrations in the last several years, including armed protests following the November 2020 election.
The report does not mention the Capitol riot in Washington DC on January 6, 2021, though it would have been an obvious example to include. (The report may have been written prior to the incident.) The background section also includes an insightful discussion of armed paramilitary groups and the public activities of groups calling themselves "militias." An interesting point highlighted in this report is that public displays of firearms are being used not merely for self-expression or safety, but to intimidate legislators, voters, and peaceful protesters exercising their First Amendment rights.
One disturbing example from the ABA report is from Virginia, where in 2020 authorities cancelled previously approved peaceful protests advocating for more gun regulations because pro-gun advocates announced they would counter-protest with weapons. On MLK Day, more than 20,000 armed protestors gathered outside the state capitol in Richmond. Gun safety advocates who planned to protest that same day were forced to abandon their rally.
Giffords established its Guns and Democracy project to confront the threat that easy access to guns, extreme pro-gun ideology, and armed violence pose to our democracy and its institutions. This winter, Giffords published a report detailing the devastating impact of hate-motivated gun violence, the loopholes that allow individuals convicted of violent hate crimes to access guns, and the policy solutions to prevent armed hate. 
The ABA's decision to adopt a resolution that addresses the threat armed intimidation poses to First Amendment freedoms and civil liberties sets an important precedent. Lawmakers around the country should utilize this guidance to prohibit guns in legislative office buildings and at polling places, protests, and other civil gatherings to keep communities safe and preserve democracy.
HERE TO HELP
Interested in partnering with us to draft, enact, or implement lifesaving gun safety legislation in your community? Our attorneys provide free assistance to lawmakers, public officials, and advocates working toward solutions to the gun violence crisis.
CONTACT US