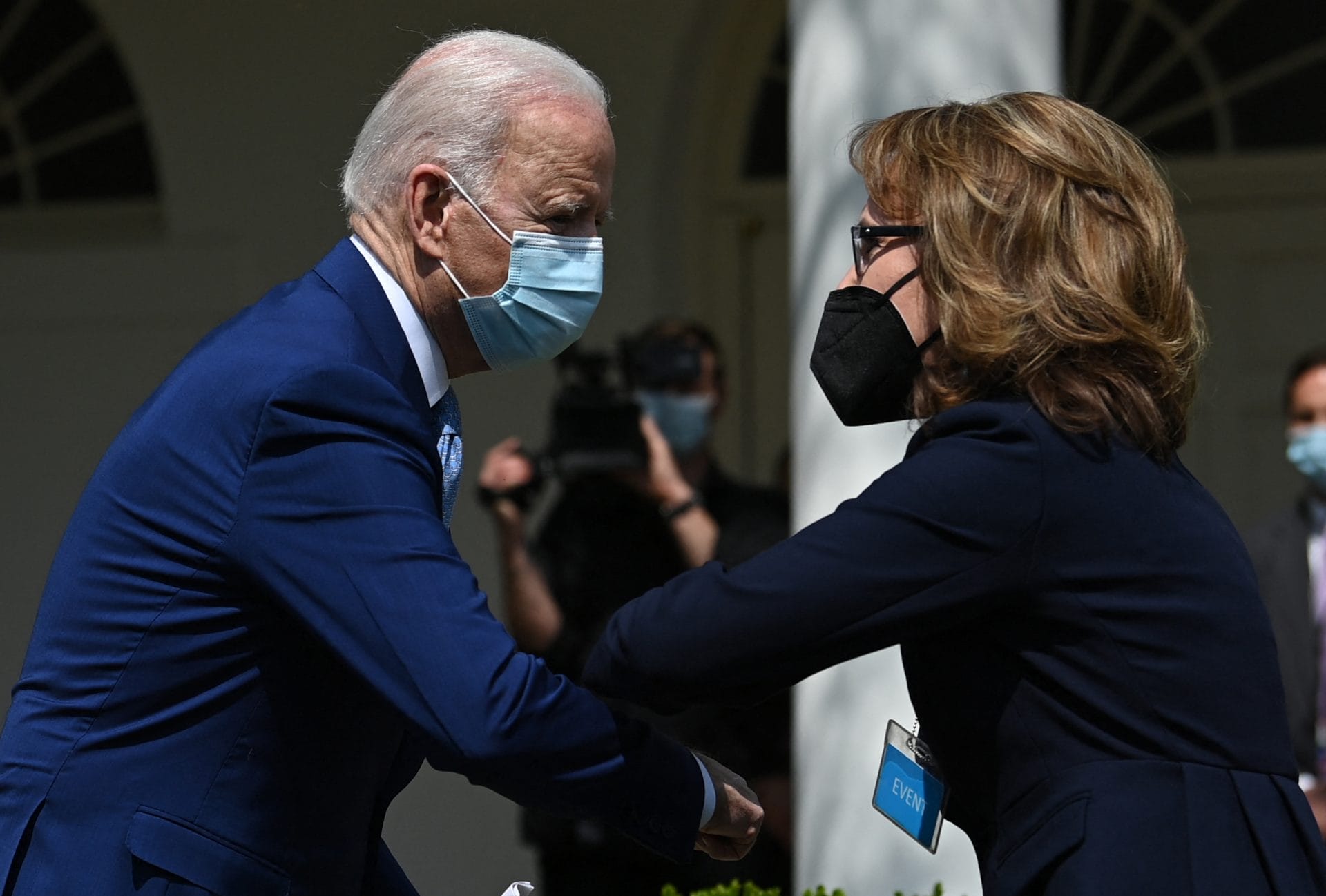 Gabby Giffords Joins President Biden for White House Ceremony Announcing Executive Actions on Guns
President Biden ran on the strongest gun safety ticket in history—and today, he delivered on that progress.
President Biden, Vice President Harris, and Attorney General Merrick Garland spoke from the White House Rose Garden today to announce a series of executive actions on gun safety. Among these executive actions are a proposed rule to help stop the proliferation of ghost guns, a model extreme risk law released by the Department of Justice, and recommended community violence intervention investments in addition to the $5 billion included in the president's recent jobs bill. These actions represent the administration's sincere commitment to ending this epidemic, and are critical steps in the right direction.
Gabby Giffords and a number of other survivors and activists were in attendance, including Fred Guttenberg, whose daughter Jaime was murdered in the Parkland shooting in 2018; survivor and Community Justice Action Fund National Advocacy Director Greg Jackson, activist and Pulse Nightclub shooting survivor Brandon Wolf, and peacemaker and activist Erica Ford. These activists and survivors have worked tirelessly alongside thousands of others to see progress at the federal level on this issue.
It is a testament to President Biden and Vice President Harris's commitment to gun safety that they have made this issue a priority while navigating the ongoing COVID-19 pandemic and the fastest mass vaccination campaign in the nation's history. Giffords endorsed Joe Biden for president in March 2020, noting that over his decades of public service, President Biden has always made gun safety a priority. Both Joe Biden and Kamala Harris released robust gun safety plans during the primary campaign, making their ticket the strongest presidential gun safety ticket in history.
"Enough prayers. Time for action."

President Joe Biden
To underscore the urgent need for action on gun safety, next week we will unveil a Gun Violence Memorial on the National Mall to remember victims of the crisis and inspire the courage to act. The installation will feature 40,000 silk flowers to represent the number of Americans who die from gun violence every year. Our hope is that the Gun Violence Memorial keeps the gun violence crisis at the forefront of people's minds and helps us sustain the momentum we need to make meaningful progress at the federal level for the first time in decades.
SUPPORT GIFFORDS
We're in this together. To build a safer America—one where children and parents in every neighborhood can learn, play, work, and worship without fear of gun violence—we need you standing beside us in this fight.