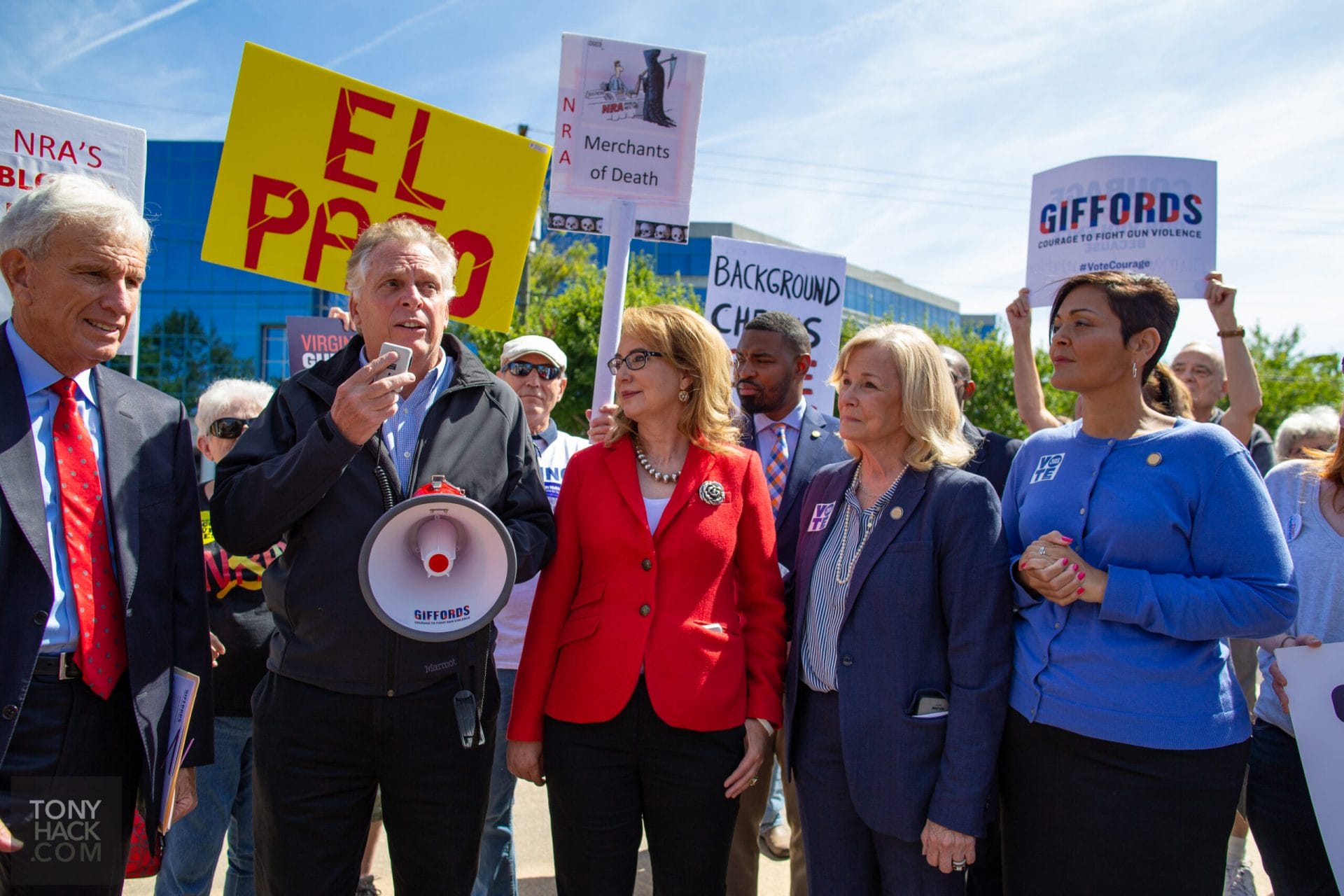 Keep Virginia Blue to Keep Families Safe
Democrats in Virginia have passed lifesaving legislation over the past two years. To continue making progress, we need to keep the gun safety majority in office. 
After two years of meaningful progress in the Virginia General Assembly, protecting the state's gun safety majority has never been more urgent.
The Democratic majorities in both the Virginia Senate and House of Delegates have worked tirelessly to protect communities across the state since being elected in 2019. We can't go back to the way things were before.
In 2021, Virginia enacted a strong package of strong gun safety laws, but there remains much more the state should do to protect its communities from gun violence.
Gun Law Scorecard Grade: B
Over the last 15 years, Virginia has seen countless tragedies that resulted in unnecessary loss of life. What has the Republican-controlled state legislature done to strengthen gun laws? Nothing.
Incidents like the 2007 Virginia Tech shooting in which 32 people were murdered and the mass shooting at Virginia Beach just two years ago that claimed a dozen lives have cemented gun violence as top of mind for Virginians.
A 2019 Washington Post poll found that gun safety was a "very important" issue for 75% of surveyed Virginia voters. In that same year, voters elected a delegation of gun safety advocates who promised their constituents they would take action. It's clear that Virginians have had enough.
Virginia Democrats Have Delivered on Their Promise for Action
After less than two years in office, Virginia lawmakers have enacted swift and thorough gun legislation. Responding to the rising threat of violence across the state, Democrats introduced and passed bills disarming people who have committed domestic violence, enacting extreme risk protection orders, strengthening background checks, and reinstating the one-gun-a-month limit—just to name a few.
Virginia allows an attorney for the Commonwealth or a law enforcement officer to petition a court for a "substantial risk order" against a person.
Some of these laws had been blocked by Republicans as recently as the previous legislative session. Blatantly ignoring the demands of Virginians, the GOP's inaction delayed lifesaving legislation from taking effect sooner—and cost countless lives. 
At the time the legislation was passed, Virginia had devastating gun violence statistics: every nine hours, someone in the state was killed with a firearm. But thanks to the Democratic majority's new gun safety measures, Virginia jumped from a D grade to a B in Giffords Law Center's annual gun law scorecard—making it the highest-rated state for gun safety in the South. 
These laws only took effect in July of last year, and would be vulnerable to repeal if Virginia loses its gun safety majority. It's critical to elect Virginia Democrats this November, who have proven their commitment to the health and safety of their communities and will continue to put the people of Virginia first.
Expanding the Gun Safety Majority Is the Path to a Safer Virginia
After the 2019 shooting in Virginia Beach, Governor Ralph Northam called for a special session of the assembly to consider a variety of gun safety proposals. Republicans refused to take any action at all—after only 90 minutes, the session was adjourned along party lines without even a debate.
Not only were the actions of the Republican lawmakers irresponsible and dangerous, they were incredibly disrespectful to anyone who has experienced gun violence, and especially toward those who were mourning the lives lost in the Virginia Beach shooting. Virginians swore to take action that November, and they made good on that promise by defeating GOP candidates across the state and electing a gun safety majority committed to their safety.
Now, with another critical election upon us, the people of Virginia must rally that same energy. Although lifesaving progress has been made, we cannot miss our opportunity to hold onto power and continue moving forward. Giffords has endorsed a slate of candidates for the upcoming election—candidates who are committed to Virginia and committed to the fight against gun violence.
Election Day is Tuesday, November 2nd. If you're in Virginia, make sure you have your voting plan, encourage your friends and family to join you, and go vote to help keep Virginia blue.
TAKE ACTION
The gun safety movement is on the march: Americans from different background are united in standing up for safer schools and communities. Join us to make your voice heard and power our next wave of victories. 
GET INVOLVED