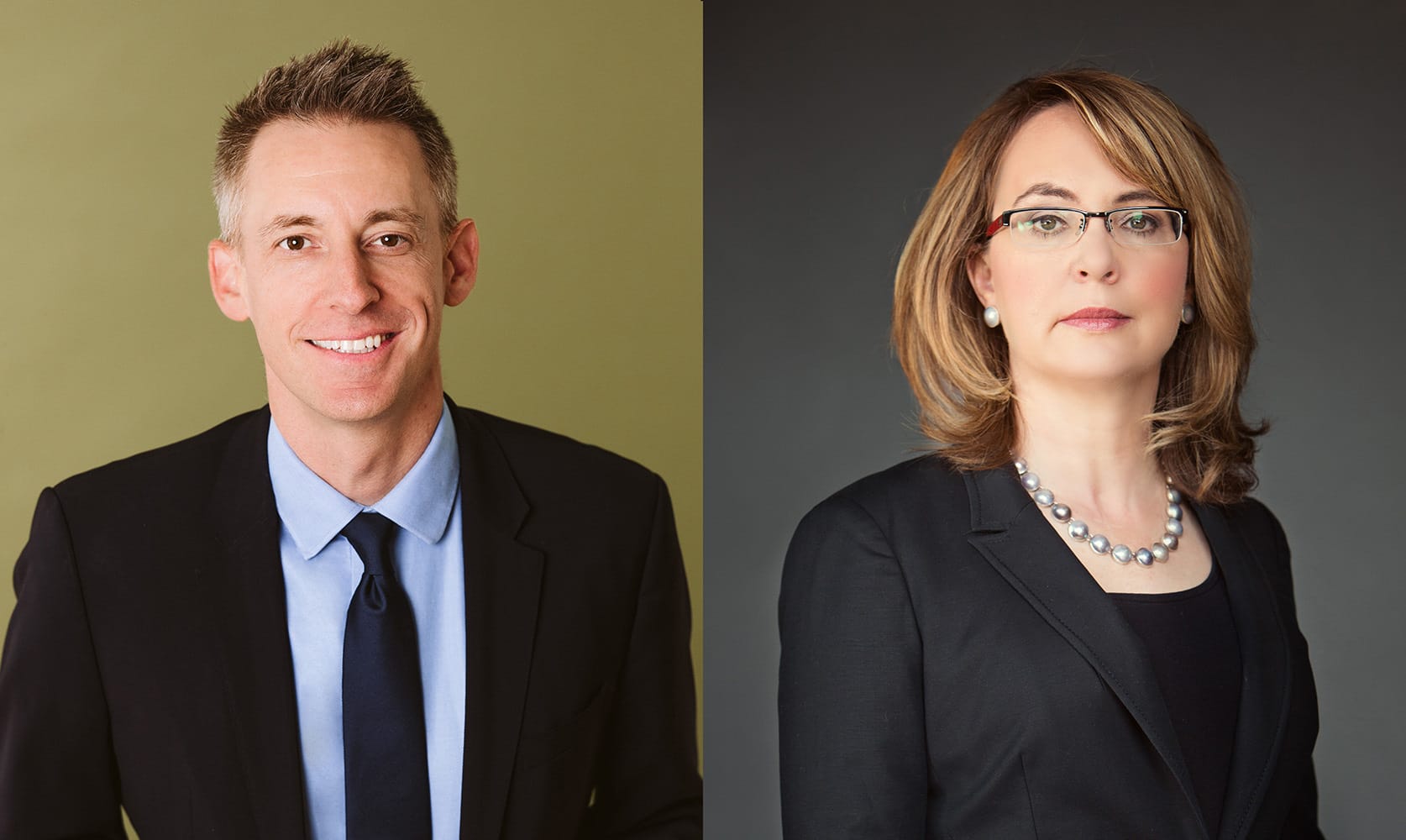 Gabby Giffords Q&A with Jason Kander
Gabby Giffords speaks with author, veteran, and politician Jason Kander about public service and prioritizing mental health
Jason, it's so wonderful to speak with you again. You recently released your new book, Invisible Storm, and let me just say—you have an unbelievable amount of courage, and I am so lucky and proud to call you my friend.
In your memoir, you discuss your mental health struggles after returning from military service in Afghanistan. Your battle with PTSD was synchronous with your rise in politics, but you hid your struggles from nearly everyone. Now, you're opening yourself up for the world to see—wounds, flaws, and all. What made you decide to take this leap, and what audience do you hope your book reaches?
Thank you, Gabby. Your friendship means a lot to me too, and it's an honor to serve on the board of Giffords and be a part of your inspiring work against gun violence.
I decided to write this book because I knew there were a lot of people out there, veterans and non-veterans alike, who felt just as I had for a decade—convinced that whatever they went through wasn't traumatic enough to warrant getting treatment, ashamed at their symptoms. I felt that way for ten years and it nearly killed me. Literally.
If a book like this had existed fourteen years ago when I first came home from Afghanistan, I genuinely believe I would've gotten help then, instead of waiting so long that I allowed it to get worse and worse. But after all these years, that book still didn't exist, so I decided to write it.
Despite progress in the past few decades, mental health is still a relatively stigmatized topic in America today. It's something that many people struggle with, but very few openly discuss. And it's especially difficult to manage your mental health while in the public eye.
After taking a break from public life, your name has now returned to national headlines with the release of your new memoir. How do you balance your personal life—your recovery, family, and mental health—with politics and public attention?
It's such an important question, especially for me, because I spent a good chunk of my adult life avoiding my own intrusive thoughts and disruptive memories, my own emotions, by throwing myself into a career in public life. Public attention, speeches, media, social media feedback all became self-medication for me. A way for me to simultaneously avoid being alone with my own brain and also try to convince myself that I wasn't totally irredeemable—a feeling I had because, as it turns out, self-loathing can be a part of PTSD.
But even more than the avoidance part of a public life, I was driven by a deep conviction that I hadn't done enough, that if I just achieved this or that, I would feel better. That, however, was a mirage. Always over the next hill, never reachable. Today, I've come to the realization that I've actually done quite a lot. I risked my life for my country, and then I gave ten to fighting for democracy off the battlefield, as well.
Today, America and I are square.
So I still work to advance causes I care about, and I use my platform to go on social media or TV or my own podcast and sound off, but I rarely do anything because I think I should, and I never do anything so that I can have the chance to do something else.
Today, I do a lot of what I want to do, rather than what I feel I have to do. After the kids go to bed, I rarely open my laptop and do work. I hang out with my wife, Diana, instead. I drop our son, True, off at school almost every morning, and I'm usually the one who picks him up too. Our daughter, Bella, and I have a very special relationship. Her first word was "daddy."
You've been incredibly honest with yourself and the world about your ongoing struggle with PTSD, which I know can't be easy. In your book, you talk about how you had to learn to manage and ultimately live with it, instead of striving to heal yourself from it entirely. Throughout my recovery, many of my hobbies—like biking, singing, and playing the French horn—have become critical ways to exercise my mind and body. How do you like to spend your down time, and have any of your hobbies become crucial to improving your mental health?
Well, I'm a pretty terrible singer and I never learned to play an instrument, but, like you, I've always been pretty athletic, and these days I work out nearly every day. Baseball is nearly a religion in the Kander family, and I've entered a much more "observant" chapter of my life in that regard.
I coach True's Little League team, and I truly love it. I spend a couple hours a week during the spring and summer planning lineups for games or drills for practice.
I'm even back to playing baseball myself. I play centerfield for the Kansas City Hustlers of the National Men's Adult Baseball League. Not beer league softball. Actual baseball alongside former college and pro ballplayers. I'm 41 and I spend a lot of time exercising to make sure I can keep playing a game. That, to me, is a pretty good indication of work-life balance.
When you were running for US Senate in Missouri, you had a compelling campaign ad where you assembled an AR-15 while blindfolded, demonstrating your familiarity with firearms as well as your commitment to commonsense gun safety legislation. During your time in and out of politics, you've encouraged Democrats to seek common ground with individuals who have opposing ideologies, often through unconventional approaches like you demonstrated in your ad. 
This is a strategy we use time and again in the gun safety movement, in order to reframe the conversation and steer Americans away from gun lobby talking points. Have you found success in your approach to politics this way, and what do you think it's going to take to really break through the hyper-partisan political landscape we're dealing with today?
I've never found it necessary to moderate or compromise my values in order to search for common ground, and I think that's important, because too many forces in our politics seem to discourage conversation. I have friends who tell me that reaching out to people who voted differently than us constitutes some sort of moral compromise—some sort of character flaw. And I just don't agree.
If we are going to accomplish anything, we have to persuade people. There's just no way around it. And I live here in the middle of the country, so I have lots of friends and neighbors who see the world differently than me. That presents me with two choices. Either I can sever relationships in the name of ideological purity or I can leverage those relationships to bring people a little closer to my point of view. It's not always easy, but I generally choose the latter.
It's those relationships that tend to break through the hyperbole. Not TV ads, not major political developments, because the news environment is so polarized now that everyone is choosing their own adventure, their own reality. My neighbor who watches Fox News is going to believe what they tell him on Fox News because he trusts the people telling him, but he might also trust me because our kids play together. If he hears something from me that conflicts with Fox News, but he doesn't hear it from me in a confrontational tone, doesn't feel as though I'm rendering a moral judgment about him, he'll take a moment to reconsider his opinion. He's a lot less likely to do that because of a TV ad.
I guess what I'm saying is that we all underestimate just how much power we have to change the minds around us, but if we did realize the power of individual relationships, we'd change things much faster.
Jason, I know you're very involved with the Veterans Community Project, which works to provide resources to veterans and to get homeless veterans off the streets. While it began in Missouri, it's slowly expanding to cities across the country. You've dedicated a lot of time and energy to this project in the last few years, and without a doubt you've saved lives. Why have you made this specific project such a large part of your life, and how do you see it grow in the next five to 10 years?
Thanks for asking about Veterans Community Project. When I first decided to go to the VA for PTSD treatment, Veterans Community Project (VCP) helped me navigate that process, just as they have done for so many other vets. VCP is a profoundly inspiring place, and from the moment I showed up, it just felt like home.
VCP's campuses offer walk-in, outreach centers where any vet can receive assistance with nearly anything. By creating such a low barrier to entry, we are able to fight veteran suicide. However, we're best known for our work on veteran homelessness. VCP builds villages of tiny houses and combines them with wrap-around, comprehensive case management to transition folks out of homelessness and back to being fully contributing members of society. We do this with an unprecedented 85% success rate.
For the past three years, I've been the president of national expansion at VCP. In that time, we've expanded to the Denver area, to St. Louis, to Sioux Falls in South Dakota, and now we're going into Oklahoma City, as well. We have more cities in the works too. It's the best civilian job I've ever had, and people can support us at vcp.org.
You and I have had very different journeys in and out of politics and public service. But we have both had obstacles to overcome, and we've both worked hard to get to where we are today. When I'm asked about what advice I would give to survivors and advocates, without fail I say "move ahead." What advice would you give to someone struggling with hardship in their life?
Lately, I've found myself giving a lot of advice to people who have experienced trauma, and the number one message I've preached of late is that post-traumatic growth is real and that it's worth pursuing. For the longest time, I assumed that whatever was going on with me was permanent, and I avoided a diagnosis of PTSD because I assumed it was terminal (if not literally terminal, at least terminal to my career). I assumed this because we are hardly every exposed to portrayals of PTSD that vary from what I refer to as PTSD Porn: an out of control person committing crimes, using drugs, and beating their spouse. 
It's actually very common for people to go to therapy for trauma and come out the other side able to manage their PTSD to a point where it's no longer disruptive to their lives. This post-traumatic growth happens everyday, but we rarely see it on TV, so we assume it's impossible.
If more people knew how common it was, and how great it feels to carry less of a burden like that, more people would go after it, so I spend a lot of time talking about post-traumatic growth.
TAKE ACTION
The gun safety movement is on the march: Americans from different background are united in standing up for safer schools and communities. Join us to make your voice heard and power our next wave of victories. 
GET INVOLVED