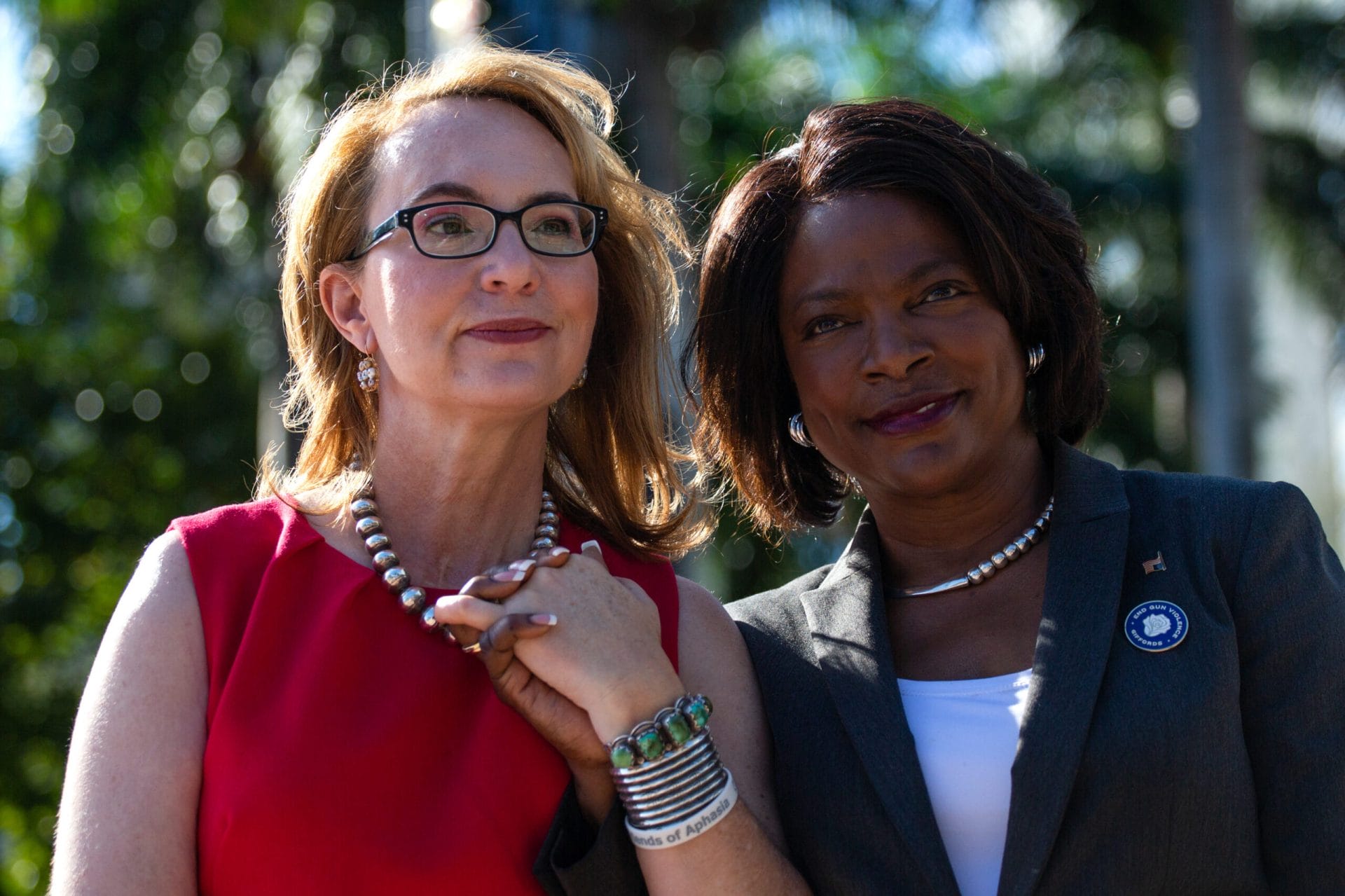 La seguridad pública está en la boleta electoral en Florida
¿Cómo estás ayudando a sacar el voto?
El día de las elecciones está a la vuelta de la esquina, así que quería compartir algunas formas en las que hemos luchado por hacer de Florida un estado más seguro.
En Giffords Florida hemos trabajado arduamente para construir un futuro sin violencia. Continúa leyendo para conocer lo importante que es este esfuerzo, y porqué sin ti no podemos llevarlo a cabo. ¡Hemos logrado tanto durante estos diez meses!
In the wake of the tragic school shooting in Parkland, Florida significantly improved its gun laws, but still has a long way to go. 
Gun Law Scorecard Grade: C-
Primero, en Diciembre pasado respaldamos al campeón en tema de seguridad en armas de fuego Val Demings para enfrentarse cara a cara contra Marco Rubio, quien continúa negándose a tomar cualquier medida para nuestra seguridad. Y construimos el Miami Gun Violence Memorial en Bayfront Park para rendir homenaje a la creciente ola de violencia sin sentido.
A principios de este año, contratamos a nuestro primer director estatal de Florida (¡quien soy yo!) y lanzamos Giffords Florida para construir un movimiento político sustentable para la seguridad en tema de las armas de fuego en el Estado del Sol. Salimos a la carretera en nuestro recorrido en autobús de Giffords Florida para compartir un mensaje muy sencillo: es hora de construir un futuro más seguro, y cada uno de nosotros puede desempeñar un papel para lograrlo.
Ahora nos encontramos en carrera a toda velocidad hacia el día de las elecciones lanzando una campaña de seis cifras para anuncios en el sur de Florida y organizando eventos para votantes en todo el condado de Miami-Dade. En resumen, estamos haciendo todo lo posible para que el voto por los campeones de la seguridad en tema de las armas de fuego se vea reflejado en la boleta electoral de arriba a abajo.
La seguridad pública se encuentra en la boleta electoral en Florida, y ninguna contienda lo deja más claro que Val Demings vs Marco Rubio.
Los dos candidatos se enfrentaron recientemente en un debate televisado, y el contraste no podría haber sido más obvio.
De un lado: un ex jefe de policía que apoya las leyes de seguridad con sentido común en tema de armas de fuego, tales como la verificación universal de antecedentes. En el otro: un político de carrera quien declaró que apoyaba las verificaciones de antecedentes después de Parkland, y luego hizo todo lo posible por bloquear esas mismas reformas.
Presta atención a este momento clave durante el debate:
Hay un sólo candidato para la seguridad en tema de armas de fuego en esta carrera y ese candidato es la jefa Val Demings. Dos de los peores tiroteos masivos en la historia moderna de los Estados Unidos ocurrieron en Florida mientras Rubio estaba en el cargo y, sin embargo, el senador Marco Rubio no ha hecho nada para abordar el tema. Votó en contra de la legislación bipartidista de seguridad de armas de fuego que se aprobó este verano, legislación que contó con el apoyo de 15 senadores republicanos. ¡Cualquier floridano que quiera un futuro seguro debe votar por la Jefa Val Demings!
Cada voto cuenta. ¿Cómo estás tú ayudando a promover el voto a favor de la seguridad en tema de armas de fuego?
Si estás leyendo esta publicación, es muy probable que estés registrado para votar. Pero, ¿también lo están tus amigos y familiares? ¡Comuníquese con las personas que conoce y asegúrese que planean votar!
La votación anticipada comienza a través de todo el estado el 29 de Octubre y tan temprano como el 24 de Octubre en algunos condados como Miami-Dade.
Encuentre aquí los enlaces:
Es hora de unirnos y votar por el sentido común y la seguridad pública, no por el extremismo. ¡Gracias por poner de tu parte! La seguridad de nuestras comunidades está en la boleta electoral de esta elección.