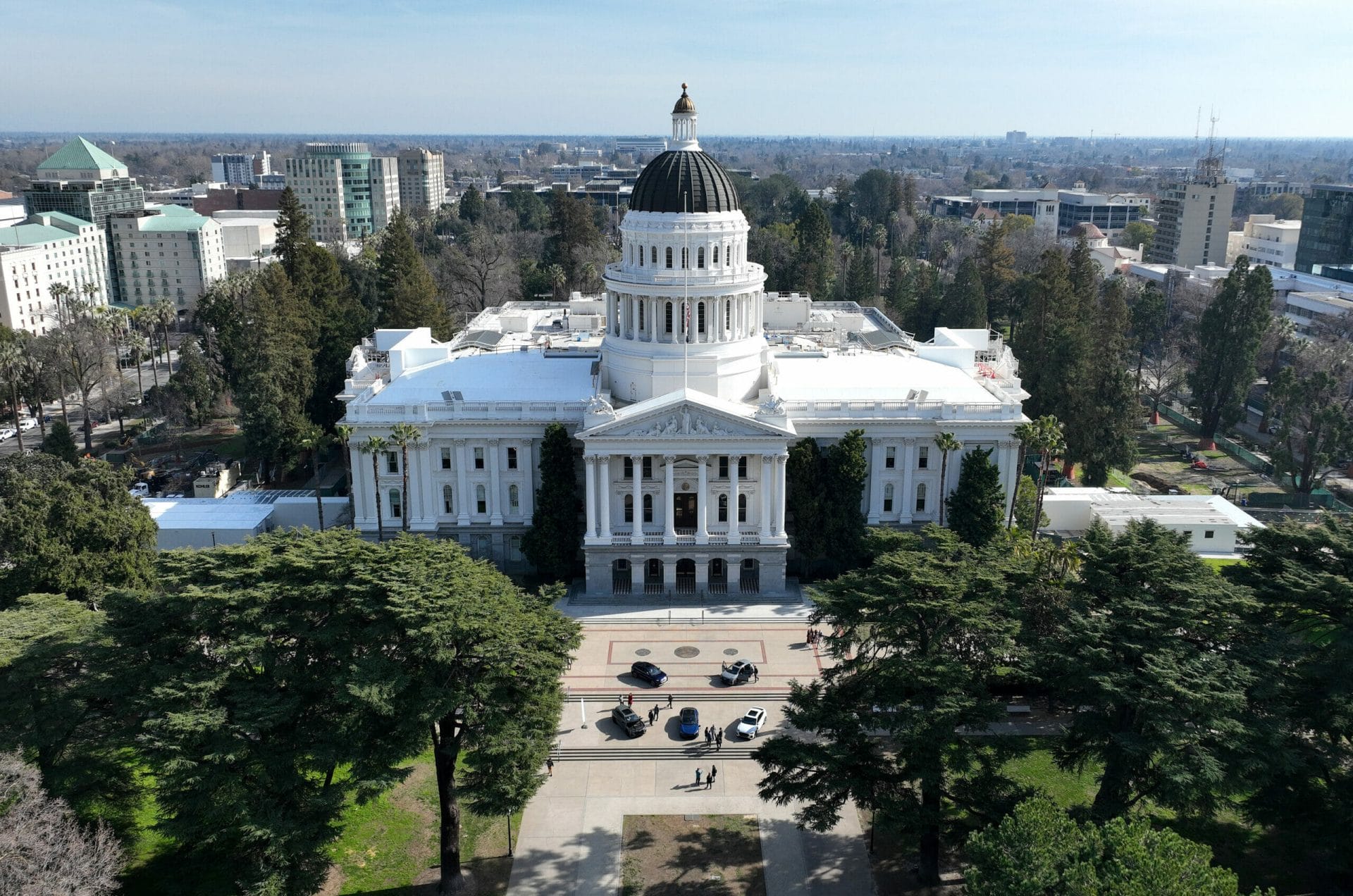 California's Landmark Violence Prevention Legislation Deserves to Become Law
If Governor Newsom signs it, the Gun Violence Prevention and School Safety Act would generate nearly $1 billion within five years for effective programs to reduce shootings.
Once again, California is cementing itself as a leader in gun safety.
The Gun Violence Prevention and School Safety Act, also known as AB 28, is a first-of-its-kind bill that will require the gun industry to pay its fair share to stop the gun violence epidemic, a crisis gun companies help fuel. By taxing record gun industry profits, AB 28 is estimated to raise $160 million every year to fund community violence intervention programs, improve safety at schools, and provide services and resources for gun violence survivors.
Last week, AB 28 passed the California legislature with two-thirds support in both the assembly and the senate, and it's now on Governor Gavin Newsom's desk. As a national champion when it comes to gun safety, Governor Newsom should sign the bill into law, which will help prevent many of the thousands of gun violence–related deaths and injuries that are inflicted each year in this state.
Gun violence is on the rise. It's the leading cause of death for children in America, and there have been more mass shootings this year than there have been days in the year. During hard times like this, we rely on courageous leaders to help pave a path forward to a better future. Governor Newsom has helped California become a pioneer state when it comes to addressing gun violence, and he should build on his legacy by signing AB 28 into law. 
MEDIA REQUESTS
Our experts can speak to the full spectrum of gun violence prevention issues. Have a question? Email us at media@giffords.org.
Contact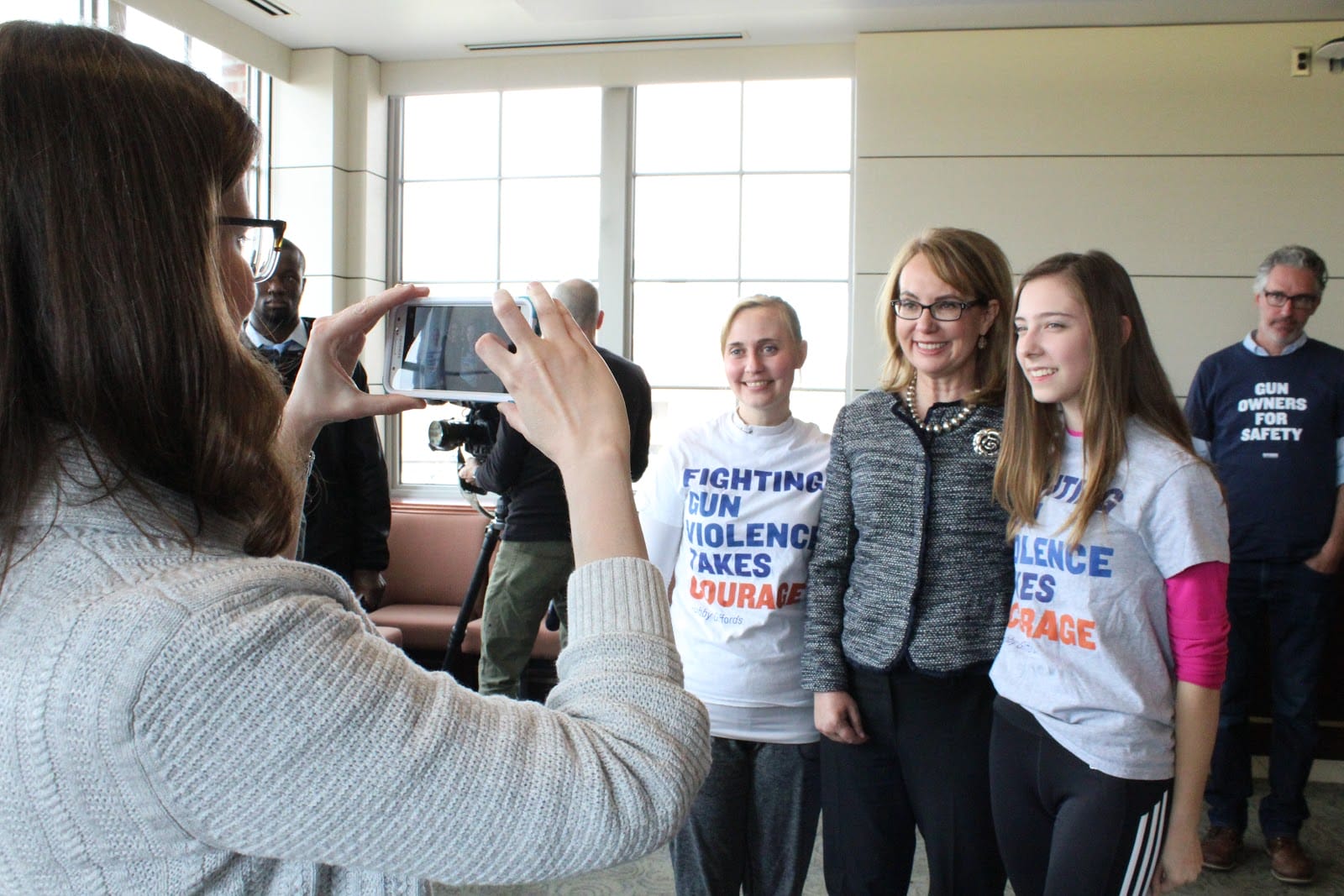 AB 28, a First-of-Its-Kind Bill
The Gun Violence Prevention and School Safety Act is a top priority in the gun violence prevention movement, and its passage through the California legislature is a historic achievement. The bill would place an 11% excise tax on the firearm industry, with the money generated going to fund proven gun violence prevention programs across the state.
These programs work. The revenues from the Act would provide a vital lifeline to the California Violence Intervention and Prevention Program (CalVIP), which funds evidence-based violence intervention programs in disproportionately impacted communities across the state. It would also fund initiatives that directly address gun violence in and around schools, including funding school safety measures, mental health services, and after-school programs for students at risk of violence. 
Additionally, AB 28 would generate significant funding for programs that would ensure abusive partners can't access guns and ammunition and make mental health services available for all gun violence survivors. All of these strategies have been shown to save lives and reduce the huge economic burden of gun violence—which is estimated to cost California taxpayers approximately $18 billion every single year.  
There's a precedent for laws like this. In the 1980s the state began taxing cigarettes to fund smoking prevention programs, leading to thousands of lives saved and billions in healthcare savings. The gun industry has paid a federal tax since 1919 that funds wildlife conservation—all AB 28 does is apply the same legal mechanism to preventing shootings.
The gun industry and others have made a number of bad faith arguments against this bill. We want to make a few points clear.
AB 28 proposes a 11% excise tax on dealers and manufacturers, not on gun buyers. The intention of this bill is not to stop people from buying guns—that's why the tax is for the dealers and manufacturers and not the consumers.
AB 28 is constitutional. The recent Supreme Court decision in the case New York State Rifle and Pistol Association v. Bruen says that courts can look at the "historical tradition of firearm regulation" when it comes to making decisions about gun policies. As mentioned above, a federal tax of this kind on the gun industry has been in place for more than 100 years, and similar taxes and fees on firearms and ammunition have been implemented in states dating back to the 1800s. 
The gun industry opposes AB 28 because it puts a dent in its record-breaking profits. For decades, gun companies have raked in massive amounts of money—and this has only increased since the beginning of the COVID-19 pandemic. Smith & Wesson, the company who sold the rifle used in the Highland Park shooting, saw its profits jump from $108 in 2019 to $253 million in 2021. 
It's clear that the gun industry is enjoying record profits—at the same time that gun violence is reaching record highs. Now, it's time for the industry to pay for its fair share of the violence caused by the sale of its products.
Governor Newsom Must Sign AB 28 into Law
California has been a leader in gun violence prevention for over 20 years, adopting some of the most important gun laws like universal background checks, an assault weapons ban, and regulations on ammunition. Thanks to its strong approach, California's gun death rate is well below the national average and is lower than states like Texas and Florida. But even its comparatively low gun death rate is still too high, and there's more work to be done—particularly in underserved communities, where vital violence intervention funding will do the most good.
Gavin Newsom, as mayor of San Francisco, lieutenant governor, and now as governor, has been a consistent champion of the policies and programs proven to save lives from gun violence. He's fought for historic ballot initiatives, signed many bills to strengthen California's gun safety laws, and spoken out against the gun industry's greed and indifference.
Governor Newsom will soon have the opportunity to help make another gun safety law a reality, one that will have a major impact on lives in California and potentially across the country. As he has stated time and again, California needs every possible tool at its disposal to address the gun violence epidemic—and AB 28 provides a powerful new tool that will save lives.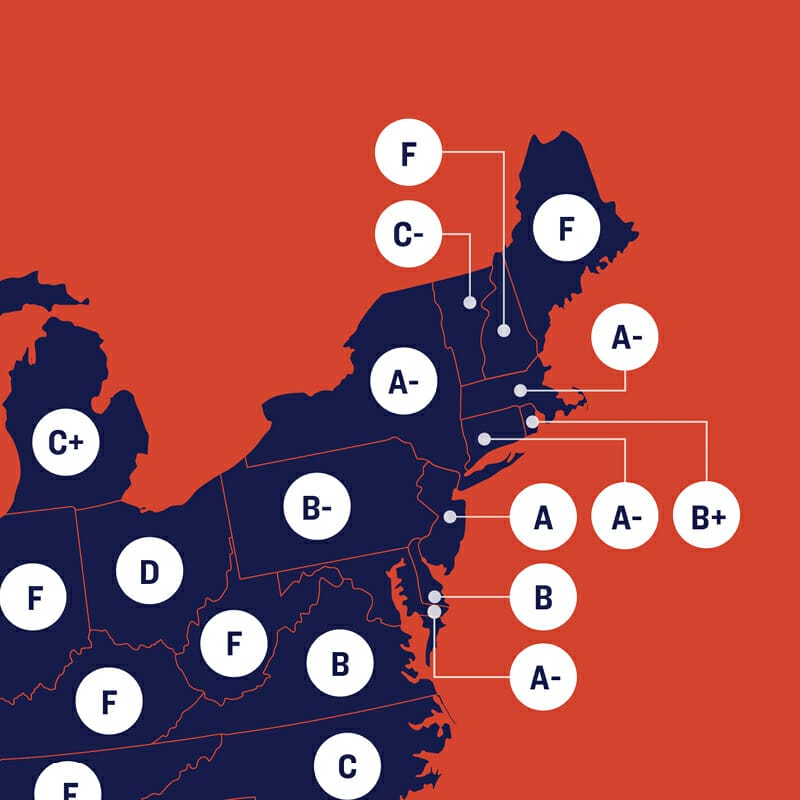 SPOTLIGHT
GUN LAW SCORECARD
The data is clear: states with stronger gun laws have less gun violence. See how your state compares in our annual ranking.
Read More