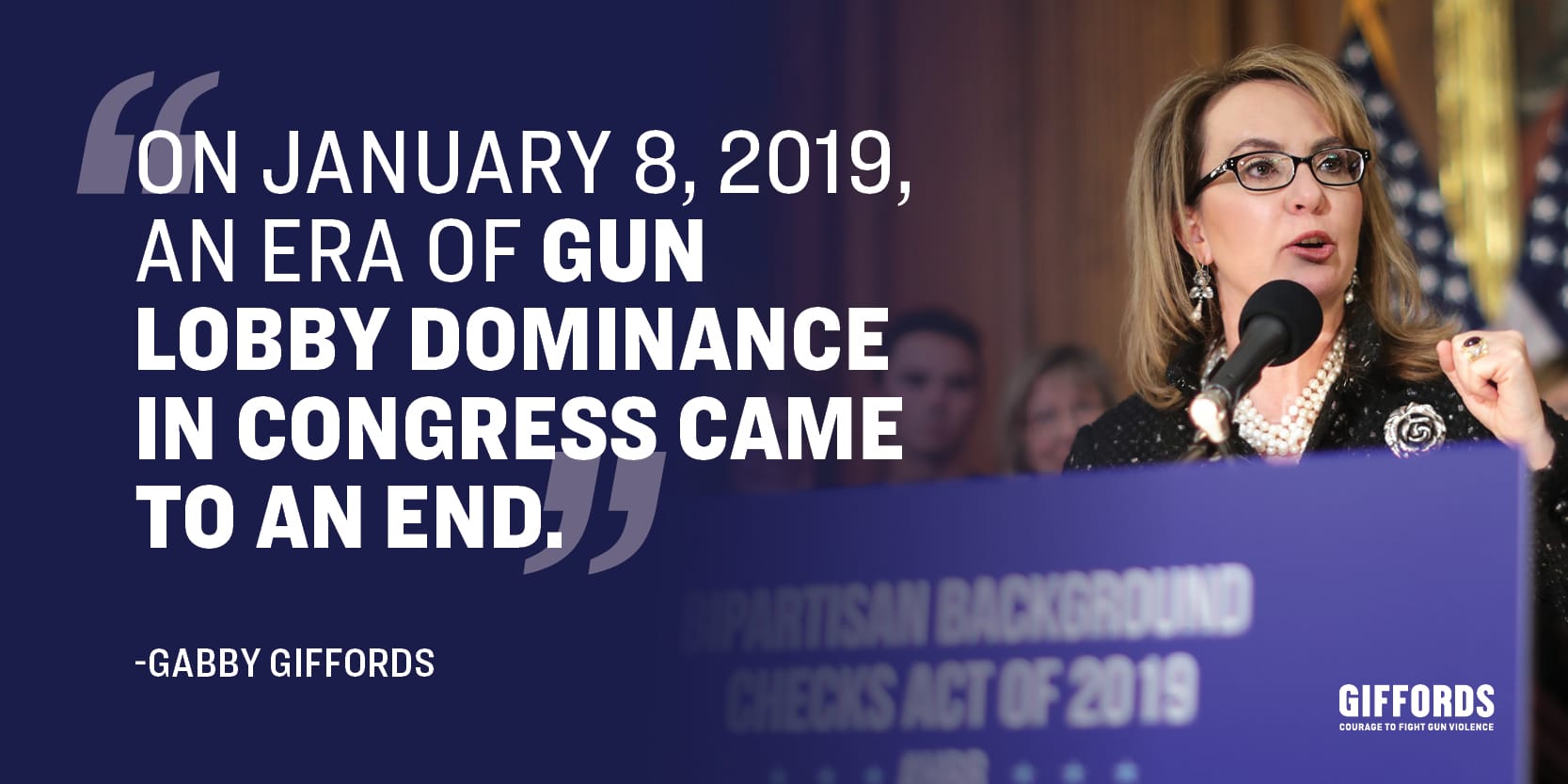 Former Congresswoman Gabrielle Giffords Statement Marking a Year Since the Introduction of HR 8, Bipartisan Background Checks Act of 2019
January 8, 2020 — Former Congresswoman Gabrielle Giffords, co-founder of the gun safety group Giffords, released a statement ahead of the one year anniversary of the House of Representatives introducing HR 8, the universal background checks bill.
Former Congresswoman Gabrielle Giffords:
"On January 8, 2019, an era of gun lobby dominance in the House of Representatives came to an end. Surrounded by former colleagues and fellow survivors, I helped introduce HR 8, the Bipartisan Background Checks Act, legislation that would be passed through the House by a 50-vote margin within weeks. The NRA lobbyists—outworked, outspent, and outclassed on the campaign trail—were no match for millions of Americans united behind a vision of a nation made safer from gun violence.
"After I was shot nine years ago, I struggled to walk again and talk again—I struggle still. I also struggle with the memories of those we lost that day. But from great loss we have built an even greater movement dedicated to stopping such shootings from happening in the future. As I worked to walk and worked to speak, we also built a great social movement one step at a time. As I worked to find the words, America found its voice.
"This is a voice that Senate Majority Leader Mitch McConnell and President Trump choose to ignore. While we remain angry about the scale of gun violence hurting our country, the President and his Senate allies act like nothing is happening. America's voice will be decisive in 2020 if the Senate doesn't allow votes to take the first critical step toward safety by putting a background check on every gun sale. If Congress doesn't change our gun laws, we'll change Congress."
Background on Giffords Efforts to Pass HR 8
HR 8 was introduced on January 8th, 2019, which also marked the eighth anniversary of the Tucson shooting. Former Congresswoman Gabrielle Giffords joined Speaker Pelosi and Congressman Thompson for a press conference on Capitol Hill to unveil the legislation. In the weeks since, Giffords has been publicly advocating for swift passage of the bill. Giffords elevated the voices of Americans demanding action by teaming up with March for Our Lives, Town Hall Project, TOMS, and Levi's to host a nationwide series of Gun Safety Town Halls rallying support for HR 8.
Giffords Law Center Executive Director Robyn Thomas testified before the House Judiciary Committee urging swift passage of HR 8. She also spoke at the last gun violence prevention hearing held in the House, over a decade ago.
The Giffords Law Enforcement Coalition sent a letter to congressional leadership urging them to pass the lifesaving legislation. Signed by 15 law enforcement leaders from across the country, the letter illustrated the urgent need to close loopholes in America's background checks system that endanger communities, including the thousands of law enforcement officials who put their lives on the line every day for our public safety.
Members of the Giffords Veterans Coalition sent a letter to congressional leadership highlighting the fact that horrific mass shootings and the daily toll of gun violence have left Americans feeling less safe and called on Congress to close loopholes in the country's background check system that leave communities in danger. These 13 top veteran military leaders point out why immediate action is needed as the gun death rate in America has reached its highest level in nearly 40 years.
On February 27, the House passed HR 8, the Bipartisan Background Checks Act of 2019 , to require a background check on every gun sale or transfer. A day later they cleared HR 1112, The Enhanced Background Checks Act, to provide the FBI additional time to complete background checks and prevent prohibited people from obtaining guns. Leader McConnell has since blocked the passage of HR 8, refusing to bring any proposals from the other chamber up for debate or consideration.
In August, Giffords released a nearly $750,000 ad campaign pressuring the Senate to hold a vote on the bipartisan background checks bill. The two ads, calling out Majority Leader Mitch McConnell (R-KY) and Senator Cory Gardner (R-CO), illustrate the devastating impact gun violence is having on our families and calls out both Senators for failing to support HR 8, the Bipartisan Background Checks Act of 2019 .