Former Congresswoman Gabrielle Giffords Comes to Denver to Back Gun Safety Champion John Hickenlooper for Senate
Hickenlooper, with long record passing stronger gun laws as governor, is running to defeat NRA ally Cory Gardner and make gun safety laws a Senate priority
Washington, DC — Former Congresswoman Gabrielle Giffords, co-founder of the gun violence prevention organization Giffords , announced her endorsement of former Colorado Governor John Hickenlooper for Senate during a full day of campaigning in the Denver area. Joining Gov. Hickenlooper for a gun violence roundtable and rally in Aurora, former Congresswoman Giffords stressed the importance of electing a gun safety champion like Gov. Hickenlooper to replace longtime NRA-supporter Cory Gardner.
Statement from former Congresswoman Gabrielle Giffords, co-founder of Giffords:
"Governor John Hickenlooper is not afraid to do what's right for Colorado. After the unimaginable horror of the Aurora shooting, he was there for the community. He then did what not many others at the time would do—he took action. He helped pass three strong gun safety laws within a year, including mandating universal background checks and limiting magazine sizes.
"Governor Hickenlooper's story is the exact opposite of Cory Gardner's. Hickenlooper chose courage and stood up to the gun lobby because lives were on the line. Gardner decided that campaign contributions from the NRA were more important than finding solutions that would address the gun violence epidemic. The choice for Senate is clear. John Hickenlooper will be the champion Coloradans and the country need to make all our communities safer."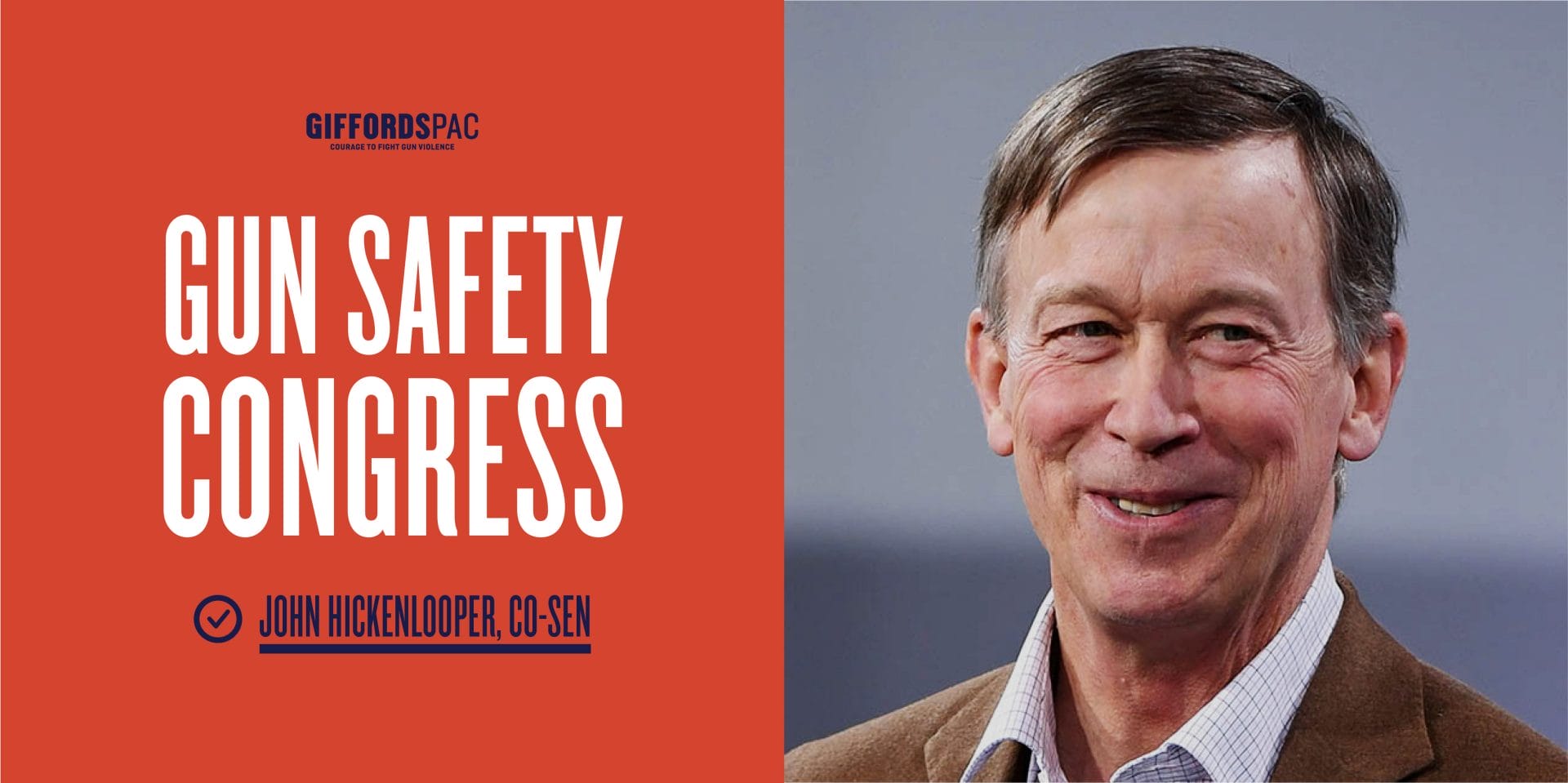 John Hickenlooper has made gun safety a priority throughout his career in public service. As mayor of Denver, he was a member of the group Mayors Against Illegal Guns. After eight years in that role, he took office as governor of Colorado in 2011. He faced one of the toughest challenges of his career in 2012 when a gunman killed 12 people in a movie theater in Aurora. In the face of tragedy, Gov. Hickenlooper honored the victims not only with words, but with action, signing three new gun safety bills into law less than a year later. Those laws, which placed limits on ammunition magazines, required universal background checks, and charged gun owners for those background checks, were some of the first to be passed in the country after the Sandy Hook Elementary School tragedy propelled gun safety into the forefront of the national conversation in 2013. In 2018, despite backlash from the Republican majority in the state legislature, Gov. Hickenlooper was a fierce advocate of an extreme risk protection order bill that would have allowed judges to temporarily disarm people deemed to be a risk to themselves or others.
"I am honored and humbled to earn an endorsement from Gabby Giffords and the organization she founded to combat gun violence. As Colorado's governor, I saw up close the horrific damage gun violence inflicted on our communities," said Gov. John Hickenlooper. "Gabby and I worked together to take on the NRA and pass gun safety legislation here, and I'm running to bring that same drive to the United States Senate and finally pass common sense gun safety legislation like universal background checks. All Americans deserve to live without fear of gun violence in our schools, theaters, or malls."
The trip to Aurora with Gov. Hickenlooper marks yet another stop by for Congresswoman Giffords to the Denver area to support gun safety measures, candidates, and advocates. In August last year, she hosted a town hall with Representatives Jason Crow, Joe Neguse, and Ed Perlmutter, March For Our Lives Colorado, Ceasefire Colorado, and local gun violence prevention advocatesfor a conversation with local leaders, survivors, and activists on federal gun laws, school safety, and more.
The town hall followed the release of two ads in Colorado pressuring the Senate to hold a vote on the bipartisan background checks bill . The ads, part of a $750,000 campaign, illustrate the devastating impact gun violence is having on our families and calls out Senator Cory Gardner for failing to support HR 8, the Bipartisan Background Checks Act of 2019 .
Cory Gardner's extreme fealty to the gun lobby makes him an outlier in a state that has repeatedly strengthened its gun laws in recent years. The NRA has consistently given Gardner 'A' ratings and has spent nearly $4 million to keep him in Washington. The investment has paid off: In 2018, Gardner attempted to block a modest proposal to improve records reporting to background check systems that otherwise enjoyed overwhelming bipartisan support in the Republican-controlled Senate.
H.R. 8 was introduced on January 8th, 2019 , which also marked the eighth anniversary of the Tucson shooting. Former Congresswoman Giffords joined Speaker Nancy Pelosi and Congressman Mike Thompson for a press conference on Capitol Hill to unveil the legislation. In the months since, Giffords has been publicly advocating for swift passage of the bill. Giffords elevated the voices of Americans demanding action by teaming up with March for Our Lives, Town Hall Project, TOMS, and Levi's to host a nationwide series of Gun Safety Town Halls rallying support for H.R. 8.
On February 27, 2019, the House passed H.R. 8, the Bipartisan Background Checks Act of 2019 , to require a background check on every gun sale or transfer. A day later they cleared H.R. 1112, The Enhanced Background Checks Act , to provide the FBI additional time to complete background checks and prevent prohibited people from obtaining guns. Senate Majority Senate Majority Leader Mitch McConnell has since blocked the passage of H.R. 8, refusing to bring any proposals from the other chamber up for debate or consideration.
In our efforts to elect gun safety candidates at all levels of leadership, Giffords is also leading the effort to make this the year the country elects a #GunSafetyPresident. We launched a video campaign this past fall that allowed the American people to hear directly from leading Democratic candidates for president about gun violence—the issue keeping people up at night and dominating discussion at kitchen tables across the country. We also joined with March For Our Lives to host a 2020 gun safety forum in Las Vegas in October.
Recently released polling showed that the issue of gun safety is becoming a major factor for voters, and one that is critical to winning elections in Colorado and other swing states. Fifty-nine percent of suburban women in the swing states of Colorado, Minnesota, North Carolina, Pennsylvania, and Texas support stronger gun laws and say this issue is "very important" to their vote. An even larger group (64%) says that they would never vote for a candidate who didn't support "requiring background checks on all gun sales," outranking 13 other social and economic policy positions as the top voting determinant.