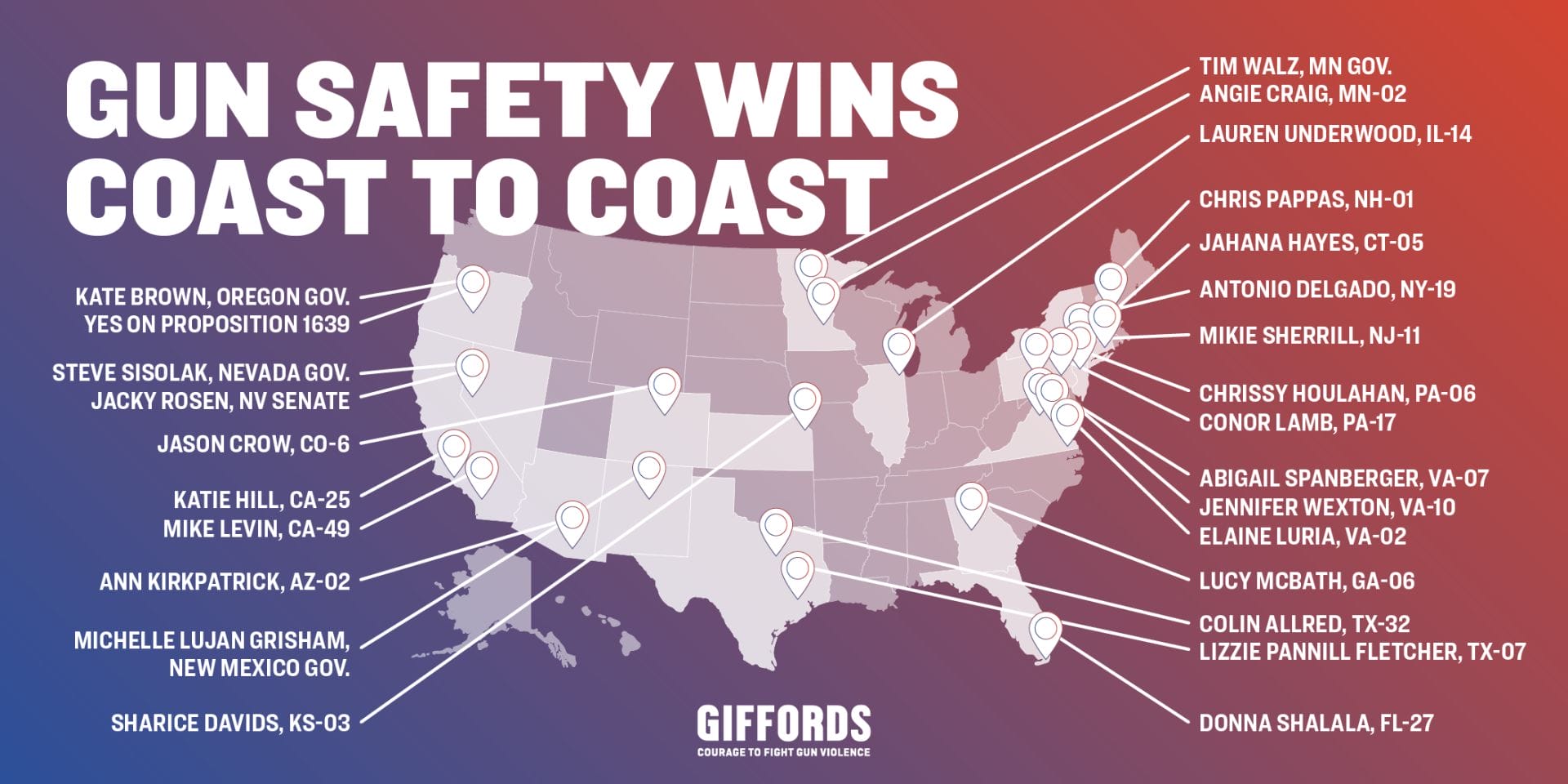 Election Night Guide: What to Know about Gun Safety and the 2018 Midterms
Even before the final votes are counted, one thing is already clear: the politics of guns has shifted dramatically in the past year.
In 2018, gun safety went from third rail to top issue in some of the most contentious campaigns nationwide. From Florida to Texas to Minnesota to Colorado , we saw an unprecedented surge of candidates talking about gun safety on the campaign trail. They ran ads touting the fact that they'll stand up to the gun lobby, proudly showcased NRA "F" ratings , and detailed gun reform platforms on their websites.
And tonight, candidates from coast-to-coast are not only showing us that gun safety is an important issue; they're proving that it's a winning issue.
Follow along here to see where gun safety wins tonight. We'll share updates as races are called:
In the meantime, get up to speed on how gun safety played out throughout this election season.
5 Things to Know about Gun Safety and the 2018 Midterms
Candidates ran away from the NRA.

Last week,

The Boston Globe

reported that, "

vulnerable Republicans in swing districts have distanced themselves from the National Rifle Association, downplaying their top ratings that long were a political boon. And the NRA has drastically cut back political spending this cycle, leaving openings for newly energized gun control groups to run emotional ads attacking Republicans over gun violence."

Gun safety showed up in political ads more than ever before.

If it felt like you saw and heard more about gun safety this year, you're right!

Ads promoting stricter gun regulations have aired 102,636 times across the country this year—

a 22-fold increase

from four years ago, according to a

Wall Street Journal

analysis of Kantar Media/CMAG data.

Gun safety groups are outspent the NRA.

In one of the biggest surprises of the 2018 midterms, gun safety groups, like Giffords, are outspent pro-gun groups, even in deep red states, like Texas. According to a

Reuters

analysis, gun safety groups outspent the gun lobby by more than 40 percent today's congressional elections, reversing the National Rifle Association's longstanding dominance in spending on gun politics.
Learn more about gun safety and the 2018 Midterms
Memo: Giffords Elevates Gun Safety Champions; Takes on NRA in Congressional Battlegrounds. This memo recaps our midterm efforts. We launched nearly $7 million in independent expenditures and endorsed 300 candidates in 34 states. Gabby and Mark traveled to 27 districts to campaign with candidates. In all our work we leaned heavily on the fear of gun violence within suburban communities—especially the fears of mass shootings at schools and other public venues.
Press Release: Gun Safety & The 2018 Midterms. Check out this snapshot of how the debate on guns has changed in the past year and how it could impact the 2018 midterms and beyond.
Races to Watch: 18 Races to Watch in the 2018 Midterm Elections. We were proud to endorse more than 300 gun safety candidates this year. Some are running in traditionally conservative districts. Some ran against the NRA's top financial beneficiaries. All of them have pledged to fight for stronger gun laws while in Congress. With so many candidates — and so much at stake — every race is important. But there are several where gun safety isn't just a defining issue — it's a winning issue. This list walks through 18 to keep a close eye on!