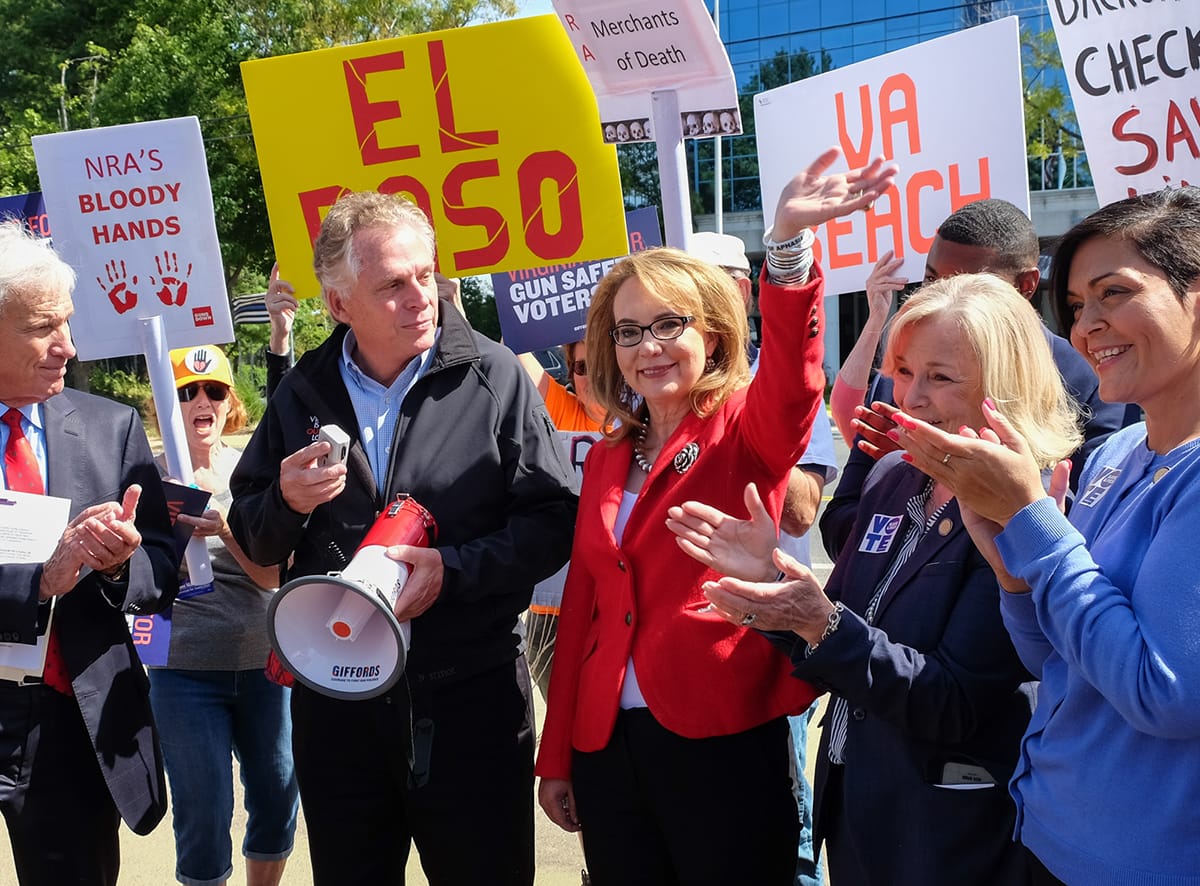 Congresswoman Gabrielle Giffords: "Today, Virginia Made Gun Safety History" 
April 10, 2020 — Former Congresswoman Gabrielle Giffords, co-founder of the gun violence prevention organization Giffords , hailed the signing of a sweeping gun safety package into law by Virginia Gov. Ralph Northam. The historic moment came after a new Democratic majority took power in the state after the 2019 election.
The historic signing followed the elevation of Democratic majorities in both the House of Delegates and Senate last November. Overall, Giffords supported 40 candidates who put gun safety front and center in their General Assembly bids. In total, nearly 60 percent of Giffords-backed candidates successfully won their state legislative races. Giffords was proud to work with these legislators this session to make significant progress for gun violence prevention in Virginia.
Statement from former Congresswoman Gabrielle Giffords:
"Last November, Virginia voters gave their legislature a mandate to take on the gun lobby and pass commonsense gun safety legislation like universal background checks. For years, the NRA had Richmond in its grip. But we were building a movement, step by step, across the state. Election after election, session after session, we campaigned and advocated for safer gun laws and candidates who would support them. Today marks the culmination of that historic effort. We are grateful for legislators and state leaders who met resistance with resolve and countered intimidation with courage. The gun violence prevention package signed into law today marks yet another defeat for NRA leaders, but most importantly, it will make Virginia families safer."
The package of bills signed by Gov. Northam today includes five pieces of gun safety legislation including an extreme risk protection order, expanding background checks, reinstating the state's one handgun a month law, legislation to report lost or stolen firearms, and legislation to prevent firearms from being accessible to children.
Additionally, Governor Northam proposed amendments to two of the bills from his gun violence prevention package that will now go back to the legislature for approval. An amendment to carve out higher education institutions was filed in the local authorities bill and an amendment to enhance safety for victims by allowing judges to hold the respondent in contempt of court if they fail to comply with the certification requirements was added to the domestic violence protective order bill.
A Washington Post-Schar School poll conducted ahead of the election found gun safety to be top of mind for Virginia voters: 75 percent of voters ranked gun safety as their top issue. Among voters that ranked gun safety as their top issue, 47 percent expressed support for Democratic candidates and 44 percent expressed support for Republican candidates. Gun safety policies such as universal background checks and extreme risk laws each received 88 percent and 82 percent support, respectively.
To support this robust slate of gun safety champions, Giffords PAC launched an innovative $300,000 digital ad campaign to support gun safety champions that ran statewide with heavy focuses in the Northern Virginia, Richmond, and Virginia Beach areas. The campaign aimed to turn out Democratic voters for whom gun safety is a motivating factor in the wake of galling inaction by the Republican leadership during the recent special session.
Along with motivating voters on screens, Giffords also came to their communities. Former Congresswoman Gabrielle Giffords hosted a gathering outside the headquarters of the NRA with former Governor Terry McAuliffe. She then traveled to Virginia Beach for a roundtable with gun violence survivors, where she was joined by Congresswoman Elaine Luria (VA-2), Delegate Kelly Convirs-Fowler, and Delegate Cheryl Turpin and Missy Cotter Smasal, candidates for state senate. The weekend also included a number of stops at canvassing events.
Giffords helped change the gun safety tide in Virginia beginning in 2017. That year, voters sent a message at the ballot box from the NRA's backyard. The National Rifle Association (NRA) spent more than $2 million in statewide races that year—but their investment failed to pay off. NBC exit polling found that 16 percent of Ralph Northam voters reported gun policy as their top issue, second only to healthcare. Those voters helped Democrat Ralph Northam beat out Republican Ed Gillespie in the gubernatorial race—a clear sign that the tide was turning in the Commonwealth.
Giffords PAC hosted a gun violence prevention forum with Northam, ran a complementary digital campaign during the general election featuring Facebook and Instagram ads targeting 25,000 persuadable voters, and released a radio ad featuring former President Barack Obama highlighting the difference between the candidates on the issue of gun safety.
In all, 12 out of the 13 Giffords-endorsed candidates were victorious. In 11 of those races, Giffords-endorsed candidates defeated NRA-backed opponents. Despite these victories, control of the legislature came down to a coin toss, and Republicans stayed in power.